A Demand Letter Before a Lawsuit Could Save You Time and Money
It is frustrating when someone refuses to perform their obligations under a contract. You have done your part and would now like to receive what you have agreed upon.
While the situation is not pleasant, you can deal with a breach of contract successfully by yourself. You should send a demand letter before a lawsuit to:
Give the other party one more chance to honor their commitments
Avoid hiring a pricey lawyer and going to court right away
Are You Required To Write a Demand Letter Before a Lawsuit?
Some courts mandate you to send a demand letter before filing a lawsuit. If your state laws do not require you to do it, you should consider sending one since:
No one wants to go through complex and time-consuming litigation and:

Hire expensive attorneys
Settle court fees and additional costs

Even if you do not resolve the problem out of court and end up suing for damages, drafting a breach of contract letter offers you a way to:

Organize the matter
Gather the necessary information and evidence
Why Is Writing a Demand Letter Before a Lawsuit Effective?
The following table shows you why a well-drafted demand letter could be beneficial for your case:
Send a Demand Letter To
Details
Inform the breaching party
You should formally notify the other contractual party that:

They have not fulfilled the terms of the contract
You:

Have suffered losses because of the breach
Will not hesitate to initiate a lawsuit if they do not perform their obligations under the contract

Create a record
Sending a demand letter shows the court that you have tried to:

Reach an out-of-court settlement
Minimize the harm and expenses before filing a lawsuit
Keep in mind that resolving the dispute outside of court is also in your best interest since, in legal proceedings, you will need to:
Demonstrate breach of contract elements
Pay filing fees and additional expenses
Deal with affirmative defenses the other party might raise
A Sample Letter of Intent To Sue for a Breach of Contract
To ensure your demand letter covers all necessary aspects, you can use the following as your checklist:
Date—Make sure to date your letter as it will:
Breach description—Provide a list of contract parts the other party has breached. You could, for instance, clearly state that they have:

Not paid you
Not done the agreed-upon job
Refused to fulfill the specific terms of the contract
Made it difficult or impossible for you to perform your contractual obligations

Possible solutions—Suggest a solution to rectify the problem, including a new deadline for the other party to:

Make the payment
Deliver the services or goods

Intent to sue—Your demand letter should make it clear to the other party that, if required, you will pursue the matter through the courts
Contact information—Don't forget to include your contact details if the breaching party would like to get in touch and discuss the issue further
How To Create a Demand Letter Before a Lawsuit
To prepare your demand letter, you could use the options presented in the following table:
How To Draft a Demand Letter
Pay Attention to the Following
Do it by yourself
If you would like to prepare a demand letter on your own, you need to get familiar with the legal requirements in your state. You could use online templates, but you must check them carefully as many are general and do not:

Comply with specific state laws
Meet all case requirements (i.e., might not be suitable for a material, anticipatory, or some other type of breach)

Hire an attorney
You do not need to have a lawyer draft a demand letter for you. In case you decide to hire one, you should:

Keep in mind that attorney's fees can be high
Make sure you can afford this type of service

Use a collection agency
While debt collectors can help you get paid, they will also charge a:

Considerable fee
Percentage of the recovered money

Choose DoNotPay
Our AI-powered app knows what:

Aspects your demand letter needs to cover
State laws the letter has to comply with

We can help you get an airtight demand letter in a matter of minutes
DoNotPay Creates Watertight Demand Letters
Our app is familiar with legal requirements and will make sure your demand letter:
Includes all necessary details
Is suitable for your particular circumstances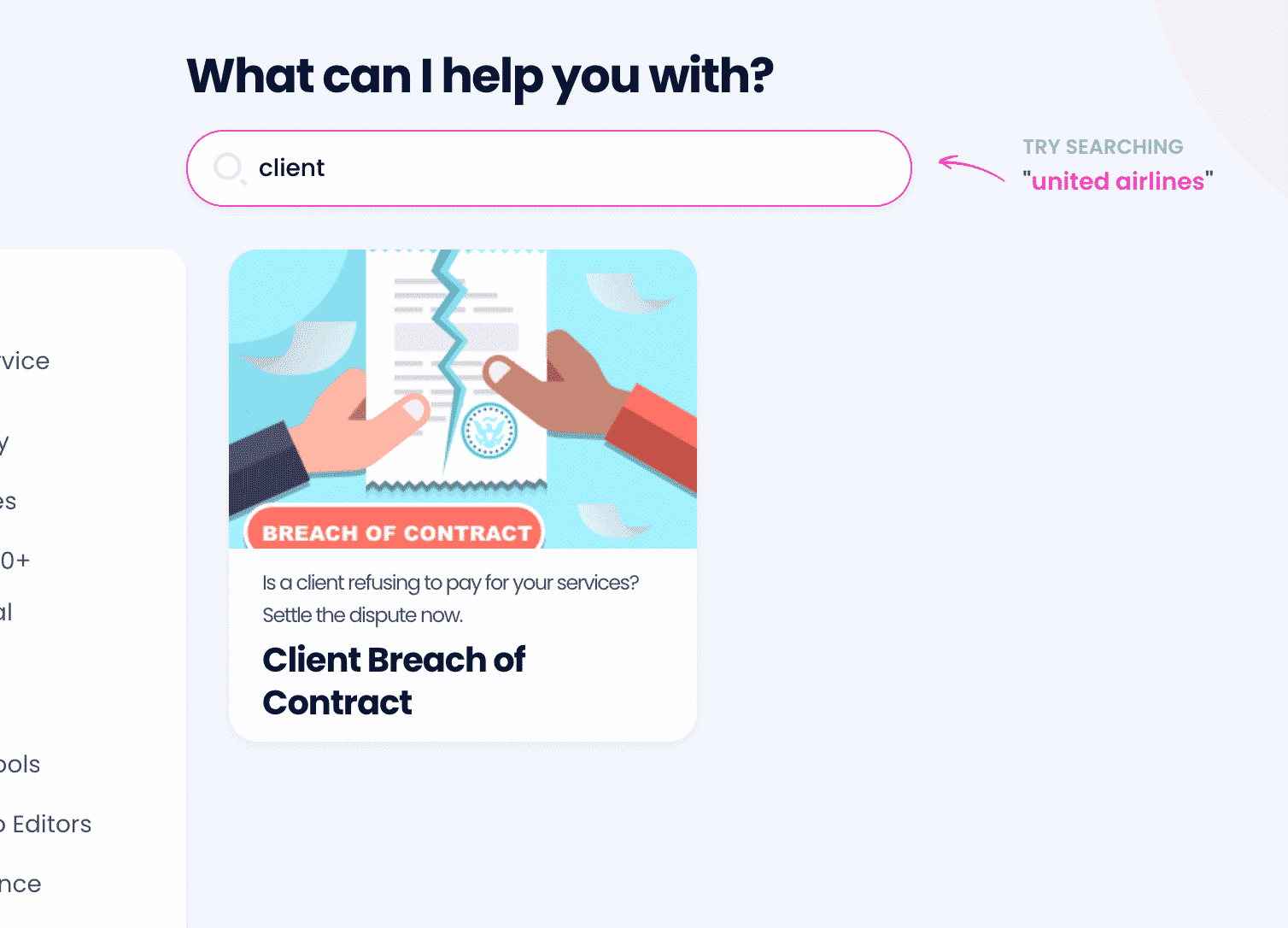 To prepare a convincing demand letter, subscribe to DoNotPay and:
Open the Client Breach of Contract product
Answer a few questions about the agreement and the other contractual party
Describe the performed services
Insert a new date for the other party to resolve the problem before you take legal action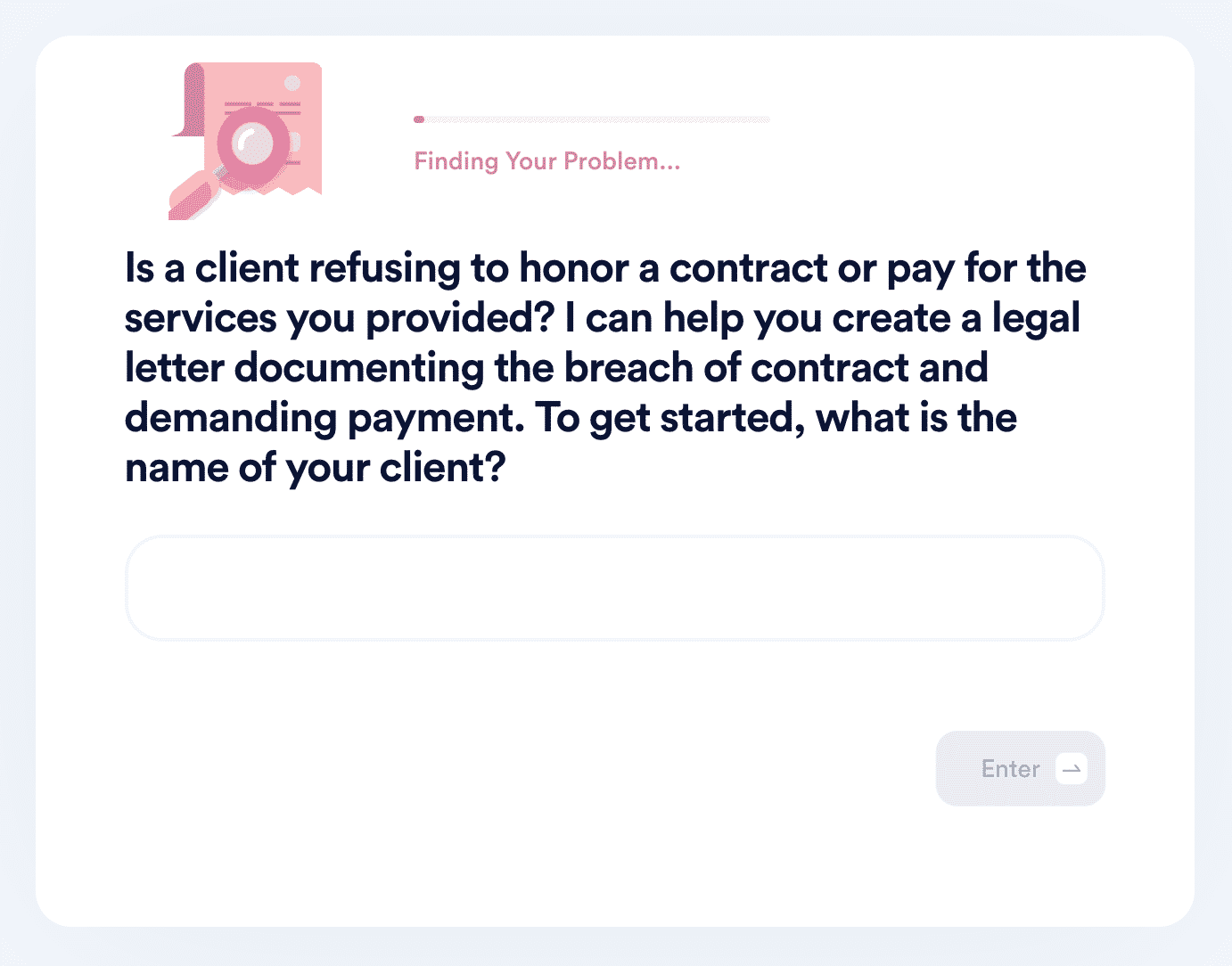 Once you have provided the necessary information, DoNotPay creates your demand letter automatically.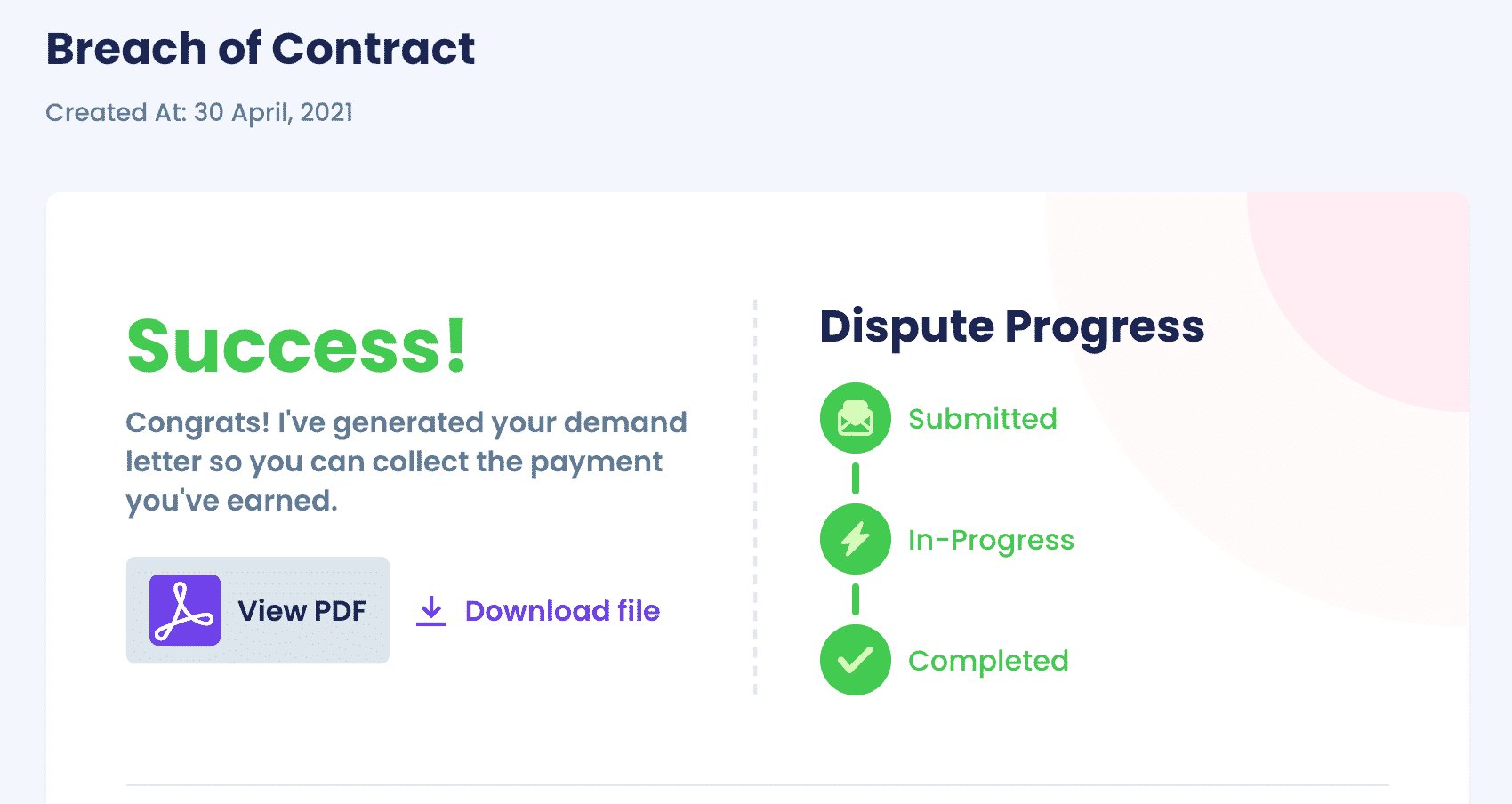 If the breaching party does not reply or refuses to honor their commitments, DoNotPay can help you sue in small claims court.
Learn About State-Specific Breach of Contract Procedures
You will find the following table useful if you would like to explore breach of contract regulations across the U.S.:
Get the Upper Hand With DoNotPay
The business world is extremely competitive—that is why it is always good to have some extra capital set aside when you need to invest in your company. You can leave the bureaucratic task to us—DoNotPay will draw up business loan request letters in your stead.
If your finances are taking a hit, rely on our app. With our assistance, you will be able to:
Fight fraudulent chargebacks
Remove fake negative reviews online
Register and protect your trademark
Send mail and faxes at no additional cost
Handle clients breaching contracts and get what you are owed
Whatever the task at hand, our AI-powered app will see it through successfully.
DoNotPay—The Assistant Every Business Needs
You cannot escape bureaucracy in business. What you can do is let DoNotPay deal with it. Whether you need to register a DMCA agent or complete an Employer Identification Number (EIN) registration, our app will lead the way.
Using DoNotPay, you will also not have to worry about 83(b) election forms or Privacy Shield self-certification. From generating to filing important documents and from dealing with employees to handling clients on your behalf, our AI-driven app is your go-to solution.
Grow and protect your business with the world's first robot lawyer!