How to File A Lawsuit Against Dell

Dell is an American multinational computer technology company that sells, develops, repairs, and supports computers and other relevant product services. It is also one of the largest tech corporations in the world, employing more than 165,000 people worldwide.
Unfortunately, Dell has its own share of controversies — it has a reputation for terrible customer service, not disclosing private payments received from large corporations, and unfair conditions for workers that were manufacturing Dell products. If you've incurred any damages as a result of Dell's actions, you might be entitled to compensation.
In terms of compensation, most claims are filed through Small Claims Court — a specialized division of the judicial system that deals with claims under $10,000 in most states. Small Claims Court also allows individuals to sue anyone without legal representation. Find out more, and how DoNotPay streamlines the process below!
Can You Sue Dell?
Faulty Computers/Software: Software was broken, computers malfunctioned and other production-related errors occurred.
Failure to Adhere to a Warranty: Failure to honor a warranty and contractual terms and conditions.
Breaching Privacy Laws: A breach of the Data Protection Laws of the United States, or Privacy Laws (in Maine, California, and Nevada).
| | |
| --- | --- |
| Maine | Personally identifying information about a customer including name, billing information, social security number, and billing address are protected, by law. |
| Nevada | "Covered information" or first and last name, any information collected through an internet website or online service. |
| California | In California, consumers are allowed to demand to see all of the information that a company has saved under their name, including a list of all third-party data recipients. |
Civil Invasions of Privacy: Dell violates personal or intellectual property ownership, usually proven in three distinct elements:
The defendant (Dell) made a public disclosure. You must prove that Dell made your private information public.
The disclosure violated your right to privacy or defamed you in a false light. The information disclosed by Dell was falsifying or violated your personal right to privacy.
An average person would consider the false light/information offensive. Considering the scope of proof, any reasonable person would incur any of the following:
Loss of reputation, shame, or hurt
Damage to monetary gains (business or personal)
Storing Personal Information/Pictures: Using and keeping facial recognition technology or storing personal information
What Should You Consider Before Suing Dell?
Consider the grounds of your complaint — do you have reasonable grounds to sue?
Do you have a valid legal case? Establish a burden of proof — was a contract broken? Were you injured by this company? Did you lose money as a result of these injuries? Was your personal information shared? Stolen? Did this compromise your reputation and/or safety?
Can you sue Dell? Establish pre-filing requirements — you will have to prepare hearings and depositions. Figure out the best method of alternative dispute resolution — is small claims the approach you want?
Have you sent a demand letter? State what happened, the attempts you've made for restitution, and what you are willing to accept; should they not comply, state your intention to file a lawsuit.
Are there any alternatives? Suing is typically a last resort when all of the above have been exhausted:
Negotiation
Mediation
Arbitration

What compensation do you expect? If you are successful, what will you collect from the company?

Money
Assets
Debts that can be garnished
Do you have sufficient evidence? This may include but is not limited to:
Record of payments
Claim
Summary of events
Reasons for entitlement
How much will this cost? Will you lose more than you'll earn? This is an important question to ask — often, small claims with legal representation are expensive and have a greater cost than the payoff of winning a lawsuit.
How to Sue Dell in Small Claims Court?
To sue Dell, follow these 4 steps. Keep in mind that suing varies from state to state, and failure to adhere to state-instated regulations could result in the disposal of your suit.
File a Verified Complaint: File a document explaining your claim, cause of action, and purpose to the company you are suing.
File a Civil Summons: You may need to complete a civil summons form, a document that can be found on many state courts' websites. The summons will need to be signed (issued) by a lawyer, court clerk, or judge.
Serve the Defendant. Typically, most individuals hire a non-affiliated person to serve the other group their papers.
Appear in Court. You must go to and keep track of court appearances, the necessary paperwork required, and steps that you need to take to help the case progress.
How to Sue Dell With DoNotPay?
Keep in mind that often, filing a lawsuit is time-consuming and tedious. As a solution to this issue, provides an automated lawsuit generator, with foolproof technology that makes suing concise. To file a lawsuit using DoNotPay, follow these steps:
Log on to on any web browser and select "Sue Now"
Enter the dollar amount that you are owed (this could be lost wages or even adequate compensation to cover injuries and medical bills)
Select whether you'd like to receive a demand letter or court filing forms
Describe your reason for filing the lawsuit, and submit any additional details (including your photo evidence)
That's all! DoNotPay will generate a demand letter or court filing forms for you, and a copy of your demand letter will be mailed to Dell on your behalf!
What Else Can DoNotPay Do?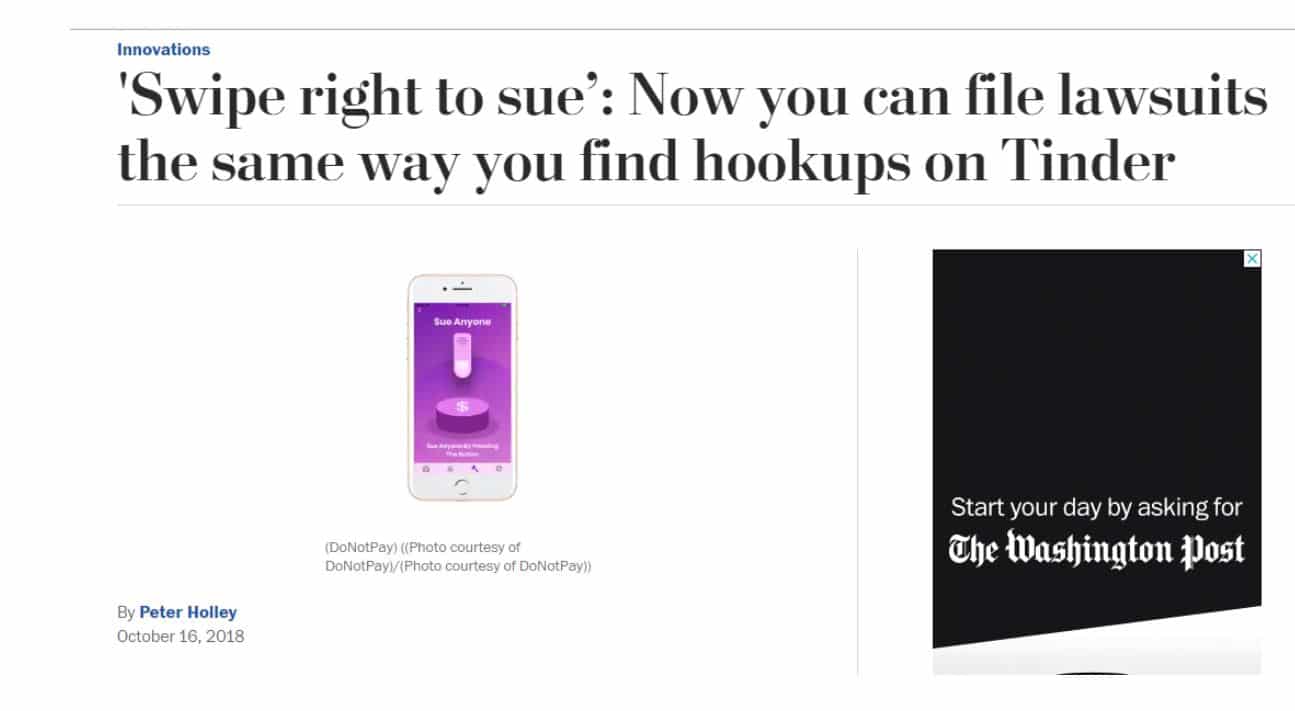 DoNotPay has a track record of helping people sue anyone and win! Check out some of the big corporations we have helped sue: