A Brief Guide to Delaware Property Taxes for Senior Citizens
If you are considering moving to Delaware now that you have retired, you might be interested in real estate prices and property taxes. 
DoNotPay provides information on Delaware property taxes for senior citizens and the best ways to reduce them. 
Delaware Is Tax-Friendly for Senior Citizens and Others
Part of your pension and 401(k) income is subject to federal tax and Delaware state taxes. 
If you are more than 60 years old, you can get a $12,500 exclusion for your pension or eligible retirement income, including:
Interest

Dividends

Capital gains

Rental income

Employer-sponsored plans
The state income tax is:
For income under $60,000—2.2–5.55% 

For income over $60,000—6.6%
Some taxes you won't have to worry about at all. Delaware does not have a:
Sales tax

Inheritance tax

Stock transfer tax

Personal property tax

Capital share transfer tax
Property taxes may be a burden to lots of retirees in many states. These taxes are much lower in Delaware but can vary by county and municipality. 
Learn About Delaware Property Taxes
Delaware is one of the U.S. states with the lowest property tax rates. Its average effective property tax rate is 0.56%. In terms of market values of properties, it means that if you own a property in Delaware with a market value of $150,000, your annual taxes are about $840. 
If your property's assessed value is $250,000, the table below shows how low property taxes in Delaware are:
| | | |
| --- | --- | --- |
| | Property Tax Rate | Annual Property Taxes |
| Delaware | 0.56%  | $1,400 |
| New Castle County, DE | 0.74%  | $1,850 |
| National Average | 1.07% | $2,675 |

Delaware's Counties Are Responsible for Property Taxes
Delaware's three counties are in charge of managing and collecting property taxes in this state. These counties are:
Kent

Sussex

New Castle
Property tax rates vary between these three counties. Local governments in Delaware do not reassess property values regularly, which differs from most other U.S. states. 
Property taxes are based on the values determined the last time properties were reassessed:
Sussex County—1974

New Castle County—1983

Kent County—1987
Some Delaware municipalities use the county assessment, although they have theirs. The assessed property values are based on the market value of the above-listed reassessment year. 
The only time the value of your property is reassessed is when you make additions or improvements to your property or build a new structure. The assessor will not determine the current value but what the value would have been in the reassessment year.
It means your property's assessed value is probably significantly lower than its current market value. 
What Is Delaware Senior Citizen Property Tax Reduction?
The Senior School Property Tax Relief Program includes a type of Delaware senior citizen property tax reduction. 
You are eligible for the tax credit against regular school property taxes of 50 percent or up to $400 if you:
Are 65 or older
Have a home in Delaware
This is a credit that you can only use against property taxes on your primary residence. If you established a domicile in this state before January 1, 2013, you qualify for the credit in the ensuing tax year. 
In addition to this qualification, the following requirements apply:
| | |
| --- | --- |
| Dates (Legal Domicile) | Period |
| If you established a legal domicile in Delaware between January 1, 2013–December 31, 2017 | You are required to have been legally domiciled within this state for at least three consecutive years |
| If you established a legal domicile in Delaware on or after January 1, 2018  | You are required to have been legally domiciled within this state for at least ten consecutive years |
If you would like to qualify for this credit for the next tax year, make sure to settle your property tax bill in full by the end of every tax year. DoNotPay can help you pay and lower your property taxes.
Do You Need To Reapply for Delaware Senior Citizen Property Tax Reduction Every Year?
You need to apply and qualify for the Senior School Property Tax Relief only once. After that, your county property tax office will deduct the credit from your property tax bill and mail it to you. 
If you move, you might need to fill out another application. 
When you move, you should get in touch with your county's property tax office to get instructions on how to continue receiving this credit or use DoNotPay to get the necessary information on senior citizen property tax exemptions. We can create your personalized property tax exemption and appeal guide regardless of what county or municipality in Delaware or any other state you live in. 
DoNotPay Will Make the Property Tax Exemption Process Easier for You
Why wouldn't you check if you qualify for any property tax exemptions? Since laws change, state and local governments may have introduced new plans and programs you are not aware of.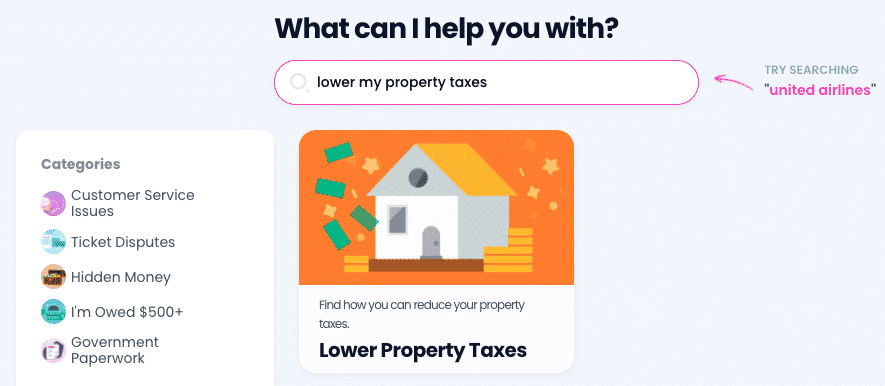 DoNotPay has an extensive database of the latest data from all U.S. states. To find out what exemptions might apply to you, do the following:
Open DoNotPay in your

web browser

Chose the

Property Tax

feature

Answer a few questions about you and your property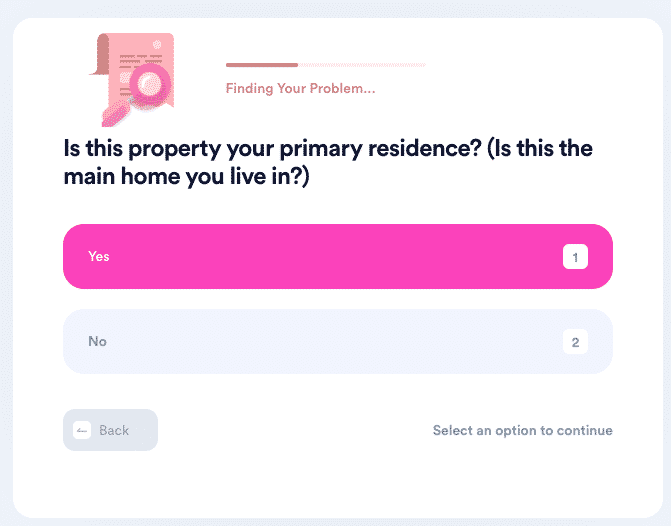 Our AI-driven app will generate your personalized instructions with relevant information. We will list exemptions you are eligible for and inform you about the steps you need to take to apply for them.
How Else Can DoNotPay Help You Find and Save Cash?
Our Missing Money feature helps you find any unclaimed assets in your name in any state. An additional perk is that you can claim your money right in the app—no need for further research!
We can also make sure you don't pay for any unfair parking citations and get the rightful compensation from airlines for any canceled or delayed flight. 
Don't let big companies scare you into not claiming your warranties or insurance. DoNotPay helps you file these claims and appeal any rejections in minutes, which brings you closer to getting your money.
We can also delay your bill payments, get your college fees waived, or sign you up for paid clinical trials to earn some extra cash!
DoNotPay Keeps the Spammers Away
Whether you're dealing with email spam, text scammers, robocalls, or severe harassment, DoNotPay can help. 
Use our virtual credit card or the Burner Phone feature to sign up for free trials safely—without revealing your real info. DoNotPay will make sure that no company can reach you when you use our tools. 
We provide a fake email address, credit card info, and phone number that are in no way connected to your real data. 
We can also help you cancel services or request a refund without you having to contact the company directly.