Everything You Need To Know About a Delaware Power of Attorney
A power of attorney is a powerful legal document that brings great responsibility. It can be complicated to create on your own and expensive if you hire a lawyer to do it for you.
In this article, we present all the necessary information to create a Delaware power of attorney in no time. Subscribe to DoNotPay and get all the tips and tricks to avoid the hassle and draw up a power of attorney document the easy way!
The Basics of a Delaware Power of Attorney
A power of attorney (POA) document allows a principal to appoint an agent (attorney-in-fact) to make legal and financial decisions on their behalf. If you create a durable POA, this agreement remains in effect even if the principal gets mentally or physically incapacitated.
Power of attorney is regulated by state laws and can vary from state to state. In Delaware, the following provisions are applicable for all power of attorney types:
| | |
| --- | --- |
| Key Provisions | Brief Explanation |
| Eligibility | Both the principal and the agent need to be above 18 years of age and of sound mind |
| Transfer of POA | The agent cannot transfer the POA to another person without the written consent of the principal |
| Signature | The power of attorney must be signed by both parties |
| Witnesses | The document must be signed in front of two witnesses who are not related by blood, marriage, and adoption neither to the principal nor the agent. In case you are unable to find two witnesses, a notary public can substitute as one witness |
| Notarization | Delaware state laws don't require you to sign the document in the presence of a notary public |
Why Do You Need a Power of Attorney?
Although it might seem unpleasant to think about it, the time could come when you aren't able to make important decisions for yourself. It can include illness, an accident, or even a vacation abroad. In that case, you should make a power of attorney to:
Delegate power to someone to act on your behalf
Make financial and legal decisions for you
Carry out day-to-day processes, such as signing checks
Buy or sell real estate and other assets
How Can a Power of Attorney End?
In Delaware, a power of attorney automatically becomes invalid in the following situations:
The principal or the agent passes away
The principal revokes the POA from the agent
A termination event (defined in the POA) takes place
The purpose of the POA has been achieved
The agent abuses the rights granted in the power of attorney
What Other Types of Powers of Attorney Exist in Delaware?
A power of attorney in Delaware is durable by default unless explicitly stated otherwise. Depending on your specific requirements, you can choose another type of a POA, as mentioned in the table below:
Power of Attorney Type
Brief Explanation
General
In all matters relating to business, finances, real estate, and healthcare, the agent acts on behalf of the principal.

This can include tasks such as:

Signing checks
Buying and selling property
Making medical decisions
Filing taxes

Limited
The agent has limited power and can only act on the principal's behalf in special circumstances, as mentioned in the power of attorney letter
Springing
A type of durable power of attorney, the springing POA becomes effective when triggered by a specific event, such as the principal going into a coma, for example
Financial
This type of POA gives the agent the authority to manage the principal's taxes, bank accounts, real estate transactions, and other financial matters
Key Elements of Power of Attorney Document in Delaware
To make a valid POA document in Delaware, here is what you need to include:
Names and addresses of the principal(s) and the agent(s)
Effective date and duration of the agreement
Duties and responsibilities of the agent(s)
Termination of the contract (if it is not durable)
Signature of all parties, including two witnesses
Creating a Delaware Durable Power of Attorney Has Never Been Easier!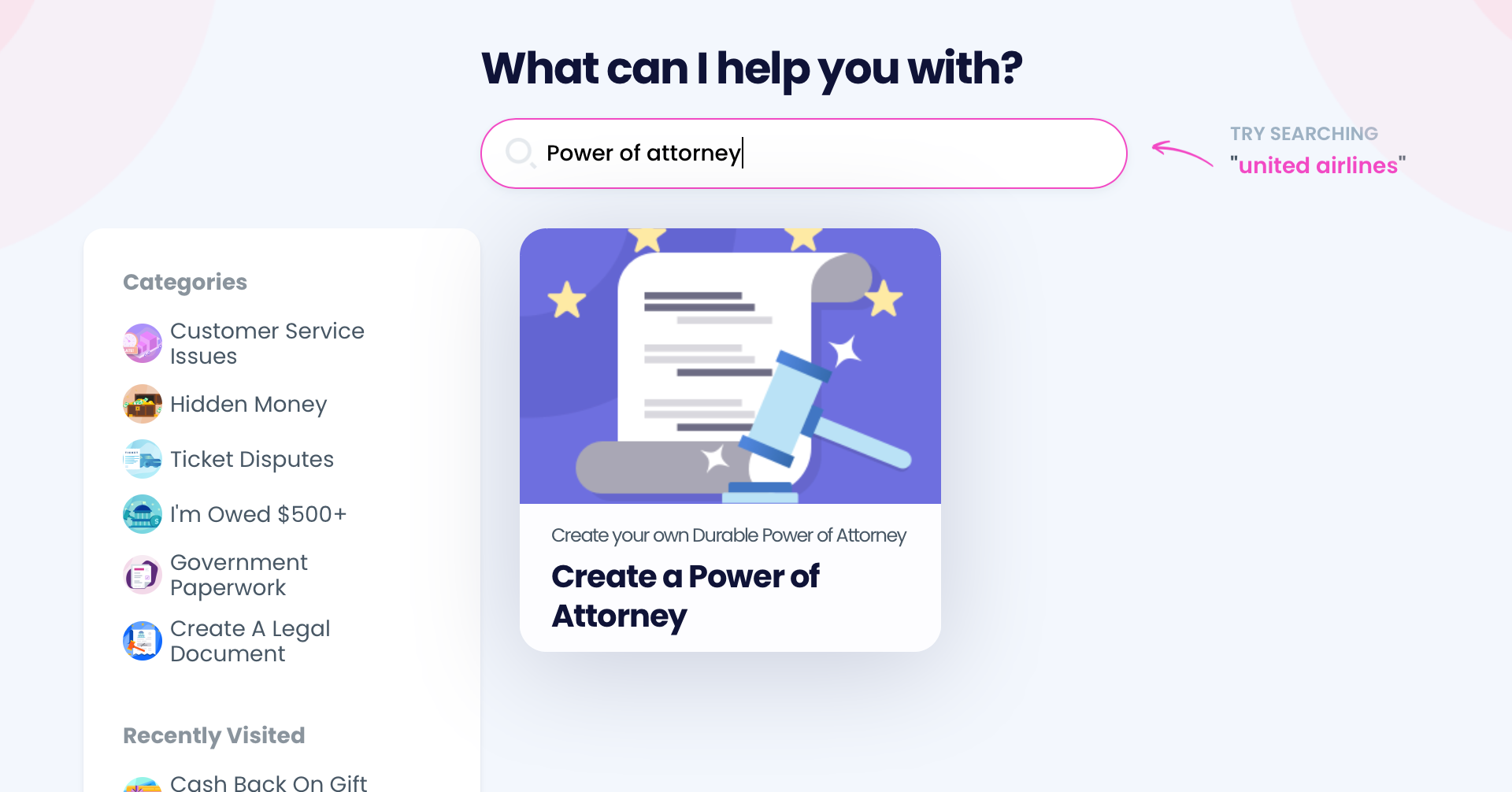 Composing a durable power of attorney document is no easy feat. You can create the document yourself, which will take hours, or you can hire a lawyer, which will cause a significant dent in your wallet. Are you looking for an easy way out? DoNotPay is at your service!
Our app can generate a POA document for you in a jiffy! All you need to do is follow these instructions:
Access DoNotPay from your web browser
Select the Power of Attorney feature
Answer our questions to get a personalized POA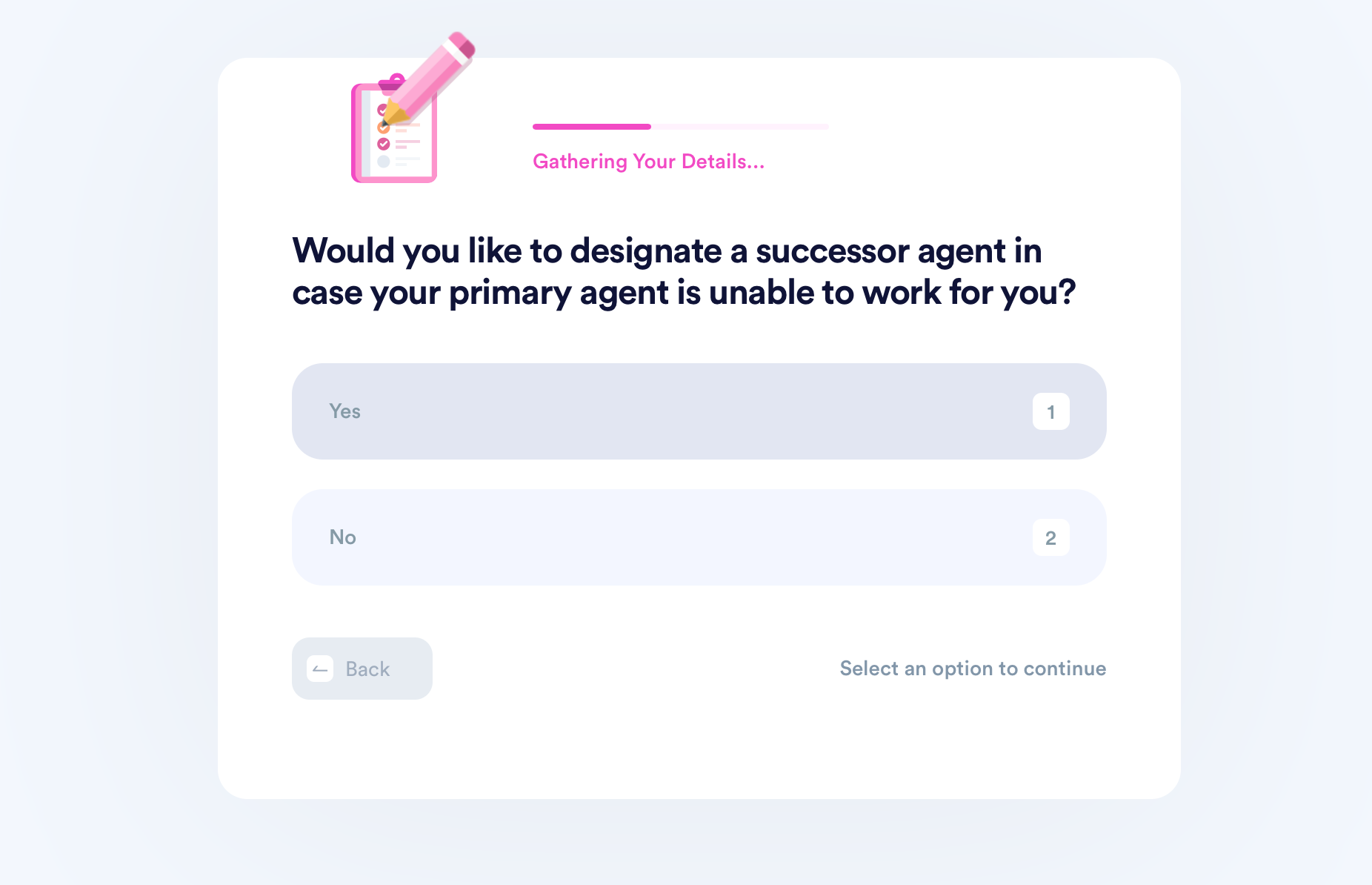 DoNotPay will create and send the document, along with two notices—for the principal and the agent. Bear in mind that you need to read and understand them before signing the document.
That's not all! If you want to get your document notarized, we can connect you to an online notary without any hassle. You need to select this option when answering our chatbot's questions.
Want to learn more about POAs? DoNotPay's vast knowledge base has various useful articles on powers of attorney, including:
DoNotPay Resolves Both Bureaucratic and Legal Issues
One of our app's best qualities is its versatility. You can use your personal AI-powered assistant to overcome both legal and bureaucratic obstacles without breaking a sweat. No more waiting in lines or breaking the bank due to sky-high lawyer fees!
Take a look at what you get access to for a low monthly fee:
Can DoNotPay Do Anything Else?
The world's first robot lawyer is capable of so much more! No matter if you want to find your unclaimed money, apply for clinical trials, get rid of email or text spam, prepare for a government test, fight workplace discrimination, or get gift card cash back, DoNotPay can help!
What are you waiting for? Sign up for DoNotPay now to enjoy our nifty products!