Delaware Jury Duty Excuses—All You Need To Know
Jury duty can be an inconvenience if you have to work, but it is mandatory. It is an important part of the U.S. legal system because it ensures a fair trial for everyone. Still, there is a way to skip jury duty without being penalized. This article will tell you all about what Delaware jury duty excuses exist and how you can request to be exempt.
If you decide to be on a jury, and create an official leave request letter in a few steps.
Delaware Jury Duty Laws
The table below contains answers to frequently asked questions about Delaware jury duty laws:
Question
Answer
Who can qualify for jury duty?
To qualify for jury duty, you must be:

At least 18 years old
A citizen of the U.S. and resident of Delaware and county that summoned you
Of sound mind
Able to read and write in English

How are you selected for jury duty?
During the selection process, the judge and the attorneys ask questions that help them determine whether a juror can be objective
How much do you get paid?
In Delaware, jurors are reimbursed $20 a day
How long does jury duty last?
Jury duty typically lasts for five days (unless the trial you are selected for lasts longer)
How frequently are you called for jury duty?
You can be called for jury duty once every two years. If you are called before the two years pass, you can ask to be excused in your questionnaire
How can you prepare for the first day?
Bring your completed juror qualification questionnaire if you haven't submitted it already. Take the top portion of your summons with you and present it to the jury clerk
How To Be Excused From Jury Duty in Delaware
Here's what you should do to request to be exempt from jury duty in Delaware:
Visit the court's website and select the county where you were summoned
Complete the Juror Qualification Questionnaire
Enter your request for excusal under the question Do You Request Excusal for Any Serious Hardships
Include all the required documentation that supports your request
The reasons you can use to be excused from jury duty are as follows:
Medical reasons (must be accompanied by a doctor's note)
Employment deferments (provide a letter from your supervisor)
Not being a resident of Delaware any longer (you must provide your new driver's license)
Not being a citizen of the U.S. (you must provide your alien registration)
Being a student (you must submit a copy of your class schedule)
In case you need to submit any additional documentation, you can mail, fax, or email it using the following contact information:
County
Contact Information
New Castle

Superior Court of Delaware

500 North King Street, Suite 1800

Wilmington, DE 19801-3753

jurynewcastle@delaware.gov
Fax (302) 255-2263

Kent

Prothonotary

Superior Court of Delaware

38 The Green

Dover, DE 19901

jurykent@delaware.gov
Fax (302) 739-7162

Sussex

Prothonotary of Sussex County

Superior Court of Delaware

1 The Circle, Suite 2

Georgetown DE 19947-1504

jurysussex@delaware.gov
Fax (302) 856-5955
After you submit your excusal request, the court will inform you via mail whether your jury services are required.
Can You Be Fired for Serving Jury Duty in Delaware?
According to law, you cannot be fired for serving jury duty in Delaware. You must inform your employer about your summons well in advance, though. Your employer is obligated to give you time off. Unfortunately, the law doesn't obligate your employer to pay you during your jury duty time off, so make sure to check what the company policy is in advance.
How To Inform Your Employer of Your Absence Using DoNotPay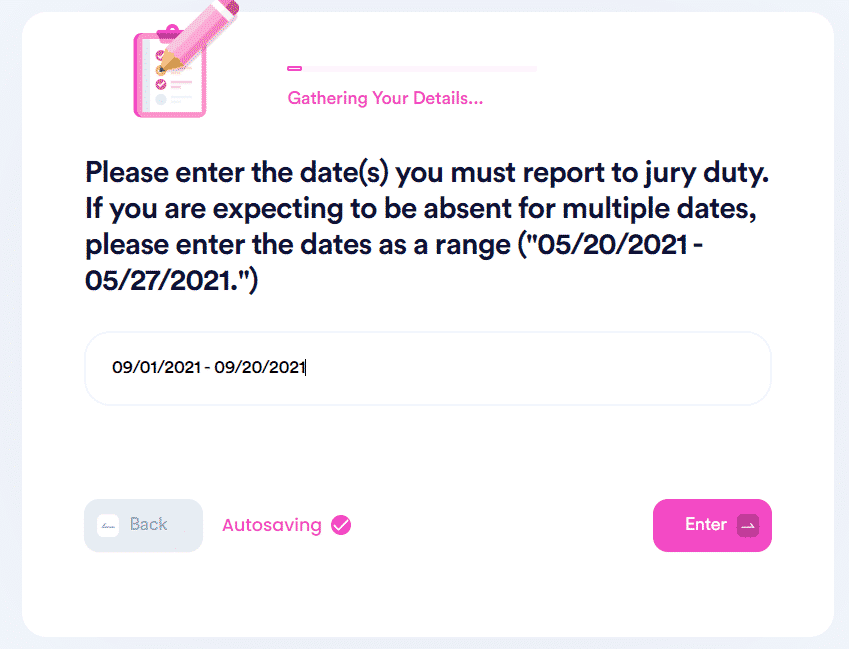 If you want to avoid an awkward conversation with your employer about your jury duty leave, you can send them a leave request letter with DoNotPay. Our app will draft the letter using all applicable Delaware jury duty laws and the information you provide.
To request leave, and follow these steps:
Select the Request Jury Duty Leave feature
Add all the required information:

State where you were summoned
The expected duration of your service
Name of the company where you work
Name of the court that summoned you

Upload a picture of your jury summons
If you were summoned for federal jury duty, DoNotPay can tell you more about how much it pays.

Deal With Administrative Issues With Ease
Drafting contracts and agreements, getting your documents notarized, disputing parking tickets, and creating passport photos will become a breeze once you sign up for DoNotPay.
We can also help you:
DoNotPay Helps You Protect Your Consumer Rights
Don't let companies take advantage of you! With our help, you'll be able to cancel any subscription or membership and request a refund.
As a consumer, you may be overwhelmed with endless steps and piles of paperwork you need to go through to get what you're owed. This is where DoNotPay comes in—let us be your assistant and fast-track the following:
Have you forgotten about a free trial you signed up for? Avoid being charged by using our app! With DoNotPay's virtual credit card, you'll get unsubscribed automatically without the company taking any money from you.
Are you getting spammed via email or text? Get rid of spam for good with our nifty app!