Learn All You Need To Know About Delaware Divorce Forms
Divorces can be complicated and expensive when they involve pricey attorneys and lengthy court procedures. If you opt for an uncontested and do-it-yourself divorce, you can avoid hiring lawyers and attending court hearings. You can achieve a low-cost and quick divorce in Delaware if you prepare all the Delaware divorce forms yourself.
This article will explain where to find Delaware divorce forms and tell you how to create a divorce settlement agreement, which is a vital uncontested divorce paper. Sign up for DoNotPay and get your document in a few minutes.
Uncontested Divorce in Delaware—The Basics
You can have an uncontested divorce in Delaware if you and your spouse agree on all terms of your divorce. Before you file for divorce, you'll need to:
Meet the residency requirements—You or your spouse must have lived in Delaware for at least six months before starting the divorce process
Cite appropriate grounds for divorce—You'll need to show the court that your marriage is irretrievably broken and that reconciliation isn't possible (cite no-fault grounds for divorce). To be able to make that claim, you and your spouse need to be separated for at least six months. Any of these four separation scenarios will qualify you for a divorce:

Voluntary separation
Separation caused by the defendant's misconduct, like adultery, addiction, etc.
Separation caused by mental illness
Separation due to irreconcilable differences, meaning that neither spouse is responsible for the breakdown of the marriage
If the divorce is fault-based (meaning one spouse is holding the other one responsible for the breakdown of the marriage), the law will waive the six-month separation rule.
Which Delaware Divorce Forms Will You Need?
If you've chosen the DIY option for your divorce, you'll need to collect, fill out, and file all the divorce papers yourself. Find the info about which forms you'll need for your Delaware divorce in the table below:
Required Forms
Situational Forms

Petition for Divorce (Form 442)
Vital Statistics Same Sex Marriage (Form 441SS)
Original or certified copy of the marriage certificate
Vital Statistics Sheet (Form 441) or
Request for Notice (Form 400)
Information Sheet (Form 240)

Affidavit of Children's Rights (Form 279)
Separation Agreement—It is not a court form but an agreement you and your spouse should file if you want the court to make a decision based on it
Stipulation to Incorporate Separation Agreement (Form 443)
Affidavit of Unknown Address (Form 241)
Affidavit of Non-Military Service (Form 405)
Waiver of Rights under the Servicemembers' Civil Relief Act (Form 420)
Affidavit That a Party's SSN is Unknown (Form 421)
Request to Proceed without a Hearing (Form 446)
Affidavit in Support Request to Proceed without Hearing (Form 447)
Ancillary Financial Disclosure Report (Form 465)
Affidavit of Mailing (850)
Form of Order—Ancillary Financial Disclosure Report (Form 449)
Ancillary Pretrial Stipulation (Form 466)
Where To Get Delaware Divorce Forms
The Delaware Family Court website offers divorce papers that you can download as Word documents. If you're unsure which forms are suitable for your particular situation, you can consult the Divorce Instruction Packet on the Delaware Court's website.
What's Next After You Prepare the Delaware Divorce Forms?
You can start your divorce process once you have all the required documents. Here are the steps to filing for a friendly dissolution of marriage:
Hire a mediator (optional)—If you and your partner can't agree on a few aspects of your divorce, you can attend mediation before filing for divorce. The mediator will help you reach a compromise on your divorce issues and achieve an out-of-court divorce settlement
File the papers—Submit your forms at the county clerk's office where either you or your spouse lives
Serve your spouse—Have the clerk of the court send the summons and petition to the county's sheriff for service. If your spouse agrees to the divorce, you don't need to have the sheriff deliver the papers. The defendant can complete an Affidavit of Appearance form, therefore acknowledging that they received the copy of the petition and agreed to the divorce
File additional forms to proceed without a hearing—The forms that the court will request for you to send within 20 days if you don't want a hearing are:

Request to Proceed Without a Hearing Form
Affidavit in Support of the Request to Proceed Without a Hearing (Form 447)
Draw Up a Rock-Solid Divorce Settlement Agreement With DoNotPay
One of the essential documents in an uncontested divorce is a divorce settlement agreement. It should outline the following terms of your marriage dissolution:
You can use an online divorce service template to draft this document, but keep in mind that online templates can be incomplete and not fully compliant with a state's divorce laws. If you want to avoid the risk of getting your agreement rejected by the court, opt for DoNotPay!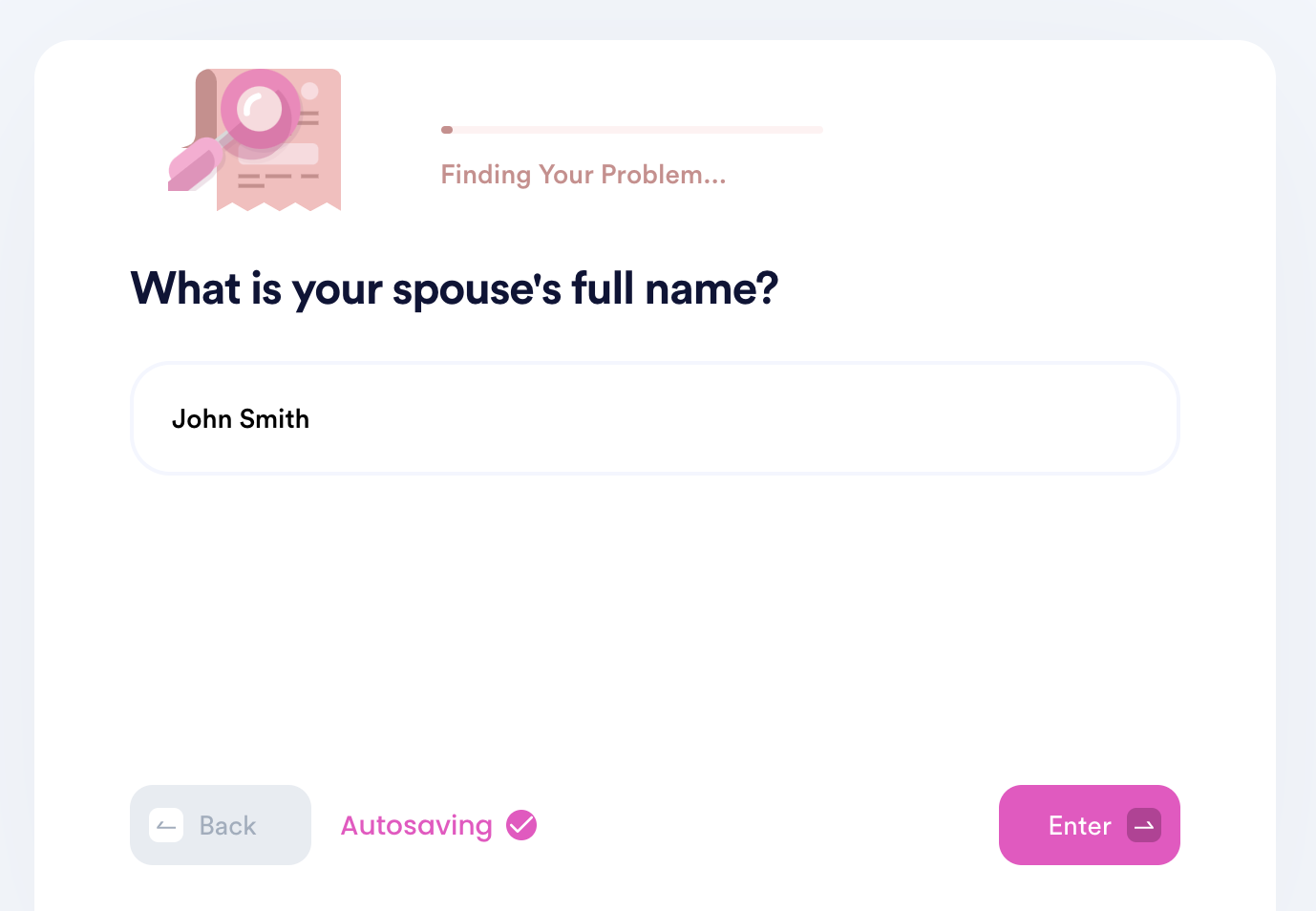 DoNotPay can help you draw up this document in a few steps. All you need to do is sign up and follow these instructions:
Select the Divorce Settlement Agreement product
Answer a few questions about yourself, your marriage, your spouse, and the terms of your divorce
We will generate your divorce settlement agreement automatically. The document will conform to the Delaware laws and will be completely personalized to your case.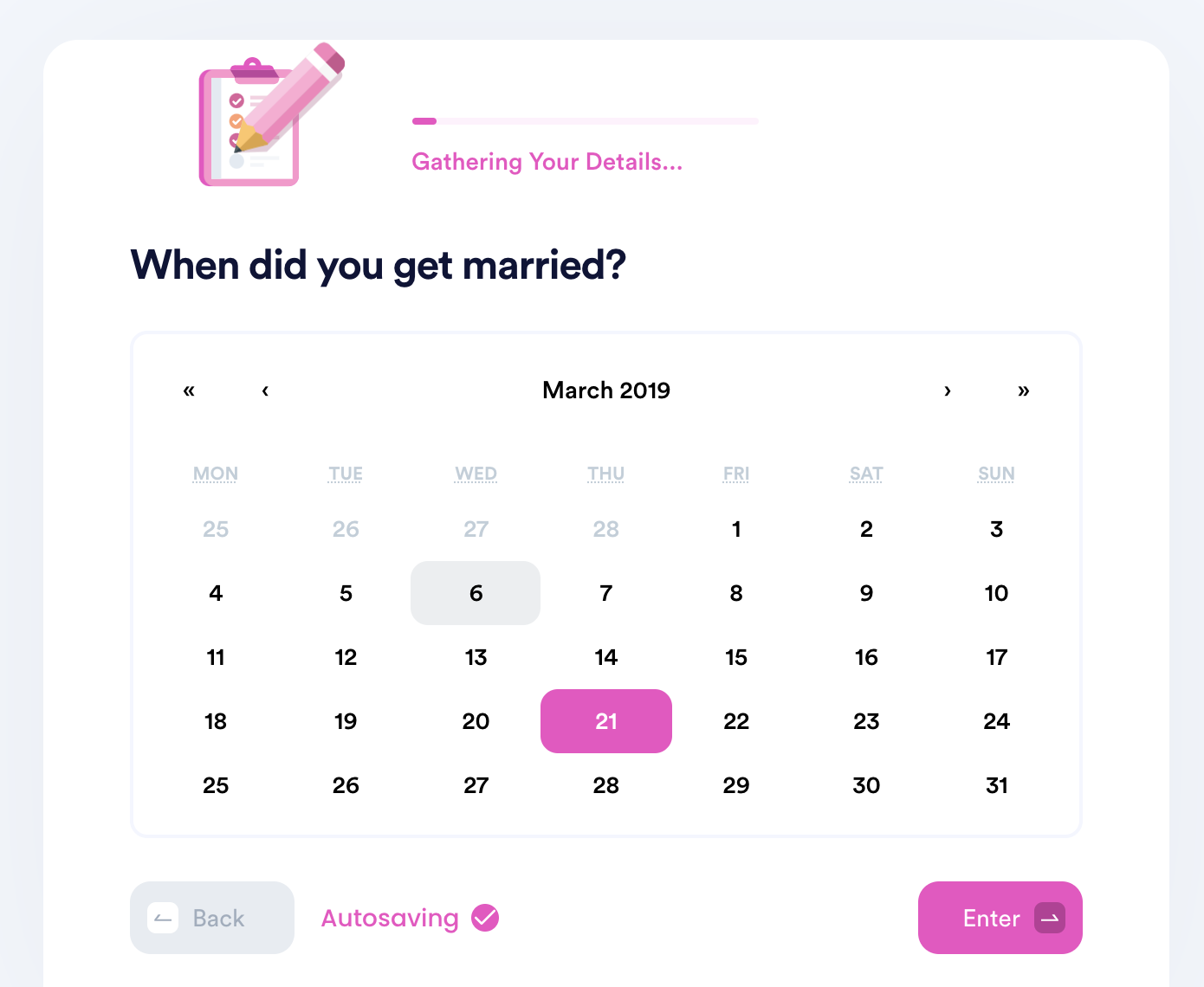 Save Time With DoNotPay
DoNotPay is not done helping you! We offer you assistance in completing a variety of tasks quickly and efficiently, such as:
Canceling Subscriptions Has Never Been Easier!
If you keep getting charged a monthly subscription fee even though you no longer want to use a certain service, don't let your money go to waste! Some companies tend to renew your subscription automatically, but that doesn't mean you have to put up with it—use our app to terminate your membership or subscription in a few clicks!
Do you want to sign up for free trials and create a virtual credit card or a burner phone number to protect your sensitive info? Once you subscribe to DoNotPay, we will walk you through the process of doing all of the above in no time!
You can also count on our assistance if you need to get rid of spam or robocalls.