An ABC Guide to Making a Solid Delaware Advance Directive
There is no better way of safeguarding your health-associated interests in Delaware than preparing a solid advance directive. If you have heard about this document but still don't know much about it, we can help!
This article deciphers a Delaware advance directive by solving the following dilemmas:
What Is a Delaware Advance Health Care Directive?
As per Delaware Code, an advance directive informs medical staff and your family about your health care wishes if you're unable to express them.
Any adult can prepare this document while they are still in good physical and mental condition. It comes into effect only if a designated physician can confirm that you've lost the ability to make decisions for yourself.
Signing Requirements for an Advance Directive in Delaware
To prepare a proper Delaware advance directive, you must:
Create it as a written document
Sign it yourself or authorize another person to do it for you (if you can't)
Include the exact signature date
Have two or more witnesses who can't be your:

Heirs
Relatives
Health care financier
Nursing home/care facility operator
Elements of a Delaware Advance Directive Form
Delaware proposes two main types of advance health care directives:
Power of attorney for health care (or a Delaware medical power of attorney)
Instructions for health care (or a Delaware living will)
In most cases, these two forms are combined in a single document. Here's a table providing more details:
Type
Purpose
Content
Power of attorney for health care

Enables you to designate a person of trust as your agent—grant them the rights to make health-associated choices in your stead

Designation statement
Legal name, address, and phone number of the designated agent
Legal name, address, and contact details of the alternate agent that can decide for you if the primary agent can't do it
Agent's authority information
Conditions in which the document becomes effective
Nomination of guardian

Instructions for health care
Spells out all your medical preferences, personal values, and beliefs. In this document, you can address your wishes related to:

Life support
End-of-life care
Artificial nutrition
Medical staff selection
Nursery home/hospice care facility selection
Medications
Surgeries and other treatments
Organ donation
Anatomical gifts
Disposal of your remains

End-of-life decisions, including:

Choice not to prolong life
Choice to prolong life

Relief from pain
Additional medical instructions
Information on providing anatomical gifts at death
Designation of the primary physician
Effect of copy
Your signature
Names, addresses, signatures, and statements of the chosen witnesses
Applicable law
DoNotPay Crafts a Proper Advance Directive Without Complications
What if we told you that you don't need to pay an arm and a leg for your living will/health care proxy or create it yourself? DoNotPay's affordable tool collects the info about your medical preferences and makes the advance directive in your stead!
Here's what you need to do to get our help:
Click on Advance Health Care Directive
Designate your agent and name your witnesses
Answer a set of simple questions to help us prepare the desired form for you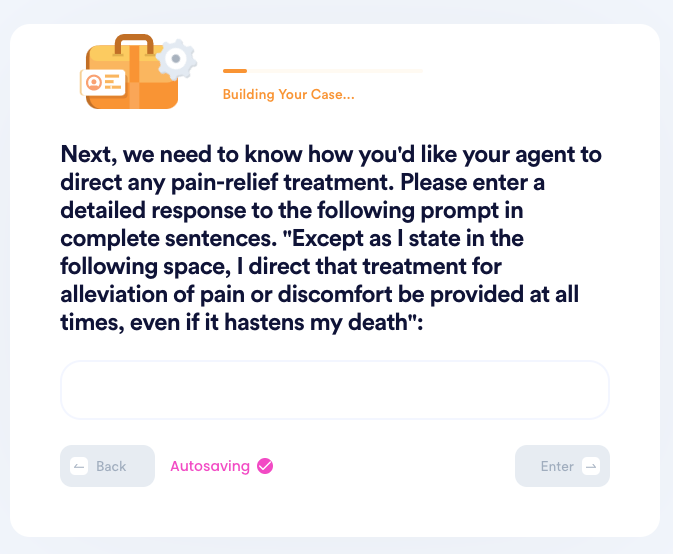 Once your document is ready—and we won't need more than five minutes to prepare it—you can have it notarized in the same app! We will enable you to arrange a video meeting with an online notary and obtain their signature and stamp for your document.
Do you want to know more? Find out if a health care proxy should always be treated as a power of attorney, whether a nurse can witness the signing of a living will, and much more in our extensive knowledge base!
DoNotPay Offers More Assistance!
Our app boasts many features that can make your life easier.
Do you need help searching for unclaimed money or covering bills? Are you looking for clinical trials you can sign up for to earn some extra money? We can help you out in a flash!
Other tasks we can streamline for you are the following:
Forget Hiring a Lawyer—Use DoNotPay Instead
You don't want to spend a fortune on lawyer fees? No problem! DoNotPay—the world's first robot lawyer—is here to assist you! With our help, you'll be able to file complaints, sue anyone in small claims court, handle stalking and harassment, get crime victims' compensation, and draft numerous documents, including:
If you need to get a document notarized, you can also count on our help. We'll connect you with an online notary who will notarize your document in a flash.