Contest a DeKalb County Traffic Ticket in Just Two Minutes
Did you know that a 2019 study reported Georgia as one of only a few states that generate the most revenue from ticket fines? How is this possible? The most likely reason is that people don't know there is an easier solution to appealing a . You don't have to request dismissals by yourself.
With DoNotPay, you can confidently plead not guilty to those traffic tickets you know you didn't deserve. The app is helpful when dealing with traffic tickets all across the US. We have successfully disputed traffic tickets from the states of California, Oklahoma, Las Vegas, and Texas. There is also a high number of disputed tickets in crowded cities like NYC and L.A.
You can rest easy with our automated service, knowing you have a higher chance of getting the outcome you deserve.
What Violations Can Get You a Traffic Ticket in DeKalb County?

A  is a notice that drivers receive from police officers following a traffic violation. It includes:
Violated offenses,
Offense code numbers,
A summons to appear in court (if applicable), and
Payment options.
These are some of the most common types of traffic tickets in Georgia.
| | |
| --- | --- |
| Speeding Tickets/ GA Super Speeder Tickets | Georgia defines a 'super speeder' as someone who's "convicted of speeding at 75-or-more on any two-lane roads…OR convicted of speeding at 85-and-over anywhere in Georgia." A $200 fee is added to any local DeKalb County fees you're subjected to. |
| Driving Without Insurance | Penalties for driving without insurance vary by how many offenses you have, with higher fines in second or more incidents. Georgia requires you to show proof of insurance or new insurance within 30 days to avoid suspension. |
| Red Light and Stop Sign Tickets | Red light and stop sign tickets are considered misdemeanors in Georgia. This means maximum fines can get as high as $1,200 and, as a misdemeanor, can also lead to up to a year in jail time (but rarely does). It's also worth noting that Georgia recognizes traffic cameras as legal, so a cop does not need to pull you over to receive a ticket in DeKalb County. |
| DUI (Driving Under the Influence) | Driving under the influence, punishments have grown in importance all over the U.S., but Georgia, in particular, has cracked down in recent years. The minimum consequence of a DUI in Georgia is jail time for 24 hours and at least $300. Moreover, if you don't file an appeal within 30 days, you will also receive a year's suspension of your driver's license. |
| Cell Phone Tickets | Another moving violation Georgia is getting more serious about in recent years is driving while on your mobile. According to the Hands-Free Georgia Act in 2018, a driver cannot have their phone or a similar device anywhere on them or even touch them while operating a motor vehicle. |
Why Is It Better to Dismiss or Dispute a DeKalb County Traffic Ticket Rather Than Just Pay It?
Your driving record affects several different aspects of your life — often much more than you'd think. Although just paying the fine to get it over with can ease the burden and stress of fighting the fine, there are a few things to consider. 
For instance, paying that fine means you're admitting you were in the wrong and committed that offense. The problem here is:
Your insurance rates will increase — this can be by a substantial amount if the offense is serious enough (i.e., driving without a license or DUI).
Points will be added to your license — if you accumulate enough points in two years, you risk your license getting suspended. The amount varies from state to state. In Georgia, you will need 15 points in 24 months to get your license suspended.
How to Dispute DeKalb County Traffic Tickets by Yourself
First and foremost, the good news is you can fight traffic tickets without a lawyer — at least with basic civil infraction tickets. This includes cases where you were speeding, made an illegal turn, or ran a red light/stop sign. However, DUIs and accidents should have an attorney present.
The DeKalb County State Court - Division B reports that — with the court's approval — you can now resolve eligible traffic violations when you show proof that the issue is resolved (showing proof of insurance, for instance). This can come in the form of a full dismissal or a reduced fine.
To request a dismissal or dispute a DeKalb County traffic ticket, you can do one of the following:
Fight the ticket in court
Request a 'trial by mail,' which entails disputing the ticket via a written statement and sending it to the court to be evaluated by the judge.
Note the location differs by whether you have a court case. If you have to go to a court case to dispute your ticket, you'll go to 556 N. McDonough Street, Decatur, Georgia. If you don't have to go to court, you'll go to the Camp Circle Courthouse Complex at 3630 Camp Circle, Decatur, GA.
Fortunately, you can skip both methods by using DoNotPay on your laptop or mobile phone.
How to Dispute DeKalb County Traffic Tickets Using DoNotPay
When the going gets tough, and you decide you no longer want to take on your dispute alone, consider getting help from our AI app. DoNotPay can contest your ticket quicker and easier than any other solution. Plus, we already have a track record of successfully disputing 160,000 parking tickets in just two years.
What's more, all you have to do to get the dispute started is fill out a few details in just five steps: 
Log-in to DoNotPay and go to the Ticket Disputes category. Select the correct product based on your traffic ticket.

 

Upload a photo of your citation.

 

Provide us with some details on why you believe the citation issued is a mistake.

 

Select whether or not you want the letter mailed to the traffic ticket issuer on your behalf! 
That's it! You'll receive an appeal letter that contains state vehicle codes to boost your case.

 
What Else Can DoNotPay Do for You?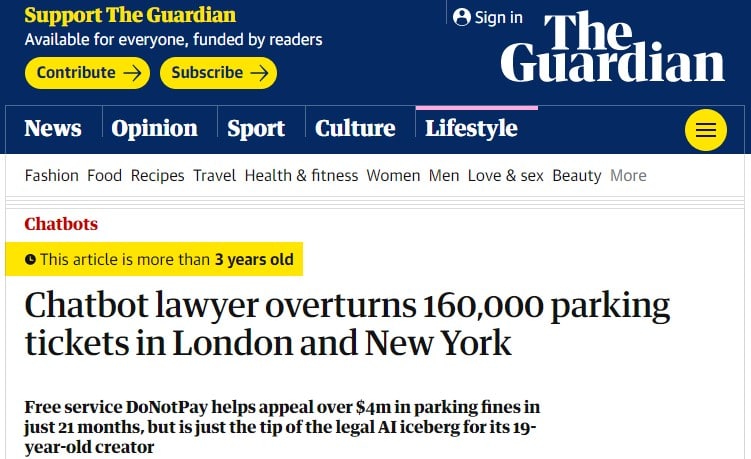 If you found DoNotPay convenient and easy to use in disputing your DeKalb County traffic ticket, you are in for a treat. We can also assist with dozens of other problems like:
 today and you might just find the perfect solution for a problem that has been bugging you for a long time.