End Your Marriage the Right Way With the Correct DeKalb County Divorce Forms
Have you decided to file for divorce, but you're lost in all the necessary paperwork you need to complete and file? If so, don't worry—DoNotPay has your back!
We've prepared a guide to help you gather the right DeKalb County divorce forms and end your marriage smoothly.
The Ins and Outs of DeKalb County Divorce
Before collecting the divorce papers, you should familiarize yourself with the laws in DeKalb County. Georgia is a hybrid state, which means you can file for a fault-based divorce and a no-fault divorce. Check out the table below for details:
Fault-Based Divorce
No-Fault Divorce
Filing for a fault-based divorce means that you need grounds for parting ways with your spouse. Some of the reasons recognized by Georgia divorce laws are:

Adultery by one of the spouses
Willful desertion for a year minimum
Conviction of one spouse for an offense that resulted in at least a two-year prison sentence
Alcohol or drug abuse
Cruel treatment by one party

A no-fault divorce is generally a more popular choice as you'll only need to state that your marriage is irretrievably broken. This type of divorce allows you to:
The best way to get divorced is to get an uncontested divorce. This way, you'll have to file fewer forms, spend less money, and won't have to go to court.
Where To Get DeKalb County Divorce Papers
In 2018, DeKalb County Clerk of Superior Court went paperless to provide easy access to customers and online tracking. This means that any divorce paper can be downloaded. You can find all the forms you need on the DeKalb County Clerk of Superior Court's official website. Be sure to download and print them, as you'll need to file them later on.
Which DeKalb County Divorce Papers Do You Need?
The forms you will need to file for an uncontested divorce in DeKalb County are:
Complaint for Divorce—This document contains the basic information about you and your spouse, the marriage, and the reason you're parting ways
Verifications—You will need to have this form notarized to make your divorce papers legally binding
Summons—This form serves as a formal notification that you've started court proceedings. It needs to be served to your spouse by a process server. DeKalb County Clerk of Superior court offers this service at a fee of $25
Domestic Relations Financial Affidavit—This affidavit needs to summarize each spouse's income, assets, household expenses, etc.
Acknowledgment of Service—This form needs to be signed by your spouse once they receive a copy of Complaint for Divorce and Summons
Divorce Settlement Agreement—The settlement agreement is the most important form you'll need to file. It contains the terms of divorce you and your spouse have agreed on, such as alimony or debt division. The judge will review it along with other papers at the final hearing, so it must be written with utmost care
Where To Get a Divorce Settlement Agreement
You have three ways of getting a divorce settlement agreement, including:
Hiring a lawyer—Although reliable, this option is the most expensive way of obtaining the settlement agreement. Lawyers' fees are sky-high, so be prepared to spend a fortune if you decide to hire one
Writing one yourself—In case you want to write the settlement agreement yourself, you need to be extra careful not to make a mistake. If the judge deems the document invalid, you'll have to redo the whole process
Subscribing to DoNotPay—Our AI-based app can generate this key document for you in a snap, and it will be perfectly suited to your needs
Get a Superb Divorce Settlement Agreement Effortlessly With DoNotPay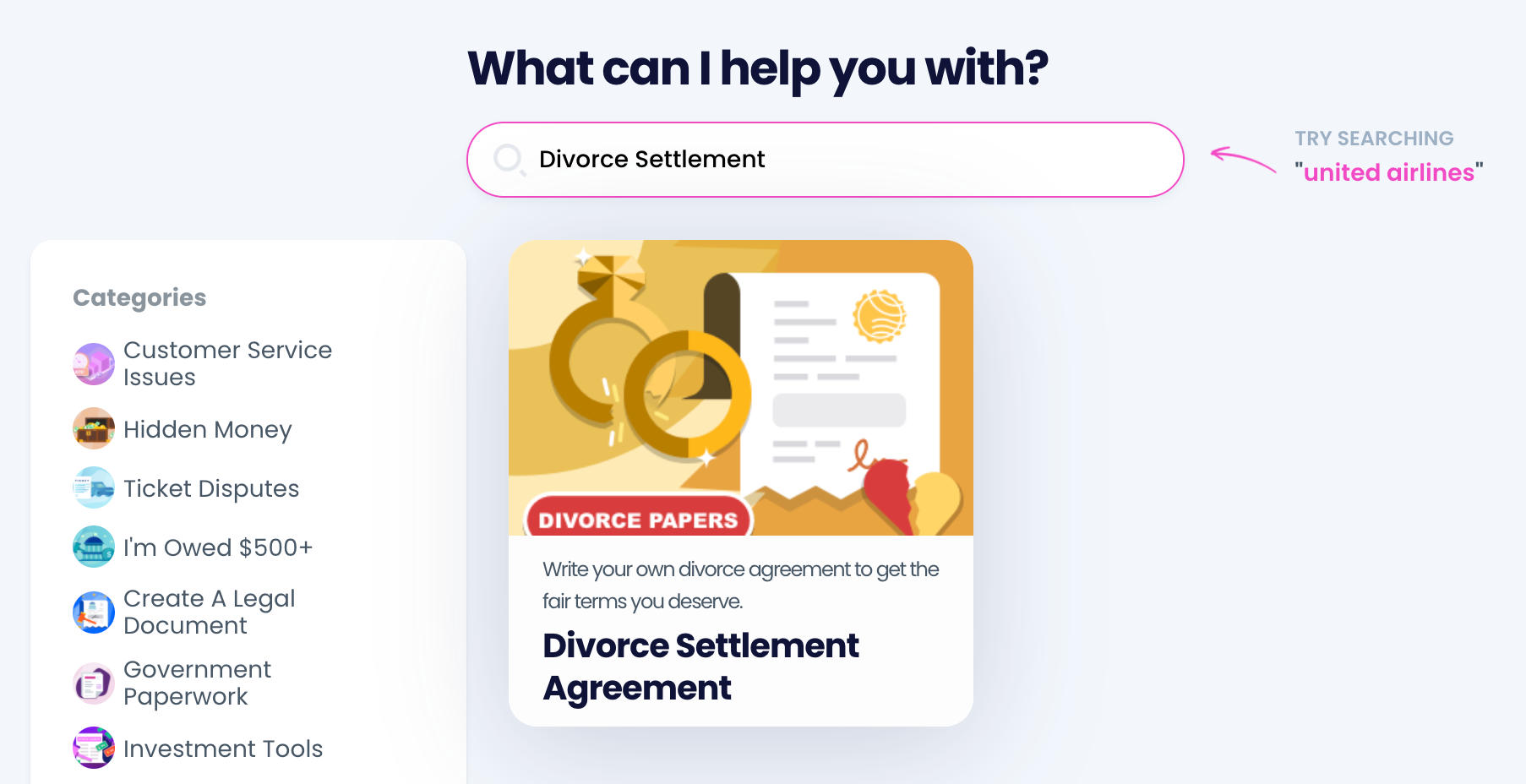 The easiest and most efficient way of getting a divorce settlement agreement is using DoNotPay! With our Divorce Settlement Agreement tool, you'll get this crucial document fast without breaking the bank. All you have to do is:
Select the Divorce Settlement Agreement tool
Answer our chatbot's questions
Specify if you want to have your document notarized online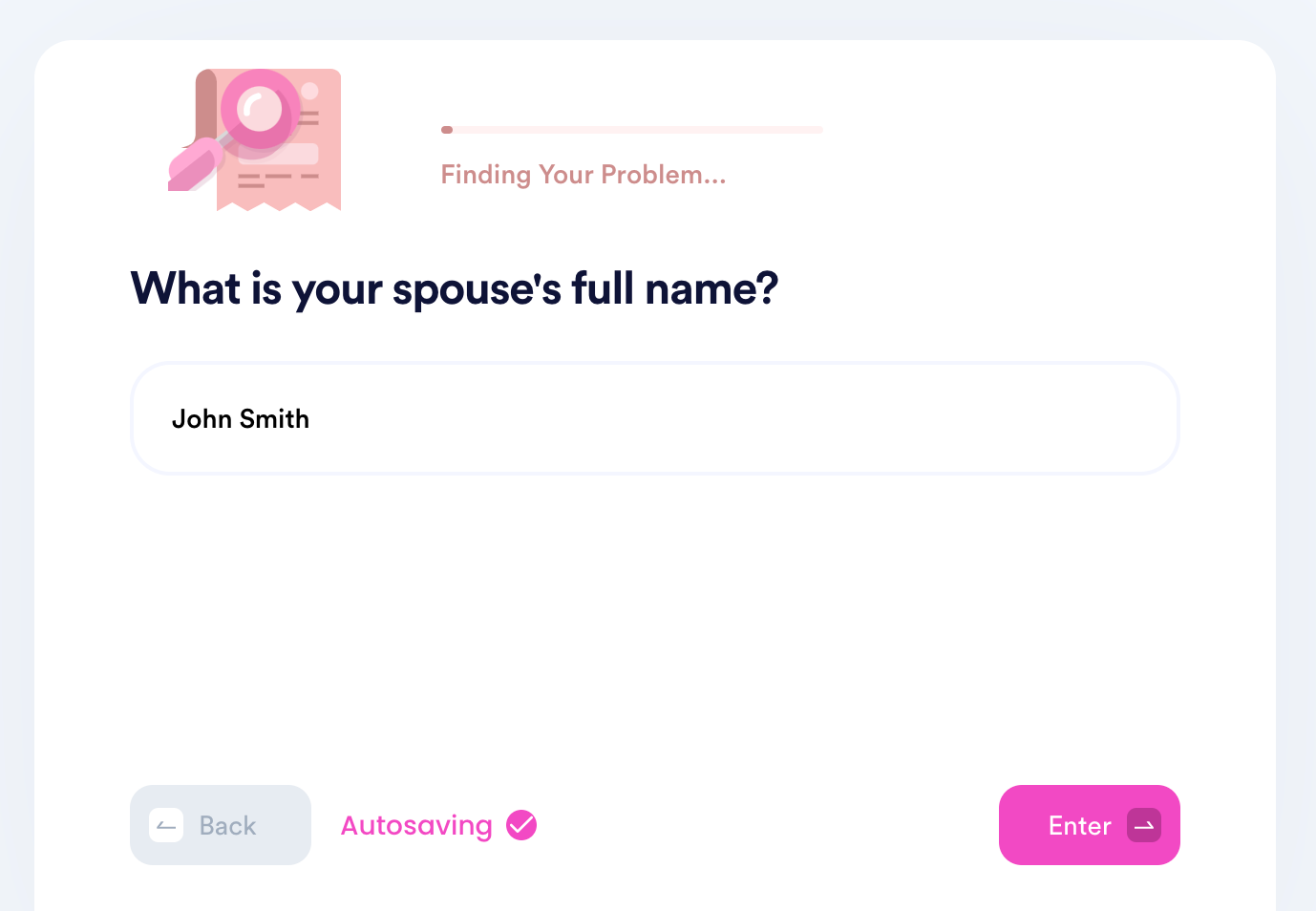 We'll process your request, generate the settlement agreement according to the details you give us, and send it your way in a snap. You'll then have to have your document notarized. If you don't want to spend time looking for a notary in person, we can help you out with that as well. If you've opted for online notarization within our questionnaire, follow the link we sent you and set up an appointment with an online notary easily.
DoNotPay's help doesn't end here! Check out our articles and find answers to more questions about divorces in Georgia and in general:
Learn How To Solve Legal Issues in Minutes!
Do you need to draft a legal document? Spending hundreds of dollars on lawyers is not the answer. We came up with a faster and more affordable solution. Not only can our app draft child consent forms, divorce settlement agreements, and powers of attorney for you, it can also provide legal assistance by helping you take anyone to small claims court!
Drafting numerous documents is not all DoNotPay does for you! Aside from drawing up contracts and agreements, we can also assist you in getting them notarized online from the comfort of your home or office!
Explore DoNotPay's Other Nifty Features
There is more assistance on the way! You can use DoNotPay's features to handle various tasks with ease, including:
We can also help you protect your safety. If you don't know how to deal with copyright infringement, stalking and harassment, work discrimination, sex offenses, and disputes with annoying neighbors, DoNotPay has got you covered.