Learn To Write
Definitive Agreements
Like a Pro
Is your company going through some ownership changes? Whether you're dealing with a merger, acquisition, or another business venture, having a strong, mutually binding contract will protect the interest of everyone involved. In this case, you are looking for definitive agreements, and DoNotPay will help you draft one!
Figuring out a way to write legal documents is a waste of time when you have the perfect solution at your fingertips! Sign up for DoNotPay and have our app draw up various other documents for your company, like a bill of sale or a non-compete agreement.
What Is a
Definitive Agreement
?
Definitive agreements, also known as stock purchase agreements, are contracts signed between two or more parties—buyers and sellers. The contract should outline all the duties and terms that the parties agree on and set the ground rules for everyone.
The agreement usually covers company assets, such as stocks. You can also use a definitive agreement to transfer company ownership from one party to another.
This agreement is used as a final contract between the parties, which means that any contracts that the parties made in the past—written or verbal—are superseded with a definitive agreement.
Are
Definitive Agreements
Legally Binding?
A definitive agreement is legally binding. If the parties involved don't follow the terms of the agreement, they will face repercussions. That means that if a party breaches a legally binding contract, a counterparty will have grounds to sue.
Notarizing the contract isn't mandatory, but it can help. In case that you need to use the contract to fight claims or disputes, a notarized contract will have a better standing in court.
If you decide that you want to get this document notarized, know that you can schedule a meeting with a notary using DoNotPay! We can show you how to get any document notarized online from your home or office.
What Should I Include in a
Definitive Agreement
?
Check out this list of clauses your definitive agreement must state:
Buyer and seller

Price and type of transaction

Representations and warranties

Solicitation and financing

Termination
Buyer and Seller Information
You need to state the names of both the buyer and the seller at the beginning of the agreement. Add the addresses of both parties and follow it up with the date of signing.
Price and Type of Transaction
In this section, you should spell out every relevant detail regarding prices and expenses. Determine the exact exchange ratios, earn-outs, and go into detail about anything else that impacts the company and/or other parties.
Representations and Warranties
Parties should state their representations and place a warranty on each of them. Representations are essentially facts that a party (usually the seller) states to convince the other party (the buyer) into entering the agreement. An example of this would be a statement that the seller is in compliance with certain government regulations.
The buyer can also provide representations, but that is less common in practice.
Solicitation and Financing
Solicitation refers to whether the company can consider alternative offers from other parties or not. As for the financing, elaborate on where the funding comes from.
If there's a debt involved, you have to disclose all about it in this section.
Termination
You have to reach an agreement on what happens if a party wants to terminate the agreement early. Include details such as:
Under what terms the agreement can be terminated early

How much notice a party has to give before the termination

How the termination fee will be paid if no notice is given
Don't Want To Write Contracts by Yourself? DoNotPay Will Do It for You!
Struggling with research or spending hundreds of dollars on lawyers is a thing of the past! DoNotPay is offering you ready-made guides on creating legal documents, such as a definitive agreement. Our app can also draw up an assortment of contracts on your behalf! All you have to do is answer a few short questions, and we do the rest!
Subscribe to DoNotPay and follow the simple instructions provided below to get started:
Type in the

name of the document

you want us to generate

Provide the required info about your agreement
Once you complete the questionnaire, we will make your contract for you. You can download it or print it. The last step is getting the parties to the contract to sign it.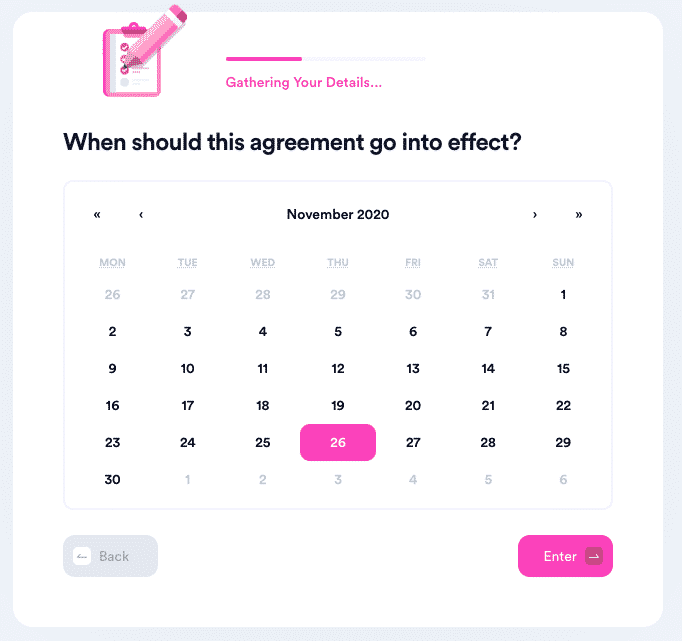 What Documents Can DoNotPay Draft for Me?
Our app can generate a number of different contracts for you, from real estate to business documents! Check out the table below for more details:
Real Estate Contracts
Business Contracts
Other Contracts

Intent To Purchase Real Estate

Estoppel Certificate

Quitclaim Deed

General Business Contract

General Affidavit

Promissory Note
Get Back at Greedy Corporations With DoNotPay
How many times have you tried reaching out to an airline regarding your canceled flight? Did you ever spend hours trying to contact customer service reps only to be refused your refund request?
Big companies tend to make certain processes complicated for their customer in hopes they would give up on pursuing their goals.
This is why your warranty claims often get denied the first time or why canceling a gym membership can be an administrative hell.
Our AI-powered app is here to help you sort these problems out.
Whether you're trying to file an insurance claim, schedule your driving test, start a free trial without disclosing your payment info or a phone number, or get access to public records, we've got you covered.
DoNotPay Is the Virtual Assistant You Need
DoNotPay is the first robot lawyer in the world created to simplify complex tasks. We can help you with anything from appealing your parking citations to filing lawsuits in small claims court.
In case you need to save up some money, our app will show you how to get an extension on your bill payments, sign up for paid clinical trials, or avoid paying your college application fees.
DoNotPay can also report robocallers, text spammers, and email phishing attempts, and real-life stalkers with a few clicks.