Defamation of Character Statute of Limitations
Defamation is a civil wrong that results in consequences for the subject of the defamation. There are two types of defamation: libel is a statement that is expressed in print, writing, or any other physical form and slander refers to oral utterances or acted gestures. Defamation cases must be proven by showing that the libel or slander hurt the subject's reputation, future employment prospects, or even physical or mental health.
Many people have taken the step of sending a cease and desist letter, in which they warn the person making the false allegations to halt before legal action is taken. Learn more about defamation and the statute of limitations for each state by reading the sections below.
Understanding Defamation
As previously stated, the two types of defamation are slander and libel:
Libel is distinguished by the fact that it leaves a lasting record. Libel can be done through email, a radio or television broadcast, a newspaper article, or an internet post.
Slander does not leave a permanent mark and might be as simple as a verbal phrase or a hand gesture.
Statute of Limitations Across the United States
The statute of limitations varies from state to state. To be safe, suing within a one-year period guarantees that you meet the time criteria.
Here is a comprehensive list of all statutes of limitations in the U.S:
Alabama — 2 years
Alaska — 6 years for real or personal property
Arizona — 2 years
Arkansas — 3 years
California — 3 years
Colorado — 2 years
Connecticut 2 years
Delaware — 2 years
District of Columbia — 3 years
Florida — 4 years
Georgia — 4 years
Hawaii — 2 years
Idaho — 3 years
Illinois — 5 years
Indiana — 6 years
Iowa — 5 years
Kansas — 2 years
Kentucky — 5 years
Louisiana — 1 year
Maine — 6 years
Maryland — 3 years
Massachusetts — 3 years
Michigan — 3 years
Minnesota — 6 years
Mississippi — 3 years
Missouri — 5 years
Montana — 4 years
Nebraska — 4 years
Nevada — 3 years
New Hampshire — 3 years
New Jersey — 6 years
New Mexico — 4 years
New York — 3 years
North Carolina — 3 years
North Dakota — 6 years
Ohio — 2 years
Oklahoma — 2 years
Oregon — 6 years
Pennsylvania — 2 years
Rhode Island — 10 years
South Carolina — 3 years
South Dakota — 6 years
Tennessee — 3 years
Texas — 2 years
Utah — 3 years
Vermont — 3 years
Virginia — 5 years
Washington — 3 years
West Virginia — 2 years
Wisconsin — 2 years
Wyoming — 6 years
What Happens if I File a Defamation Case Late?
It is not always the case that late claims are dismissed immediately by the courts. A defendant can bring the claim to court and the appropriate measures will be taken from that point on. File late and you run the danger of having to deal with the following issues:
| | |
| --- | --- |
| Affirmative defenses | The defendant may submit a complaint claiming that the lawsuit was filed at an inopportune time and that the losses suffered were unrelated to the case at hand. |
| Motions to dismiss | A motion to dismiss may be filed by the defendant, essentially requesting that a court dismiss an out-of-date lawsuit. |
| Federal/state statutes | It is possible that federal and state laws may require your claim to be thrown out if it is filed outside of the prescribed time frame. |
More About Cease and Desist Letters
Cease and desist letters are very complicated, and specific wording is required in order to establish credibility for your position. It is possible that your letter may be ignored or considered inadequate for a legitimate case if it does not correctly describe the damage done, injury, and other facts concerning your case.
You can hire a lawyer to draft a cease and desist letter on your behalf, but this will be more costly and take longer than you expect.
How to Draft a Cease and Desist Letter in Minutes!
DoNotPay is a safe solution! The cease and desist letter drafts details the information about the case, demands retraction, warns against any impending statements, and will request that the accused abides by state law.
All you need to do is:
1. Look for the Defamation Demand Letters service on .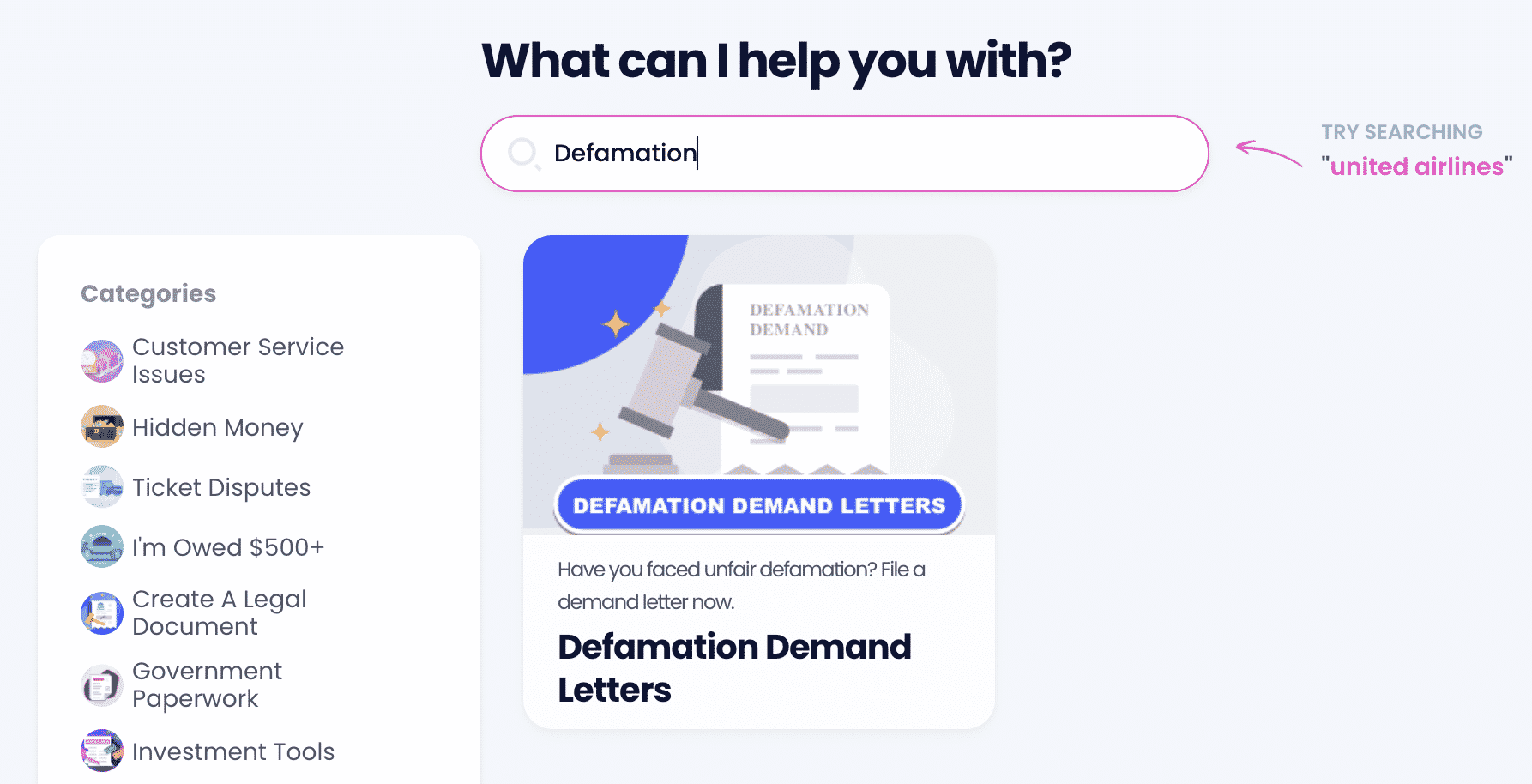 2. Tell us about your situation:
Were the statements slander or libel?
What were the statements?
Why are they false or misleading?
What consequences have you suffered as a result of these statements?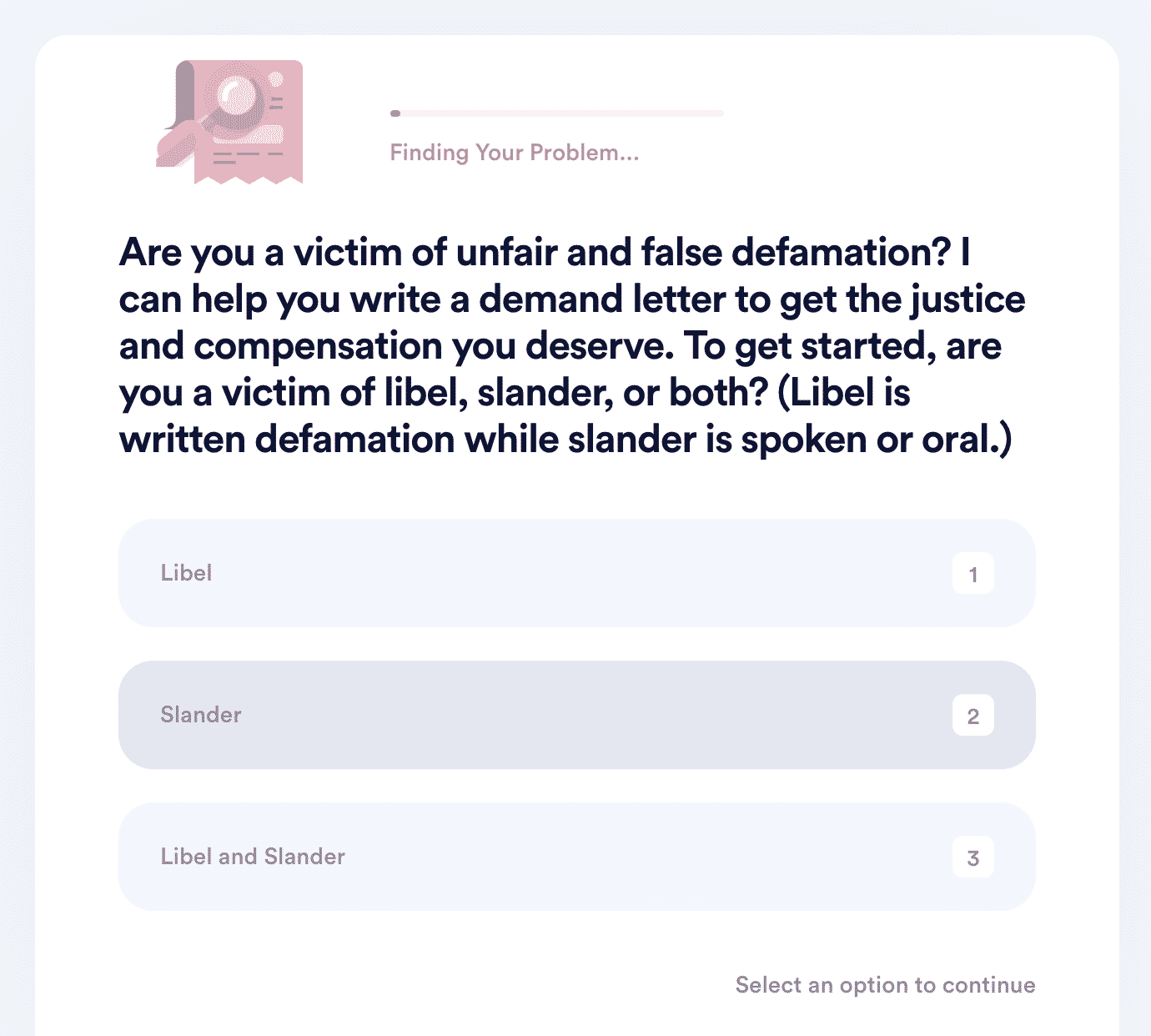 3. Based on your location, DoNotPay will immediately generate a formal demand letter on your behalf, with the most relevant state legislation regarding defamation.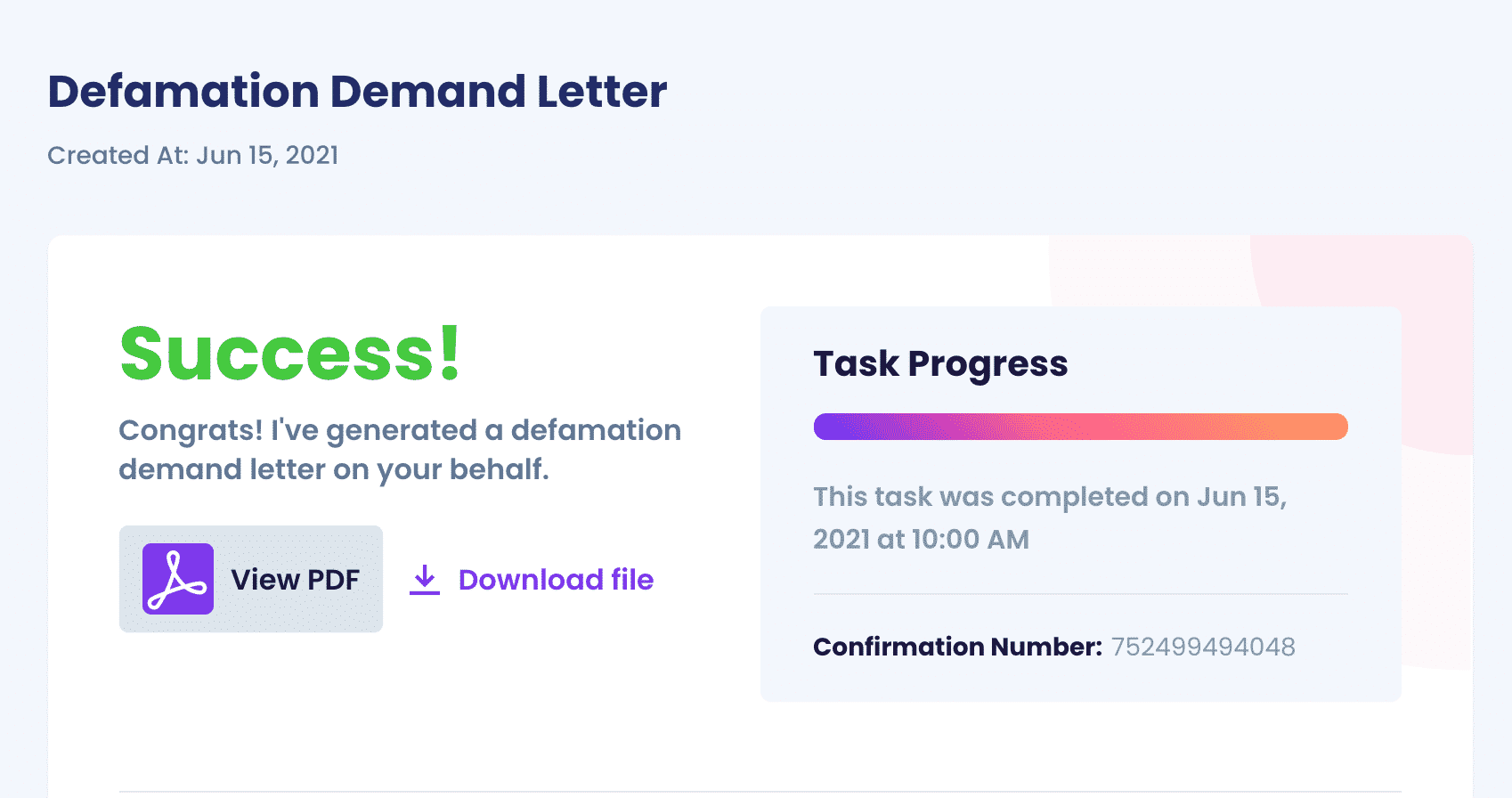 That's it! A detailed drafted cease and desist letter will be ready to go in minutes!
What Else Can DoNotPay Do?
DoNotPay does not just stop at cease and desist letters. The robot lawyer can help manage subscriptions and appeal parking tickets in just a few clicks! Here's what else DoNotPay can do: