Defamation of Character SC - South Carolina
Every state has its own laws regarding defamation. If you are in South Carolina and a person publishes a false statement about you to a third party that damages your reputation, then you have the right to take legal action.
This article will help you recognize if the statement is defamatory and inform you all about the ins and outs of defamation in South Carolina. The article will also introduce you to - generate cease and desist letters in an instant!
Defamatory Statements
Defamatory statements are false and derogatory statements that are made about a person to a third party. False statements are not considered defamation if they:
Are statements of fact: A true statement that is harmful to the person's reputation is not defamation, but rather an invasion of privacy. A plaintiff cannot successfully claim that a statement is defamation if the defamatory statement was in fact true.
Are opinions: The defendant may argue that the claimed statement was merely an opinion, which is privileged under the law. Therefore, you cannot sue for an opinionated claim. However, an "opinion" that may be viewed as a statement of fact by a reasonable person will be deemed a statement of fact and can have a claim made against them.
Are modified or edited: Modified photos that damage the reputation of persons or businesses are clear defamation and are quite popular on social media platforms. Unfortunately, it is common for modified photos or videos defaming a person to go 'viral'. It is your responsibility as a sharer or creator of content to always make sure that any information about a person or entity is truthful before publishing it.
Libel and Slander
Defamation can be branched out into two groups: libel and slander.
Libel
Slander
Libel occurs when a person with malicious intent writes or publishes a false and harmful statement about another person to a third party.
Slander occurs when a person with ill intentions says a false statement misrepresenting a person's character to a third party.
Libel can be found, but is not limited to:

Newspapers
Magazines
Blogs
Websites
Social media.

Slander can be found in, but is not limited to:

Conversations in public places
Television programs
Podcasts
Phone conversations
Face-to-face conversations
Suing for Defamation in South Carolina
In South Carolina, the plaintiff is the one who must prove that a statement is defamatory. Defamation occurs when:
A false and defamatory statement is made
If this defamatory state was unprivileged and communicated to a third party
The defendant is at fault
The statement caused serious harm to the plaintiff or was a serious claim (such as murder) such that it does not matter whether or not it caused material harm
Defamation per se
Certain statements are so harmful that South Carolina law automatically considers them defamation, and the plaintiff does not need to prove material damages. These statements fall under the four categories:
| | |
| --- | --- |
| Criminal behavior | Falsely accusing a person of committing a serious crime |
| Incompetency in an individual's profession | Falsely accusing a person to be unfit for their position |
| Sexual misconduct | Falsely accusing a person of being impotent |
| A person has an abhorrent disease | Falsely accusing a person of having a sexually transmitted disease |
Damages You Can Be Compensated For
In a lawsuit for defamation, the plaintiff may ask for the defendant to compensate for any damages that resulted from the defamatory statements. These damages can be economic and non-economic, and they must be presented in court through witness testimonies or experts.
Economic damages
A loss in income
Loss in future income capacity
Loss of business opportunities
Loss of current and potential clients
Loss of employment benefits
Loss of a job
Inability to find a new job
Non-economic damages
Emotional Distress
Anxiety Disorders
Damage to the Reputation and Stance in the Community
General damages
Why Draft a Cease and Desist Letter With DoNotPay?
In the event that you are facing defamation in South Carolina and need to take legal action, the initial step is to draft a defamation cease and desist letter prior to filing a lawsuit. Lawyers can draft you a persuading letter, however, they are amazingly costly and not everyone can afford them.
is the safest and best option to draft a cease and desist letter for you in a professional, and affordable manner:
1. Search "defamation" on and select the Defamation Demand Letters service.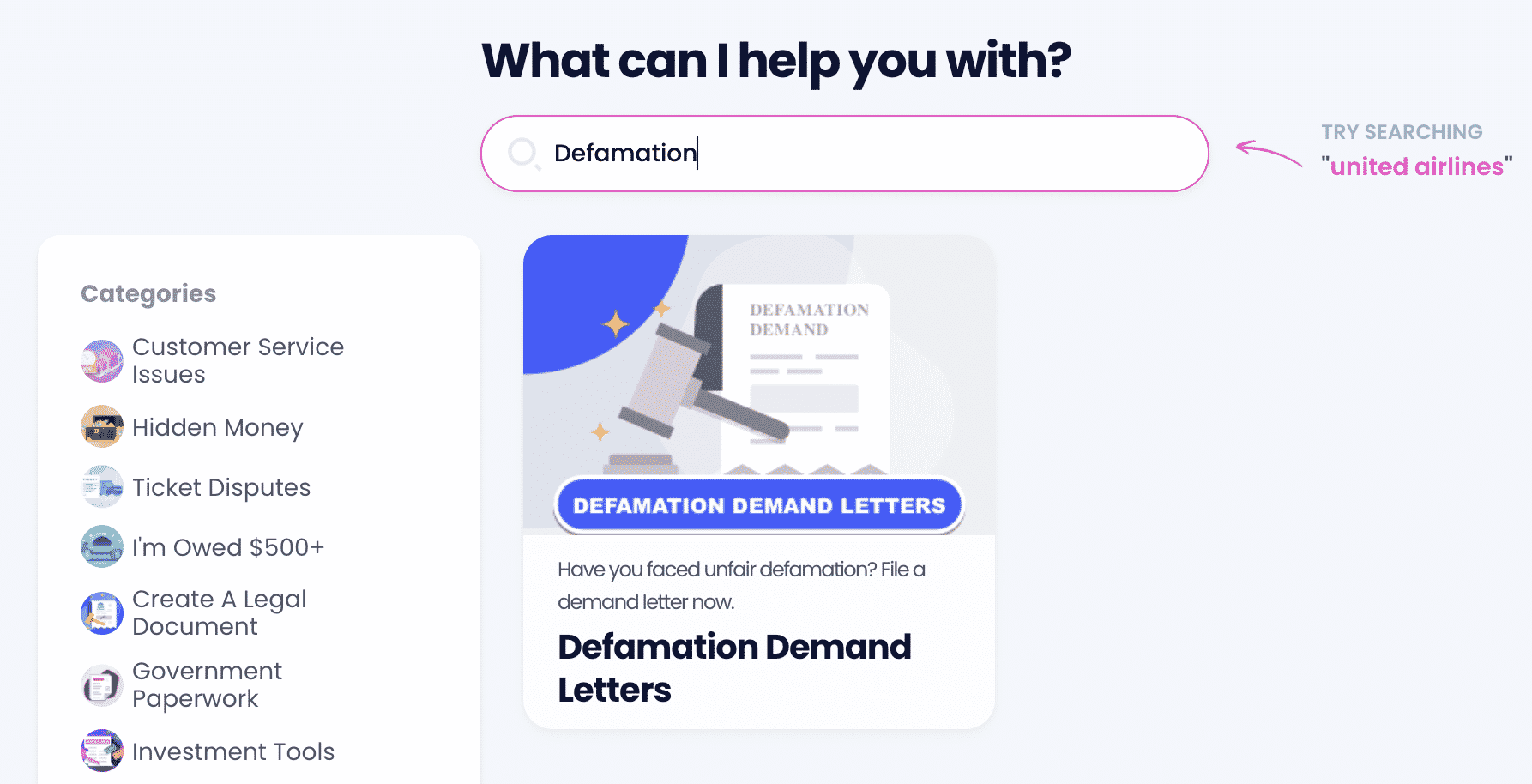 2. Select whether you faced libel, slander, or both.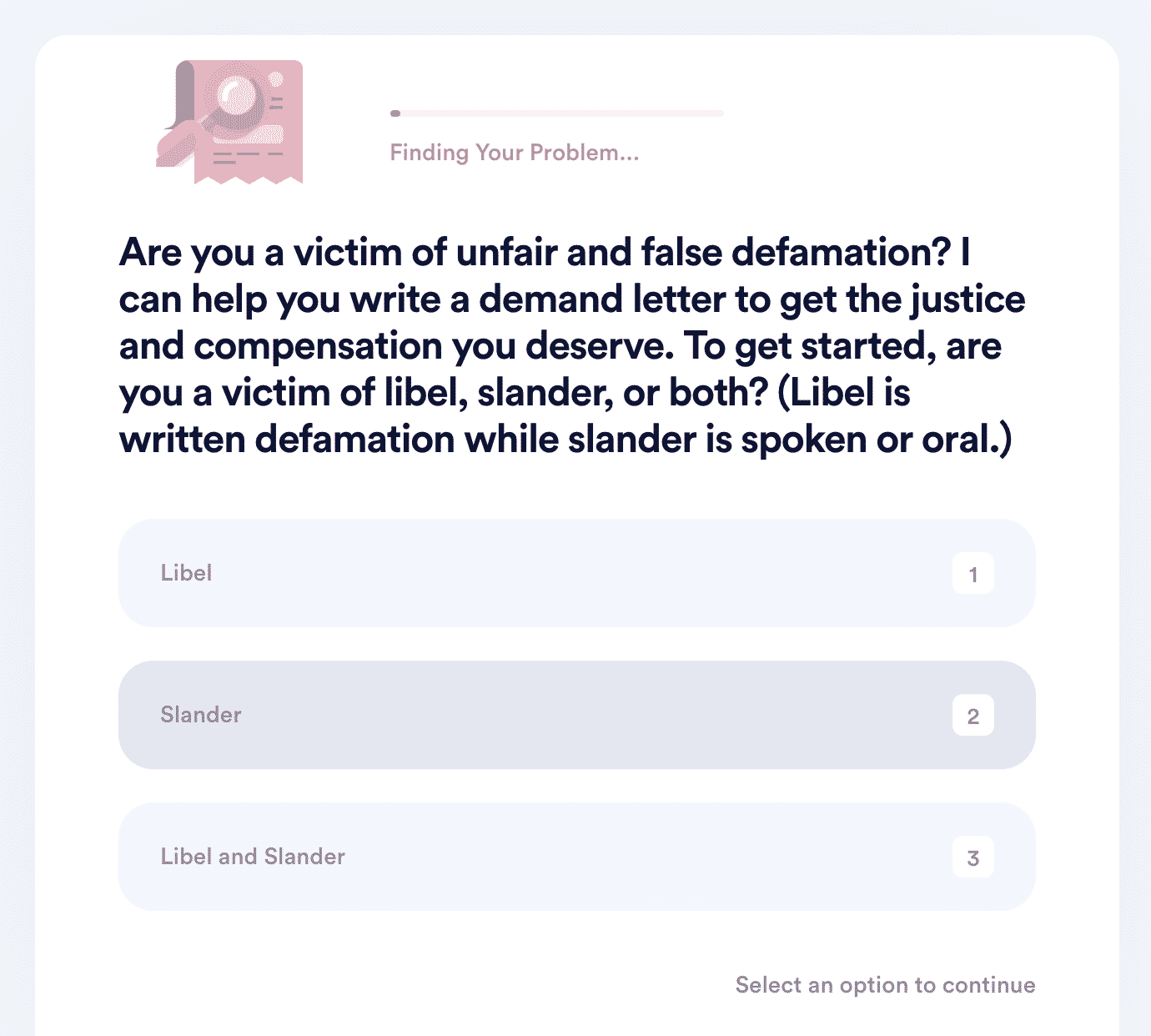 3. Explain the defamatory statement, why it is false, and what damages it gave you.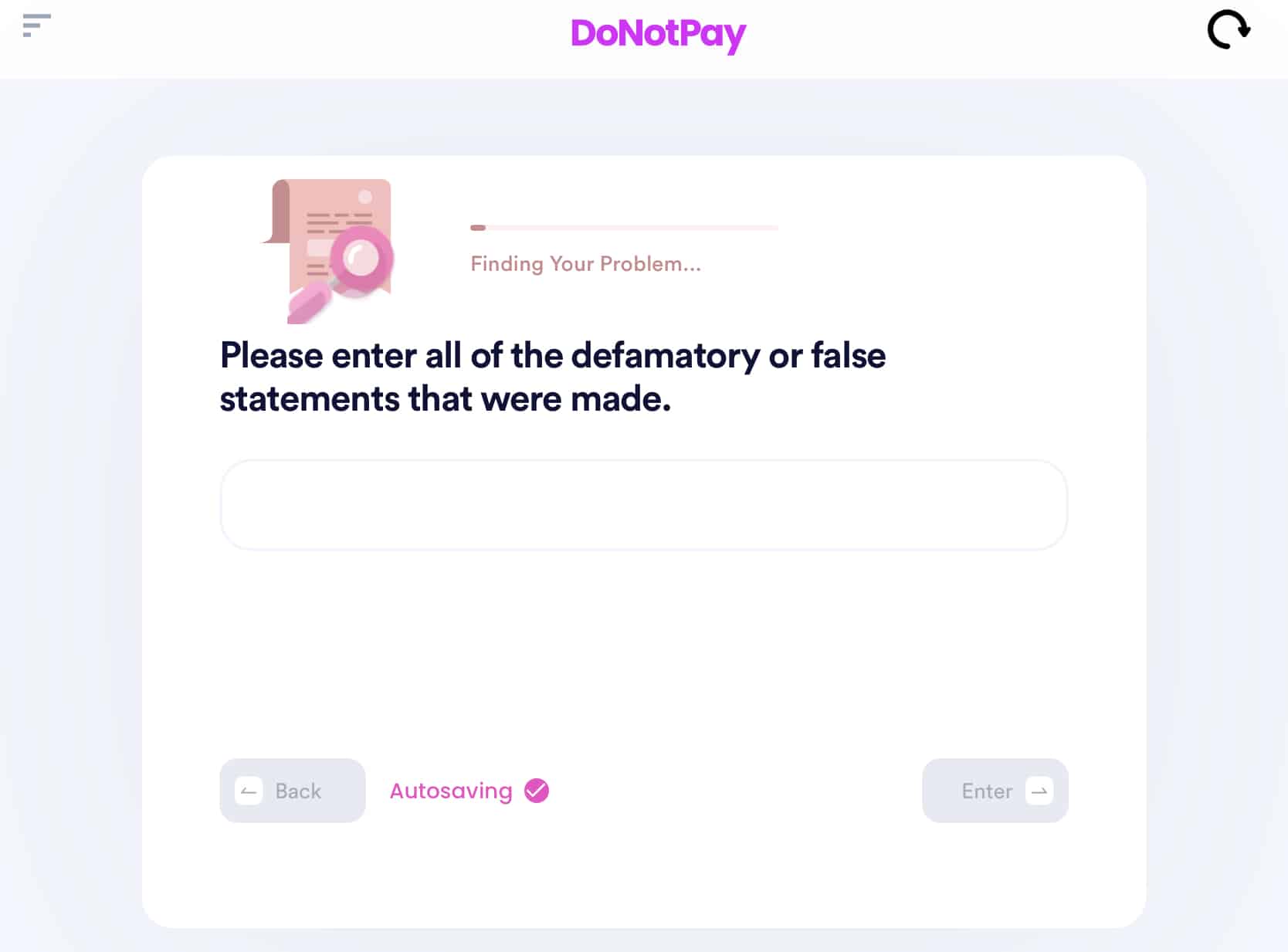 will create a letter that not only directly asks for compensation, but also warns them that you will take them to court if they do not take action.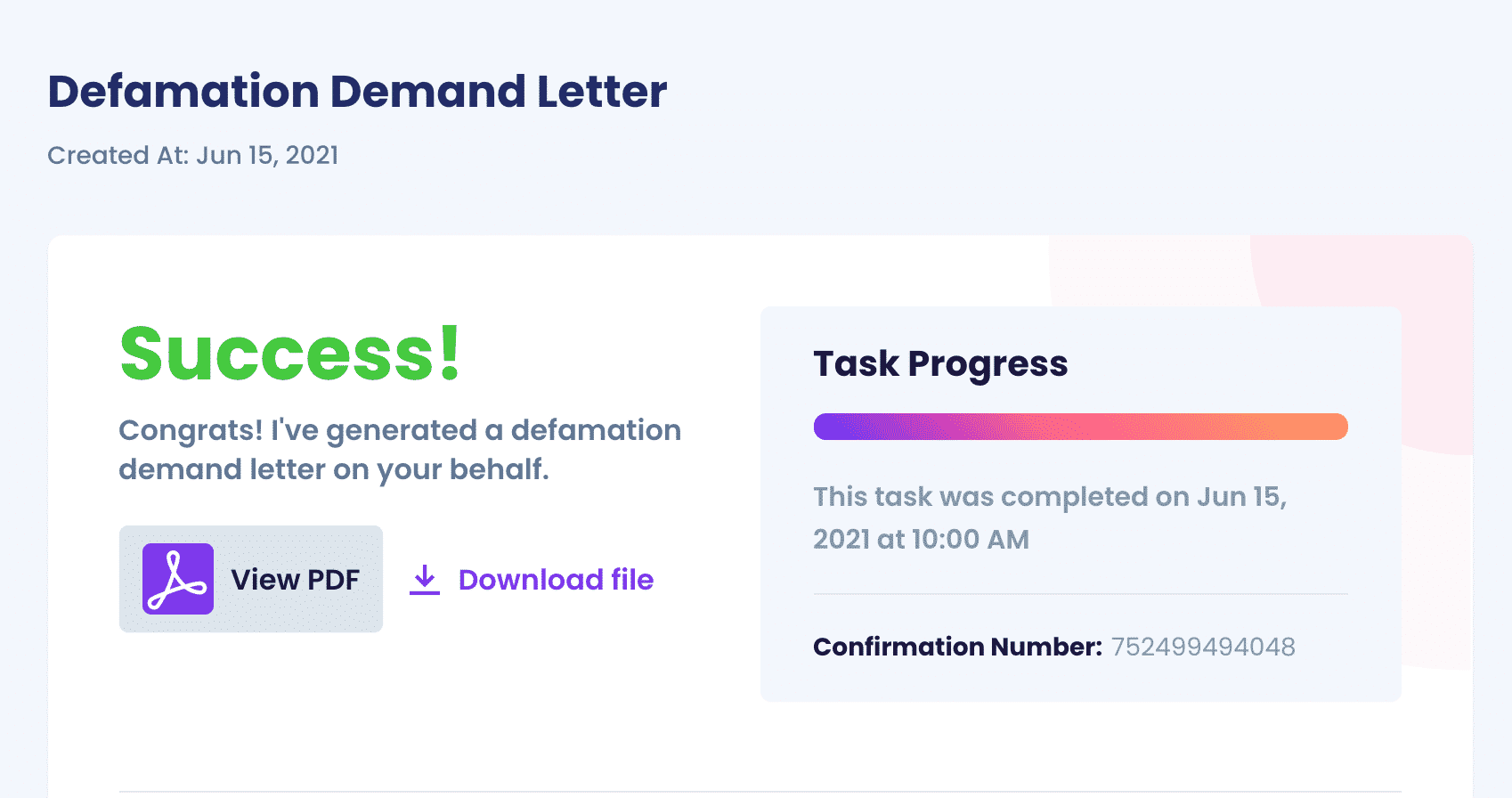 DoNotPay Is Your Lawyer in Your Pocket!
Check out these products, only on DoNotPay: