How to Fight Defamation of Character - Nevada
Did you know the laws concerning defamation in Nevada protect even the dead and can jail a defamer for a year?
If you live in Nevada and have credible reason to suspect defamation, this is a guide to the actions you can take, things you need to prove, and how much time you have left to get justice for defamation in Nevada.
Brief Summary of Nevada Defamation Law
Nevada defamation law originates from the Nevada Revised Statutes (NRS) Section 200.510. It is both a civil and criminal offense to defame in Nevada meaning, a defamer can end up in jail for a year or be liable for a $2000 fine.
Both libel and slander - which means written or spoken defamation respectively - are components of the NRS guide to defamation, generally defined as actions that are malicious in intent, and aimed at soiling the memory of the dead or damaging the reputation or business of the living.
Defamation in Nevada can be online (which encompasses internet-enabled media like blogs, articles, and social media posts) or offline (which covers all print and media broadcast mediums).
The law respects the right to free speech enshrined in the U.S constitution but does not hold such rights as absolute, and a person could get into trouble for simply saying their mind if it turns out to be defamatory.
Defamation Per Se in Nevada
Defamation per se is an act of defamation that needs no proof to show the injurious element of defamation in an act. A defamation per se may consist of false accusations:
regarding chastity
regarding the contraction of a terminal or contagious ailment.
regarding a person's business activities or professional conduct
regarding crime
For and Against Defamation in Nevada
Below is a comparison of the required proofs and major defenses to defamation in Nevada.
| | |
| --- | --- |
| Proof of Defamation | Proof Against Defamation |
| The defamed is not protected by any privilege | The defamation was erroneously attributed to the defendant |
| The alleged defamation can be proved false | The alleged defamation can be proved true |
| The defamed acted with negligence or malicious intent | The defamed had once agreed to the defamation content |
| The content of the defamation has caused significant damages | The false statement has no provable damaging effect |
| The alleged defamation bears all resemblance of a fact | The alleged defamation was only a mere opinion |
Tackling Defamation in Nevada
You have just 48 months from the date defamation is published to pursue justice. You stand a chance to obtain punitive or compensatory damages that can either be:
Economic
Dollar value of damages suffered due to defamation.
Non-economic
It typically includes damages relating to pain and suffering on a person's physical or mental health. Nevada pegs the upper limit for non-economic damages at $350,000.Punitive damages reach beyond compensatory claims and are used to punish the defamer to serve as a deterrent.
Typically, this is how you would start a defamation claim:
Confront the defamer who may be a familiar face or a work colleague, and request them to desist from defamatory acts or face legal consequences. You can do this through a phone, a mail, or in-person with the company of one who may serve as a later witness
Send the defamer a cease and desist letter, which is different than a court order. The letter will contain proof of defamation, claims of damages, and warn legal action.  You can prepare a standard defamation demand letter in minutes with DoNotPay.
File a lawsuit against the defamer in a small claims court, for claims below $15,000. This may require a lawyer to facilitate if the costs are affordable, the case complex, and the claims significantly large.
Get DoNotPay's Instant Cease and Desist Letter
DoNotPay is the perfect, convenient solution! The cease and desist letter DoNotPay drafts will gather all information about the case, demand retraction, and warn against any impending statements instantly while following the Nevada defamation statute. All you need to do is:
1. Look for the Defamation Demand Letters service on DoNotPay.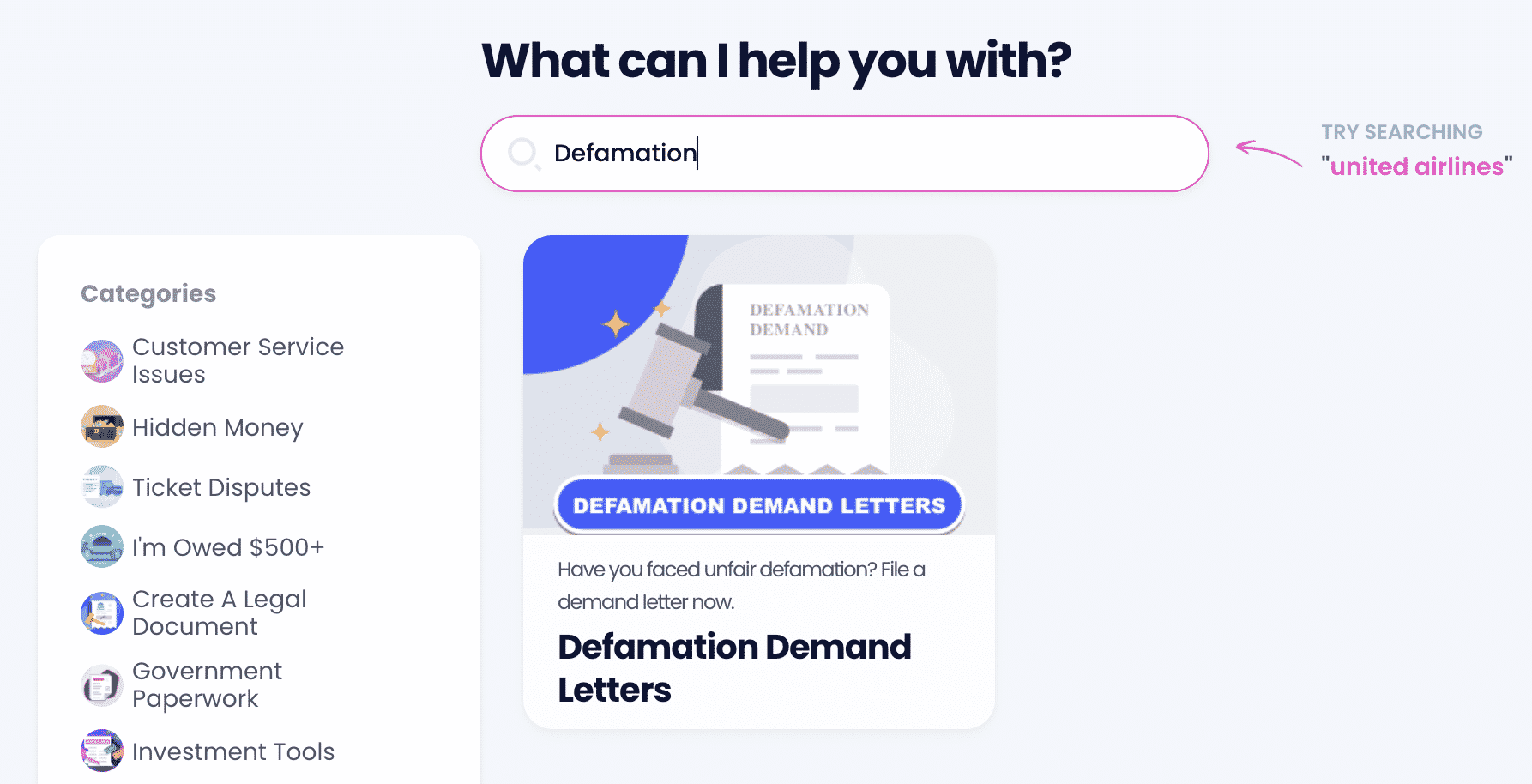 2. Tell us about your situation:
Were the statements slander or libel, or both
What were the statements?
Why are they false or misleading?
What consequences have you suffered as a result of these statements?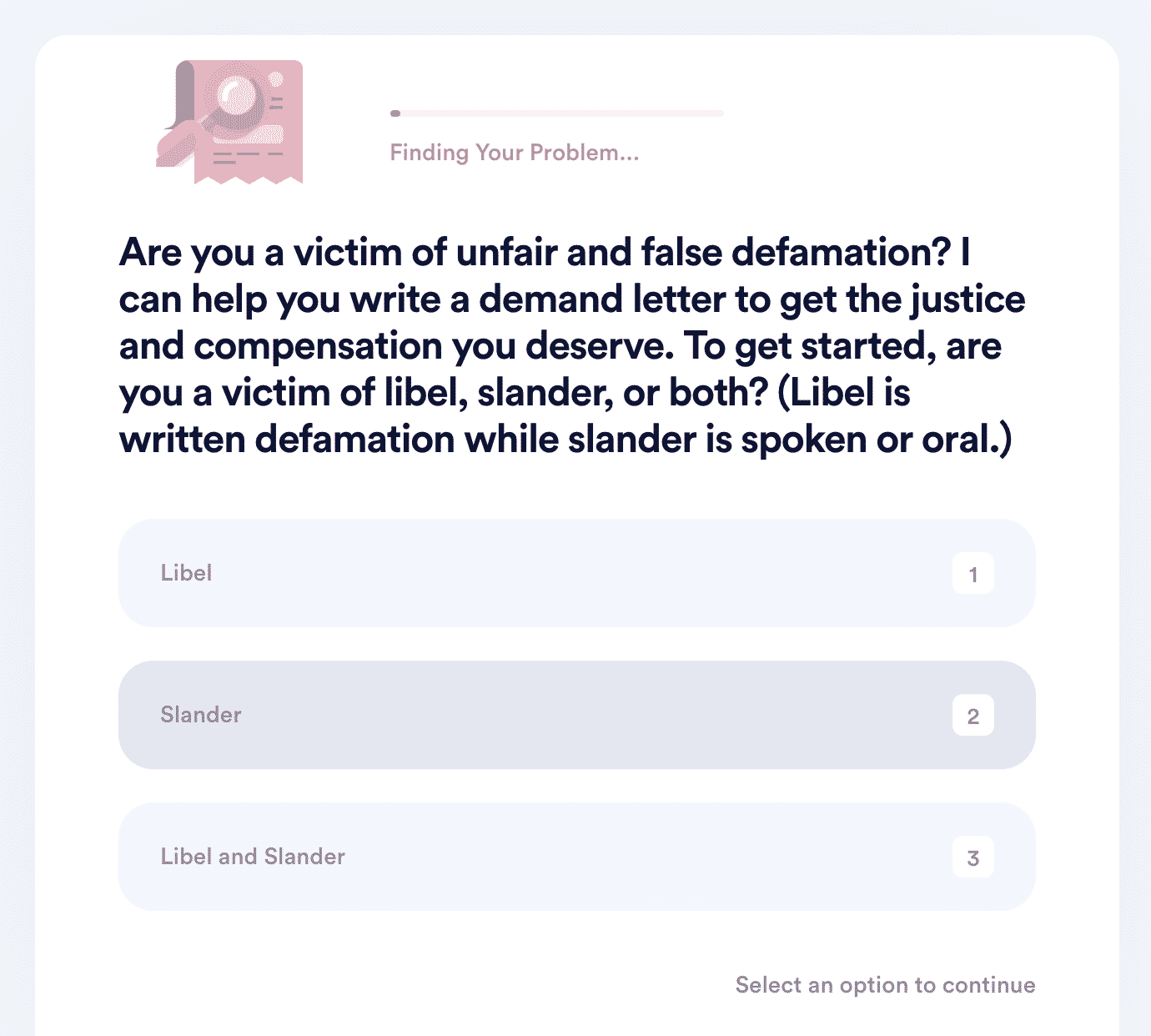 3. Based on the state the defamation occurred in, DoNotPay will immediately generate a formal demand letter on your behalf, containing the relevant state laws to boost your argument.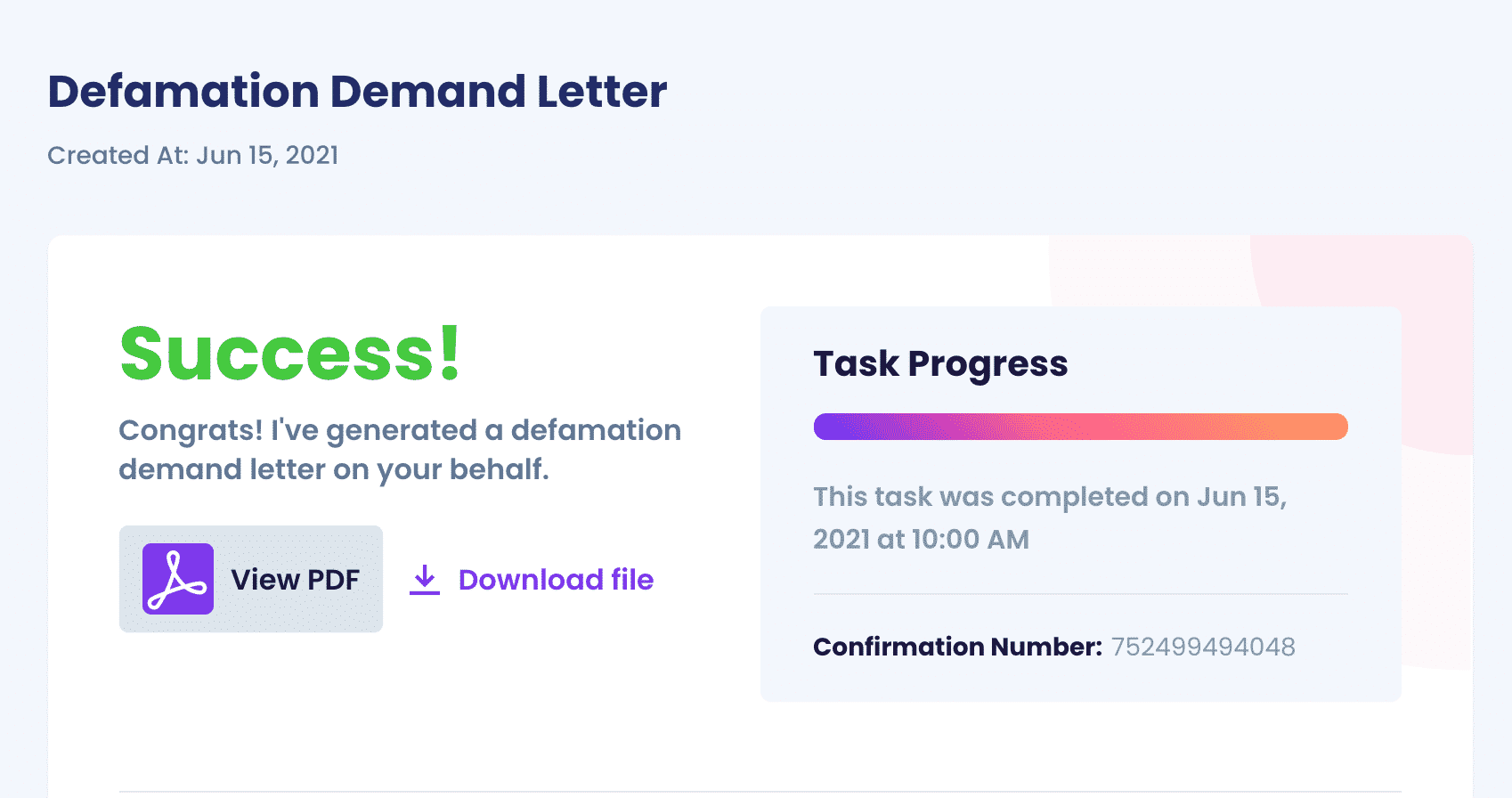 More Services DoNotPay Has: