Defamation of Character Missouri Laws
Defamation occurs when a false statement causes damage to an individual's reputation or financial well-being by ruining their future prospects, physical health, or mental health. Defamation can result in severe legal repercussions for the victim. One may sue someone for defamation in a court of law for slander or libel. Defamatory remarks spoken by a person are classified as slander, while defamatory words written or uploaded online are classified as libel.
The affected person may submit a cease and desist letter after defamation has happened, which basically tells the offender to halt making defamatory statements or face legal consequences. The following article will provide an overview of the defamation of character litigation procedure in the state of Missouri.
Distinguishing Between Libel and Slander
As previously stated, slander and libel are the two types of defamation: 
Libel can also be distinguished by the fact that it creates a permanent record, such as an email, radio or television broadcast, newspaper article, or an internet posting, among other factors.
It is not possible to prove slander with a permanent record, and it can be as simple as a verbal phrase or a hand gesture.
The first stage in proving any defamation claim, or determining if you can issue a cease and desist letter, is to identify the sort of defamation that occurred.
Defamation Laws in the State of Missouri
When it comes to libel (written defamation), Missouri law has specific standards. The state of Missouri does not consider it defamatory to make a false accusation about a person in front of them.
According to Missouri defamation law, the publication requirement is satisfied if the defendant:
Knew — or should have known — that the statement would be made public at the time of the statement
A statement is not actionable if the plaintiff gave his or her consent to the defendant's publication or broadcasting of the statement at some point.
Suing for Defamation of Character in The State of Missouri
In Missouri, common states that the elements of a defamation claim are:
| | |
| --- | --- |
| An intent to coerce | Defamation was done with the intent of coercing, bullying, intimidating or harassing the person who made the statement. |
| Defamation occurred  | A claim of defamation was made, and there are records of messages sent, actions taken, and statements made that contained slander. |
| Defamation was obscene  | While making an obscene suggestion or proposal, the defamation also threatened to commit an illegal or immoral act and used vulgar, profane, lewd, or indecent language and expressions. |
| Damage incurred  | As a result of the individual's actions, you suffered losses. |
Defamation "Per Se" Does Not Exist in Missouri
Some statements are considered to be inherently harmful in many jurisdictions, including the federal government. In terms of defamation, the Missouri does not have defamation per se mandates.  
Defamation "per se" is a legal concept that refers to the act of defaming someone. When a statement is defamatory in and of itself, plaintiffs are not required to demonstrate how the contested statement caused them harm. The statement is simply understood to be defamatory in and of itself.
Examples of situations involving per se defamation include: 
Claims of a serious disease
Accusations of moral turpitude
Claims of professional inefficiency
While a claim based on any of the above statements would not be required to be backed up by evidence of damages in the federal courts, in Missouri, evidence is required.
Deciding to File a Cease and Desist Letter?
Cease and desist letters are extremely complex, and precise language is required in order to establish credibility for your position. 
It is possible that your letter will be ignored or deemed insufficient for a proper case if it does not properly outline the damages, harm, and other information about your case using terminology that is applicable in a court of law.
Alternatively, you can hire a lawyer to write a cease and desist letter on your behalf, but this will be more expensive and take longer than you expect.
When it comes to defamation cases, the state of Missouri has a statute of limitations that runs for a year after the incident occurred, which means that you have a limited amount of time to file a claim. Make sure you pursue a lawsuit within this time period.
How to Draft a Cease and Desist Letter in Missouri
DoNotPay is a perfect solution! The cease and desist letter DoNotPay drafts details the information about the case, demands retraction, warns against any impending statements, and will order that the accused abides by Missouri state legislation.
All you need to do is:
1. Search "defamation" on DoNotPay and select the Defamation Demand Letters product.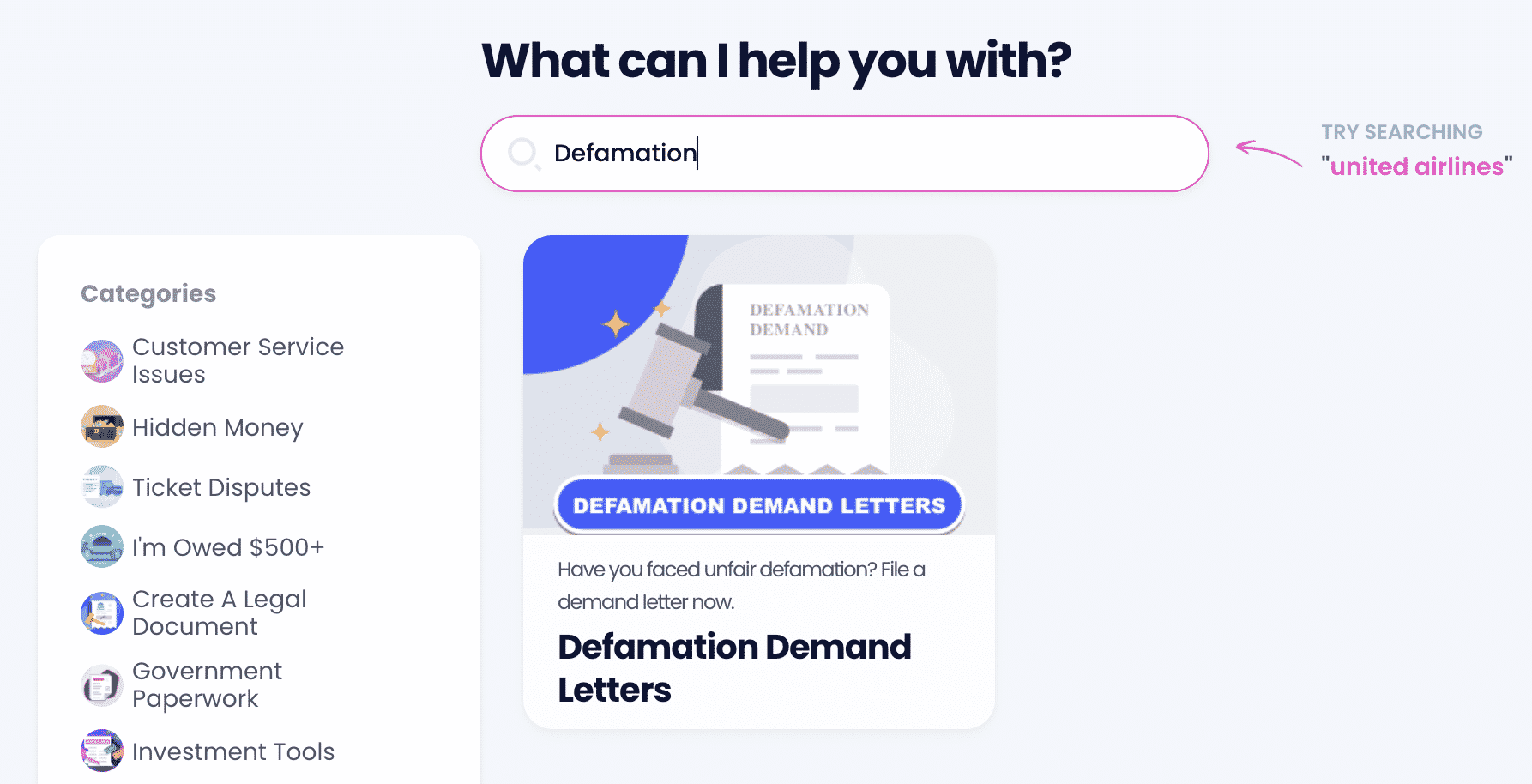 2. Tell us about your situation:
Were the statements slander or libel?
What were the statements?
Why are they false or misleading?
What consequences have you suffered as a result of these statements?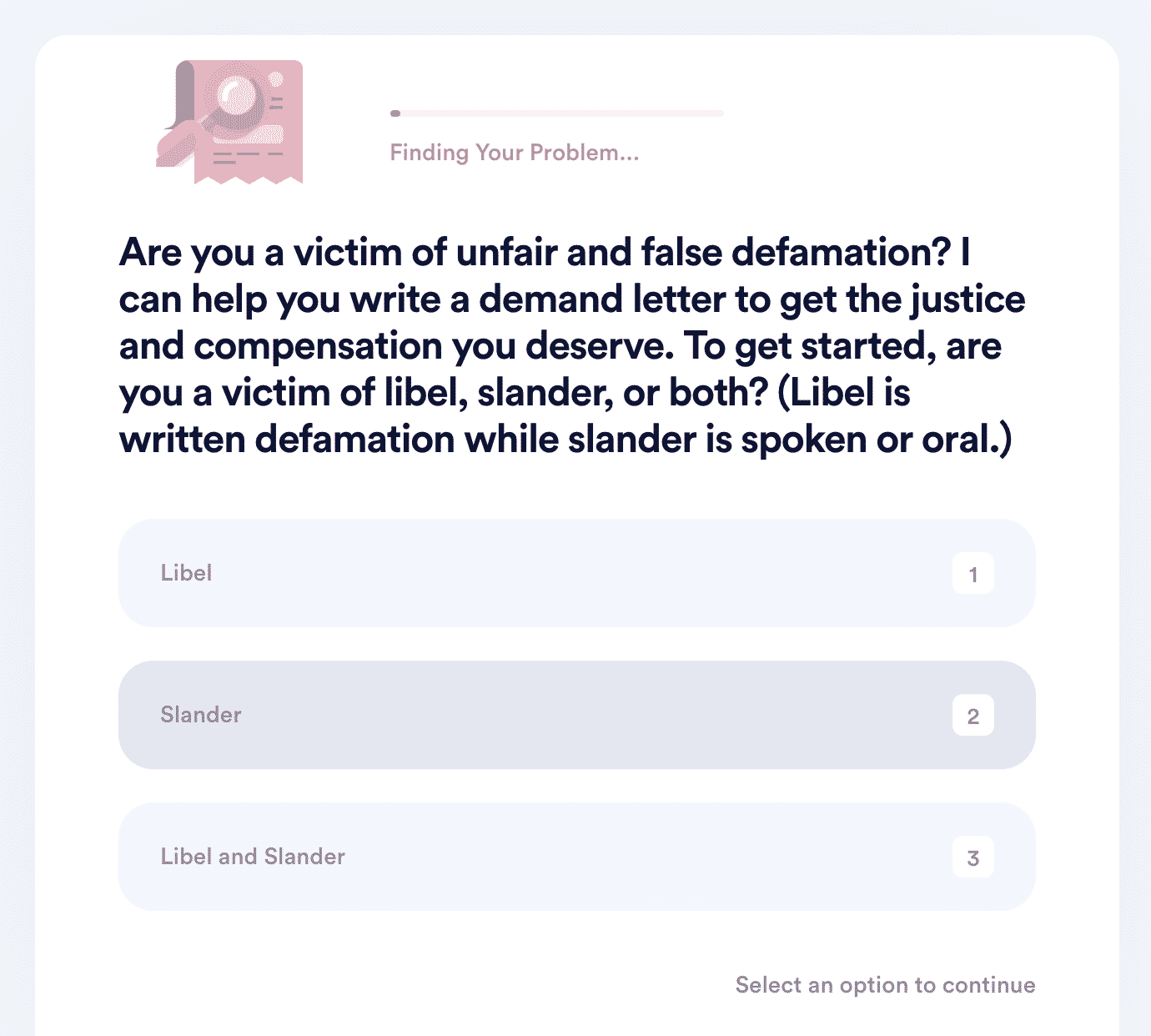 3. Based on your location, DoNotPay will immediately generate a formal demand letter on your behalf, with the most relevant state legislation regarding defamation.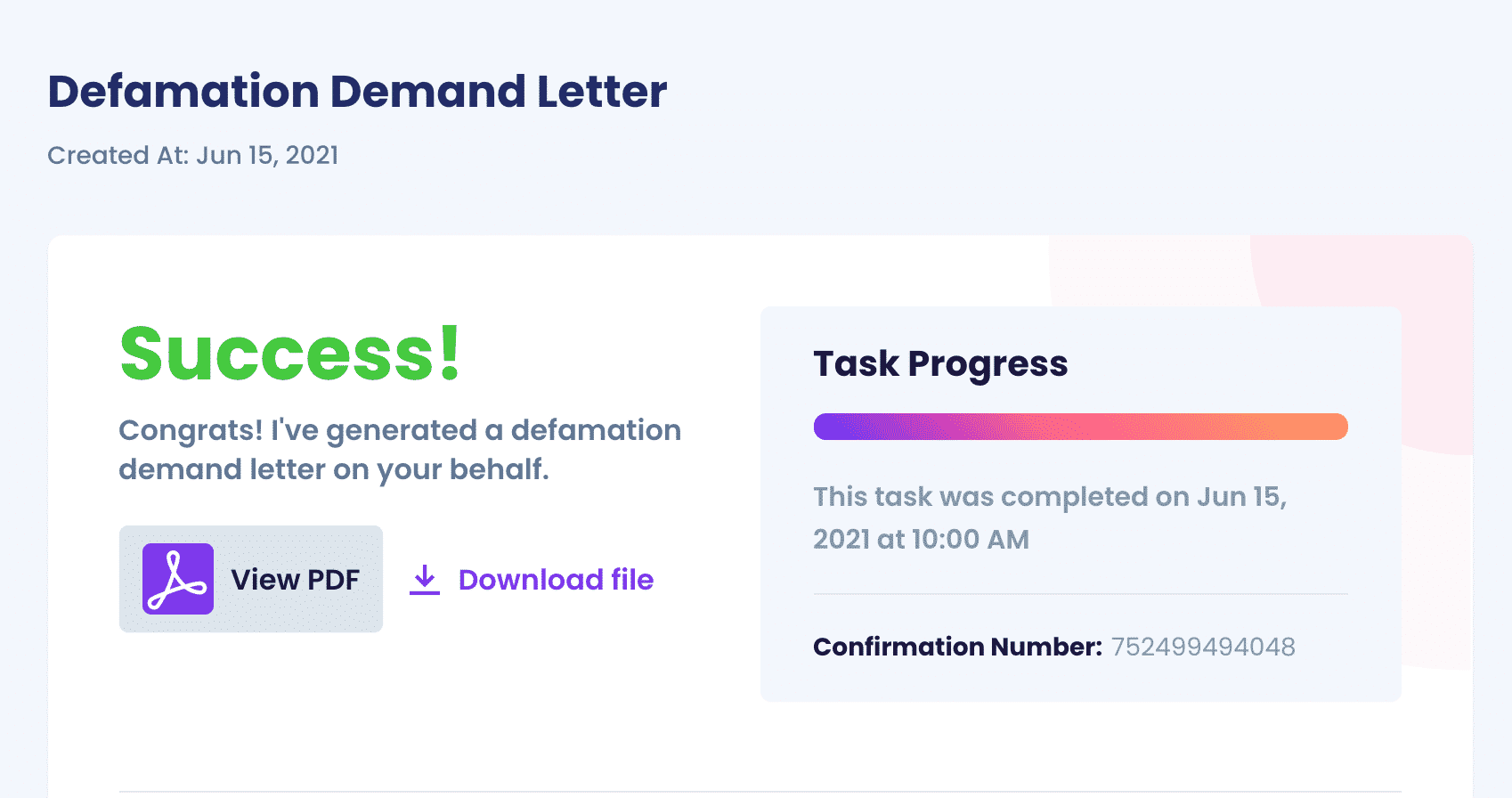 That's it! You can expect to receive a precisely drafted cease and desist letter to your cause, in an instant! 
What Else Can DoNotPay Do?
DoNotPay's AI-powered robot lawyer can help you with daily tasks! Cancel subscriptions, look for tax exemptions, and appeal parking tickets with just a few clicks! Here's what else you can do:
Take a look at what else we can offer: