Defamation of Character Lawyers in Minnesota
Minnesota is one out of a handful of states where you could face jail time for defamation of character. The laws regarding defamation in Minnesota classifies defamation as both a civil and a criminal act.
If you have been a victim of what you believe is a defamatory act, this article will show you what counts as defamation in Minnesota and how you can pursue your case against defamation with no lawyer.
Defamation of Character in Minnesota
Defamation is widely known as any injurious note or remark that's false and capable of debasing the target individual or group in the eyes of others. Whether spoken, gestured, or written, defamation is a tort capable of causing liability to a victim. In Minnesota, the law covering defamation is set in sections 595 and 609 of the state's laws and statutes. We've broken down the state's laws so that it's easier for you to understand:
Defamation in Minnesota...
This means that...
Is both civil and criminal
In the case of civil defamation, you can get both compensatory and punitive damages for the injuries caused.

In the case of criminal defamation, a defamer is liable to a fine of up to $3000, one year jail time, or both.

Covers both online and offline libel and slander
Libel is defamation written down.

Slander is defamation spoken or gestured.

The law covers libel and slander published through online channels like radio, social media, and the general internet and offline channels like newspapers and other hardcopy print media.

Requires four specific proofs
You need to prove these four things to make a defamation case:

The content labeled defamatory is not true
The defamer acted with gross negligence or malice
The defamer is not protected by any sort of privilege
You've suffered significant losses on account of the defamation

Needs witnesses to criminally prosecute a defamer
In Minnesota, if you plan to pursue a criminal case against a defamer, you'll need two or three valid witnesses in addition to your proof of defamation.
Protects some classes of people
Public servants and officials, journalists, court judges and lawyers, and key witnesses are not liable for a charge against defamation.
Has a statute of limitation
You have up to two years from the time the defamatory act was published to settle with your defamer or make a case in court.
How to Tackle Defamation of Character in Minnesota
Most people believe they should immediately hire a lawyer and sue your defamer once they spot defamation. However, there are two other equally effective steps you can take before heading to court and spending money.
If you intend to get a lawyer, you should know that most defamation lawyers in Minnesota charge on a contingency basis. It is common to find lawyers in Minneapolis and other cities who demand their fee as a percentage of the compensation to be awarded. In some cases the fee increases depending on the duration of the case and the point at which a judgment or settlement occurs.
For claims below or a little above $15,000, suing in small claims court can serve as a suitable option. You can represent yourself and only have to pay filing fees. However, before you think of getting a lawyer or going to court, try:
Confrontation
Confrontation is a type of out-of-court settlement. This means you'll have to contact the defamer or visit them by yourself. You can complain about their act(s) and get them to retract their statements and issue an apology. Remember to take along a party as a witness. This is ideal when your defamer is a colleague in your workplace or some other person you know personally.
Sending a Cease and Desist Letter
A well-written cease and desist letter helps you get in touch with your defamer, request an apology or a retraction, and warn them to stop their act(s) or face legal consequences. You save up on time, the cost of in-person contact, and the awkwardness of a confrontation visit with a cease and desist order. DoNotPay helps create a tailor-made Cease and Desist Letter in minutes and you can see the steps below.
Create a Cease and Desist Letter With DoNotPay
DoNotPay helps you prepare letters to stop slander, defamation, and harassment. Only a brief explanation is needed! DoNotPay will help you demand a retraction of defamatory statements and explicitly threaten consequences in accordance with your state defamation laws and statutes. Here's how it works:
1. Select the Defamation Demand Letter product on the DoNotPay website or app.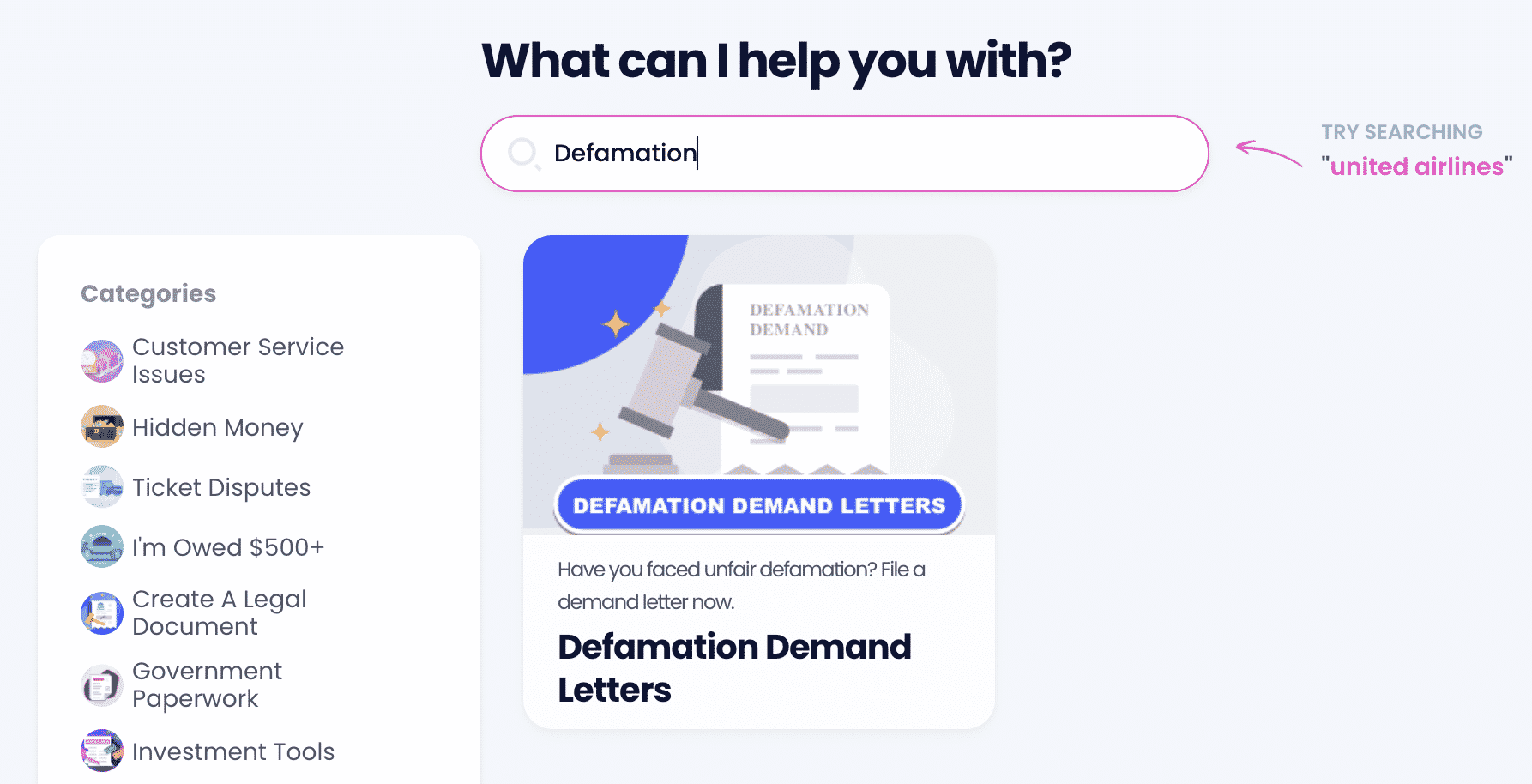 2. Choose whether this is regarding libel, slander, or both.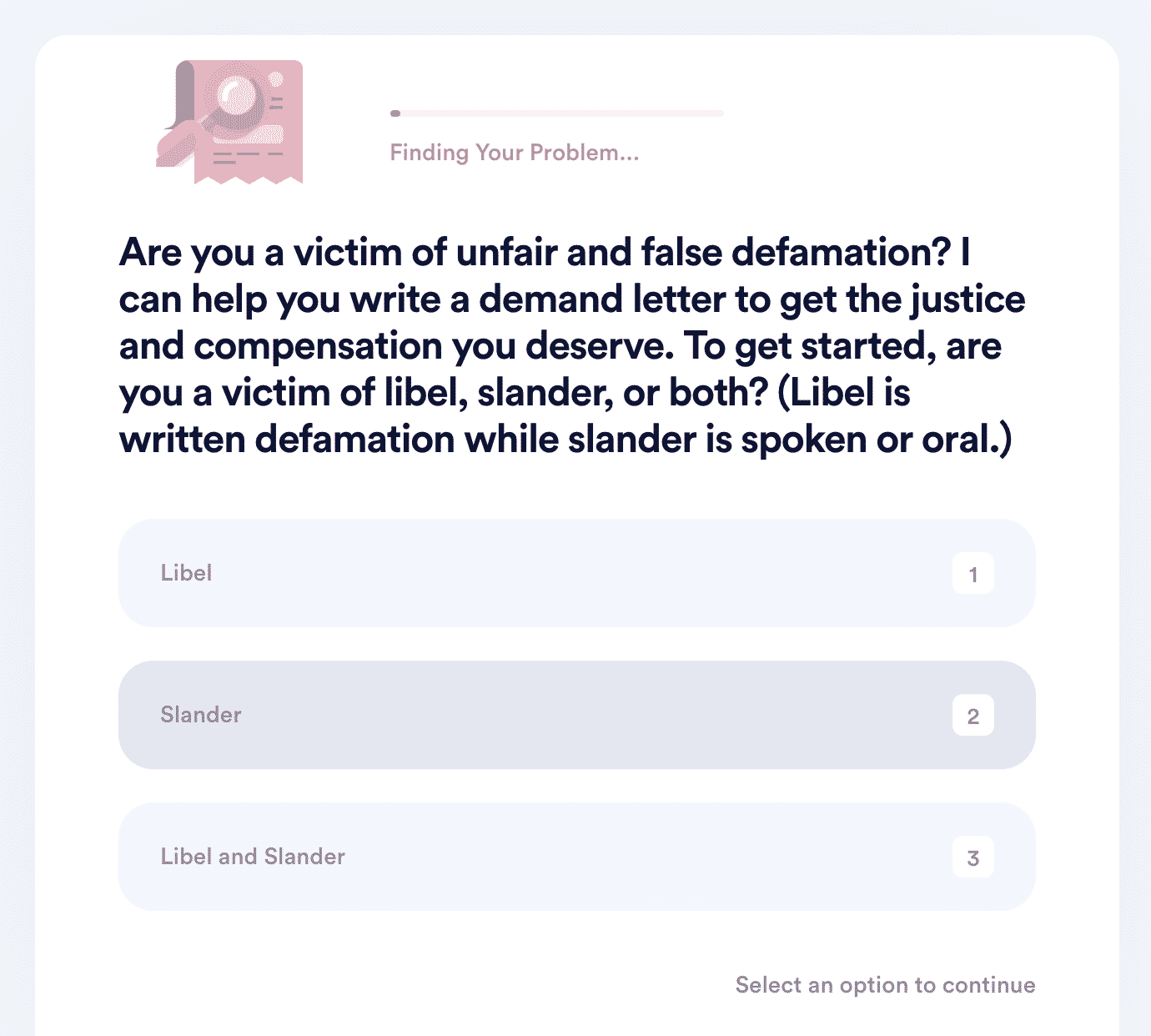 3. Explain the consequences you have suffered as a result and the damages you need to be compensated.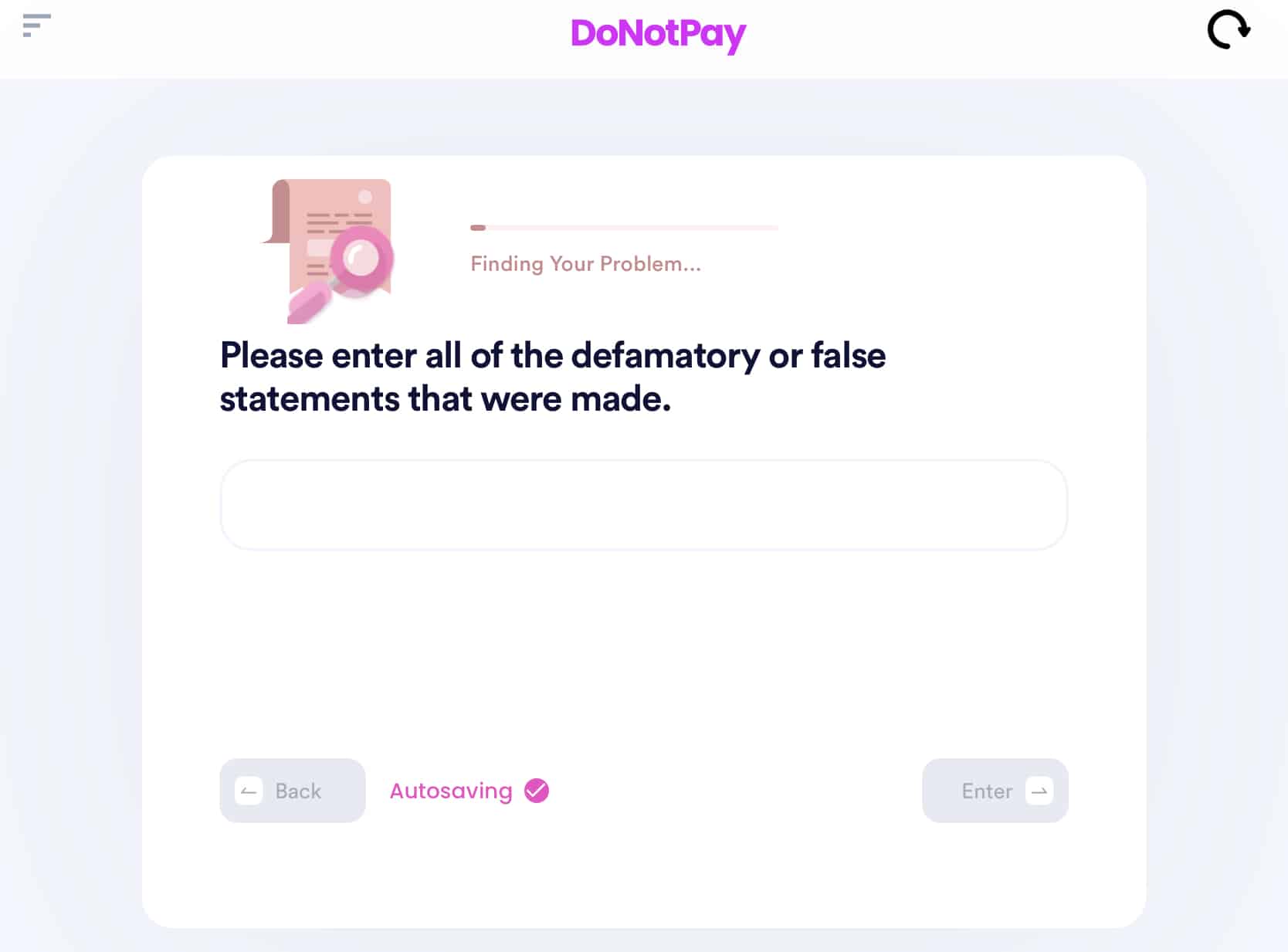 Once you type in the details, DoNotPay will automatically formulate a detailed cease and desist letter for you! It will contain the state laws that deal with defamation to make your demands even stronger.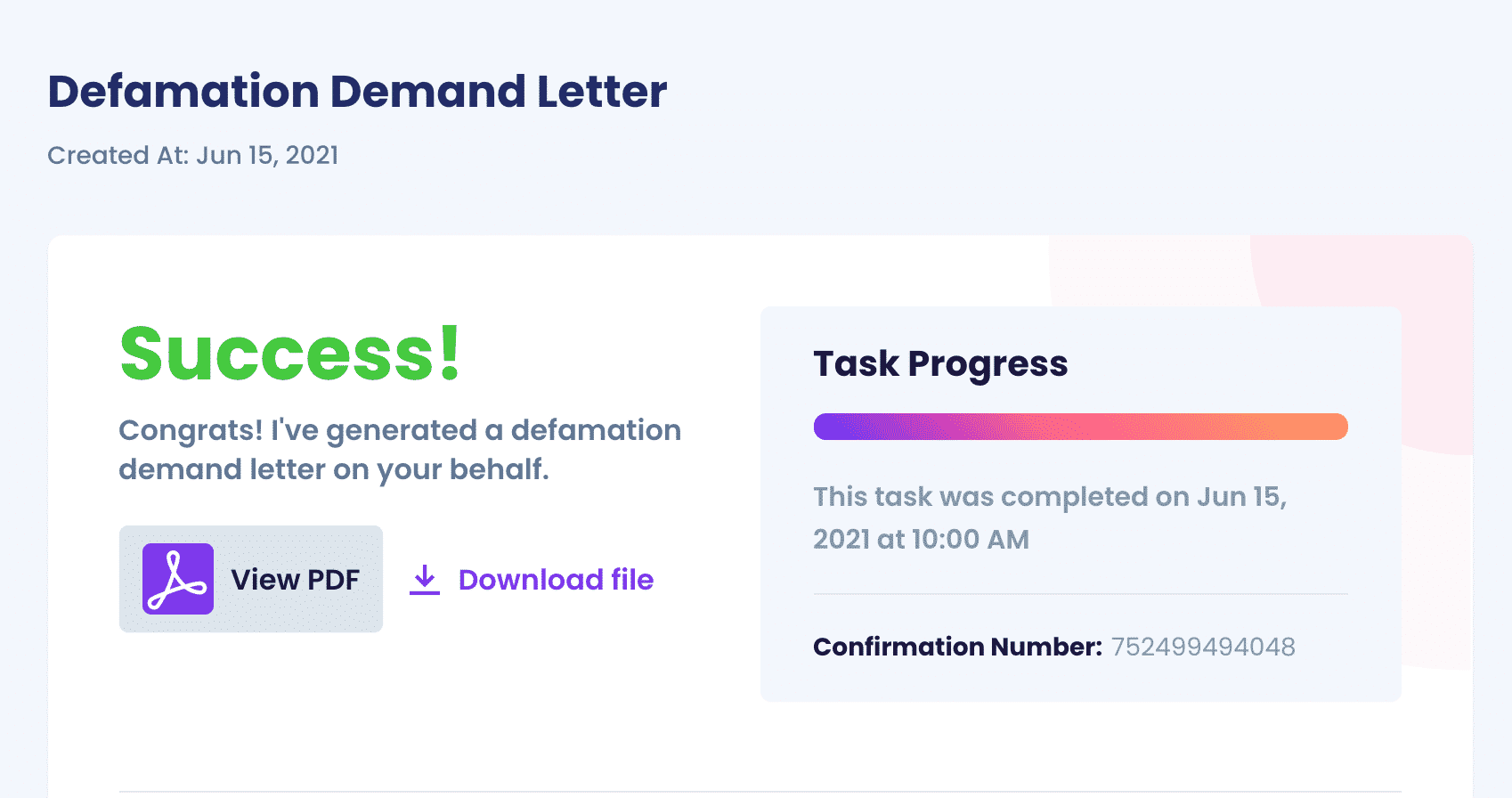 Get a Head Start With DoNotPay!