Defamation of Character Lawyers in Maryland
Defamation – whether spoken or written – can have rippling effects far worse than imagined on a reputation. In Maryland; you can claim both general, special, and punitive damages for a defamatory act, once you can prove it.
This article will show how you can prove defamation, ways you can tackle defamation, and a simple step to save yourself the legal costs in Maryland.
Defamation of Character According to Maryland Law
The laws of the state of Maryland recognize only two types of defamation – libel and slander. Insults, snarl remarks, and unflattering comments do not make for defamation. A defamatory act – whether online or offline, must be capable of spurring disrepute, scorn, or hatred for a person by others to the point of harming their social and economic life. Besides this, a defamatory act must also be:
Inherently false
A person seeking justice for defamation must be able to show how the defamatory act is false.
Made public to a third party
There ought to be persons other than the defamer and the defamed that have seen or heard the defamation.
Done with negligence or malice
It is imperative to show how the defamer failed to confirm his false claims or acted with malicious intent
Made by an unprotected person
If the alleged defamer belongs to the class of persons in the society protected by law, then a charge of defamation cannot be brought against them.
The present or potential cause of damage
Some defamations may be Defamation per se, in which case the evidence of damage is obvious and needs little proof.

When it is Defamation per quod, you'd need to show what damages have been done to establish a case.
You have 12 months from the date the defamation was published to seek either an in-court, or out-of-court settlement.
Finding a Defamation Lawyer in Maryland
In Maryland, a lawyer can be of great help in tackling a defamation case in court and an optional requirement for an out-of-court settlement. Before picking a lawyer in Maryland, here are some factors to consider:
Closeness
You would want a lawyer who lives close to you so you can save up on the extra cost of contacting your lawyer to prepare your case.
Experience
You should also seek a lawyer with a string of successes with defamation cases. It is an extra benefit if those victories are cases in Maryland.
Confidentiality
Because you'll have to establish a rapport with your lawyer, seek someone you can comfortably confide in.
Legal Cost
Money is a huge factor to be considered, and rightly so because it may affect other qualifications and impact your case. Most lawyers in Maryland charge on a contingency basis or an hourly rate. If you are only looking to get compensation less than $10,000, a lawyer may be a financially counter-intuitive choice.
An extremely cheap lawyer may signify a lack of experience and the likelihood of a failure on the case. Either way, it is always a great idea to first exhaust all workable options for resolving defamation before hiring a lawyer or going to court.
Before You Hire a Defamation Lawyer in Maryland
Before you file a defamation lawsuit or seek legal representation in Maryland, here are two things you must do:
Reach out to your defamer
If you can call them, send a mail, or visit them in person, do so. You should let them know how their defamatory act affects you, request for them to stop, and issue an apology. This is best for close pals, family members, and office colleagues turned defamers.
Send your defamer a Cease and Desist Letter
You can also draft a stern and a civil letter showing evidence of defamation, request for an apology, and threat to sue if they persist.
Send a Cease and Desist Letter With DoNotPay
DoNotPay is the perfect, convenient solution! The cease and desist letter drafts will gather all information about the case, demand retraction, and warn against any impending statements quickly, under Maryland Defamation Laws.
All you need to do is:
1. Search for Defamation Demand Letters on .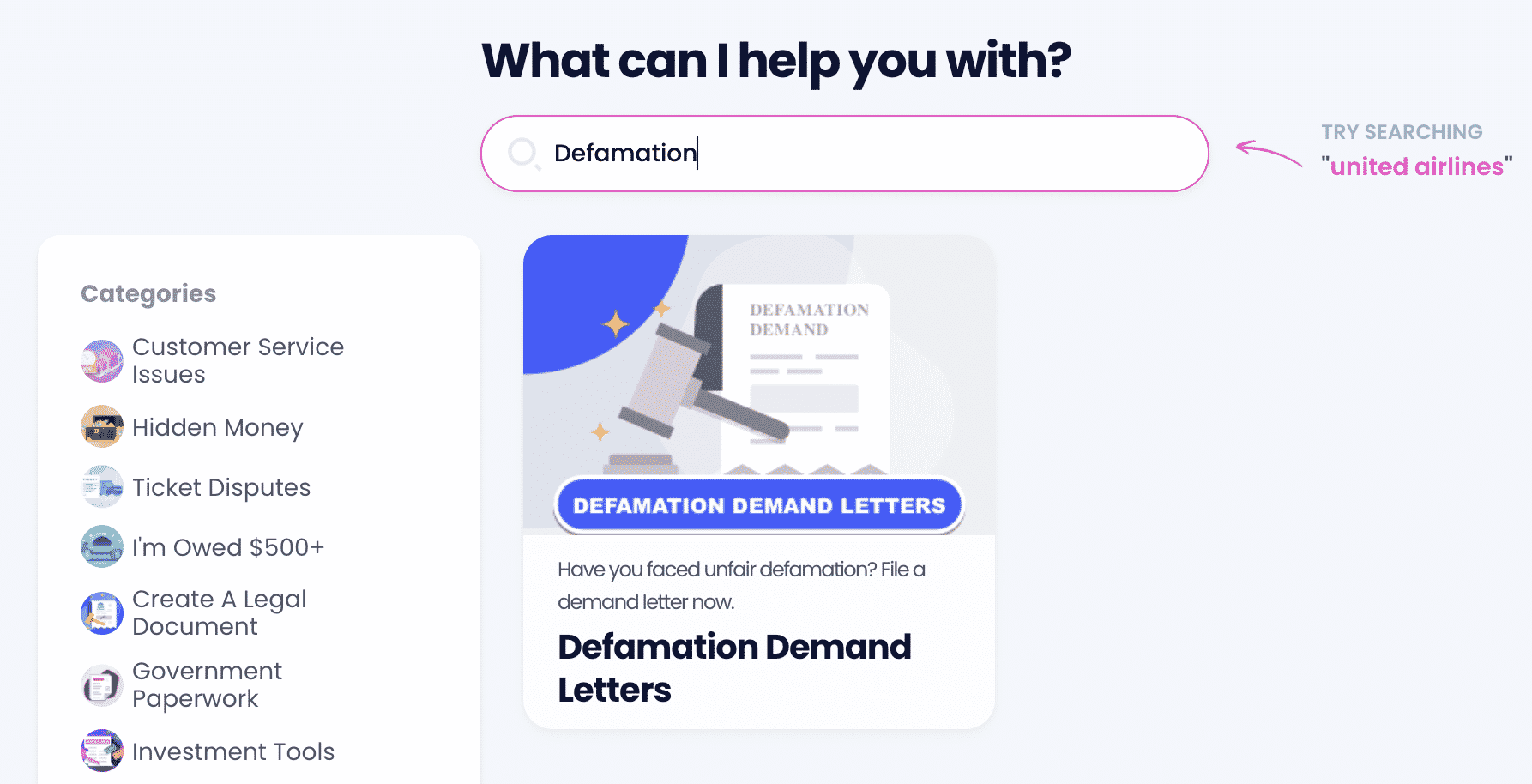 2. Tell us about your situation:
Were the statements slander or libel?
What were the statements?
Why are they false?
What consequences have you suffered because of these statements?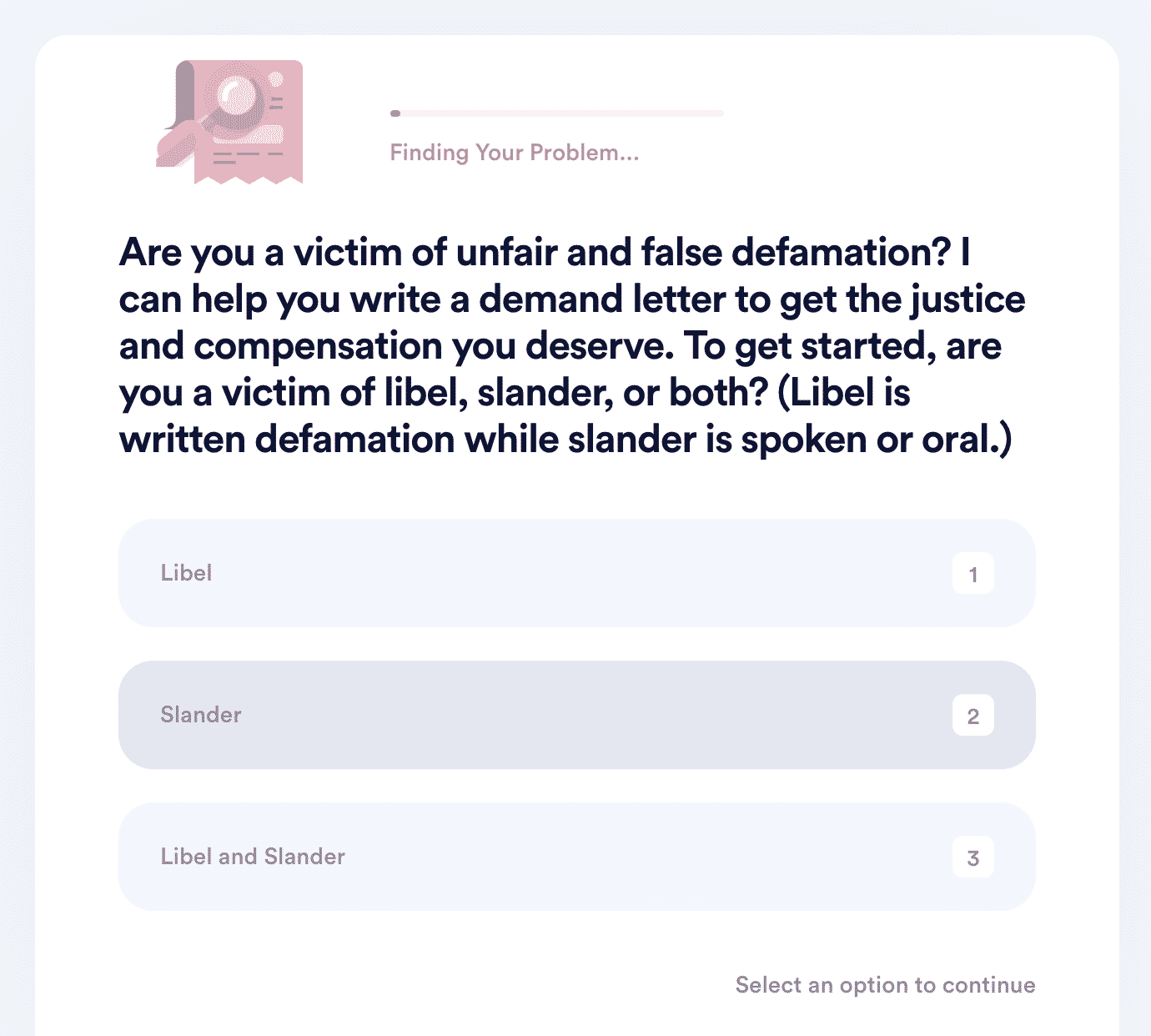 3. Based on your location, DoNotPay will immediately generate a formal demand letter on your behalf, with the most relevant state legislation regarding defamation!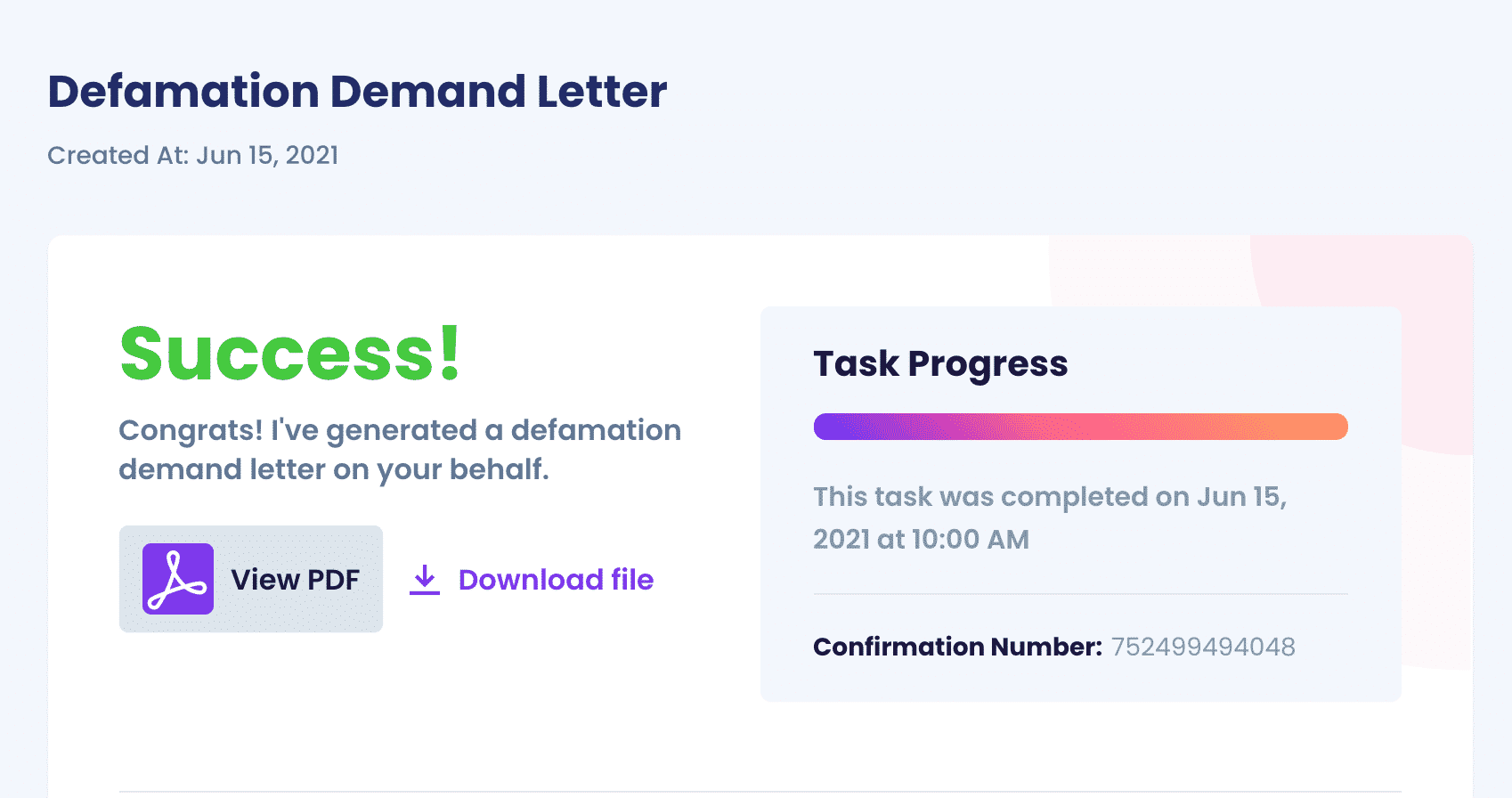 How easy was that? Although it's not mailed for you, you can use the DoNotPay to send the letter to your defamer using Send Mail!
What Else Can DoNotPay Do?
+ more!
Check out some more things we can help with: