Defamation of Character Lawyers in Florida
Have you had lies spread about you at the workplace or have you been mentioned on Twitter or Facebook for a thing you did not do? These are classic examples of defamation and there's no limit to how damaging it can be to your reputation or endeavors.
The rest of this piece will walk you through one excellent cost-effective way you can defeat defamation without necessarily needing a lawyer, especially if you live in Florida.
Understanding Defamation of Character in Florida
The laws of the state of Florida on defamation of character are similar to most state laws in the U.S. Defamation can be libel or slander which means either it was written down and published or spoken and broadcasted. In Florida, you have a window period of 48 months from the time the defamation is published to seek either an in-court or out-of-court settlement, but there can be extensions under some special cases. 
To make a valid defamation case, here are five things you must prove:
You must prove that...
Otherwise...
What was published is untrue
The discovery of an element of truth in your defamation case is a just cause for dismissal.
The defamer falsely presented them as facts
The defamer may claim it's all a matter of their personal opinion and it cannot be linked to the damages you claim to have suffered.
The defamer acted negligently or maliciously
The defamer may claim they had no access to verify, or their story serves a greater public interest.
The defamer has caused you significant damages
The defamer may dismiss your claim as mere exaggerations arising from a bruised ego.
The defamer has no privilege of backing
The defamer may actually belong to any of these classes of people who are protected by law from defamation lawsuits:

Reputable journalists
Lawyers and judges
Witnesses under oath
Public servants and government officials
Getting a Defamation Lawyer in Florida
A defamation lawyer can help you see through your defamation case and facilitate all the legal processes needed. When getting a lawyer in Florida, there are four specific factors to consider:
Comfort
You should be comfortable telling your chosen lawyer some of your secrets as it relates to the defamation case. This may be beneficial for them to make a good case for you but you also have to be able to trust them to respect your privacy and attend to you without prejudice.
Proximity
It would do you less good to have to travel for long hours or incur significant travel costs just to see a lawyer. Also, a lawyer may be close to you but fail to tick other boxes, so it is up to you to find a balance.
Portfolio
You need a slander attorney who has credible experience with defamation cases in Florida. One that is close to you, and you can trust and confide in.
Pay
Depending on the size of your pocket and your defamation claims, you may choose an expensive lawyer, a cheap lawyer, or no lawyer at all. Slander lawyers in Florida tend to charge on an hourly or a contingency basis. For cases that are suitable for small claims court, getting a lawyer may not be necessary at all.
Before You See a Defamation Lawyer in Florida
When faced with a defamatory attack, here are two things you should consider doing before going to court or getting a slander lawyer in Florida. 
Confront your defamer
You should try contacting the defamer and warning them to retract their defamation and issue an apology. This works for when you can identify the defamer as a close friend or work colleague.
Send a Cease and Desist Letter
Before going to court, you should send your dreamer a well-lettered threat to take legal action if they do not desist and issue a retraction or an apology. You can get a proper custom-made Cease and Desist Letter from DoNotPay!
Let DoNotPay Prepare a Letter for You
DoNotPay is the perfect, convenient solution! The cease and desist letter DoNotPay drafts will gather all information about the case, demand retraction, and warn against any impending statements instantly, in accordance with Florida defamation laws.
All you need to do is:
1. Search for the Defamation Demand Letters product on the DoNotPay site.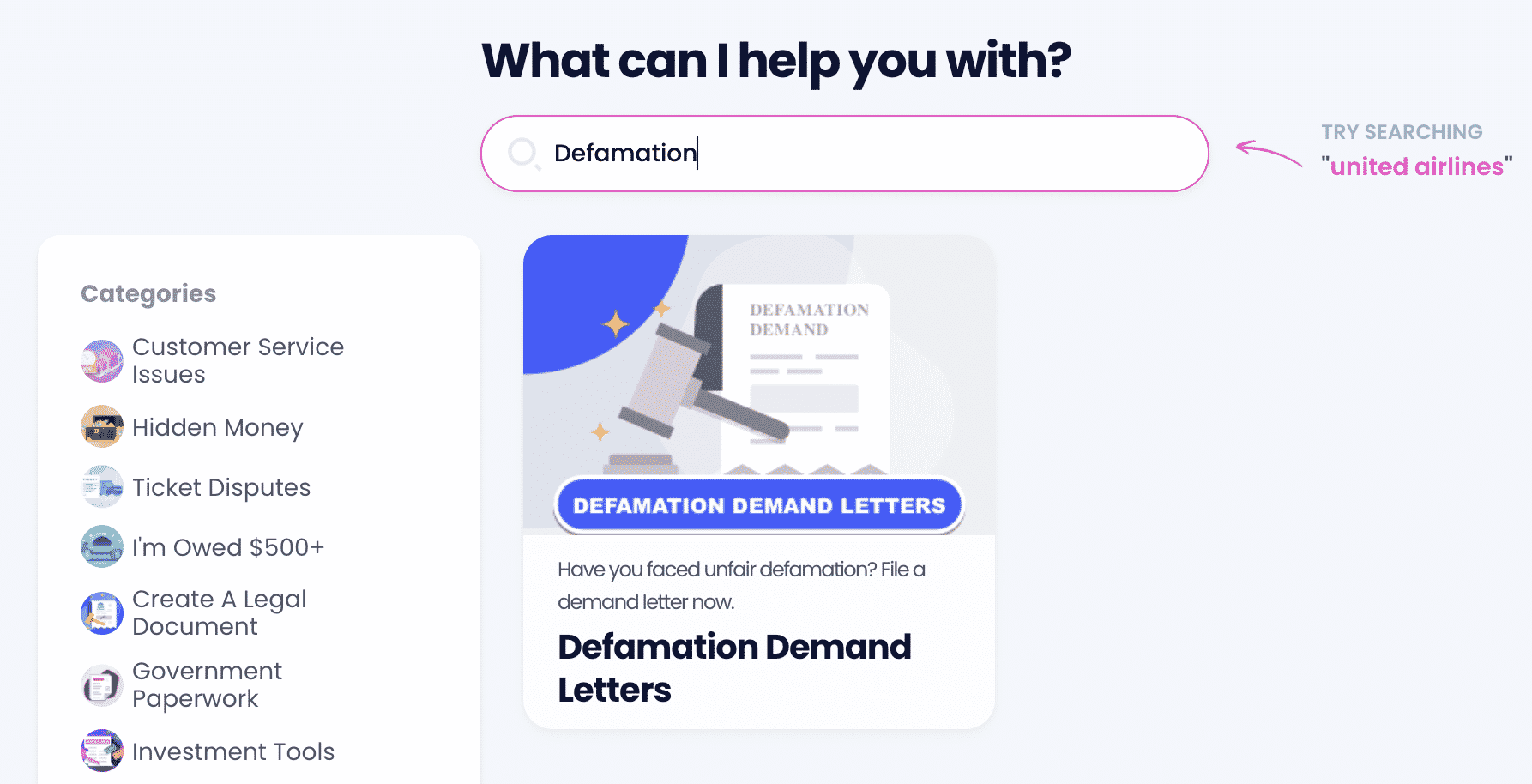 2. Tell us about your situation:
Were the statements slander or libel?
What were the statements?
Why are they false or misleading?
What damages have you faced as a result of these statements?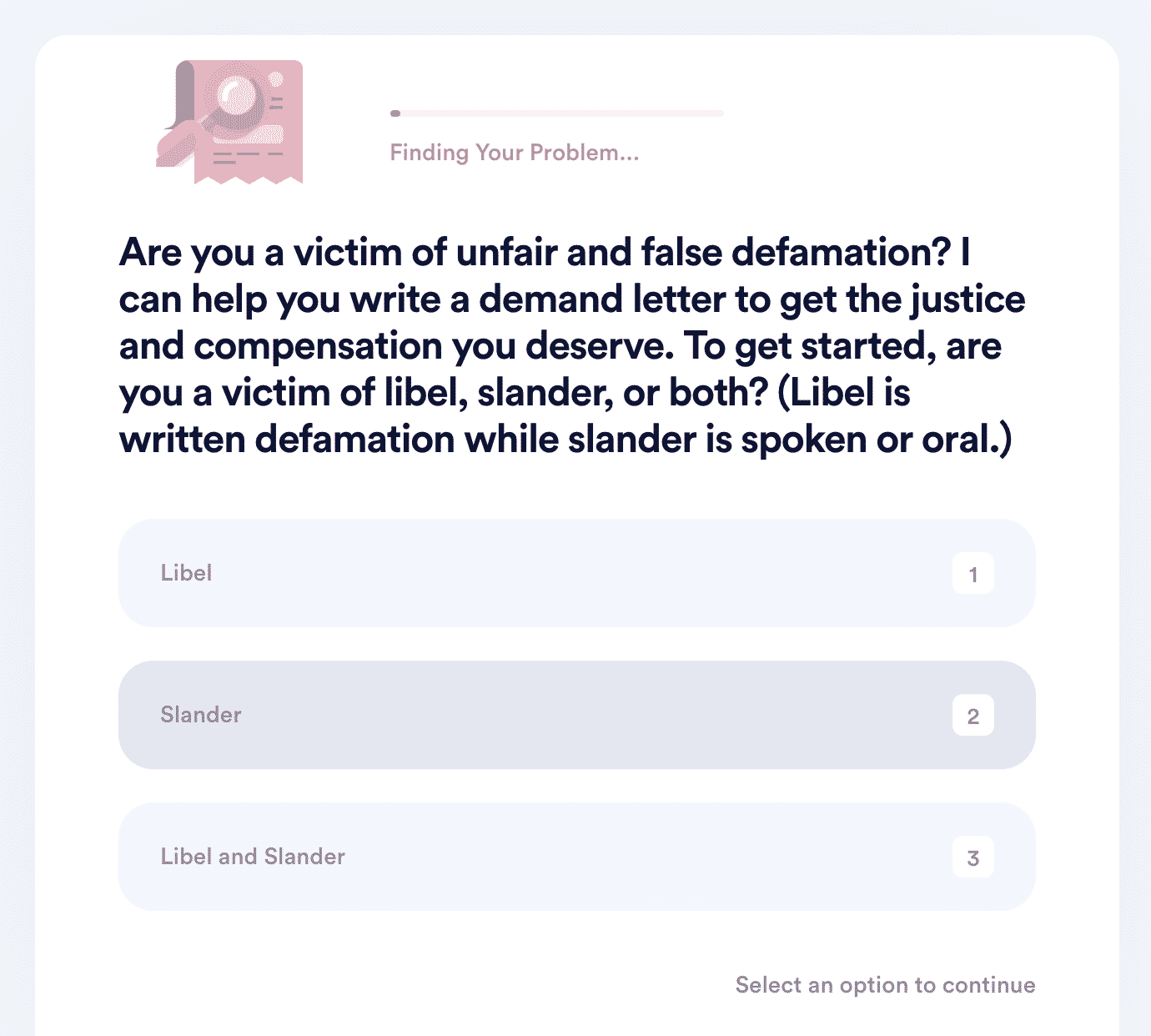 That's it! DoNotPay will generate a cease and desist letter containing all of the information we asked of you. It will also include the relevant state laws and end with a warning that you plan to take legal action.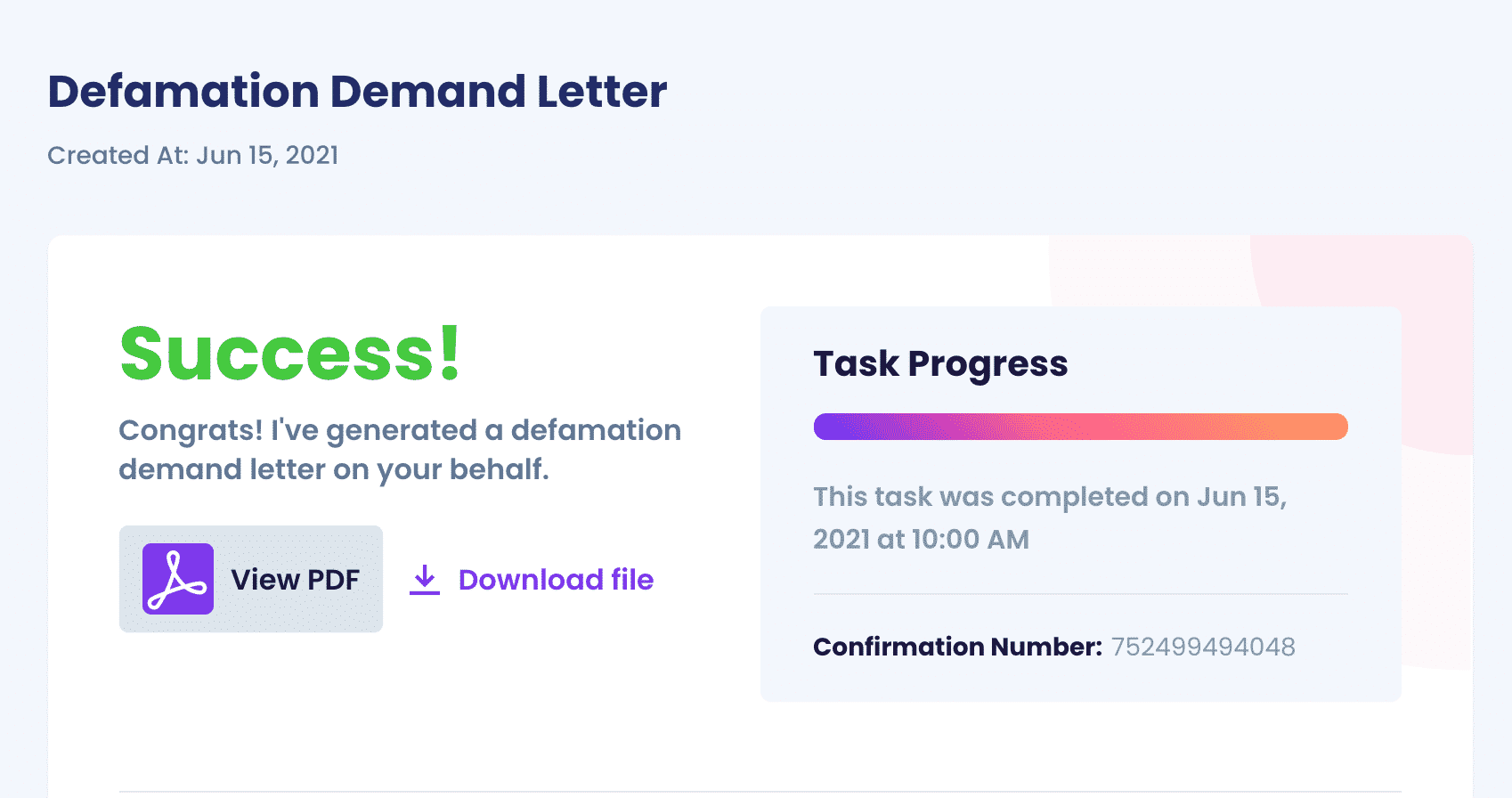 A Robot Lawyer and Assistant in One!
Here's a list of legal-related mattersDoNotPay assists with:
Scan legal documents for hidden clauses
And more!
Here's a list of service-related things DoNotPay can help you with: