Defamation of Character Lawyers in California
Defamation can be hard on your reputation, but getting a lawyer in California to tackle defamation, is even harder on your pockets.
You'll learn what steps to take before seeing a lawyer or heading to court, and how you can avoid exorbitant and financially counter-productive legal fees using a simple and smart legal tool like DoNotPay to fight defamation of character.
Defamation Laws of California
In California, the law regarding defamation is stipulated in sections 45 and 46 of the California Civil Code. Under the law, defamation consists of slander and libel. California admits only civil proceedings for defamation meaning you can only get some form of compensation for damage to your reputation and cannot seek punishment or jail time for the defamer.
How to Establish Defamation in California
To prove defamation, you need to show that the statement is:
Spoken, written, or even gestured that has been made public.
False – typically, opinions can't be proved to be false.
Harmful to your reputation, wages, opportunities, etc.
Unprivileged.
Negligence or malice of author.
Most Popular California Defamation Lawyers by County
Here is a list of the highest rated defamation lawyers in California by county:
Alameda County - Broderick Saleen Law Firm
Los Angeles County - Law Offices of Barry K. Rothman
Marin County - Law Office of Trevor G. Jackson
Monterey County - Piccuta Law Group
Orange County - Law Offices of Brent A. Duque
Riverside County - Law Offices of Gregory H. Comings
Sacramento County - Law Offices Of Adrianos Facchetti
San Diego County - Hiden, Rott & Oertle, LLP
San Francisco County - Lurkis, Joyce & Del Bove, L.L.P.
Santa Clara County - SAC Attorneys LLP
Getting a Defamation Lawyer in California
You have just 12 months from the day the defamation was published to seek legal recourse.
You can choose to get a lawyer who would help you with the process of drafting your demand letter, filing your court papers, prepping you up for your argument, representing you in court, and drawing up an all-encompassing compensation plan.
The average cost of a defamation lawyer in California is within the range of $12,000 to $18,000. Some may charge up to $3000 per month for the duration of the case, and given the length of time court proceedings may take, you might need to make a budget for an average of three to six months to see your case through. If you're looking to seek justice in a small claims court, this may turn out financially counter-intuitive for you.
In any case, there are steps you must take (and you don't necessarily require a lawyer to take them) before heading to court.
Before You Get a Lawyer
Before you get a lawyer, you should try getting the defamer to stop by any of these means:
Confrontation. If you know the defamer personally, such as your co-worker, a neighbor, or a relative, you can confront them and let them understand that their actions are damaging to your reputation.
Send a cease and desist letter. A cease and desist letter is an even better approach. It saves you and your defamer all the legal costs and process, is legally recognized and strongly worded. DoNotPay - the world's first robot lawyer - can write you a cease and desist letter in seconds, custom-made for your situation.
Let DoNotPay Do the Work for You!
DoNotPay is the perfect, convenient solution! The cease and desist letter DoNotPay drafts will detail the information about the case, demand retraction, and warns against any impending statements. All you need to do is:
1. Search for the Defamation Demand Letters service on DoNotPay.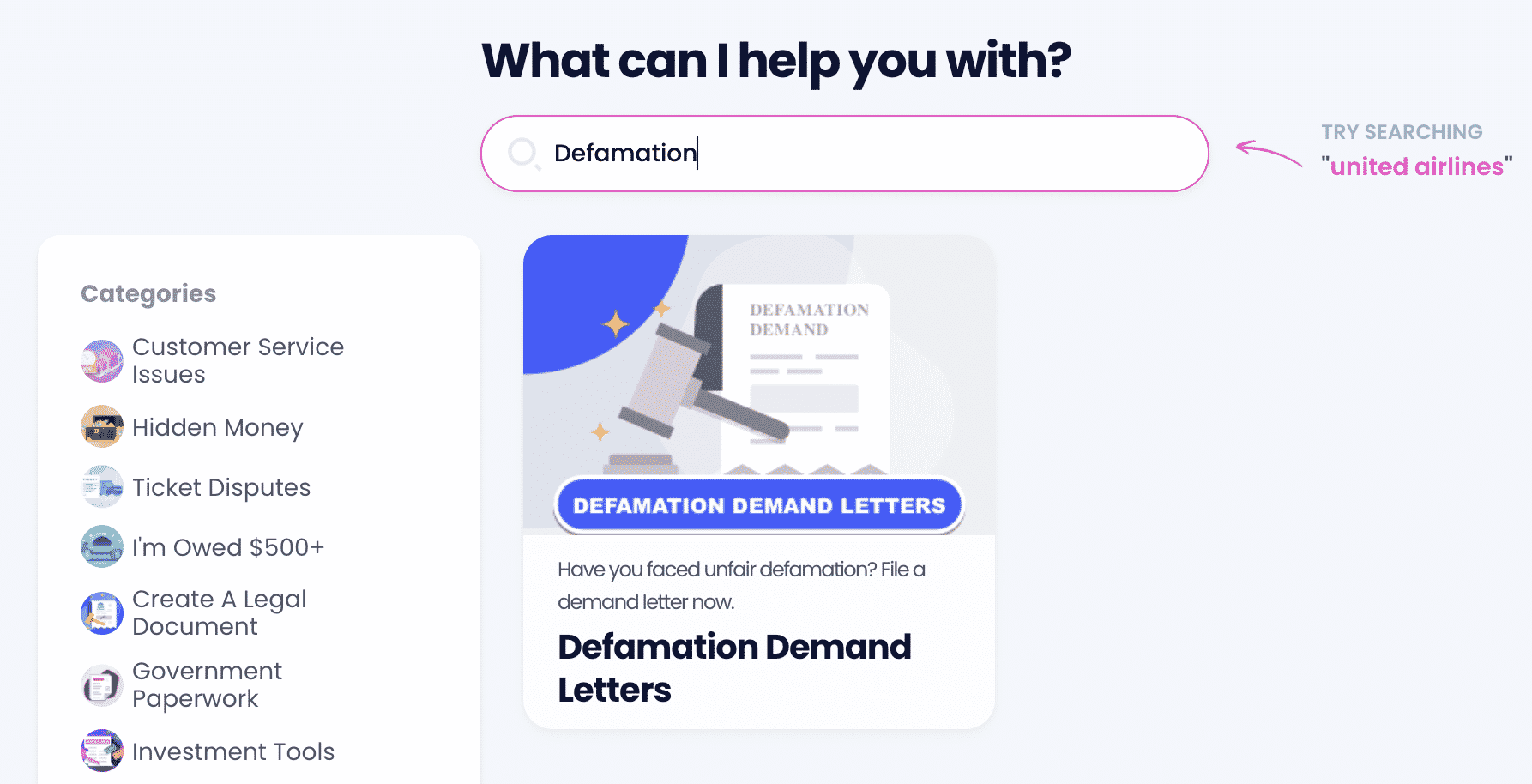 2. Tell us about your situation:
Were the statements slander or libel?
What were the statements?
Why are they false or misleading?
What consequences have you suffered as a result of these statements?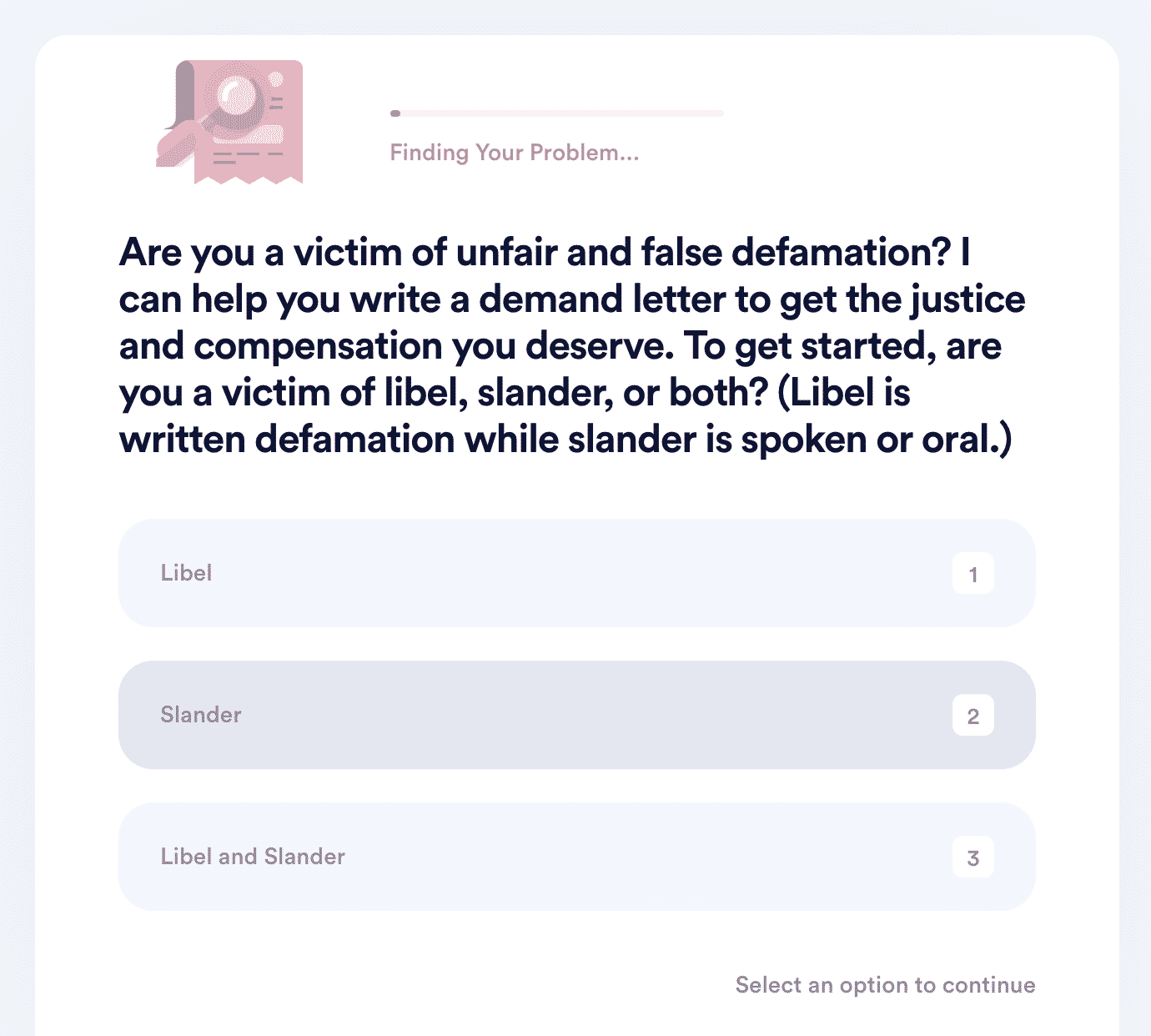 3. Based on your location, DoNotPay will immediately generate a formal demand letter on your behalf, with the most relevant state legislation regarding defamation.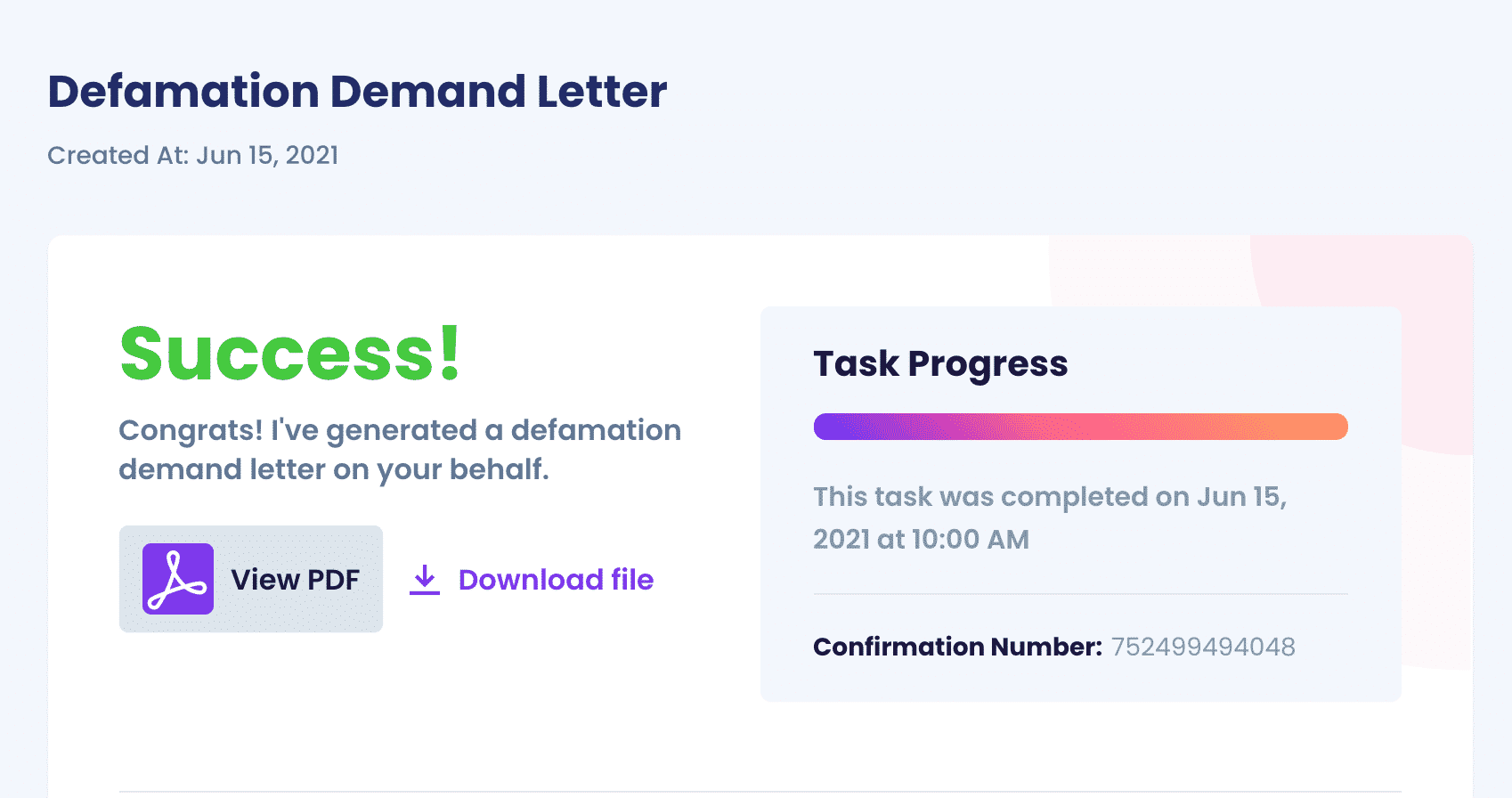 That's it! You can expect a meticulously drafted cease and desist letter tailored to your needs, in an instant! 
What Else Can DoNotPay Do?
DoNotPay is your personal assistant and lawyer in one app! Have another legal issue? DoNotPay can help you with:
Sometimes, it sucks having to deal with small things yourself. Let DoNotPay work on your chores for you: