Filing a Defamation of Character Lawsuit
The advent of the internet allows individuals and businesses to air their opinions. In addition to traditional media, social media allowed for the expression of beliefs and opinions that was impossible in the past. However, some of these opinions can become defamatory in nature. In this article, we will cover the specifics of defamation of character lawsuits and what you can do if you become a victim of defamatory statements.
What Is Defamation of Character?
Defamation of character is the act of publishing a statement that results in damage to the reputation of an individual or entity. Although some states may litigate defamation criminally, most courts consider defamation lawsuits as a civil tort. There are two forms of defamation and their main difference lies in how they are conveyed:
Libel – It is a false statement published through writing, images, or any graphics in newspapers, magazines, social media platforms, review sites, etc.
Slander – It is a spoken false statement that is published through television or radio broadcast or overheard in a conversation.
Defamation Lawsuit Examples
Of all the many types of lawsuits, defamation cases seem to attract the most media attention. Over the years, there are widely covered lawsuits between public and private figures. We will take a look into some real-world, popular examples below:
Johnny Depp v. News Group Newspapers Ltd – In 2020,  Johnny Depp sued News Group Newspapers (NGN) for libel when The Sun published an article that falsely alleged Depp to be a wife-beater.
Tory v. Cochran – Johnnie Cochran sued his former client Ulysses Tory for libel when the latter falsely accused Cochran of being a thief and accepting bribes.
Time, Inc. v. Firestone – Mary Firestone filed a defamation lawsuit in a Florida state court against Time, Inc. for mentioning her in an article.
Hutchinson v. Proxmire – In 1975, behavioral scientist Ronald Hutchinson sued Senator William Proxmire for libel for calling Hutchinson's work "nonsense."
New York Times Co. v. Sullivan – In 1960, Montgomery police commissioner L. B. Sullivan sued The New York Times for defamation for alleging the Montgomery police of mistreating the civil rights protesters.
Legal Elements of a Defamation Lawsuit
To successfully sue someone for defamation of character, you need to be familiar with the elements that should be present in a defamation lawsuit. Proving defamation can be challenging as freedom of speech is a human right that is protected by the First Amendment. There is also the matter of statements of opinion which can sometimes border on defamation. Proving defamation against a public figure versus a private individual also has different standards. But regardless of the differences, any defamation lawsuit should satisfy four basic elements, as follows:
| | |
| --- | --- |
| Element | Description |
| Falsity | A false or defamatory statement was spoken or written about the plaintiff. |
| Publishing | The statement was said to, read, heard, watched, or seen by a third person. |
| Intent | At the very least, there should be the presence of negligence or malicious intent when the statement was spoken or written. Statements said with privileges such as in the courtroom or legislation cannot be considered defamation. |
| Damages | The plaintiff suffered damages as a direct result of the defamatory. |
Common Defenses in a Defamation of Character Lawsuit
Just as there are four elements to proving a defamation lawsuit, the defenses need to counter the proof as well. The most common defenses are aimed at challenging one of the four elements. When anticipating defenses, you need to know what to expect. The defendant could reason using the following defenses:
Truth is the absolute defense in a defamation lawsuit. If the defendant can prove that the statement was true, the court may rule in favor of the defendant.
Statements of opinion cannot be used as proof in a defamation lawsuit. If the defense can show that the context of a statement was presented more as an opinion instead of a fact, then there will be no defamation case.
If nobody believed the defamatory statement, then it may be difficult to prove the harm done.
Another defense is if it can be shown that the plaintiff agreed to the statement made, such as during interviews or in written materials.
DoNotPay Can Draft a Cease and Desist Letter!
Defamation of character lawsuits can affect reputation and impact lifestyles or business relations. There are different avenues to resolve defamation claims. If you believe litigation is the best way to move forward, you may start the process with a cease and desist letter.
A cease and desist letter is different from a cease and desist order where the letter has no legal weight. Meanwhile, a cease and desist letter provides the defamer with a fair warning to stop harmful behavior.
The best way to ensure the accuracy and effectiveness of a cease and desist letter is either to download templates available on the internet or to hire a legal expert to draw up one for you. However, the latter also comes with expensive fees. That is where DoNotPay can help. Our AI lawyer can help you draw up a cease and desist letter quickly and efficiently. All you have to do is:
1. Select the Defamation Demand Letters icon on DoNotPay.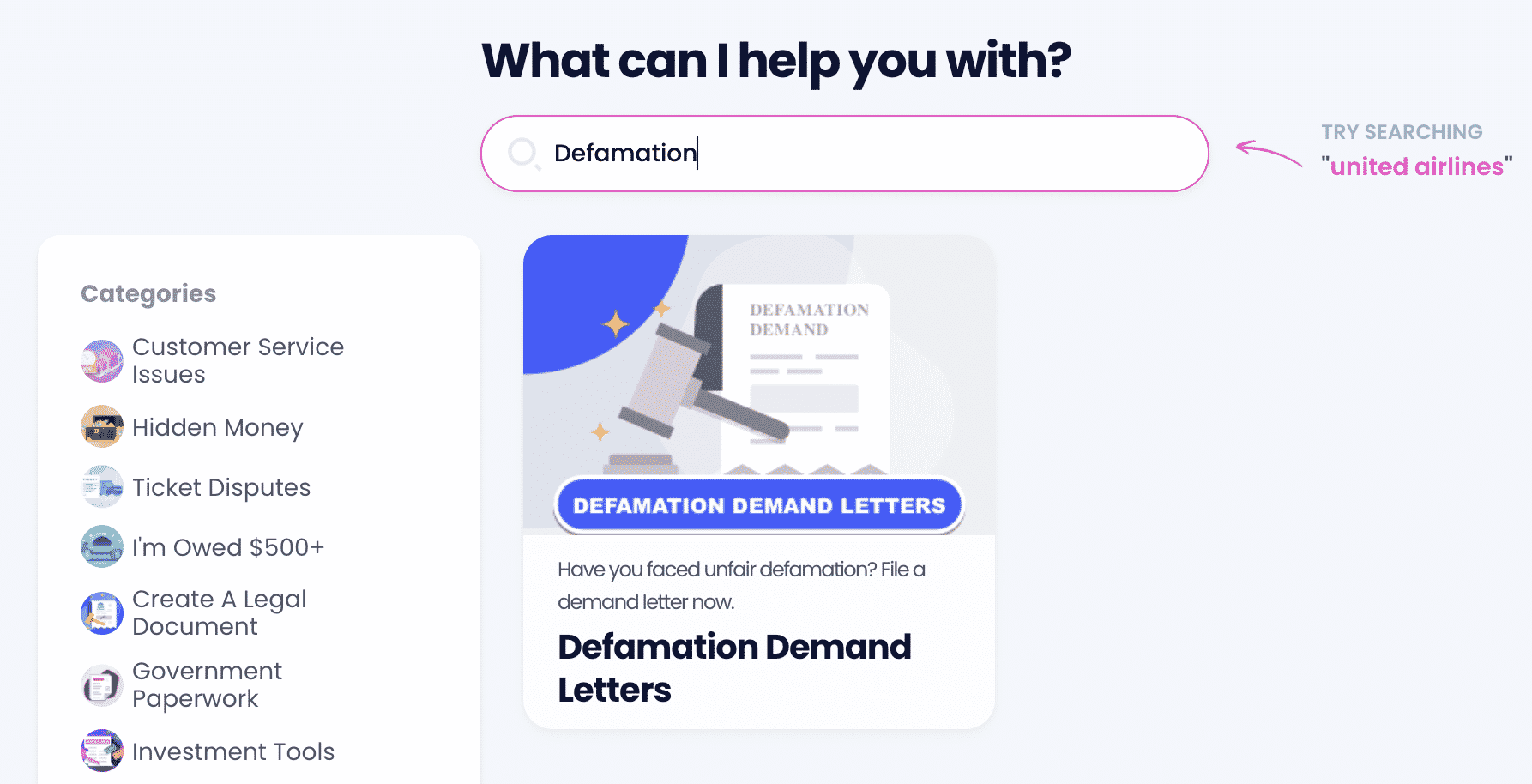 2. Tell us about your situation, including whether the statements were libel or slander, listing the statements that were made, explaining why they are false or misleading, and what consequences you have suffered as a result.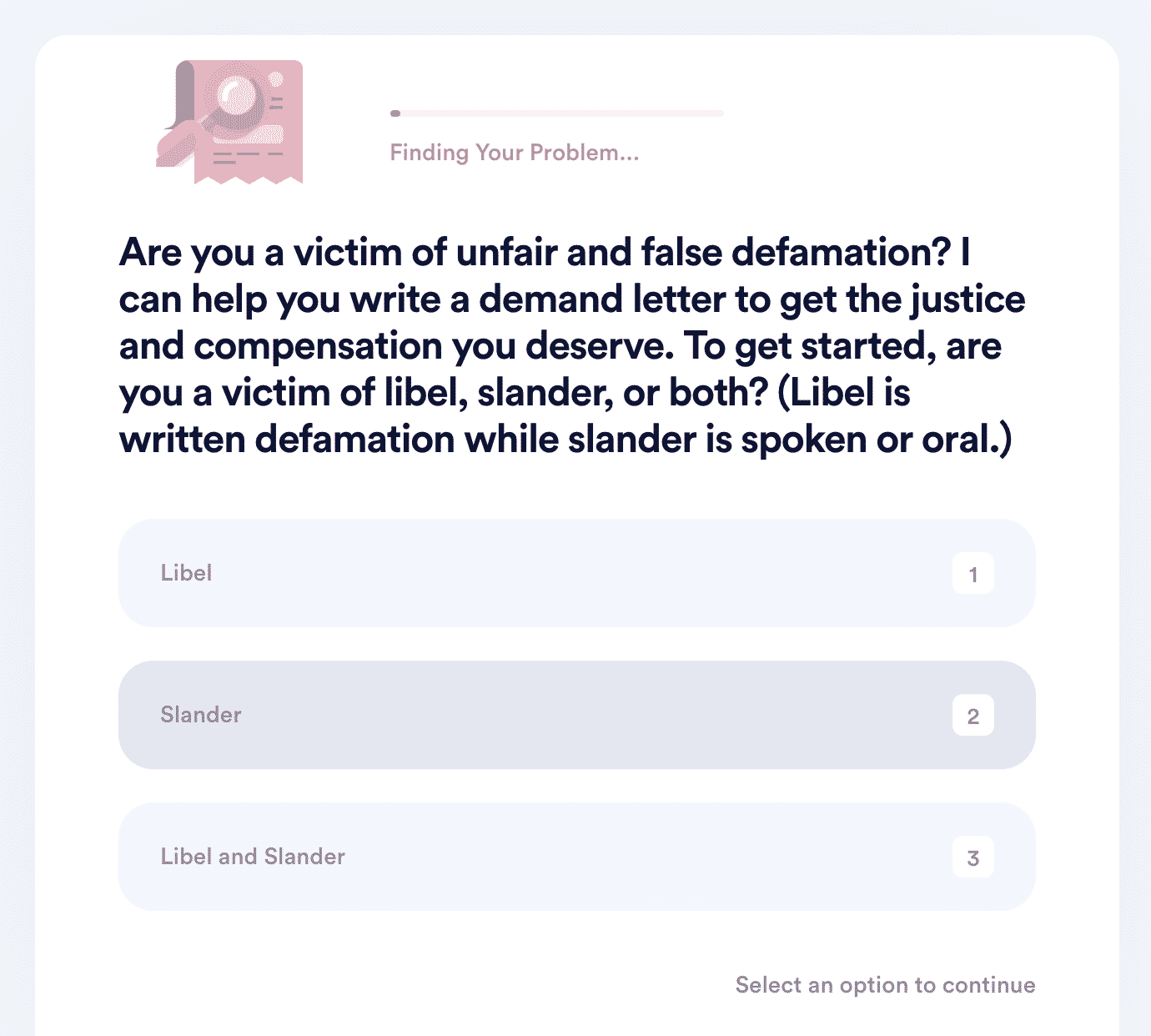 3. Based on your location, DoNotPay will generate a formal demand letter on your behalf with the most relevant state legislation regarding defamation.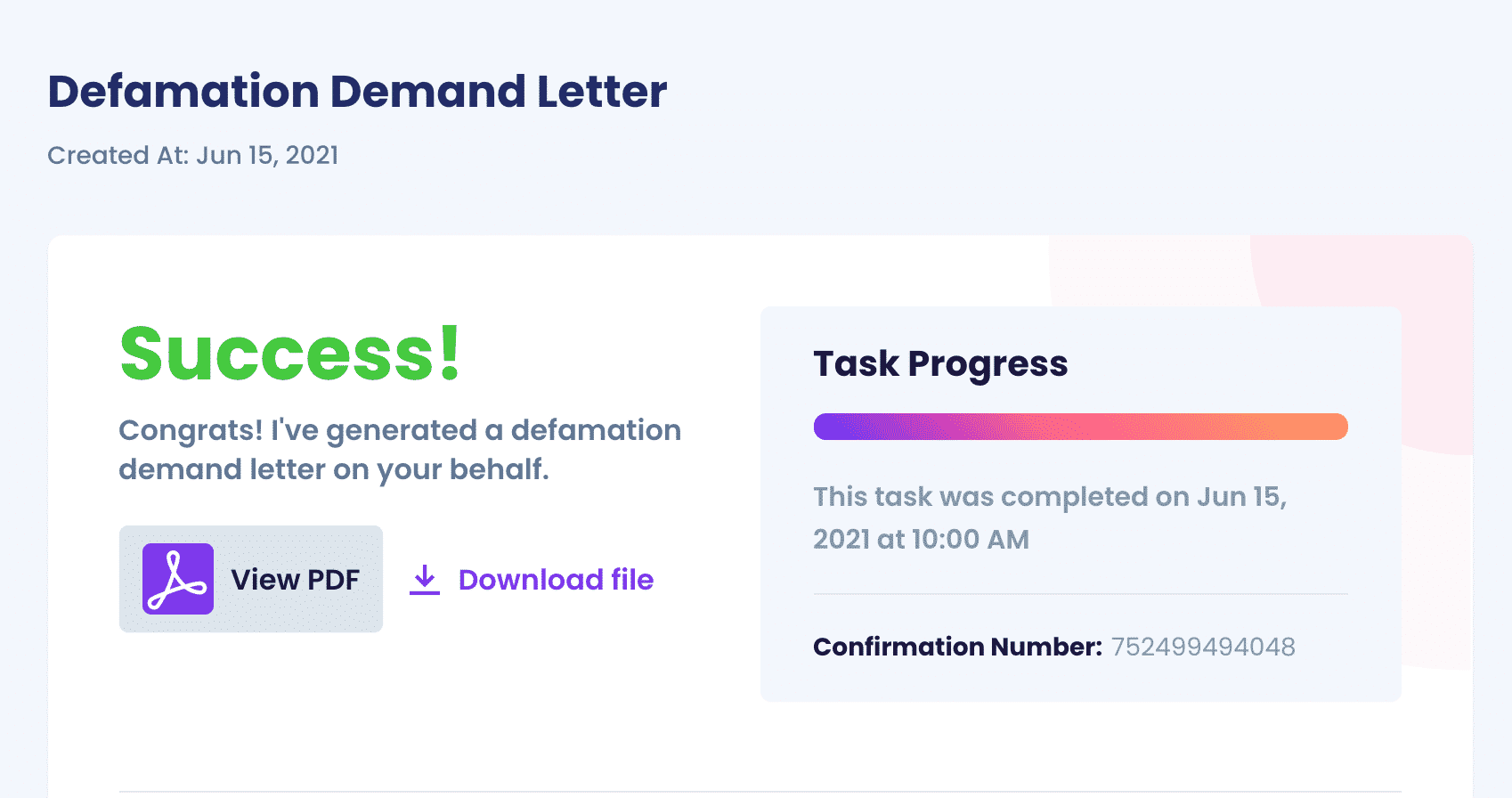 That's it! All we need is a little information and your letter is ready to send.
What Else Can DoNotPay Do?
DoNotPay does not just stop at cease and desist letters. The robot lawyer can help manage subscriptions and appeal parking tickets in just a few clicks! Here's what else DoNotPay can do: