Defamation of Character Lawsuit Winnings
An important aspect of the law is discovering how much the damages you've incurred are worth. When it comes to defamation, there are often no measures that will compensate for the losses, damage, and emotional duress incurred.
Defamation is a civil wrong that happens when one person makes false and harmful statements about another person or third party and it results in damage to reputation. There are two types of defamation. Libel occurs in written and documented statements, while slander occurs when statements spoken or gestures are made.
To establish that defamation occurred and to lodge a claim, the libel or slander must have been published in some manner, resulting in terrible difficulties concerning the subject's reputation, future, and even physical or mental health. In response to this, the first step for many is to send a cease and desist letter, instructing an individual making false claims to cease before further legal action is taken. Learn more about defamation and how to understand potential winnings from creating a claim of defamation, below.
How to Define Defamation
Slander vs libel
As mentioned, the two elements of defamation are slander and libel:
Libel can also be distinguished by the fact that it leaves a permanent record, like an email, radio or TV broadcast, newspaper article, or website posting
Slander does not have a permanent record and can be as simple as a spoken statement or a hand gesture
Distinguishing the type of defamation that occurred is the first step to starting a defamation claim.
Categorizing defamation
It is important to establish the type of defamation that occurred, in order to streamline proving defamation. Different legal loopholes prevent claims from being identified as slander or libel:
Opinion
A statement of opinion cannot be defamatory. Defamation is a false statement that claims to be true.
A legal loophole does exist. If a false statement is not identified as an opinion, you may have the basis to sue for slander or libel.
Freedom of speech
With regard to our First Amendment, citizens of the United States have a right to not be subjected to falsehoods that impugn their character.
In line with this reality, defamation is not illegal by legal terms. Defamation is just a safeguard of the legal system to pay damages to people who have been unfortunately affected by freedom of speech.
False light
A false light claim is true when a defamatory statement about an individual is published, with the implication that the statement is valid when it is not.
To summarize, false light exists to "protect the plaintiff's mental and emotional well-being" rather than their reputation, which defamation aims to protect.
Disparagement
Disparagement safeguards the financial and economic interests of the plaintiff or their enterprises.
Defamation acts as a protectant for personal interests, but disparagement covers more extra-personal boundaries, like property ownership and assets.
What Can You Win by Suing for Defamation of Character?
Although defamation is an unsettling and depressing scenario, the positive side is that there are attributes (both financial and non-financial) that a person can prove:
Specific and actual losses
This involves things like losses related to:
Corporate endeavors
Collaborative earnings
Promotional earnings
Reduced revenues
Lost clients
Lost business
Lost store traffic
Lost clients
Lost consumers
Lost clients (if you offer a good or a service)
Lost suppliers
Goodwill and reputation
Losses to your reputation
Losses to your brand's credibility
Losses to your goodwill
Punitive damages
With respect to the wealth of the defendant, punitive damages can be offered as compensation for defamatory statements
What Are the Elements of a Defamation of Character Claim?
In many states, the elements of a defamation claim are: 
| | |
| --- | --- |
| A false statement Was issued  | An undoubtedly false statement was made about the plaintiff |
| An unprivileged publication happened  | There was a publication that wasn't permitted on or through a third party |
| A fault occurred  | The actions by the defendant amounted to negligence |
| Damages | The publicizing that was unauthorized caused damages |
Writing a Cease and Desist Letter
Writing a cease and desist letter is a multifaceted process that can also discredit your case, if not done right.
If you can't legally prove the damages you have suffered, explicitly outline all components of corresponding evidence from a legal point of view, and write a formal letter, you might run the risk of your letter being discarded in court.
Many lawyers who are capable of drafting cease and desist letters will charge a ridiculous amount of money for even writing back to your inquiries!
How to Draft a Cease and Desist Letter in Minutes!
DoNotPay is a reliable solution! The cease and desist letter DoNotPay drafts will detail the information about the case, demand retraction, warn against future statements, and will order that the accused abides by your local state statutes.
All you need to do is:
1. Look for the Defamation Demand Letters service on DoNotPay.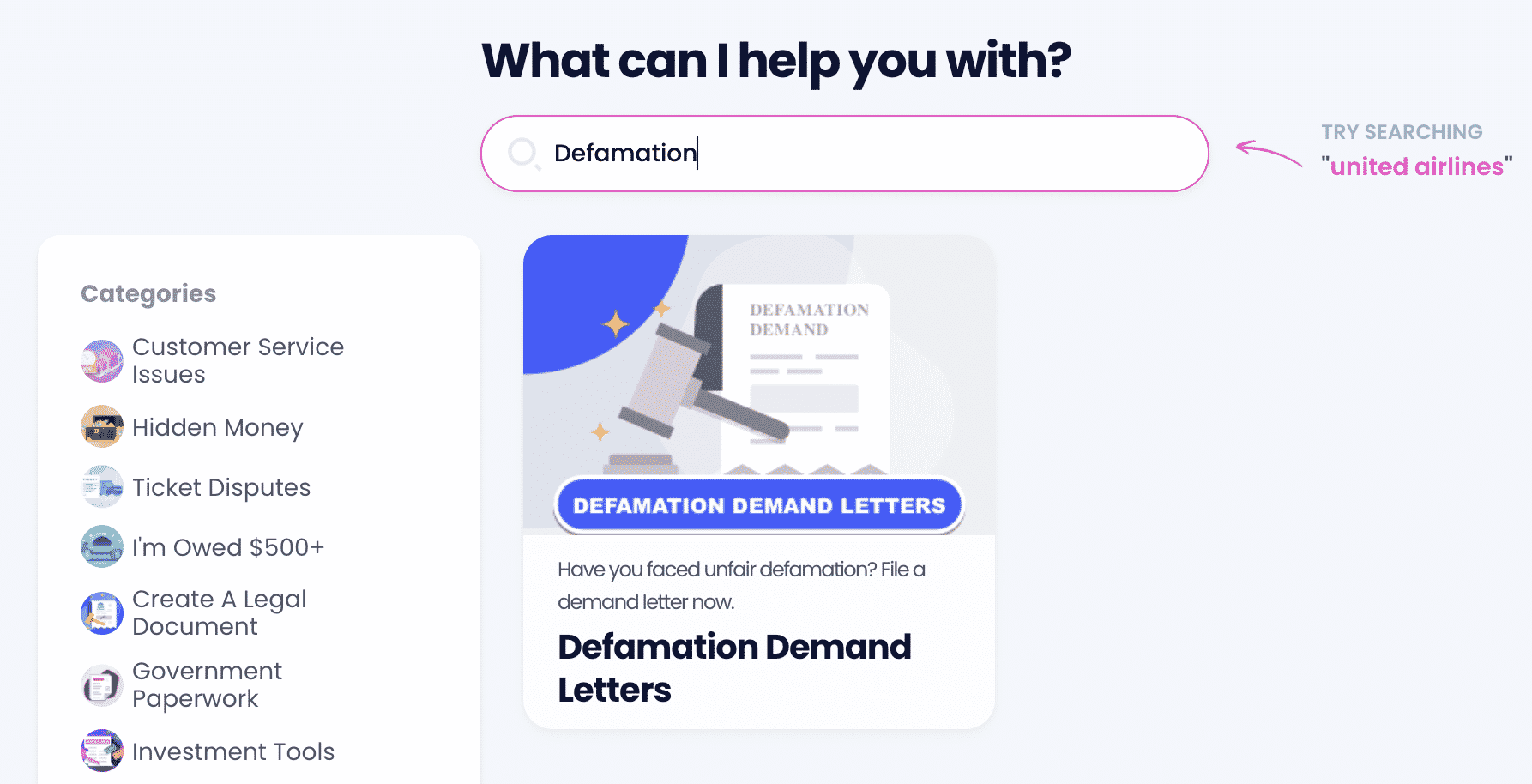 2. Tell us about your situation:
Were the statements slander or libel?
What were the statements?
Why are they false or misleading?
What consequences have you suffered as a result of these statements?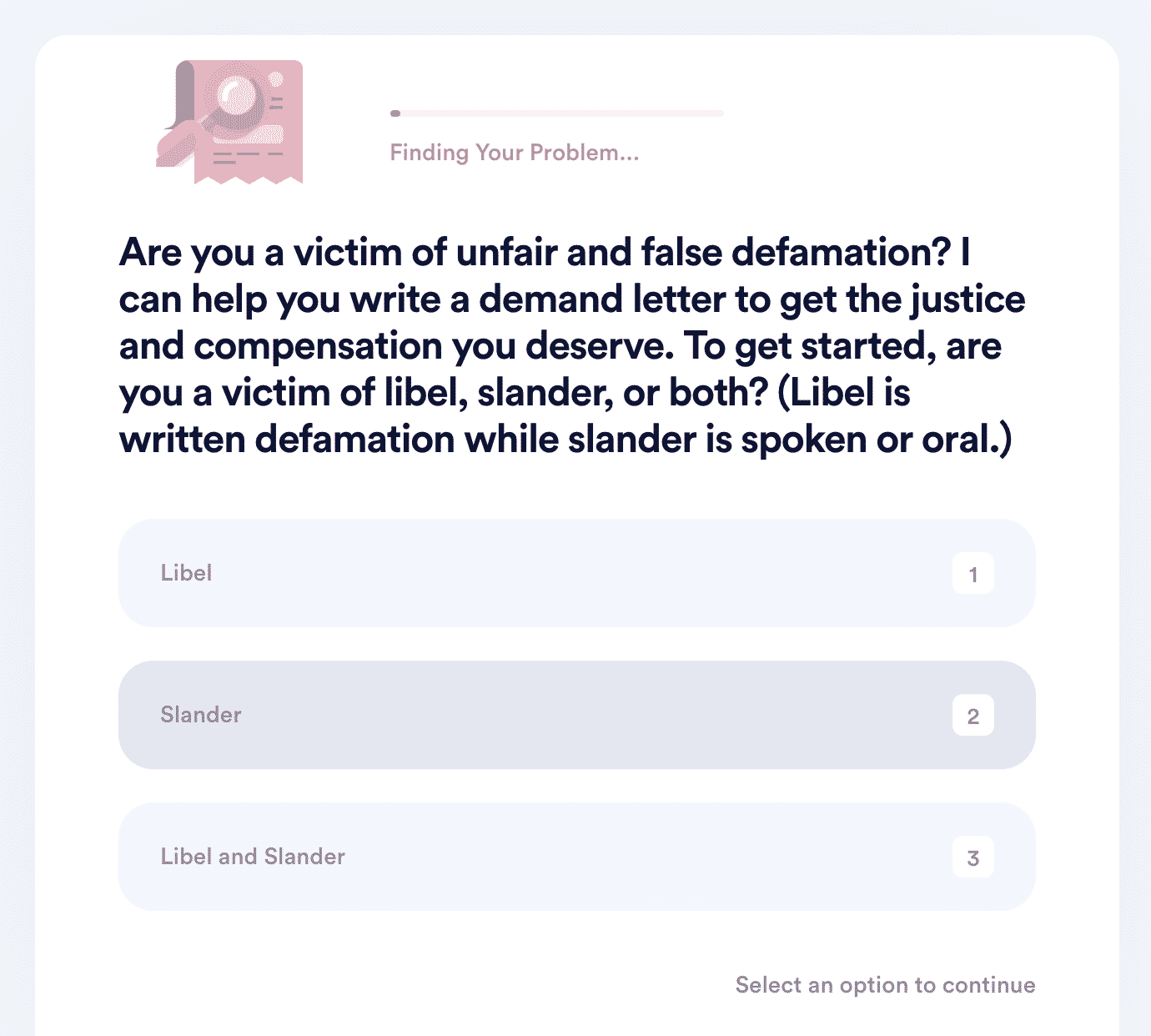 3. Based on your location, DoNotPay will immediately generate a formal demand letter on your behalf, with the most relevant state legislation regarding defamation.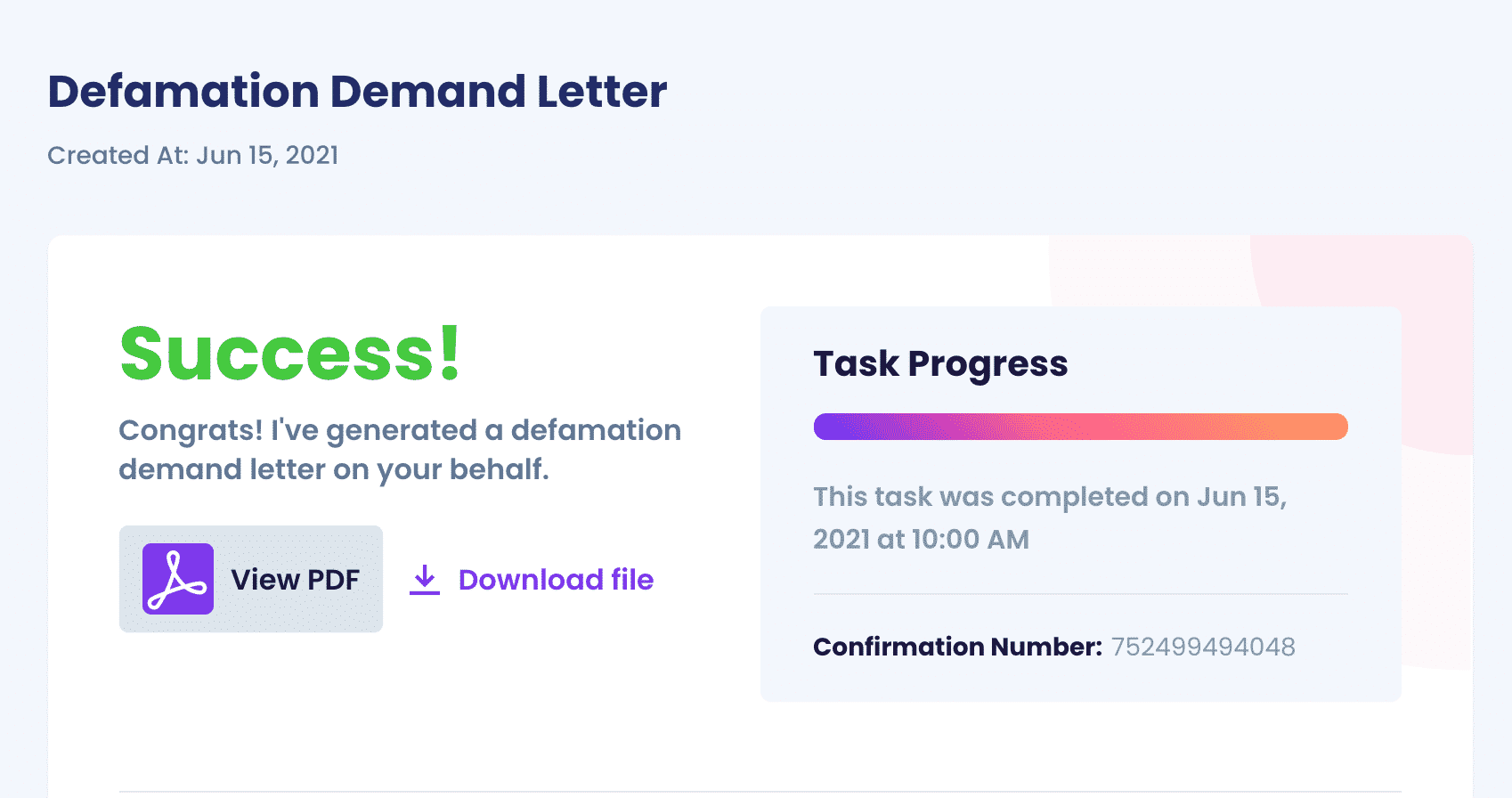 That's it! Let us do the work on our end! You can expect a precisely drafted cease and desist letter ready to download in minutes.
What Else Can DoNotPay Do?
DoNotPay doesn't stop at helping you write cease and desist letters. The AI-powered robot lawyer can help you with day-to-day issues such as cancelling subscriptions, creating passport photos, appealing parking tickets, and so much more! Here's what else we offer: