What Are Defamation Lawsuit Costs?
Defamation is a false statement that negatively impacts an individual by harming their economic prospects, reputation, physical health, or mental health. 
Defamatory statements are called "libel" when they are written or otherwise posted in some format that is permanent. "Slander" refers to spoken, gestures, or performed acts in some format that is not permanent.
Once a defamatory claim has been levied against you, you have the option to send a "cease and desist" letter, warning of legal action against the individual if they continue to defame you. Use the article below to learn more about defamation and its particulars.
How Is Defamation Classified?
Differences between slander and libel
Libel and slander are the two categorizations of defamatory speech:
A defining element of libel is that it must be recorded permanently in some format, whether that be an email, radio broadcast, magazine article, a post on a website, etc.
The defining element of slander is that it is not permanently recorded anywhere, such as a spoken statement or action
You must categorize the defamation that has been levied against you before you can continue with sending your cease and desist letter.
Although defamation is a serious crime, it is important to outweigh the benefits and drawbacks of filing a defamation lawsuit before choosing negotiation or remediation. In many cases, the pros outweigh the cons, but always reference your own case details for further introspection.
Why People File Defamation Lawsuits
There are many inherent factors when considering why individuals choose to sue for defamation or to retain representation for a defamation lawsuit, including:
Seeking monetary compensation
Seeking the identification of the defendant
Understanding whether a court needs to get involved to remediate
Figuring out how much defamatory content is online
Figuring out the time limitations on discovering where and how to sue
Fees for local representation
Acknowledging possible case contestations
Figuring out the structure of the attorney you agree to and how your case will be regarded, including progression times
It is important to acknowledge that there is no exact "one size fits all" solution to defamation, and most jurisdictional realms and case laws vary by state to state.  Below, find a list of typical monetary reasons for seeking damages:
Seeking Monetary Compensation for Defamation
Inherently, the exact cost of a defamation lawsuit is never known. However, the cost of a lawsuit will increase if the victim seeks monetary relief, like:
Payment for lost business
Medical bills
Missed work
Emotional distress
Punitive damages
General damages and special damages
In defamation lawsuits, general damages are usually emotional or physical
These do not need to be proven with evidence, and word of mouth is great enough to substantiate evidence
Special damages, however, interact with losses (either financial or physical) that need to be substantiated with significant evidence
What isn't defamation?
In concept, proving defamation appears to be an easy and clear cut process, but different legal loopholes often prevent claims from being identified as either slander or libel:
Opinion
Opinions are not classified as defamation. Statements must be false to be considered defamation.
A catch does exist; if a false statement is not considered an opinion, you may have the basis to sue for slander or libel.
Freedom of Speech
With regards to the First Amendment, any individual has a "right to not be subjected to falsehoods that impugn their character".
To be frank, defamation is not illegal by legal terms. Defamation is as simple as a pretense of the legal system to afford damages to people who have been maimed by freedom of speech.
False Light
A false light claim actualizes when a defamatory statement about an individual is published, with the implication that the statement is true when it is in fact false.
False light is typically verified to "protect the plaintiff's mental and emotional well-being" rather than a reputation, which defamation protects.
Disparagement
Disparagement is protection that aims to cover the financial and economic interests of a plaintiff or its products.
Defamation strives to protect any personal interests, but the concept of disparagement covers more external bounds, like property ownership and fiscal assets.
Is a Cease and Desist Letter Your Best Option?
Writing a cease and desist letter is a complicated process that can work for or against you. If you decide to pursue legal action and the court finds your cease and desist letter poorly stated/delivered, it can have an impact on your case.
If you cannot prove the damages you've suffered, detail all components of corresponding evidence and compose a sound letter, you may risk your letter being thrown out and even being unsuccessful if you go to court
Many representational lawyers who are capable of drafting cease and desist letters will charge a crazy amount of money for merely responding to your inquiries!
Draft a Cease and Desist Letter in Minutes!
DoNotPay is a fast, reliable, and convenient solution! The cease and desist letter DoNotPay drafts will outline the information about the case, immediately demand a retraction, warn against future statements, and will order that the accused abides by state statutes.
All you need to do is:
1. Search Defamation on DoNotPay.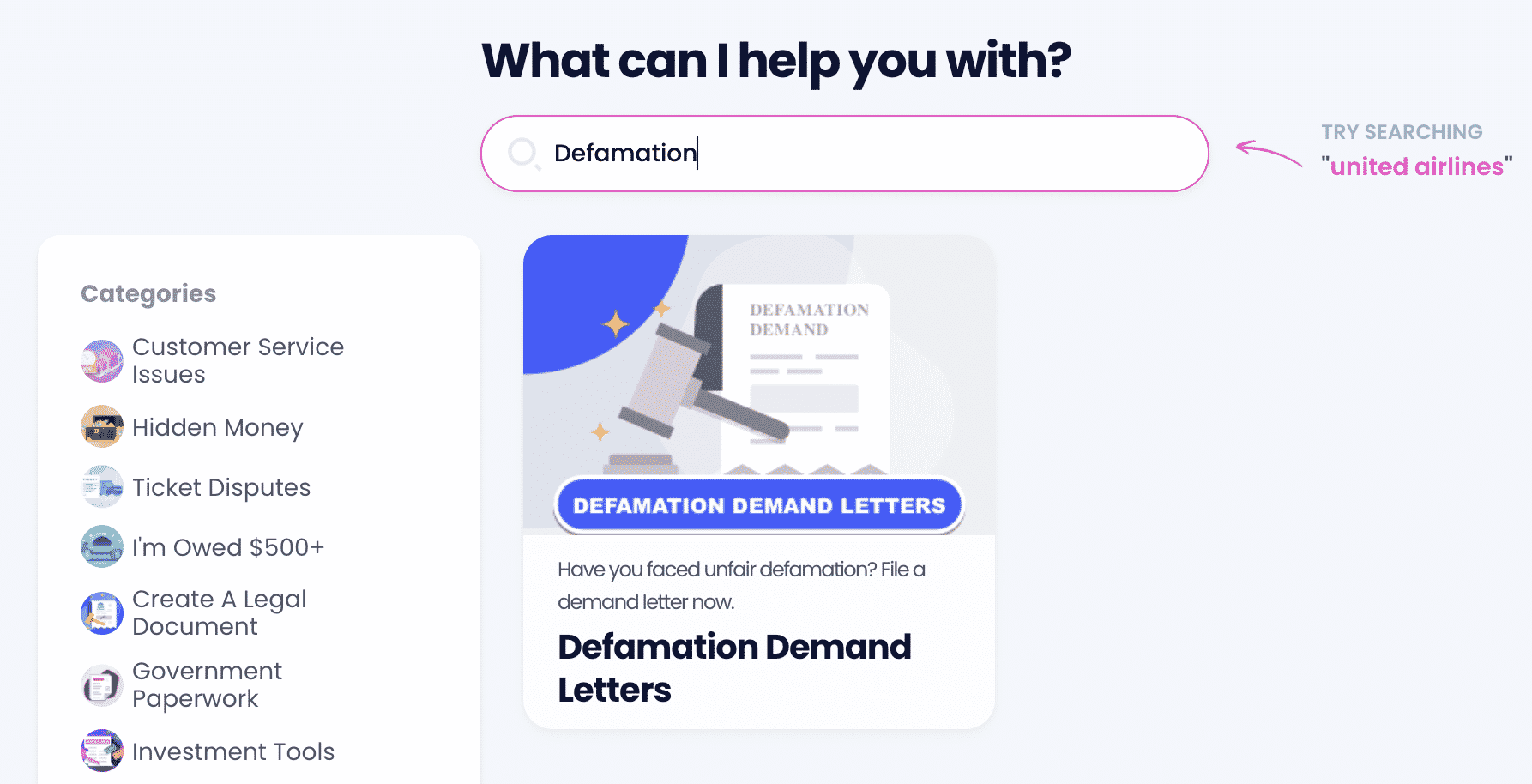 2. Tell us about your situation.
Were the statements slander or libel?
What were the statements?
Why are they false or misleading?
What consequences have you suffered as a result of these statements?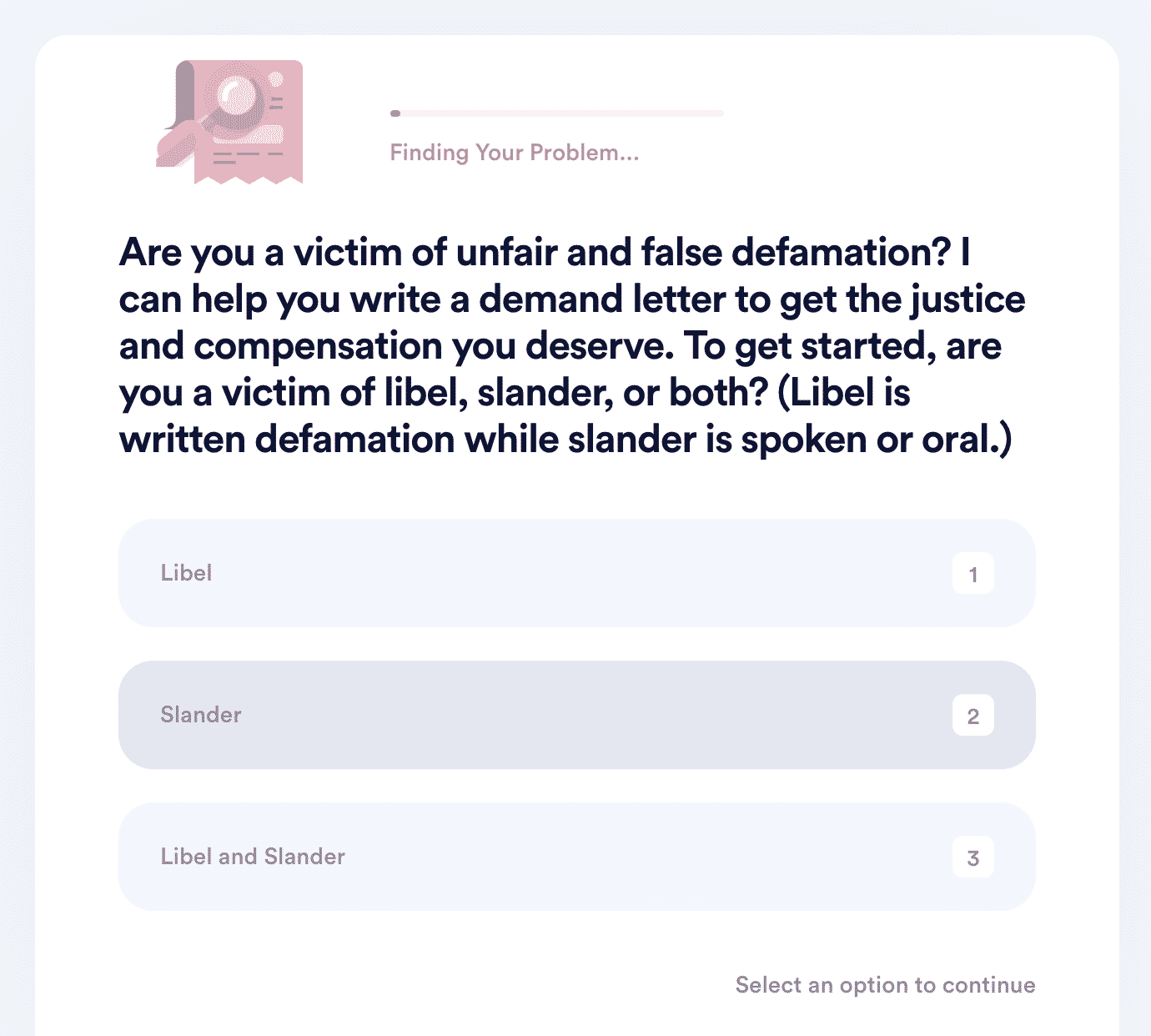 3. Based on your location, DoNotPay will immediately generate a formal demand letter on your behalf, with the most relevant state legislation regarding defamation.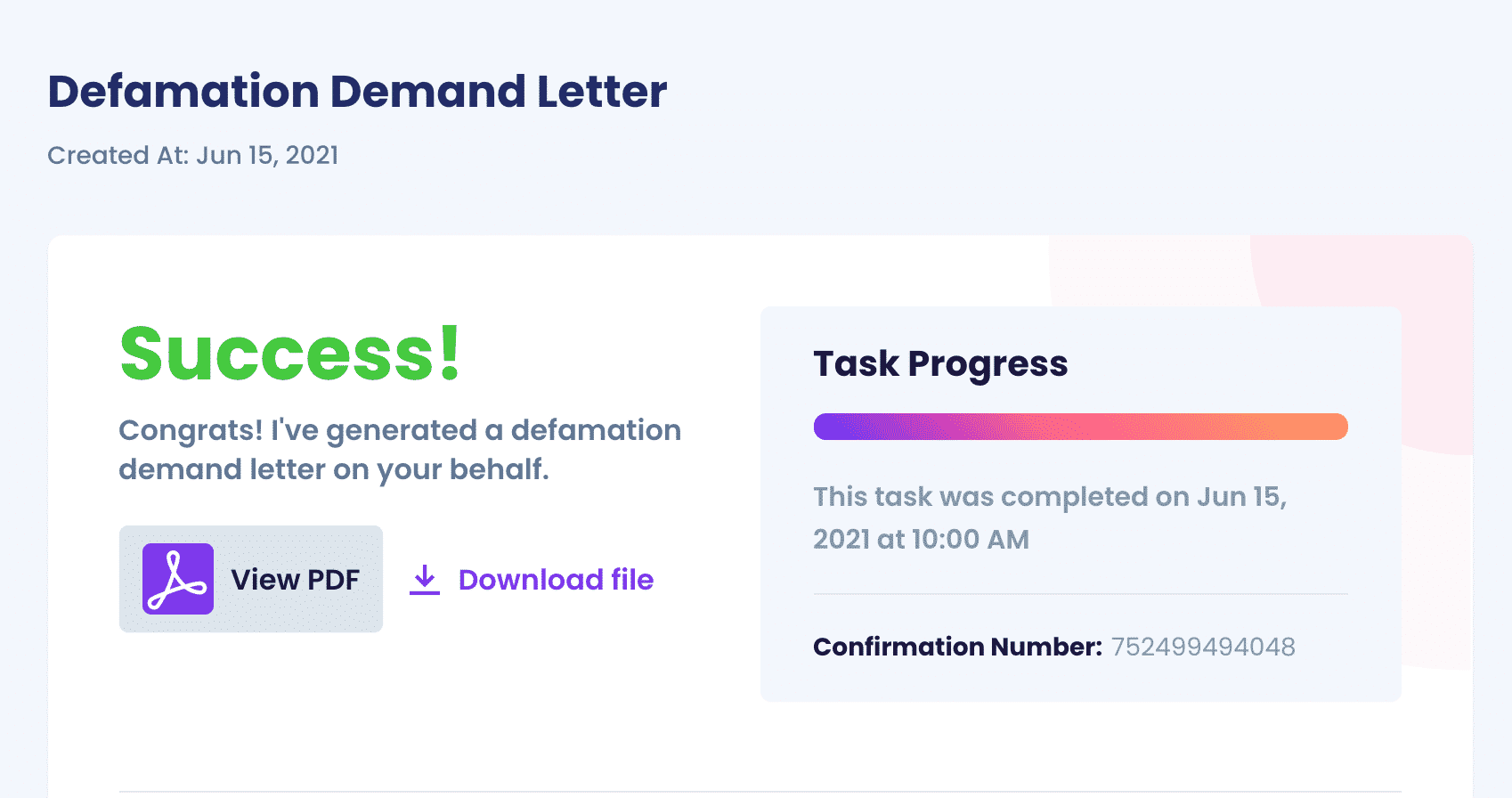 What Else Can DoNotPay Do?
DoNotPay doesn't stop at helping you write cease and desist letters. The AI-powered robot lawyer can help you with day-to-day issues such as cancellation of subscriptions, tax exemptions, appealing of parking tickets, and so much more with just a few clicks! Take a look at what else we can offer: