What Is Defamation in Writing and What Can You Do About It?
The biggest libel lawsuit in the US took place in Texas in 1997. Money Management and Analytical Research (MMAR) won a $222.7 million compensation for a defamatory article published on Dow Jones & Co after it had closed because of damage by the publication.
Libel, also called defamation in writing, can destroy goodwill, sources of income and trigger mental instability, so if you have a sound reason to believe something written about you is libelous, you should not stay quiet. Read on to see how to spot defamation in writing and learn the steps you can take to correct libel. 
Defamation Explained
Of the two types of defamation, libel is the easiest to spot and prove. While slander has to be captured while being spoken, or retold by a witness, libel is simply defamation put in writing which can be easily stored, retrieved, and reproduced as evidence. A merely written sentence does not make up a libelous claim, it also has to be:
Proven false
Seen by other people
As a result of provable negligence or malice
Capable of ruining a person's reputation, social or economic standing.
Made by someone not protected by stipulated privileges in the law.
You may not be a public figure or have a significant amount of interest that could be affected by libel, but your reputation even amongst your immediate family can be adversely affected if you choose not to correct libel. Here are some common instances of libel and the negative results it comes with:
| | |
| --- | --- |
| Libel can be used in:  | Example: |
| Politics | Libel can prove a bad blow for a person looking to run for or stay in public office if it becomes widely publicized and presented as fact. |
| Journalism | News outlets with different ideological leanings can sometimes go overboard and use libel to try to discredit one another. A recent case is Project Veritas vs. The New York Times libel suit. |
| The workplace | Written defamation about a co-worker could result in both economic and non-economic consequences that could hamper their chances of a promotion, or ruin their relationship with other co-workers if left unaddressed. |
| A domestic divorce case | Separated couples looking to finalize a divorce sometimes use libel as a tool to make the other party look bad and irresponsible in the eyes of the law. This could cost a party their reputation and even result in economic and non-economic damages. |
How to Correct Libel?
There are three major ways you can correct a libel. You could:
Confront the individual responsible for libel
It is your duty to seek the originator or publisher of the libel if you intend to correct it. If it is in a newspaper corporation, you'll have to contact the journalist who wrote the article or the newspaper's editor-in-chief. If it's a co-worker at work, you can notify HR. If it's written by a blogger on the internet,  you can find out their identity and contact them.
A confrontation means stating clearly all the present and potential negative impacts their actions may have on your profession, your business, or your reputation, and how you would appreciate them retracting the publication and issuing a public apology. Most people prefer to do this in the company of a third person who may serve as a witness.
Write and send a cease and desist letter
If you're worried about having to speak to a defamer or visit them in person and you do not wish to attract more publicity to your case with a lawsuit, a cease and desist letter would be a great option.
A cease and desist letter is like a demand letter, which serves as a precursor to a lawsuit. Though not legally binding, the letter is written in a strong legal tone and usually carries the warning of a lawsuit in the event of non-compliance.
You can choose to use generic cease and desist letters that may not be adequate enough or pay a lawyer handsomely to help you create an impactful one. If you are worried about the costs of getting a lawyer, you can describe your libel case to DoNotPay and get a properly drafted cease and desist letter. See the section below for details on how to use DoNotPay.
File a libel lawsuit
This should be your last resort after trying and failing in the first two. Unless your losses from a libel run into hundreds of thousands, it may be a good idea to file a libel suit in a small claims court. You'll need minimal legal help and can get up to $15,000 in compensation for your damages, subject to the laws of your state. You can check how to file a case in small claims court here.
Send a Cease and Desist Letter With DoNotPay!
DoNotPay's Defamation Demand Letter product helps correct defamation and harassment. It sends a unique request for retraction (but it is not legally binding). You only need to provide your information and details of the libelous act. Here's how it works:
1. Search "defamation" on DoNotPay and select the Defamation Demand Letters service.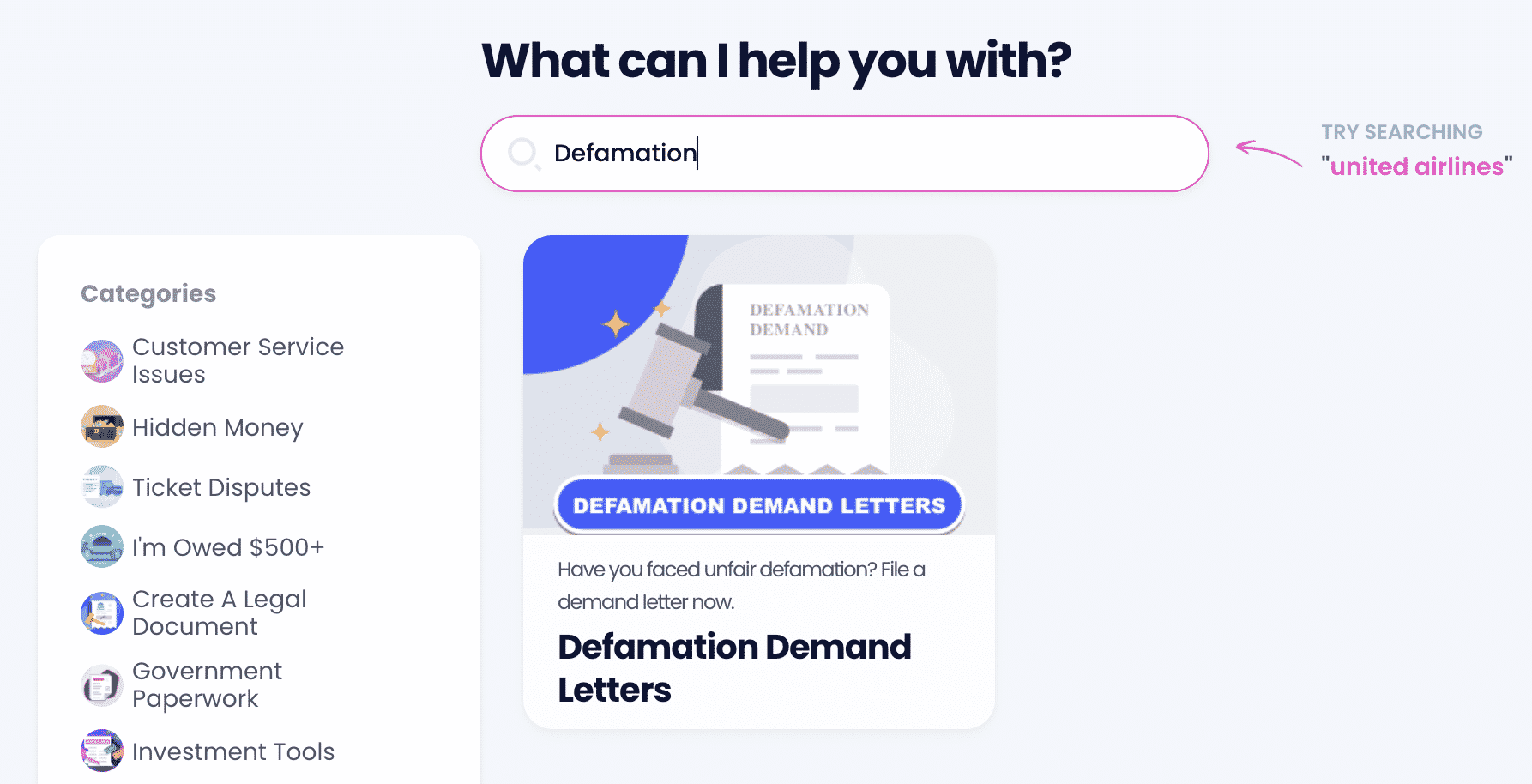 2. Explain the type of defamation you experienced and the consequences you have suffered as a result.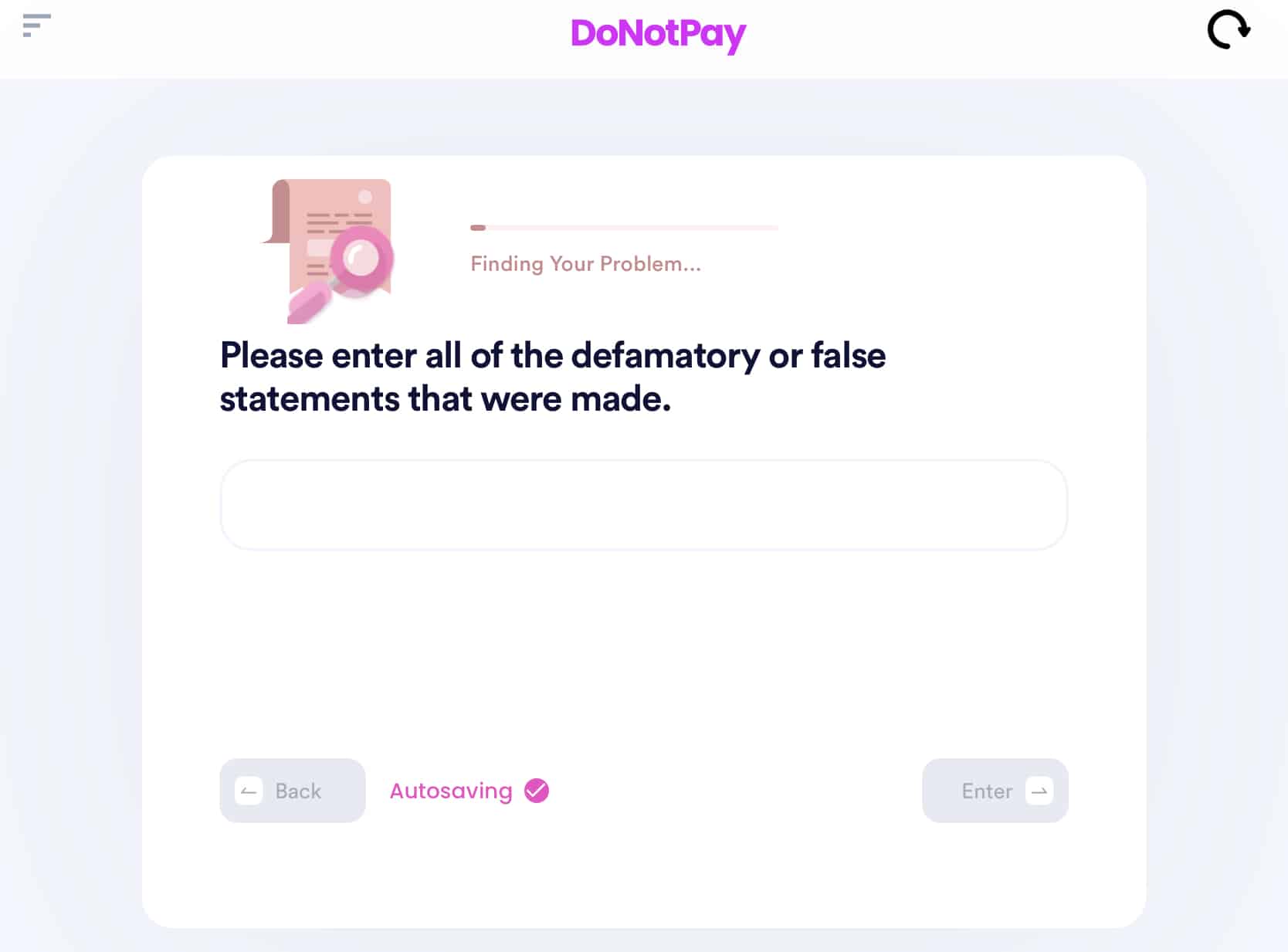 And you're done! A cease and desist letter will be automatically generated for you with the relevant state laws. Send it to the defamer to try and put a stop to defamation!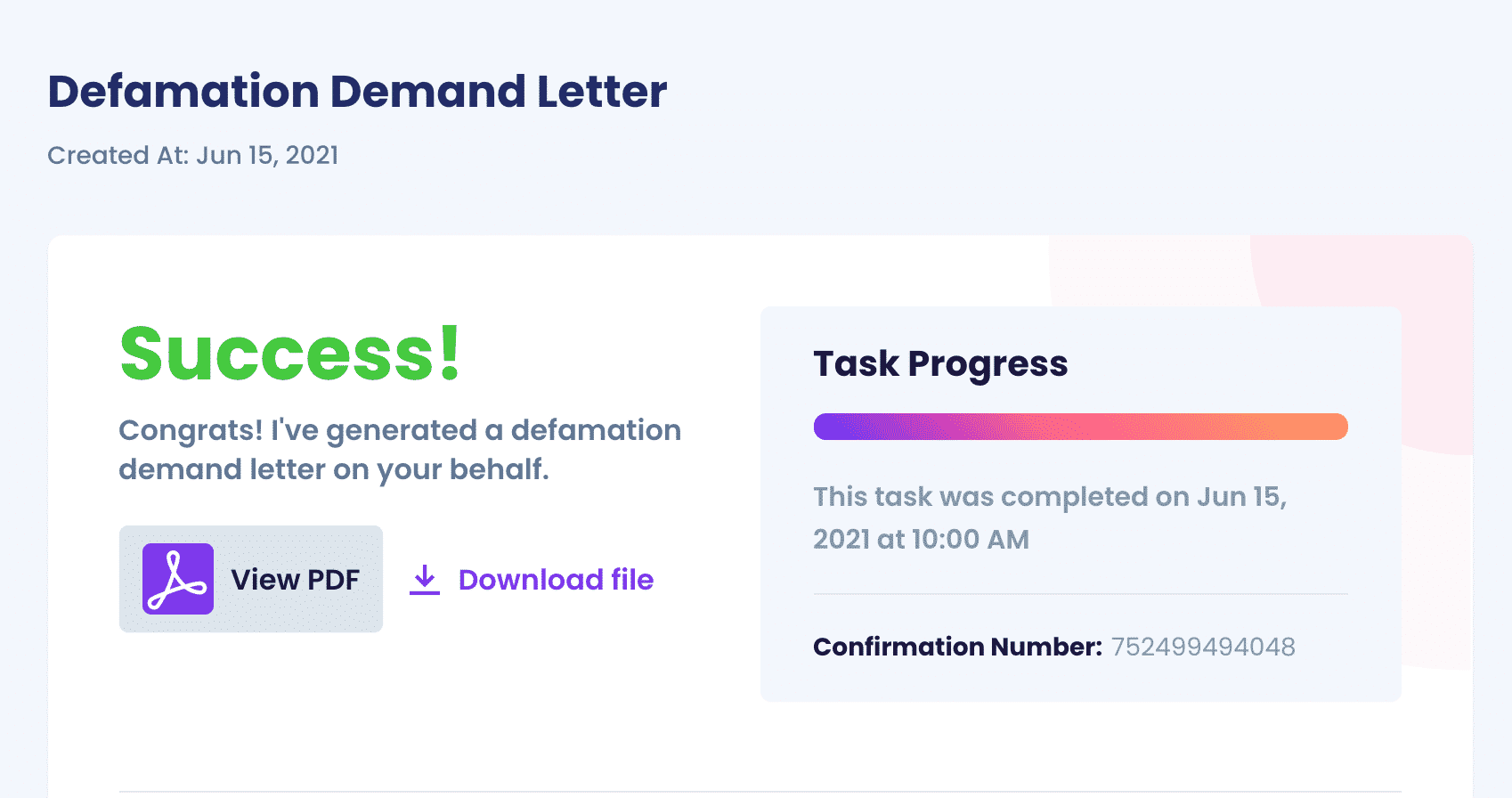 The AI Lawyer Everyone Needs
DoNotPay can draft cease and desist letters for defamation and harassment. It can also draw up other legal documents in an instant! Here are a few: