8 Tips on How to Write an Effective Debt Verification Letter
If you are in debt, there are a couple of things you need to know. First, you are not alone. Around 80% of American families are in debt. Second, you have a right to ask debt collectors to verify that the debt belongs to you. This can be done with a debt verification letter. Avoiding debt collectors does not make the debt go away. Being proactive and communicating with bill collectors are keys to resolving your debt problems.
This article will explain when and how to use a debt verification letter to determine the validity of alleged debts. Then you can check out some of the other articles in the File For Bankruptcy product series of DoNotPay.
What Is a Debt Verification Letter?
When a collection agency or creditor contacts you about a debt owed, it is more important than ever for you to verify that the alleged debt is actually yours. These are a few of the reasons you should ask for debt verification.
The collection agency could be a scam.
Hackers could have stolen your identity.
The debt could be past the statute of limitations.
Data errors could exist.
You have the right according to the Fair Debt Collection Practices Act (FDCPA).
When to Send a Debt Verification Letter
After contacting you, a collection agency is supposed to send you a statement by mail called a validation letter. This letter will likely contain the amount of the debt owed but may also contain other information. The letter will have a statement declaring that if the debt is not disputed within 30 days, the collection agency will assume that the debt does belong to you. If you do not receive this letter, or if you do, but you still do not recognize the debt, you need to send a debt verification letter.
Debt Verification Letter Tips
 Always be sure to date the communication.
Be thorough, clear, and direct about the purpose of your letter.
State that this is not a refusal to pay the debt, but you are requesting more information to prove that you owe the debt.
Include a bullet point list of the specific information you are requesting.
You should state that while you are investigating the validity of the debt, they are to cease and desist collection efforts.
Your statement should also inform the collector that, upon receipt of the documentation requested, you have 30 days to review the information before they resume collection attempts.
The letter should be mailed via certified mail, and you should ask for notification of delivery.
Keep a copy of the document for your records.
Verification Letter Example
Date:
Sender's Name:
Sender's Address:
Collection Agency Name:
Address:
To Whom It May Concern:
This letter is to inform you that I am exercising my right under the Fair Debt Collection Practices Act to ask for more information regarding the alleged debt that your company is attempting to collect from me. I insist that the collection agency cease and desist their attempts to collect payment while the matter is investigated. This includes up to 30 days after receiving verification so that I have time to review the information.
This is a list of the information and documents that I am requesting.
Original creditor's name and address
Original contract
Account number
Debt amount
Date of debt delinquency
A complete accounting of the debt
Verification the collection agency has the authority to collect
The proof agency is licensed to collect a debt within your state
If the collection agency fails to provide the requested information within 30 days, I demand that all references to the debt be removed from your records and my credit file immediately.
Thank you for your time and consideration in this matter,
Signature
Do You Need to File Bankruptcy?
If you have considered filing for bankruptcy, debt.org urges people to think it through but do not be afraid. Bankruptcy is a serious matter, but the purpose of filing is to give yourself a second chance financially, and you should take the opportunity to do so if needed. Here are some of the reasons people file for bankruptcy.
Job loss
Medical debt
Divorce
Sued by creditors
Danger of foreclosure
Filing Bankruptcy Using DoNotPay
How to file for bankruptcy using DoNotPay:
If you want to file for bankruptcy but don't know where to start, DoNotPay has you covered in five easy steps:
1. Search for File for Bankruptcy on DoNotPay.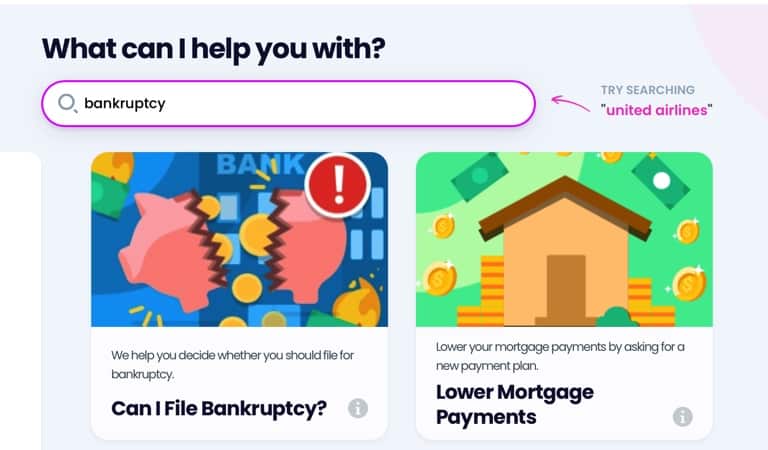 2. Put together a list of your debts, expenses, and assets. If you need help accessing information like your credit report, DoNotPay can help you get your report.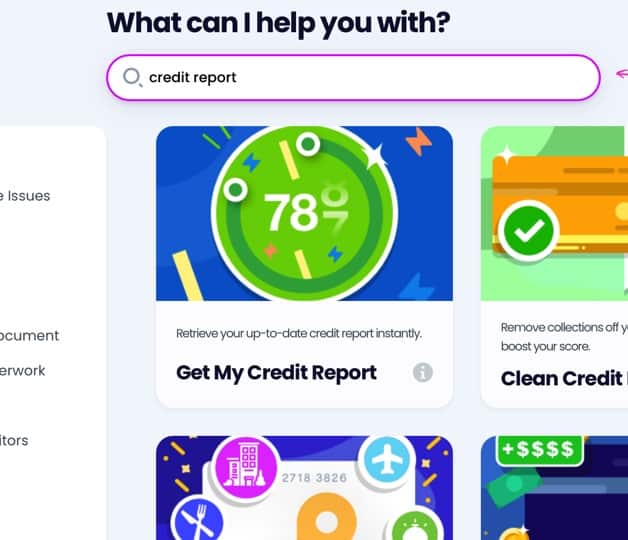 2. Let DoNotPay walk you through your bankruptcy options and help you determine whether a Chapter 7, Chapter 12, or Chapter 13 bankruptcy is right for you.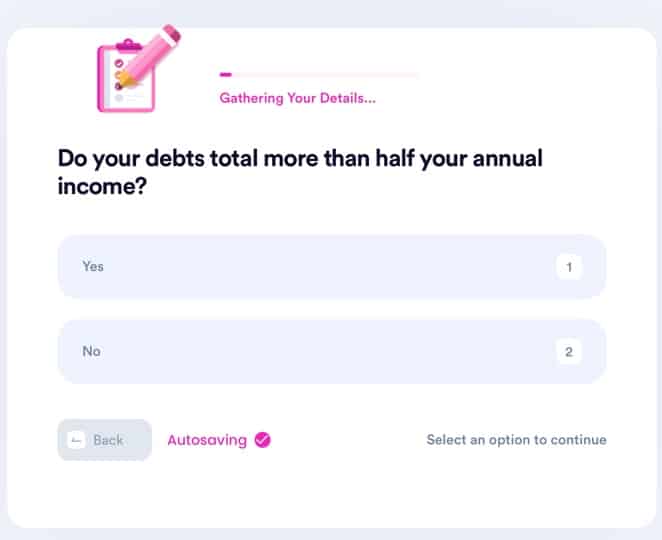 3. DoNotPay will then help find the best credit counseling course near you, which you need to complete before filing your bankruptcy forms.
4. Lastly, DoNotPay will gather all of the forms you need (including available fee waivers) and help you locate your nearest bankruptcy court. All you have to do is complete the required forms, prepare your filing fee, and file the application with your local court.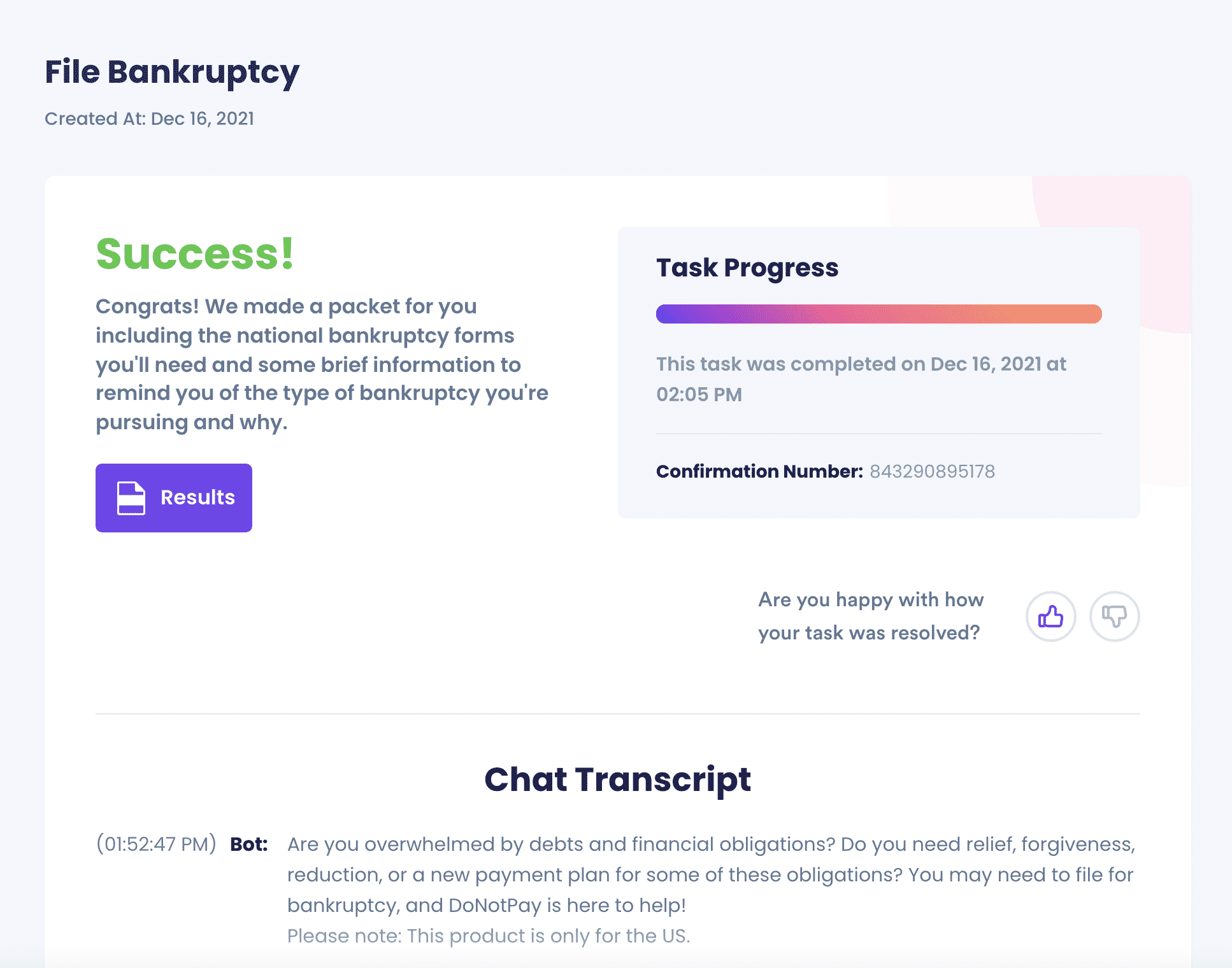 And that's it. Once done, the court will give you:
Your bankruptcy case number
The name of your bankruptcy trustee
The date, time, and location of your meeting with your trustee
At this point, your case has been filed. Congrats! The automatic stay now protects you from all debt collectors. Your trustee will then contact you for further financial documents you will need to provide. Make sure to attend your meeting as well as complete the post-filing bankruptcy debtors course.
Let The Clean Credit Report Product Write a Verification Letter
If you need to send debt verification letters to creditors, DoNotPay has a product for that as well. The Clean Credit Report product will create a debt verification letter on your behalf and will even send it to creditors on your behalf.
Why Use DoNotPay to File Bankruptcy
No need to waste time figuring out what type of bankruptcy to file or what forms are needed. The File For Bankruptcy product from DoNotPay will walk you through each step, ensuring you have the proper information gathered and the right forms to file. Just another way that DoNotPay can work to save you time and money quickly, easily, and successfully. Here are some more articles from the File For Bankruptcy product series.
What Else Can DoNotPay Do?
The products of DoNotPay work like a personal assistant handling tasks on your behalf quickly, easily, and successfully. Check out some of the other product series and find even more ways to save time and money with DoNotPay.