How to Dispute Your Credit Report with a Debt Validation Letter in Virginia
The Federal Trade Commission (FTC) reports that out of the 82,700 consumer complaints the commission received in 2020, 49% were claims of debts the consumers didn't owe. If you are in such a pot, let's help you improve your credit report by designing a for your creditors/collection agencies in Virginia.
Most people, like you, don't know you can remove collections on your credit reports. Additionally, you have a legal right to dispute your credit report if you are unsure of the specific contents. That's where the debt validation letter comes in.
Considering the contents of your credit report stick for up to 7 years, it's wise to seek a pro to write any of the letters for you. That's what DoNotPay is here for.
Decode Your Credit Report
Sadly, nearly 60% of Americans know neither their credit scores nor the contents of their reports.
A credit report is a statement that highlights your creditworthiness. According to FICO, your credit report contains:
| | |
| --- | --- |
| Payment history | 35% |
| Debt amounts | 30% |
| Length of credit history | 15% |
| Any new credit | 10% |
| Your credit blend | 10% |
Regular checks and inquiries on your credit report will ensure you spot errors, such as debts that aren't yours, and a solid base to commence a dispute.
Understand Debt Validation Letters in Virginia
So, you are going about your business when a collection agency calls you asking you to clear a debt that you are unaware of. In such a case, you have a right to dispute and ask for proof in writing via a debt validation letter.
This is a letter your debt collectors send you to prove you owe the debt in question and its validity within Virginia's debt statute of limitations.
If the collection agency contacts you by phone, the Fair Debt Collection Practices Act, 15 USC 1692g §809 gives you the right to demand a debt validation letter within 5 days from the initial communication. The letter features:
The original creditor's details
The exact amount of debt you owe
It's well within your legal rights to dispute the debt within 30 days; otherwise, the debt is valid.
The creditor/collection agency will provide proof and more clarification in writing by mail when you dispute the debt within 30 days.
If the creditor fails to provide written proof, you can complain about them for violating your rights.
Why Should You Insist On a Debt Validation Letter in Virginia?
Before clearing any debt, you need proof that the debt is yours beyond any shadow of a doubt. If you received a call from a collection agency, your creditor might have sold your debt to the agency. In some cases, errors on credit reports might emanate from a lack of sufficient data once the collection agency bought your debt, meaning there's a chance the debt might not even belong to you.
So, insist on a debt validation letter to avoid:
The collection agency assuming the debt is yours
Paying a debt that you do not owe
Paying a debt whose statute of limitations has expired
Becoming a victim of a debt collection fraud or identity theft
Any forms of communication with the debt collector until they respond with the validation letter, including halting report you to any credit bureau.
What Happens After Receiving a Debt Validation in Virginia?
After receiving your debt validation letter, go through it to spot any errors or disparities.
If any of the info on the letter is unclear or erroneous, you can dispute it using a debt verification letter.
This letter addresses the debt collector asking for further clarification or disputing the debt. Ensure you send the letter through verified mail and obtain a return receipt to maintain communication records. A certified mail ensures a real person signs to receive the letter.
Additionally, send the verification letter within 30 days of receiving the debt validation letter; otherwise, the collection agency assumes the debt is yours to clear and will continue contacting you.
How to Write a Debt Verification Letter?
If you choose to write the debt verification letter yourself, there is certain information you should ask even though the collection agency isn't mandated to provide every detail.
The debt balance and how the collection agency arrived at that figure
The original creditor's details: name and address
The validity of the debt's statute of limitations
Any legal agreement showing you agreed to clear the debt
The debt collector's authority to collect the debt
If you are wondering where to start, you can check out some debt verification samples from CFPB. However, writing debt verification is delicate and requires a pro to write one correctly. Don't take the chance; let DoNotPay design and mail the letter for you.
Strategies on Successfully Disputing Your Credit Report On Your Own
Debt validation and verification letters aren't the only strategies you can deploy to dispute or clear your credit report. If you decide to dispute or clean your credit report yourself (highly discouraged), other methods include:
Lodging complaints directly with credit bureaus via dispute letters to trigger an investigation.
File dispute directly with the original creditor.
Deploy a pay-for-delete letter with the creditor with a commitment of clearing the debt fully or partly in exchange for them removing the debt or collections from your credit report.
Send a goodwill credit inquiry removal letter and request the creditor remove the negative mark from your credit report, such as

late payments

. The rule of thumb with goodwill letters is to use the saturation technique to ensure as many unique recipients receive the letters to raise your chances the adjusting your credit report.
Clearing your credit score or disputing debts is no easy feat. There are numerous legalities and processes involved. Without the proper know-how and time, you might lose that battle, hence the discouragement to DIY.
To increase your chances of getting desirable results, consider using DoNotPay.
Next Steps In Disputing Your Credit Report If You Can't Do It Yourself
The above DIY methods may fail. The debt collector might fail to honor your rights as per the FDCPA, fail to cease further contact as required, or you are discontent with the outcomes of the credit bureaus investigations
Either way, you can lodge complaints with:
Still, don't follow these paths on your own. Let DoNotPay guide you for better results.
How to clean up your credit report using DoNotPay:
If you want to clean up your credit report but don't know where to start, DoNotPay has you covered in 3 easy steps:
Search Clean Credit Report on DoNotPay.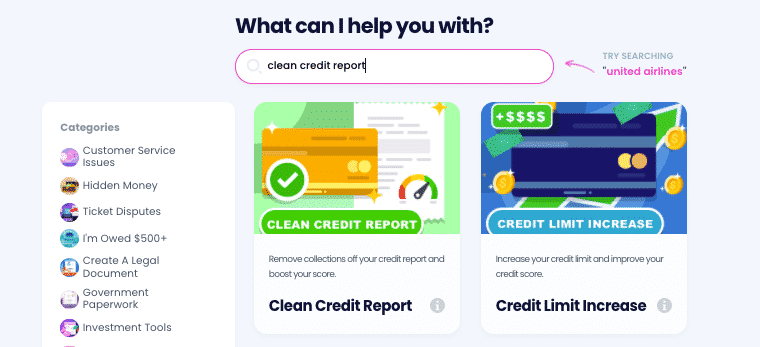 Prepare a recent copy of your credit report that you can use as reference.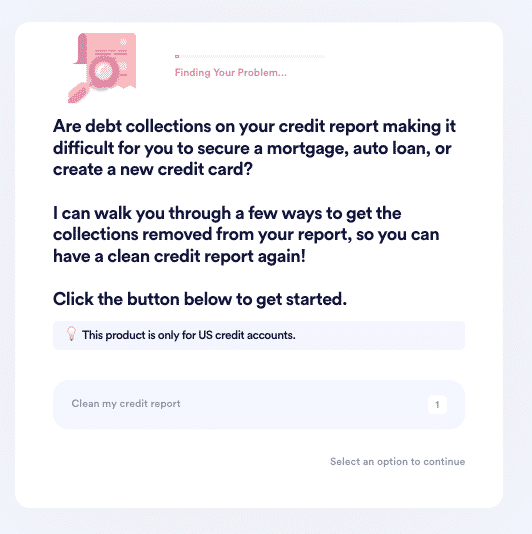 Let us guide you through the 4 potential options:If you've already paid off your debt, we'll help you file a Goodwill Removal Request to get it removed.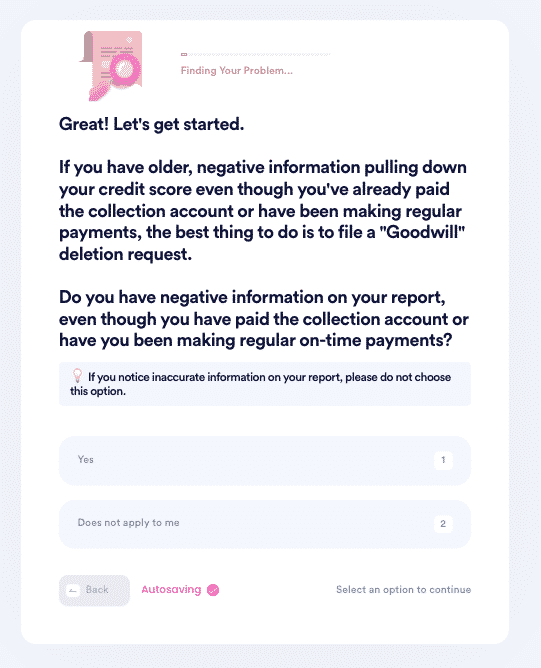 If you notice any errors in your report (we have a list of common errors you can use!), we'll help you file a credit dispute to the creditor or major credit bureaus.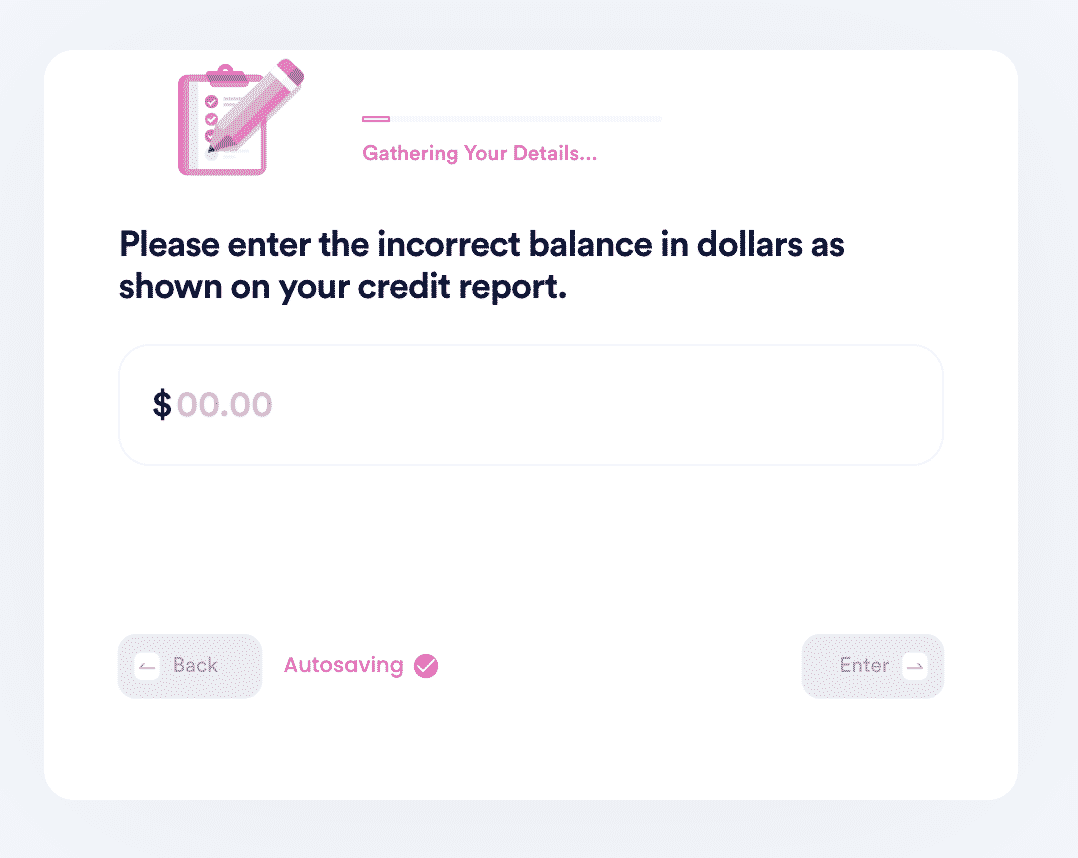 If there are no errors, we'll check if you're still eligible to file a debt validation request. If they can't validate your debt, they're required to remove it from your report, and they can't collect it!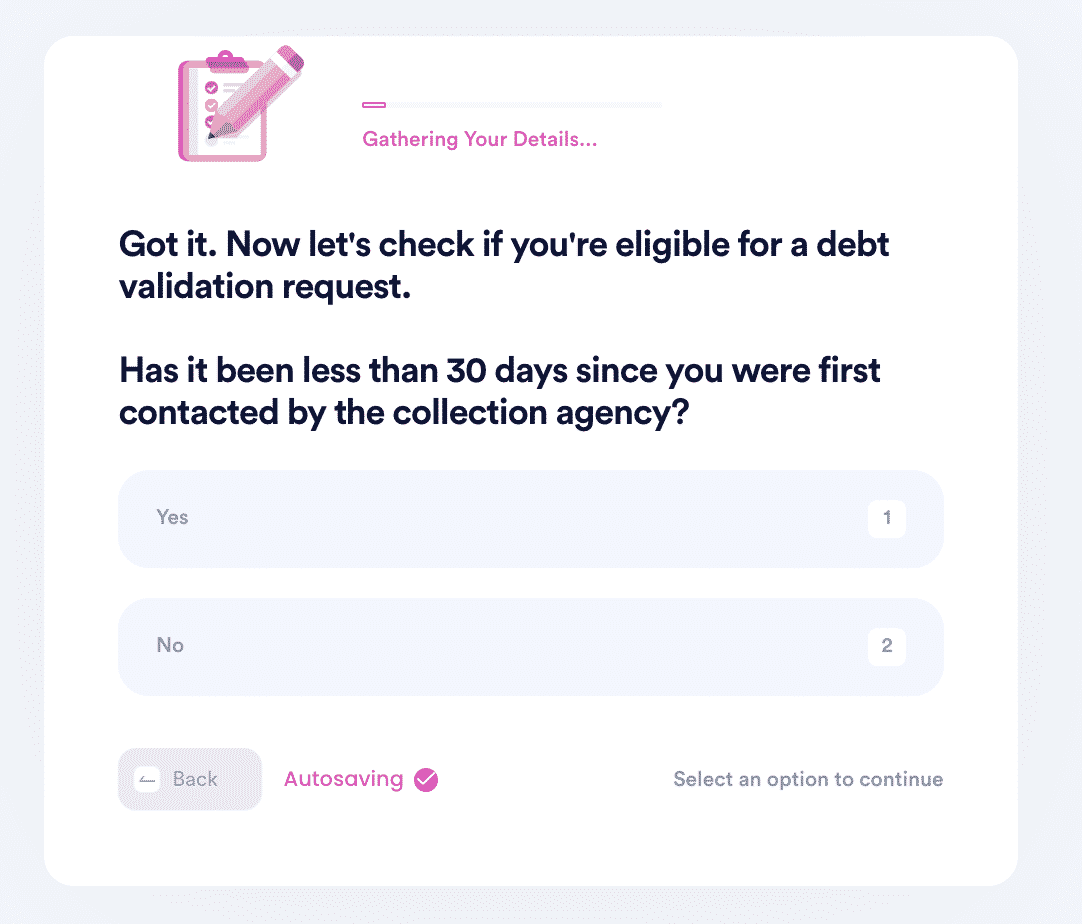 Lastly, if none of the above options work, we'll help you file a pay-to-delete negotiation letter. You can customize the amount you are willing to pay in exchange for getting the item removed.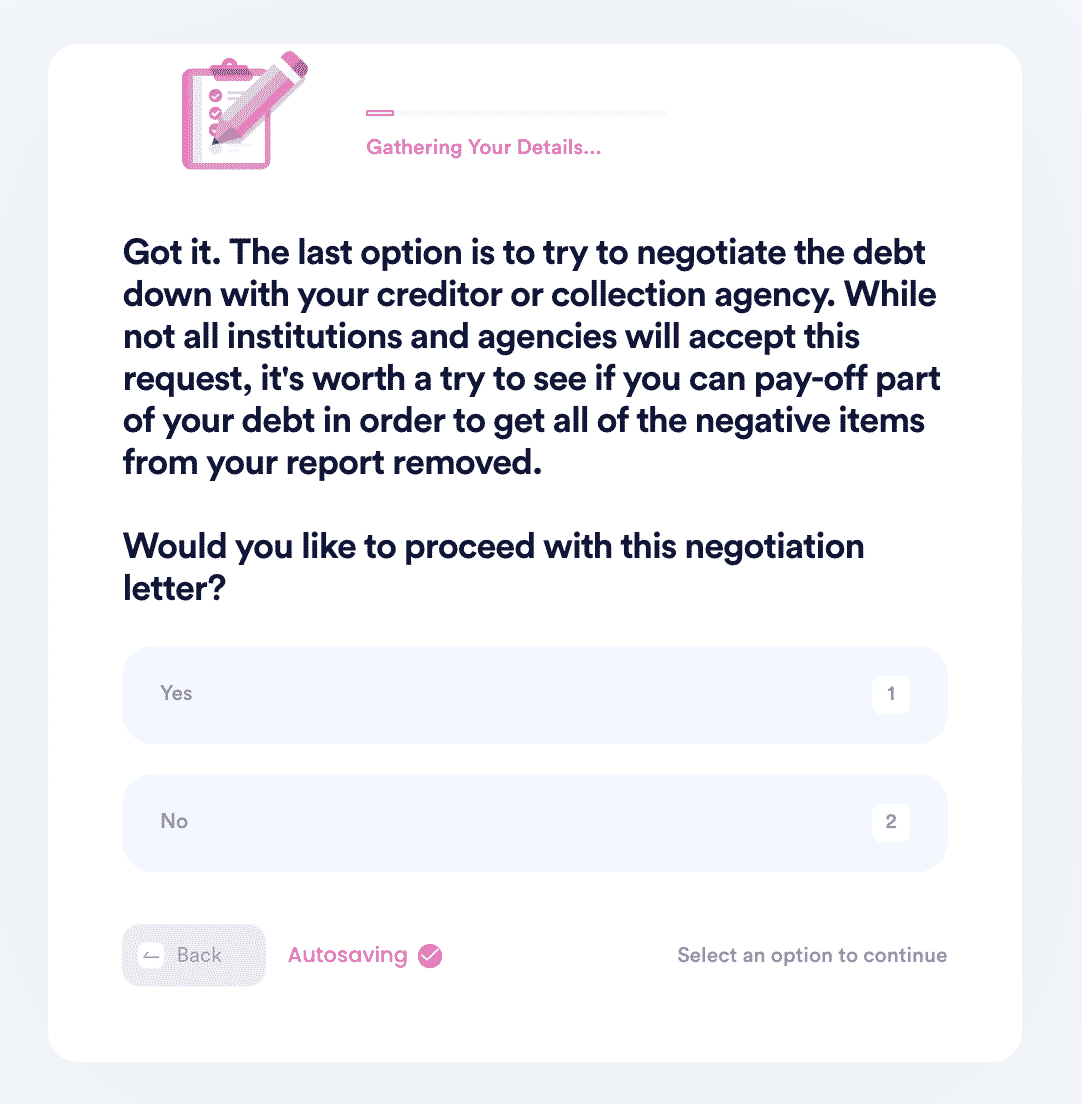 Why Use DoNotPay to Design your Debt Verification Letter In Virginia
Never overlook the importance of , more so since errors and collection accounts can lower your credit score by up to 100 points. While your DIY methods might work, albeit to a certain degree, using DoNotPay assures you of:
Fast, convenient, and hassle-free processes.
Super easy, minus the mountains of forms you need to fill.
Unmatched and guaranteed desirable results.
What Else Can DoNotPay Do?
Life is full of numerous challenges, apart from clearing your credit reports. It's about time you stopped wondering where to get the best help for your challenges. With DoNotPay's versatility, some tasks you can tackle include:
Work across multiple companies to perform various tasks