Everything You Should Know About Writing a Debt Settlement Agreement
Once you realize that you have too much debt you can't cope with, you should consider signing a debt settlement agreement and renegotiate the deal with your creditor. If you want to learn more about this contract and find out what it should contain, our guide will answer all your questions. We will also share some extra tips on writing many other legal documents in a snap without inaccurate and outdated templates!
Definition of the Debt Settlement Agreement
A debt settlement agreement is a contract between a lender and a borrower that enables the parties to compromise on outstanding debt. The creditor allows the debtor to pay an amount smaller than the outstanding amount—between 50% and 70%—if they can't pay off the entire remaining sum at once. With this contract, the parties determine the terms of the settlement, minimizing confusion by clearly explaining what each party must do and what rules they have to follow.
Benefits and Drawbacks of Debt Settlement Agreements
The following table shows some advantages and disadvantages of signing a debt settlement contract:
Pros
Cons

The contract significantly reduces the debt amount

The debt can be paid off in less time

Borrowers can avoid bankruptcy, lawsuits, and court proceedings

Lenders are guaranteed to get at least a part of the sum they gave to the borrower

As a legally binding contract, a debt settlement agreement can serve as valid evidence in case of disputes

Some conditions within the agreement can be unfavorable for debtors

Creditors have the right to insert late fees or interest in the contract

Signing this agreement can influence the borrower's credit score negatively
What Does a Proper Debt Settlement Contract Consist Of?
To create a valid debt settlement contract, you must ensure that your document is well-structured and that it contains the relevant information. The clearer the contract, the less likely it is that there may be any misunderstandings. Below is the table highlighting the recommended scheme according to which you can write your agreement:
Sections
Details

Introductory part

Identification of the lender and borrower, including their:

Names

Physical addresses

Contact information

Date of signing

Recitals

Definitions

A copy of the original

loan agreement

, promissory note, or any other document from which the debt emerged

Basic loan details stated in the primary agreement

Settlement details

Acknowledgment of the existing obligations

Settlement amount

Lender's and debtor's releases

Warranties of the parties

Effective time of releases

Other important clauses

Additional terms

Notices

Successors and assigns

Potential waivers and amendments

Severability clause

Applicable laws

Final section

Signatures of both parties
Compose Perfect Legal Documents Without a Lawyer Using DoNotPay
DoNotPay, the winner of the ABA Brown Award, can draw up customized agreements in your stead. You can personalize the terms of our standardized legal documents and get a perfectly drafted contract in under five minutes! This means you will never have to waste hundreds of dollars on lawyers—we will do all the work and save your hard-earned money.
To obtain a personalized contract, you should:
Create an account on DoNotPay

and log in

Find the document you need by using the search field

Go through a few questions of our chatbot
It's that simple! Note that you and the other party must sign a contract to make it enforceable and bring it to a notary to validate your signatures if your state imposes it.
This brings us to another great advantage of our service—once you create your agreement, you can have it notarized in the same app from the comfort of your home! DoNotPay enables you to arrange a video meeting with an online notary and get a digital notary's stamp and signature for your document.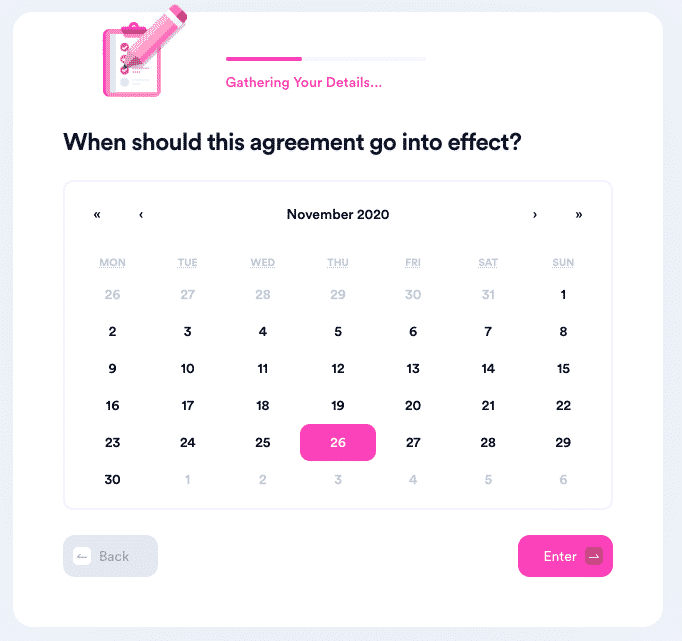 What Contracts and Legal Documents Can You Draft With DoNotPay?
Once you sign up for DoNotPay, you can create an unlimited number of any business, real estate, and other legal documents of your choice, such as:
Intent To Purchase Real Estate

Child Care Authorization Form

General Affidavit

Promissory Note

Quitclaim Deed

General Business Contract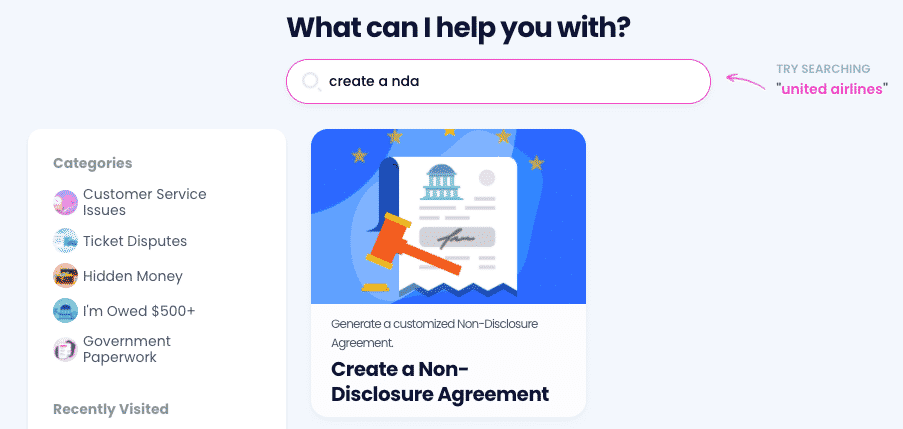 That's not all! If you want to compose a contract that isn't in our database, you can find some handy guides on numerous agreements in our knowledge base. We have answers to many contract-related questions, such as:
Let DoNoPay Help You With Your Paperwork
Why waste time on bureaucracy if you can rely on DoNotPay to handle pesky tasks for you? Cancel all your subscriptions at once, find unclaimed funds in a matter of minutes, appeal parking tickets hassle-free, and discover the best way to get your documents notarized remotely. 
In case you need help paying bills or you want to earn some money by participating in paid clinical trials, DoNotPay is here to help you out! 
Fighting workplace discrimination is of utmost importance, but the entire procedure seems rather complicated. The same goes for the crime victims compensation application in most states. DoNotPay is here to change that. We will help you file a report, request compensation, and create numerous other documents, including demand letters for neighbor complaints.
Keep Your Online Safety in Check!
While internet safety should be one of your top priorities, staying anonymous while surfing the web is almost impossible. If you want to avoid giving out your number when registering for services, you should try out our Burner Phone product. 
DoNotPay can also protect your credit card info, name, and email address, all through our handy virtual credit card. Sign up for free trials without worrying about unexpected charges.
With our app, you will learn how to deal with stalkers and harassers and how to access public records the easy way. 
DoNotPay offers many other useful products that can help you prepare for government tests, have your college fees waived, and manage any annoying issue in minutes.