How To Write a Rock-Solid
Debt Cancellation Agreement
Loans provide significant financial help when buying a new house or other necessities, but various life circumstances can make paying off a debt difficult or even impossible. Depending on the specific situation you are in, you can negotiate the matter with the lender and ask them to relieve you from the debt. If they agree, signing a debt cancellation agreement is the best way to regulate the verbal deal you make with the creditor. 
This article will break down all you should know about debt cancellation contracts and teach you how to write one with zero fuss. You will also learn how to draw up any legal document in a matter of minutes using DoNotPay!
What Is a Debt Cancellation Agreement?
A debt cancellation agreement is a legal document that outlines the negotiated terms and conditions of debt relief. 
Once the lender decides to cancel the borrower's financial obligation, the parties use this contract to define the conditions under which the debt cancellation will happen. At times, these conditions are already described in the original loan agreement under the cancellation clause. In such cases, the debt cancellation contract is much easier to compose.
Debt cancellation agreements are usually considered in case of:
Disability

Bankruptcy

Debtor's death

Unemployment

Military service

Marriage or divorce
These contracts are more beneficial than other popular solutions. For instance, credit insurance programs cover only the events in the debtor's life. Debt cancellation agreements include specific circumstances in the lives of their spouse or family members as well. It's quite practical since many families have multiple members contributing to the total home income. 
Debt cancellation contracts can be used for all types of consumer loans, such as:
Leases

Car loans

Mortgages

Student loans

Other installment loans

Home equity lines of credit
What Should a Debt Cancellation Contract Cover?
Here are the minimum requirements regarding the contents of a valid debt cancellation agreement:
Names of all parties involved

Effective date

The date on which the money was lent

The precise amount the borrower owes to the lender

The exact amount the lender forgives to the borrower

Signatures of the lender, borrower, and all witnesses (if there are any)
The parties can add other clauses, such as governing laws, indemnification disclosure, or no third-party beneficiaries.
Is a Debt Cancellation Agreement Legally Binding?
Debt cancellation contracts are considered legally binding if they:
Are in writing

Contain the signatures of all parties involved

Cover all clauses and disclosures imposed by specific state laws
In some parts of the USA, you also have to get the contract notarized. It's recommendable to get informed about the legal requirements in your state before you create the agreement. 
If your state requires you to get your document notarized, you can do it with DoNotPay by using our Notarize Any Document feature! We help you book an appointment with a remote notary without waiting and obtain a notary's signature with no sweat.
Create Tip-Top Contracts in a Snap With DoNotPay
Writing a valid agreement manually is challenging, and lawyers tend to charge hundreds or even thousands of dollars for a single document draft. If you don't want to waste your money on their overpriced services, try DoNotPay and get an affordable solution for creating professional contracts without unreliable templates!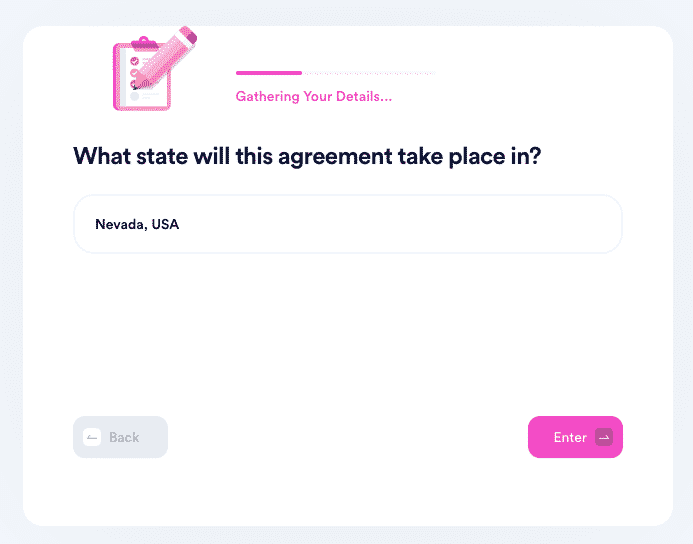 Our app provides top-notch standardized legal documents you can adapt to your needs in no time. The best part is that you can do it from any device in three simple steps:
Create an account with DoNotPay

and log in

Search for the desired document by entering the keywords, such as

NDA, affidavit, lease agreement,

etc.

Fill out a brief questionnaire related to the contents of your contract
Once we process your details, we will generate a comprehensive document complying with all relevant state regulations! 
What Legal Documents Can DoNotPay Help You With?
Besides providing high-level standardized legal documents, we offer various practical guides related to the most sought-after contracts. Access DoNotPay today and have a look at all we have in store! You can see the details in the table below:
Documents We Offer
Useful Instructions for Drafting

Intent To Purchase Real Estate

Quitclaim Deed

Promissory Note

General Affidavit

General Business Contract

Child Care Authorization Form
We can also help you find the answers to some common questions, such as:
Let DoNoPay Help You With Your Paperwork
Why waste time on bureaucracy if you can rely on DoNotPay to handle pesky tasks for you? Cancel all your subscriptions at once, find unclaimed funds in a matter of minutes, appeal parking tickets hassle-free, and discover the best way to get your documents notarized remotely. 
In case you need help paying bills or you want to earn some money by participating in paid clinical trials, DoNotPay is here to help you out! 
Fighting workplace discrimination is of utmost importance, but the entire procedure seems rather complicated. The same goes for the crime victims compensation application in most states. DoNotPay is here to change that. We will help you file a report, request compensation, and create numerous other documents, including demand letters for neighbor complaints.
Keep Your Online Safety in Check!
While internet safety should be one of your top priorities, staying anonymous while surfing the web is almost impossible. If you want to avoid giving out your number when registering for services, you should try out our Burner Phone product. 
DoNotPay can also protect your credit card info, name, and email address, all through our handy virtual credit card. Sign up for free trials without worrying about unexpected charges.
With our app, you will learn how to deal with stalkers and harassers and how to access public records the easy way. 
DoNotPay offers many other useful products that can help you prepare for government tests, have your college fees waived, and manage any annoying issue in minutes.