Call Employers Out With This Explanation of De Jure Discrimination
Workplace discrimination of any sort is illegal in the U.S.
Federal law is unequivocal in making it impossible for employers to discriminate against their staff.
Courts still deal with cases of employment discrimination every day, though—in 2020, the Equal Employment Opportunities Commission (EEOC) resolved 165 cases and filed 93 lawsuits against companies in breach of the law. Many of these involved employers who openly and actively ran their businesses in a discriminatory manner.
If you are experiencing discrimination at work, you are not alone—DoNotPay will help you expose de jure discrimination and fight for your rights!
De Jure Versus De Facto Discrimination
Many companies are guilty of de facto discrimination by default—they allow cultural norms and learned behavior within the organization to create an atmosphere of discrimination.
As an example, a company in which the majority of the sales team comprises white males may find a Friday afternoon drinking culture acceptable—management may even condone it and join in the fun.
As soon as this behavior impacts negatively on a new colleague who happens to be female and Muslim, the company is guilty of de facto discrimination. The discrimination is not a result of any active company policy but rather a consequence of behavior that has become inappropriate under the team's new composition.
De jure discrimination is considerably more clear-cut—in theory, at least. To be guilty of de jure discrimination, the company must actively set out to treat certain employees differently, based on:
Employers are aware of how easy it can be to spot de jure discrimination, though, and can use subtle techniques to mask any discrimination attempts they make.
What Does De Jure Discrimination Look Like in Real Life?
There are countless examples of workplace discrimination that can be classified as de jure. Some of the most common are:
Discrimination Type

De Jure Example

Gender

The company's clients are exclusively male engineers who work in the light industry. The company advertises for new sales reps and stipulates they should be male and between the ages of 25 and 40

Race

An employer states that its policy is to offer employment to local disadvantaged communities—comprising exclusively people of color—to the exclusion of all other candidates. Employees are

paid the minimum wage

, which is below the median for the area.

The company is guilty of de jure discrimination for excluding certain racial groups and paying below-median wages to those it employs

Disability

Disabled employees are disqualified from factory floor jobs for safety reasons, while the company has done nothing to alter its facilities to offer safe working conditions for the disabled staff.

They are thus victims of de jure discrimination as the company should provide safe access for them to uphold its own policy of non-discrimination

Religion

A Jersey City company insists on Saturday shifts for all staff even though many employees observe Shabbat (Jersey City has the highest Jewish population density in the U.S.)
All of the above are real-life examples and illustrate that de jure discrimination is alive and kicking in the U.S., despite the efforts of discrimination lawyers and the EEOC.
What Can You Do About De Jure Discrimination?
If an employer has actively and willfully installed policies that contravene anti-discrimination legislation, there is a chance any complaint you lodge internally will be ignored or swept under the carpet.
You should follow the correct procedure and try to resolve the issue internally first, though. To do this, you should follow these steps:
Check your company's

anti-discrimination policy

Keep a diary

Approach HR with a formal complaint
Check Your Company's Anti-Discrimination Policy
If your employer has a policy in place, you should make sure it states clearly that the company is opposed to discrimination.
Keep a Diary
You should note every occurrence of discrimination, including:
What exactly happened

Who was involved

When and where it happened

Who witnessed it
Approach HR With a Formal Complaint
HR or your supervisor may try to ignore your allegation, so you should insist that your complaint is written down and logged in the HR system.
What if the Internal Route Doesn't Work?
Your next recourse is to lodge a complaint with the EEOC. This is a necessary step, as you are not allowed to launch a private discrimination lawsuit without first receiving permission to do so from the EEOC.
Once the EEOC has received your charge of discrimination, a case officer will:
Notify your employer of the charge

Investigate the case

Decide on the next steps
The EEOC's next steps may be to:
Dismiss your case

Launch legal proceedings against your employer

Give you a letter of permission for you to commence legal action
DoNotPay can help you get this process started—your !
Here's How DoNotPay Can Help You With the EEOC
DoNotPay can help you file your EEOC complaint in a few clicks—here's what you need to do: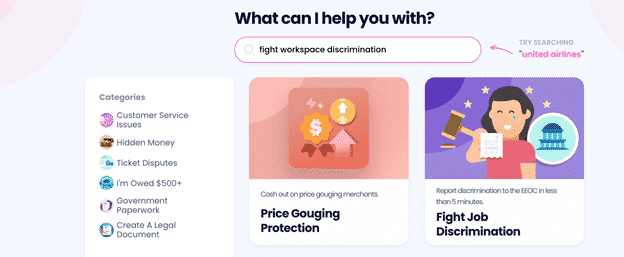 Go to DoNotPay and

Find our

Fight Workplace Discrimination

product

Give us the details of your allegation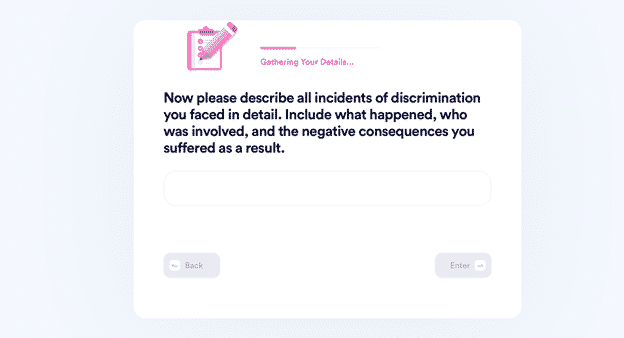 We will handle the rest—your EEOC charge will be filed, and they will contact you to discuss what to do next.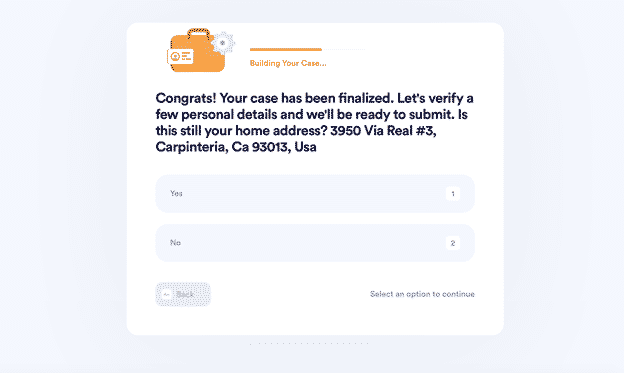 Is Fighting De Jure Discrimination Worth the Effort?
De jure discrimination is normally clear-cut and straightforward to argue in court. The upside for you if your—or the EEOC's— lawsuit is successful is that you stand to receive:
Compensation for lost pay or benefits

Damages for psychological trauma as a result of the discrimination

Reimbursement of your court and legal costs

Punitive damages
DoNotPay's Other Resources for the Victims of Discrimination
Fighting discriminatory bosses and colleagues is not the only item on DoNotPay's agenda. If your EEOC report doesn't work out, explore the option of suing the perpetrator in small claims court with our help.
Those who experience full-blown hate crimes can use our platform to file for crime victims compensation or deal with insurance claims. Lost a job because of discrimination? Use DoNotPay to get help with bills, reduce your property taxes, or find any unclaimed assets in your name.
We can also help you create numerous legal documents for personal, business, or real estate matters. You'll have a chance to fax your paperwork or find an online notary in the same app!
Use Our App To Right Other Wrongs
Injustice lurks around every corner, and DoNotPay won't have any of it. That's why we keep creating tools and services to help you fight back against all kinds of unfair treatment.
With our help, you'll be able to:
There's more where this came from because the good fight doesn't stop here.