Capital Facts About the
DC Property Tax Assessment
Owning property comes with various responsibilities, and one of them includes paying property taxes. Each state has its rules and regulations, but the main points are similar. In DC, property tax assessment is one of the crucial starting points that leads to your tax bill.
DoNotPay can explain how your property is assessed and how to lower your property taxes!
What Should You Know About
DC Real Property Tax Assessment
?
A property tax assessment is the process of estimating the value of your property. The Council of the District of Columbia is in charge of setting the taxation rate for all property in this part of the country. Property tax assessment is the basis used to calculate your tax bill. You get the total of your property taxes by multiplying the assessed value with the tax rate.
The District of Columbia assesses the value of your property annually. If you need more in-depth info about the process, you can get in touch with the customer service center at (202) 727-4TAX.
What Should You Do if Your Property Tax Assessment Is Incorrect?
If you notice a mistake related to your property tax assessment, you should file a property tax appeal. The reasons to take this action include:
Seeing a large difference in the tax bill compared to previous years

Noticing that the tax assessor made the evaluation twice

Finding out that some of the property you no longer own was assessed as well
DoNotPay Can Help You File a Property Tax Appeal in DC!
If you want to appeal past property tax assessments in DC, you can turn to DoNotPay for help. You should only sign up for our app in a web browser and find the Property Tax product. 
We can provide you with the information you'll need when talking to the property tax assessor about your property. DoNotPay also offers helpful insights on collecting documentation and evidence to reduce your property tax assessment. Once you go through our instructions, you will be ready for a property tax appeal hearing in DC!
Other Ways To Lower Your Property Taxes in DC
Filing property tax appeals means dealing with the consequences, but there are ways to prevent receiving enormous tax bills. Check out the table below to see what you can do to lower your property taxes in addition to appealing assessments:
Property Tax Reduction Method

Explanation

Applying for Property Tax Exemptions

States offer numerous tax exemptions for

veterans

,

widow(er)s

,

senior citizens

, or

disabled persons

Following the Property Tax Assessor Around the Property

You can go around the house alongside the property tax assessor to make sure they do their job according to the rules

Skipping Home Renovations

It would be smart to avoid home improvements before the property tax assessor evaluates of your home. This action can add to the assessment value of the property and a higher tax bill

Going Through Your Tax Bill

You should always inspect your tax bill to ensure all the information is correct. Any mistakes could cost you a pretty penny
The most efficient tax-reducing technique is applying for property tax exemptions. The great news is that you can use DoNotPay to find out if you are eligible for any!
Do You Qualify for a Property Tax Exemption in DC? DoNotPay Can Tell You!
If requirements for property tax exemptions in DC look too complicated, you can always count on DoNotPay for help! We will tell you about your choices in a matter of minutes. You only need to complete three easy steps:
Sign up for DoNotPay

in any web browser

Scroll to the

Property Tax

product

Answer a few questions about yourself and the property in your ownership
If you have the right to use any of the exemptions in DC, our app will help you by telling you about the forms and documents you need to apply!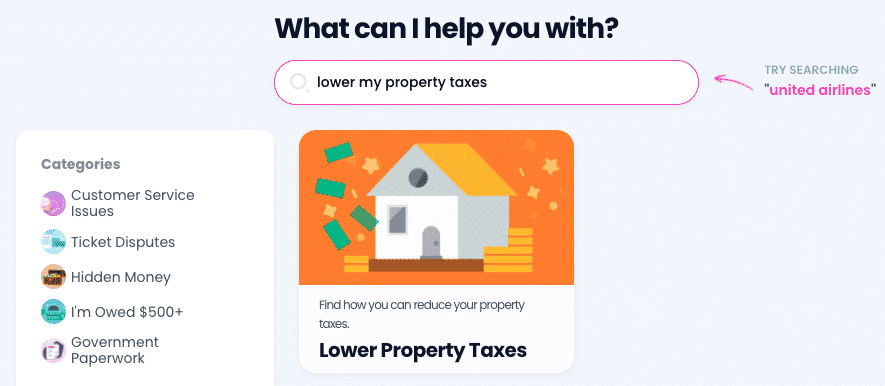 DoNotPay also knows everything about states with low property taxes and ways to help you pay your tax bill.
Property Tax Exemptions Available in DC
If you live in the District of Columbia, you will be able to apply for two types of property tax exemptions if eligible:
The homestead exemption

The senior-citizen real-property tax exemption
The Homestead Exemption in District of Columbia
The homestead exemption is available only to homeowners domiciled in DC who occupy the property as their primary residence. To make use of this exemption, you need to:
Have a DC driver's license

Own a vehicle registered in DC

Have voted in DC

Have filed federal and District income tax returns from the property
The Senior Citizen Real-Property Tax Exemption in District of Columbia
To get a senior citizen property tax exemption in DC, you need to:
Own and occupy a property in DC as your main residence

Be 65 or older

Have a household's federal adjusted gross income of $100,000 or less
This exemption lowers the senior's real-property taxes by 50%. If you are eligible, you may combine the senior citizen exemption with the homestead one.
Don't Let Companies Take Your Hard-Earned Money!
People love to subscribe to all sorts of services—especially if there are free trials involved. The problem is that most of them forget that they signed up for anything in the first place. Companies are aware of this, which is why they auto-renew memberships as soon as the free trials expire.
Don't let them get away with it—use DoNotPay to sign up for free trials and cancel subscriptions right before they renew. If you want to save even more money, use our platform to learn how to handle high bills, parking tickets, college application fees, canceled or delayed flights, or faulty services you should get refunded for.
Use DoNotPay To Stop Illegal Activities and Earn off Scammers!
Our AI-powered platform can assist you in dealing with all sorts of scammers. If you got any of the following, the world's first robot lawyer will help you seek justice:
Do you want to protect yourself and your loved ones from stalking and harassment as well? Use DoNotPay to learn how! If the situation with a stalker escalates, our app is going to help you take them to small claims court by preparing all the paperwork and your court statement.
Don't stop there—check out how you can bypass phone number verification, claim any type of warranty, or pass any government test with flying colors!