All You Need To Know About
DC FOIA
Requests
The Freedom of Information Act (FOIA) was introduced in 1966 to allow the public insight into government records. Calling upon the FOIA can secure your access to the District of Columbia (DC) records. All you need to do is file a FOIA request.
Submitting a FOIA request can take a lot of time, but DoNotPay can fast-track the FOIA request process, and you can get the info you seek in under five minutes.
What Should You Know About the DC FOIA?
Do you want to search for information about yourself or any other subject in the District of Columbia records? Under the FOIA, any person can request access to DC records. All bodies of the DC government should make their public records available, apart from those records exempted from the FOIA. You can search for the information you need on the agencies' online reading rooms, such as the:
Keep in mind that you might not find the details you need readily available. In case the information you seek cannot be found in the public records, you must file a DC FOIA request. 
Do DC FOIA Requests Involve Any Fees?
DC agencies might require you to pay a FOIA fee, depending on the type of your request, the number of pages they need to deliver, and the time they need to process your request.
When you write your DC FOIA request, you should indicate how much you can pay for the fees to avoid being charged enormous sums. In case your research into DC records benefits the general public, you may get a fee reduction or waiver.
How To Submit a
DC FOIA Request
on Your Own
The ways of filing a DC FOIA request differ from agency to agency, but you usually have to submit it in writing. Here are the methods you can use to make a DC FOIA request:
| | |
| --- | --- |
| Can I Submit My Request Via | Yes/No |
| DoNotPay | Yes |
| Online | Yes |
| Mail | Yes |
| Email | Yes |
| Fax | Yes |
| Phone | No |
| Special Carrier | No |
What Should You Include in Your DC FOIA Request?
When you write your DC FOIA request, you must include the following:
Your contact information

A detailed description of the records you seek—the name, date, type, or any specific information that can help the agency locate the records
You need to send your FOIA request to the appropriate DC agency. To find DC agencies' contact details, visit the Agency Open Government and FOIA Contact Information page.
Some agencies might have FOIA request forms you need to fill in, while others might require you to compose a FOIA letter. FOIA request templates can serve as a rough guide to what you need to include, but they might omit some important details. If you want to submit your DC FOIA request efficiently, use DoNotPay.
File a DC FOIA Request Effortlessly With DoNotPay
DoNotPay is an AI-powered app that allows you to send FOIA requests to any DC agency. We can generate a request letter on your behalf. What you need to do is provide us with a few details. This is the process:
Open DoNotPay in any

web browser

Type in

FOIA

in the search box

Provide your contact information 

Answer a few questions about the records you seek

Indicate whether you want a fee waiver or expedited processing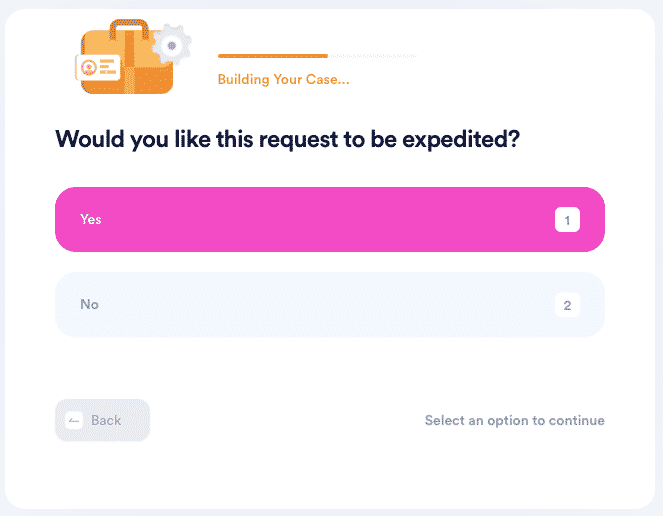 Once you complete these steps, we'll send the letter to the appropriate DC agency.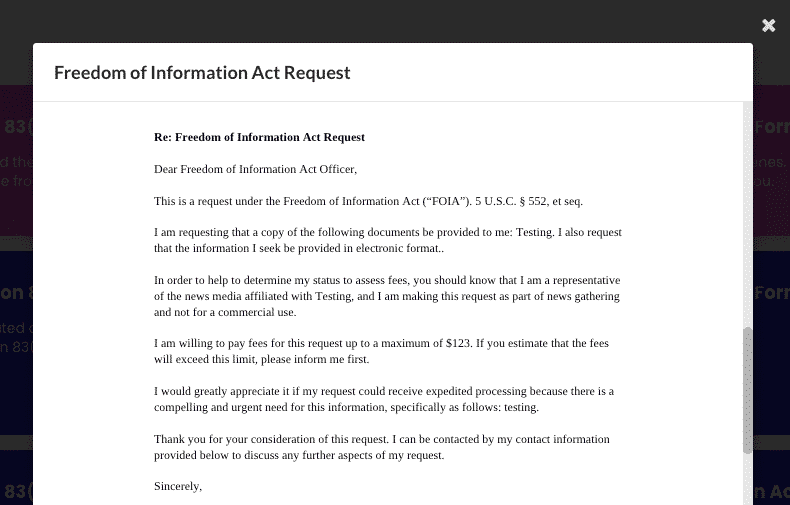 What Happens After You Submit Your DC FOIA Request?
After an agency in the District of Columbia receives your request, it has 15 business days to respond. You might wait a bit longer—up to ten days—depending on the complexity of your request. 
In case the material you seek is a body-worn camera recording from the District of Columbia Metropolitan Police Department, you may wait for 25 business days. Any agency might prolong the response period for an additional 15 business days.
To see whether the agency accepted your request, you need to learn how to check your FOIA status. If your request gets rejected, you can file an appeal.
DoNotPay's FOIA Request Feature Works for Any Agency
With DoNotPay, you can submit FOIA requests to any state or federal agency. Set up your DoNotPay account in any web browser, and we can help you retrieve information from:
What Else Is Hot About DoNotPay?
DoNotPay can do so much more for you! 
With our assistance, you can claim compensation for canceled or delayed flights, request refunds and chargebacks for unsatisfactory purchases, file warranty claims for defective products, and even overturn unjust parking tickets!
Our app can locate unclaimed funds that exist under your name, the best clinical trials for your needs, and public records that you couldn't identify on your own.
Outsmart Scammers With DoNotPay
Are you troubled every time you think about subscribing to a service because you fear your personal information will leak and your privacy will become invaded?
There's no need to fret anymore as DoNotPay has come up with a way to shield you from hackers, scammers, and identity thieves alike. 
Check out how you can use DoNotPay and browse the internet care-free:
Open DoNotPay in your web browser

Locate our

Virtual Credit Card

generator

Use the made-up card number to sign up for any

free trial

Move forward to our

Burner Phone

product

Use the temporary phone number to verify any online account

Enjoy the trial without worrying about

canceling it

—the service will do it on its own
Signing up for services with DoNotPay's hacks frees you from ever falling victim to a serious crime, such as identity theft, and liberates you from the bothersome and never-ending spam calls, texts, and emails that you never explicitly agreed to receive.