Washington DC Divorce Laws Explained in Detail
If you and your spouse can't overcome issues and differences, you should start thinking about a divorce. To terminate your marriage in Washington DC, you have to understand how the capital of the United States regulates these matters, and we can help with that!
DoNotPay has all the facts on DC Divorce Laws—from grounds and requirements to necessary divorce papers.
All About Washington DC Divorce Laws
Divorce laws are the crucial aspect of every marriage dissolution, contested or uncontested. In Washington DC, these laws regulate the following matters:
Residency and filing requirements
Grounds for a divorce
Property distribution
Spousal support
Child support and custody
Residency and Filing Requirements
To file for divorce in DC, you have to meet residency requirements. If the court doesn't have jurisdictional rights over your case, it will reject and dismiss your petition.
Here's everything you should know:
At least one of the spouses must be a resident of Washington DC for at least six months before petitioning for divorce
Every active military member in Washington DC is considered a resident if they have been stationed there for a minimum of six months
Grounds for a Divorce
A petitioner (plaintiff) must provide grounds for a divorce while filing the petition. Regardless of the type of your divorce, these reasons are legally acceptable in DC:
Mutual voluntary separation without cohabitation for at least the previous six months
Living separately and apart without cohabitation for at least one year before petitioning (living in the same house but not sharing a bed or food)
Property Distribution
Washington DC is an "equitable distribution" state, which means that all marital assets are divided equitably. It means you get what is fair. It's best that you reach an out-of-court settlement regarding this issue. If you can't reach a settlement, the court will determine what property is separate and what is marital and distribute it accordingly.
Gifts, inheritances, and any other property acquired before entering the union are separate assets. Anything other than that is considered marital property, and the court will divide it based on the following factors:
Contribution of each spouse to the acquisition
Duration of the marriage
Occupation of the spouses
Vocational skills
Employability
Estate, liability, and needs for the acquisition
The amount and sources of income
Separate debts and property
Prior marriages
Custodial provisions for the children
Age and health of the spouses
Whether the property award is instead of or in addition to alimony
Spousal Support
Not every divorce case ends in one spouse paying the alimony to the other. The court determines this obligation on a case-to-case basis. The court may order one of the spouses to pay temporary or permanent financial support to the other one based on several economic factors.
Fault in the breach of the marital contract is not considered while making this decision.
Child Support and Custody
When minor children are involved in a divorce case, the court takes extra steps to minimize the stress and emotional trauma they might be facing. The best course of action is agreeing on the terms like custody and child support. If the spouses are unable to do that, the court must regulate both matters at their discretion.
While establishing custody and child support, the court needs to make the children's best interest a priority. A decision regarding the custody will be based on numbers of factors, including:
Children's wishes
Parents' wishes
Age and capacity
Ability to adjust to a new home and surroundings
Parents' financial situation
Any evidence of child or spousal abuse
In the District of Columbia, the court uses the Percentage of Income Formula to calculate the amount of support obligation as an income percentage of the non-custodial parent.
Uncontested Divorce in DC in a Nutshell
Having a judge make decisions and determine the terms of your divorce is complicated, expensive, and time-consuming. That's why many couples opt for a friendly divorce, provided they qualify. According to divorce laws in DC, to get an uncontested divorce, you and your spouse have to meet the residency requirements and agree on the following matters:
Debt and property division
Alimony
Child custody
Parenting time
Child support
You should make the agreement formal by writing a document that's legally binding for both of you. Having a written divorce settlement agreement reduces the chance of potential conflicts in the future. Don't know how to write the document? Register for DoNotPay to get the contract in a breeze!
How To File for Divorce in DC
The process of filing for divorce in DC consists of the following steps:
Fill out the required DC divorce forms—You can find the necessary forms online on the District of Columbia Courts website. Once you fill them out, make sure to get several copies of each document
File original documents with the DC divorce court—You have to file your petition and the rest of the documents with the DC Superior Court in the Family Court Central Intake Center
Serve papers to your spouse—There are three ways to serve your spouse in Washington DC:

Through personal service
Via certified mail
By substitute service at home
DoNotPay Can Draw Up Your Divorce Settlement Agreement Within Minutes!
Don't want to waste any more time and money on the divorce? With DoNotPay, you don't have to!
Having a comprehensive database of divorce laws and regulations across the U.S. allows us to create mistake-free documents, such as a divorce settlement agreement.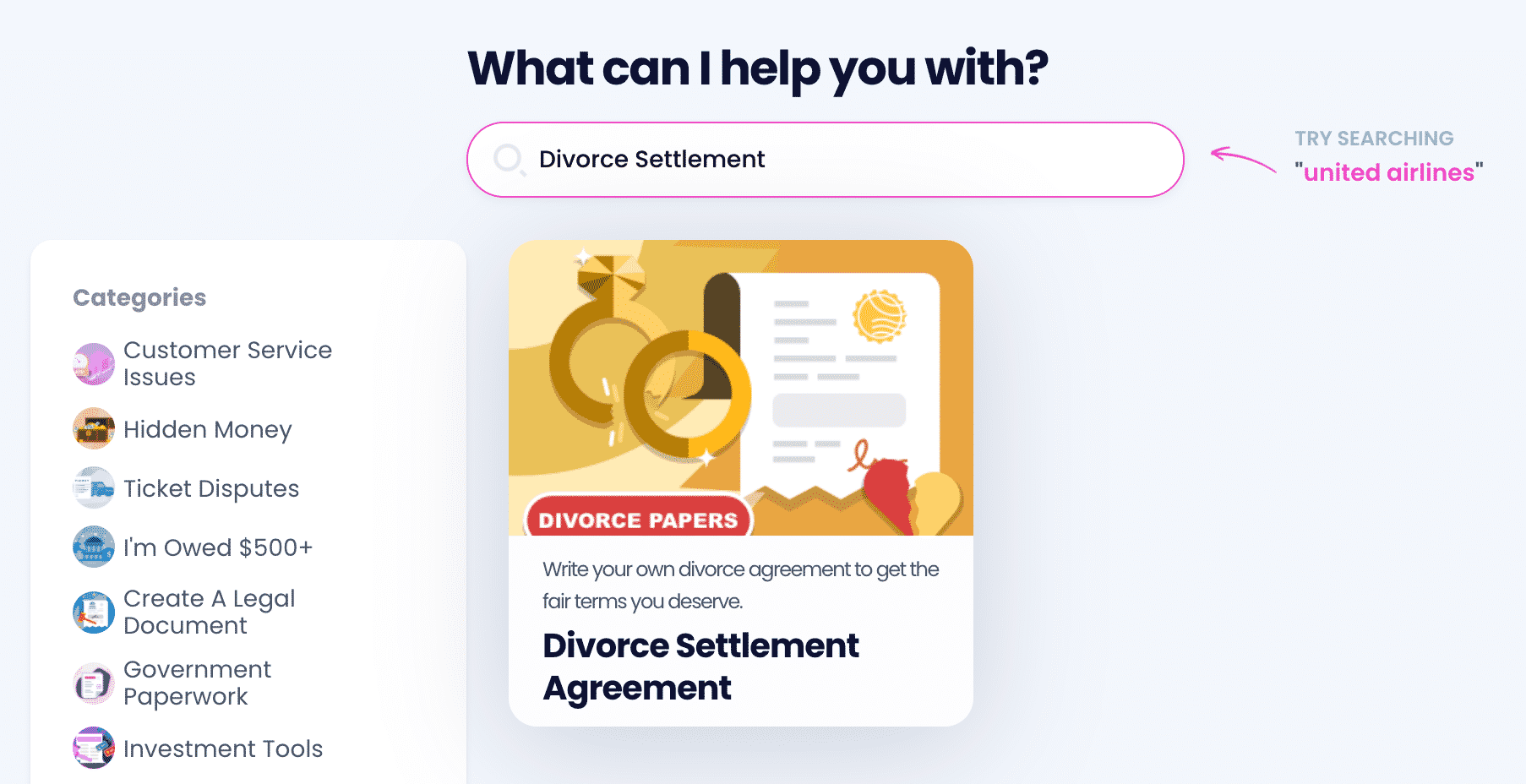 Here's what you need to do:
Choose the Divorce Settlement Agreement product
Fill out our questionnaire
DoNotPay will draft and send you a personalized divorce settlement agreement within minutes. We can even help you get it notarized!
If you have additional questions, you should visit DoNotPay's constantly expanding learning center. Check out what we can help you with:
| | |
| --- | --- |
| Instructions | Questions |
| How to: | |
DoNotPay Is Righting Wrongs Left and Right
DoNotPay is a platform that puts its subscribers' safety in the first place. We can keep you safe from sex offenders, stalking, and harassment. In case you're a victim of a crime, we can help you get compensation.
Fight for discrimination at your workplace with the world's first robot lawyer or sue any company or person in small courts if you feel like you've been wronged.
Is There Anything DoNotPay Can't Do?
The short answer is no, and the list of our AI-based app's features keeps growing by the day. We offer professional assistance with issues that no other platform can help you with. Sign up now and: