DBA vs. Trademark—Everything You Need To Know
DBA vs. trademark—do you know what they can do for your business? Both are important steps for growing businesses to take, but only one is necessary, and the other is much more expensive.
When it comes to protecting your brand and following business best practices, you cannot afford to take any chances. That's why you need to make sure you know what a DBA is, what a trademark is, and what they mean for your company.
Alternatively, you can offload the entire registration and management process to .
DBA vs. Trademark—What Is the Difference?
A Doing Business As (DBA) registration allows you to formally declare the use of a different name in business settings. If you intend to conduct business but cannot use your legally given name, a DBA lets you work under a different one.
A trademark protects a registered part of your brand against use by other organizations. Competitors in your industry cannot use any of the following once you have registered them as trademarks:
Similarly, the United States Patent and Trademark Office (USPTO) uses service marks to distinguish service providers, and the U.S. Copyright Office uses copyright to protect works of authorship.
The key difference is that a DBA does not grant exclusive use, and a trademark does. Another entity in competition with your brand could use the same DBA—that is why many businesses also register their brand as a trademark.
Trademark vs. DBA—Which Is Necessary?
If you intend to do business by any name other than your legal moniker, then you need to register a DBA. The classification allows you to use another name in business practices and enables public consumers to determine with whom they are doing business.
A trademark is not a legal requirement—but you should register your brand all the same. Small businesses can generally do without one, but any organization that intends to operate in new and larger markets should take this critical step to protect its brand. Those that infringe on your trademark are subject to legal action.
How To Register Your DBA
Follow these steps to register your DBA:
Determine your state's specific DBA registration requirements via the Secretary of State's office, or local government (DBAs are not available in Kansas, New Mexico, or South Carolina)
Complete the state-specific application form
Pay the registration fee
What Does a DBA Registration Cost?
As with the specifics of the registration process, the DBA application fee varies by state. In most cases, it is around $50.
Are You Allowed To Trademark Your Name?
Yes—DBAs apply specifically to names, but trademarks can as well.
The core requirement is an association with a specific product or service. Your name must be tied to a business purpose and fall under a trademark class. Usually, given names are trademarked by performers and public figures to ensure others cannot use their celebrity status for financial gain.
The USPTO most commonly grants trademarks for names that have one of two qualities:
Fanciful—Made-up names with no direct connection to the associated good or service (e.g., Uber)
Arbitrary—Real names that have no reasonable relationship to the product or service they represent (e.g., Dove)
A critical limitation of trademarked names is that they only provide legal recourse against unauthorized use within the same trademark class. When Sarah Palin registered her name as a service mark, it was specific to the educational and entertainment industries. That means that another "Sarah Palin" could register the same name, provided it is in a different class.
How To Apply for a Trademark
Before starting your application, make sure to consult the USPTO and double-check that your brand will not overlap with any other registered trademark.
They only offer one method for filing a trademark application, but DoNotPay can help as well:
| Filing Process | Yes/No |
| --- | --- |
| DoNotPay | Yes |
| Online | Yes |
| Phone | No |
| Mail | No |
| Fax | No |
Begin the filing process by following these steps:
Go to the Trademark Electronic Application System (TEAS)
Log into or create an account for TEAS
Open a new application
Specify the class for which you are applying
Input the requested information about your brand
Pay the filing fee
How Long Are Trademarks Valid?
A federal trademark lasts for ten years. If you are still using the mark after five years, it is eligible for renewal.
DoNotPay Will Help You Manage Trademark Registrations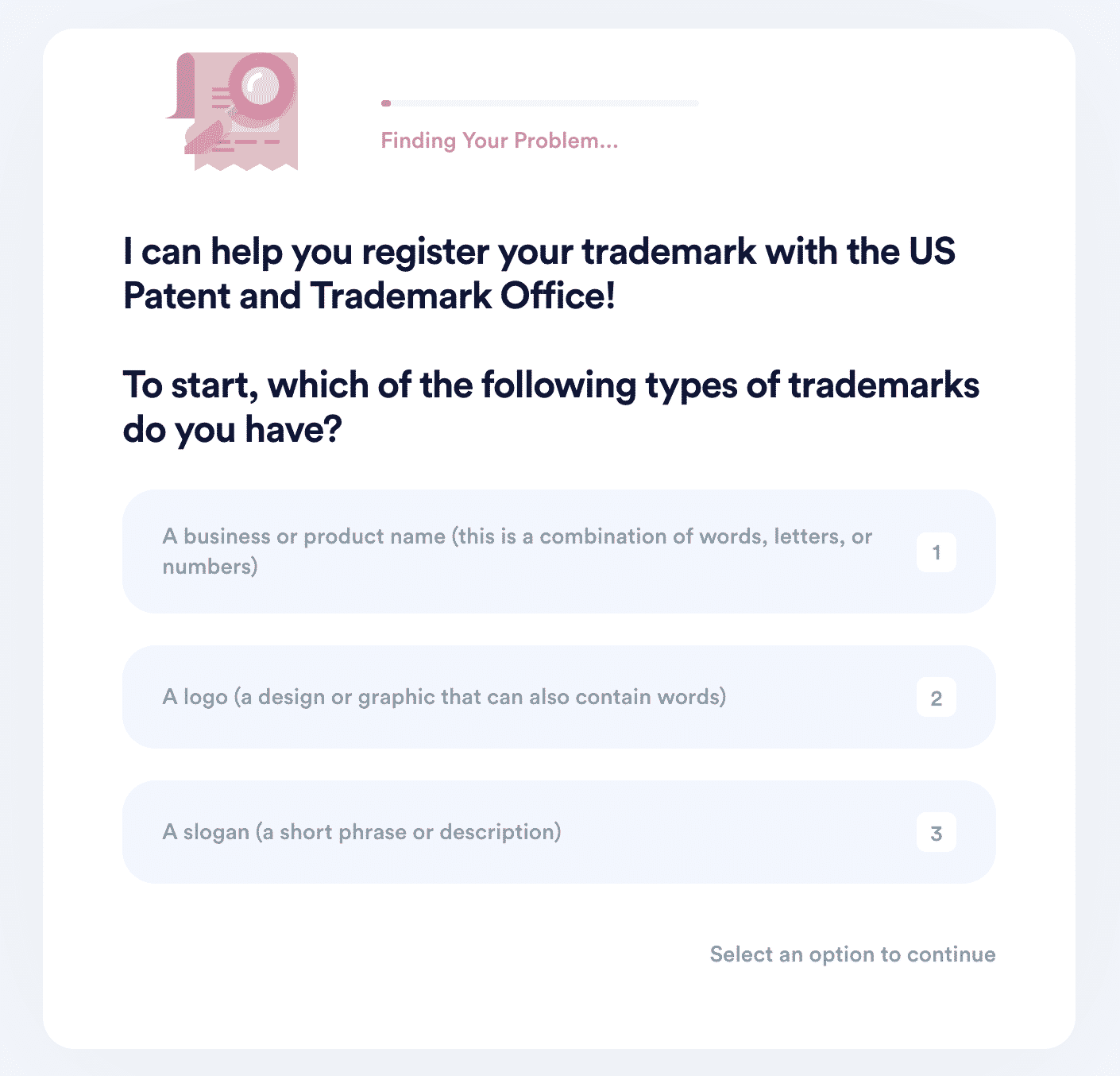 Do not delay your trademark applications only because you do not have the time right now—DoNotPay can do the work for you.
We offer a robust Trademark Registration tool that will manage every step of the process:
Filling in the required information
Submitting the application
Managing your review
Providing an application tracking number
Giving your contact info to the USPTO
To harness the many capabilities of our AI-powered robot lawyer, follow these steps:
Choose the Trademark Registration tool
Specify which type of trademark you intend to register
Select the trademark class you fall under
Answer a few quick questions about your company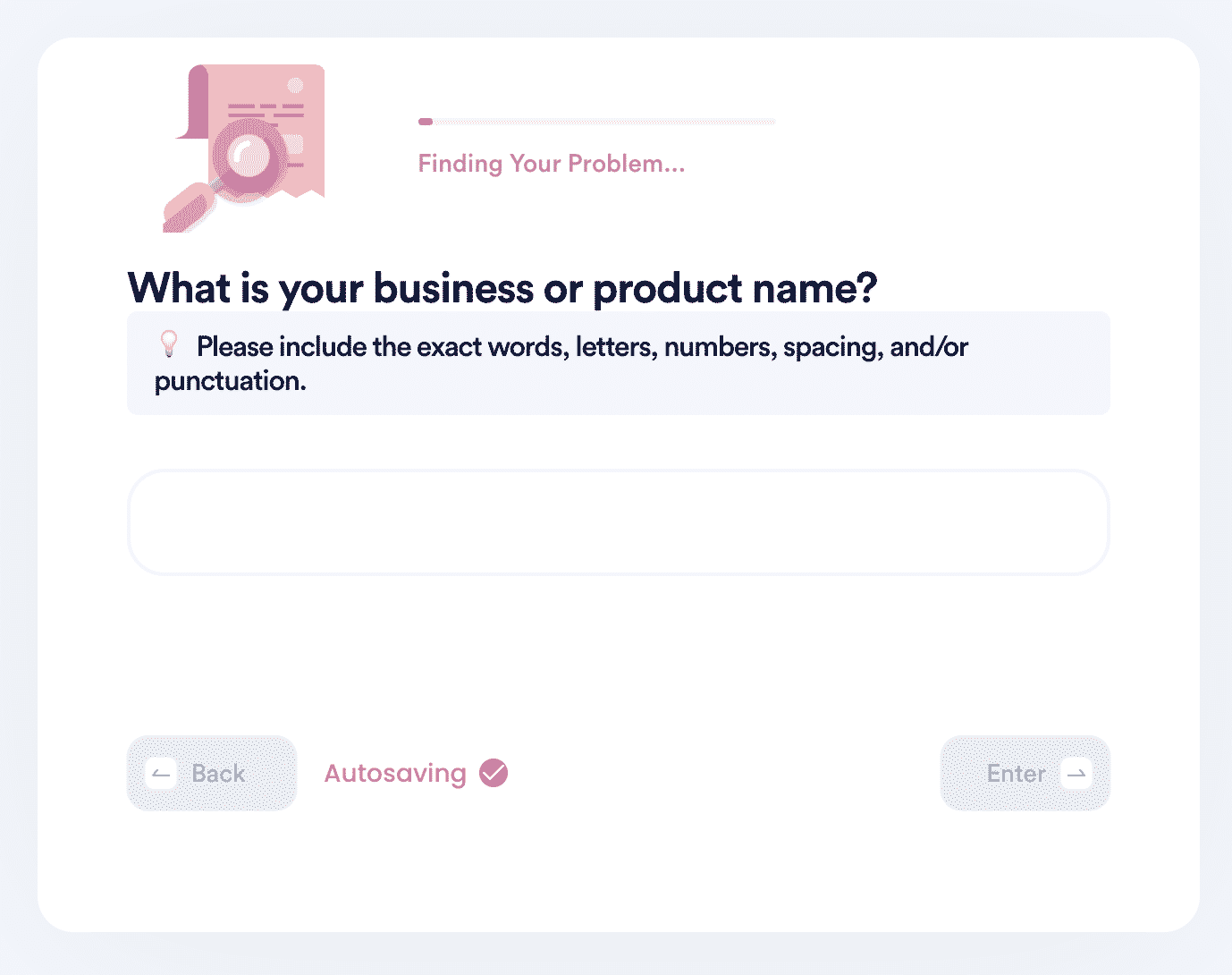 Take Care of Pesky Business-Related Procedures Effortlessly!
As a business owner, you are bound to deal with various complex processes. Luckily, DoNotPay can help you handle most of those procedures stress-free. Do you need to register your business name as a trademark, file the self-certification request with the Privacy Shield program, or report illegitimate and inappropriate negative reviews? Our app enables you to do it within minutes.
That is not all we can do for you! With our nifty products, you can make the filing of 83(b) election forms a breeze and take care of DMCA agent and Employer Identification Number (EIN) registration in no time.
Need a solution that will facilitate correspondence with your business associates or clients? DoNotPay has the right faxing and mailing product for you!
Don't Spend a Small Fortune on Lawyers—Draft Various Documents With DoNotPay's Help
Drafting legal documents does not have to be complicated or expensive. DoNotPay has a variety of tools that you can use to get a:
Letter requesting a loan for your small business
Cease and desist demand regarding your trademark (if someone tries to use your business name, logo, or slogan)
Formal demand letter requesting a client to pay for your services
Personalized chargeback rebuttal document based on the:

Chargeback reason
Chargeback code
Service you offer