Daycare Startup Costs—How To Pay Them
When you start a business, you do it to make a profit, but to get to the part when you start making money, you need to spend first. Regardless of the industry, all startups have their initial costs, and they have more expenses as time goes on.
In this article, we will cover daycare startup costs and show how much you need to invest to get it up and running. We will also show you how small business loans work and how you can get them with ease if you subscribe to DoNotPay.
How Much Does It Cost To Start Up a Daycare?
When you decide to open up a business, you need to have a significant budget to work with before you can hope to get some money out of it. Any business—daycare included—comes with a plethora of one-time costs that you have to pay.
Daycare startup costs depend on the type of daycare you want to run and the facilities you already have.
For instance, home daycare startup costs do not include renovation and land acquisition or renting, but you will face larger utility bills as time goes on. If you already have a place where you want to start your daycare, you will only need to pay for health and safety improvements.
Take a look at the following table to find out the average startup costs for a daycare that houses around 70 children:
Source of Expense
Cost Amount
Furniture
$2,300
Indoor equipment
$19,800
Outdoor and playground equipment
$10,800
Kitchen equipment and supplies
$20,000
Toilets
$10,000
Housekeeping
$600
Fencing
$3,800
Website
$600
Marketing material
$350
Administrative fees:

Utility deposit
Accounting fees
Professional development
Working capital

$33,000
Educational equipment
$4,700
Insurance
$3,500
Total
$109,450
You should add a 15% contingency to the total amount for unexpected expenses. With the contingency, startup costs are around $125,800.
If you have to buy land to build a daycare on, you are looking at an additional expense of $37,500 on average.
Recurring Startup Costs for a Daycare Center
Once you have your daycare ready to go and children enrolled, you will need to be ready for recurring costs that you have to pay on a monthly basis, which can be:
Fixed (always the same)
Variable
These costs differ depending on the type of daycare you envision—for example, if you are a kindergarten teacher with a home daycare, you do not have to worry about payroll.
Some of the most common recurring startup costs for a daycare center are as follows:
Payroll—Daycare workers earn $20,000 per year, while teachers have an average annual salary of $25,000
Rent (if needed)—Goes from $0.60 to $2.50 per square foot
Utilities—$2 per square foot
Food and educational supplies—Around $100 a week ($400 a month) per child
Daycare Startup Costs—Finding the Funding Source
When listed next to each other, these startup costs seem so overwhelming that you might start having second thoughts about founding a daycare business. The daycare market in the United States is worth $54 billion—that should be enough to convince you to press on with your idea.
The immediate startup costs for a daycare center are large, and if you do not have enough personal savings, you can get small business loans. While many banks require you to be in business for a while, there are plenty of startup loans you can seek out.
You have to specify the purpose of the loan. Lenders want to know how the borrowed sum will help you grow the business—you can buy equipment or land, manage daily costs, pay administrative fees, etc.
Aside from the purpose, loans also differ based on their type. Some of the best ones around include:
Before you apply for a loan, you should make sure you are aware of and fully understand the loan terms. All loans have their repayment schedules and interest rates, and you should pick one that suits you and your business plan.
How To Secure a Loan With DoNotPay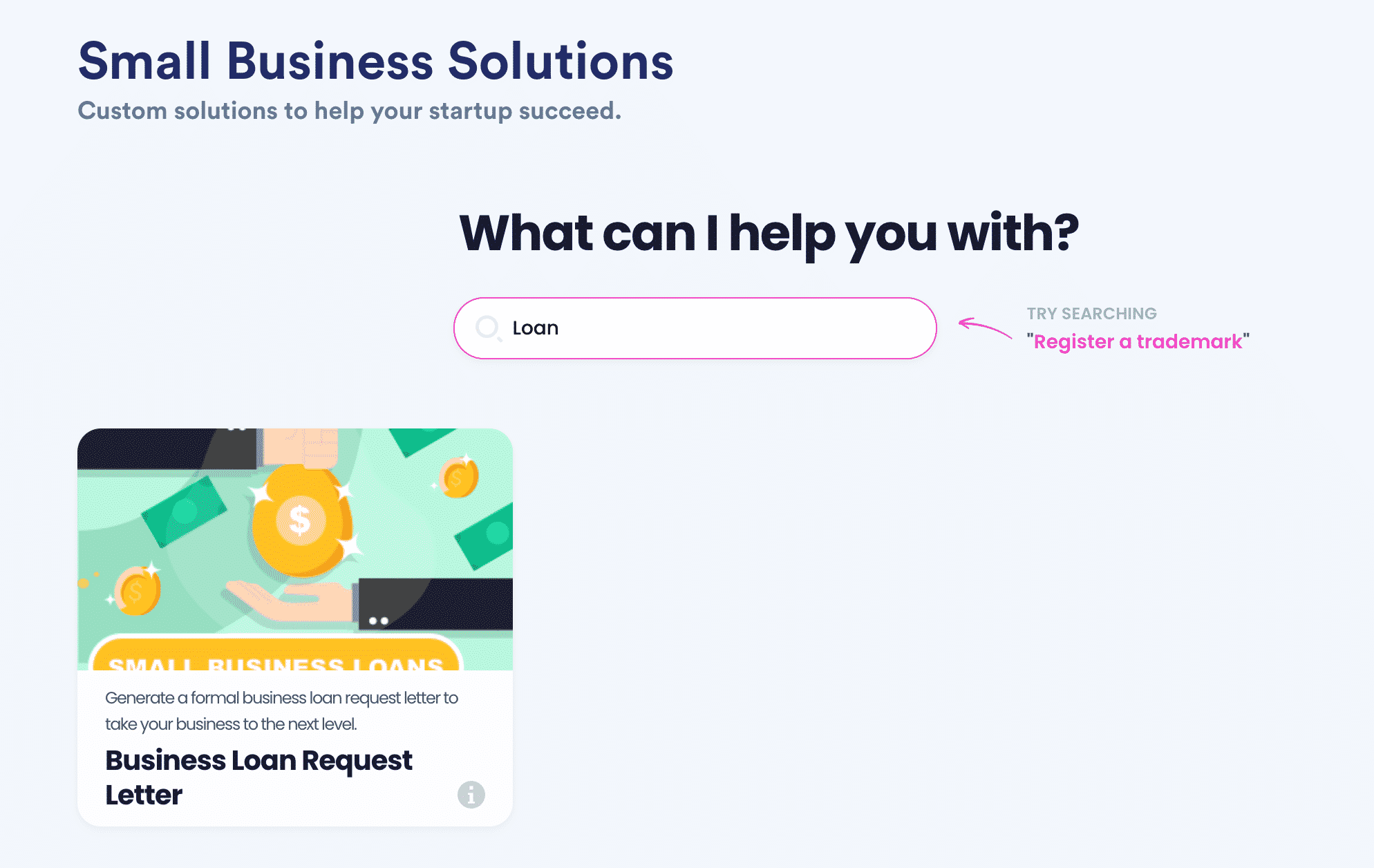 When you decide to apply for a small business loan, you will need to prove to the lender you qualify to receive it. Lenders take on the risk of giving you money, so they need to be sure you will be able to repay by the given deadline.
Depending on the loan and its source, you will have to submit a variety of business documents. The paperwork may include:
Resume
Collateral
Business plan
Budget sheets
Loan application form
Personal and business credit score reports
Financial statements about:

Balance
Profit and loss
Cash flow
The application process is complicated and requires you to devote time and effort to make sure you provide all the necessary information and documentation. DoNotPay is here to help!
Our app will ask you questions about you and your company to get as many details as needed. We will also run a checklist to make sure you do not leave out any document that is necessary for your loan request to be accepted.
All you need to do is sign up for DoNotPay and:
Search for the Business Loan Request Letter tool
Gather your personal and business credit scores
Prepare paperwork to prove your eligibility
Answer a few questions from our chatbot
Upload all the necessary paperwork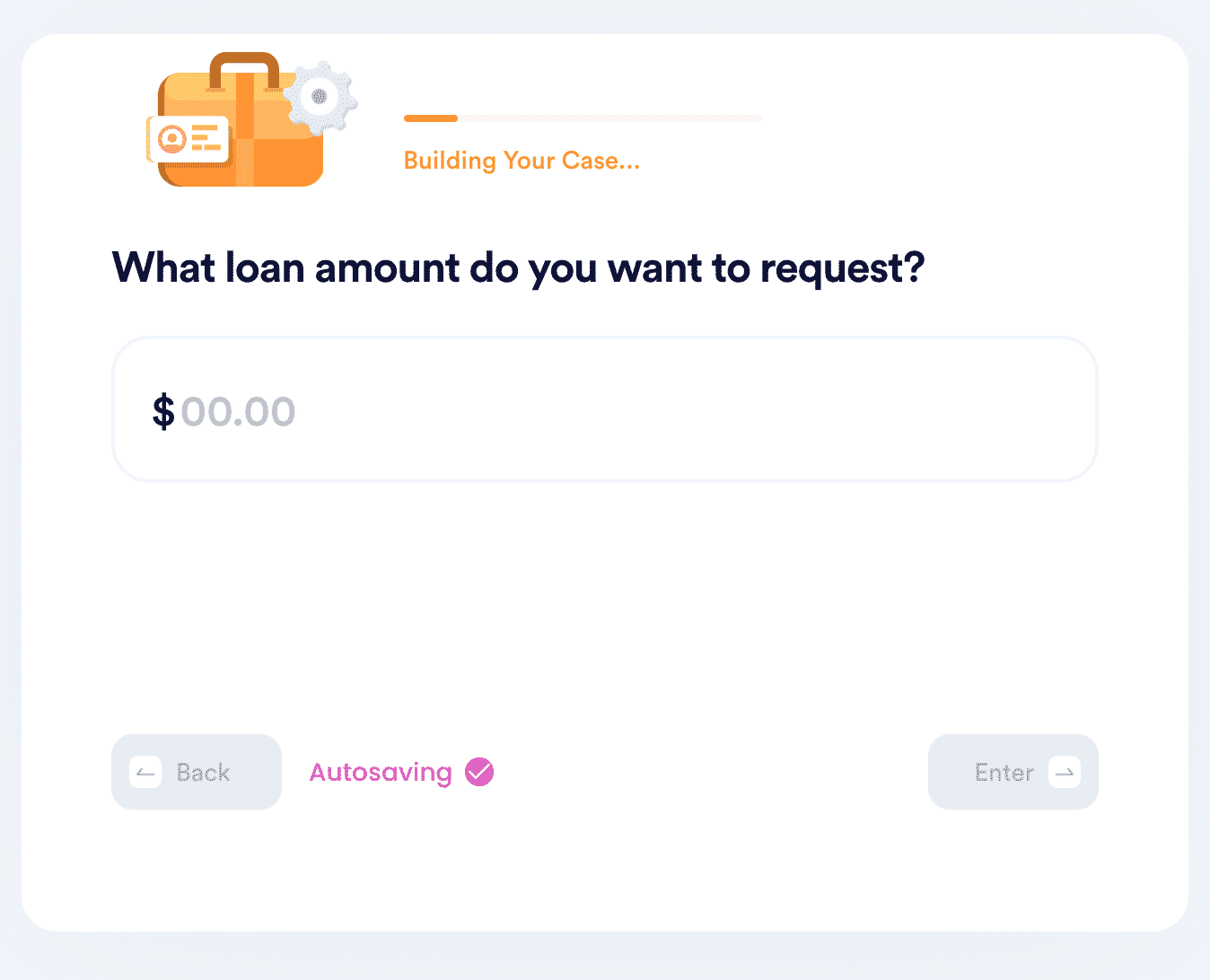 DoNotPay Finds the Best Lenders for You!
If you're still uncertain as to which lender you want to take out a loan from—we can assist you in finding the best one!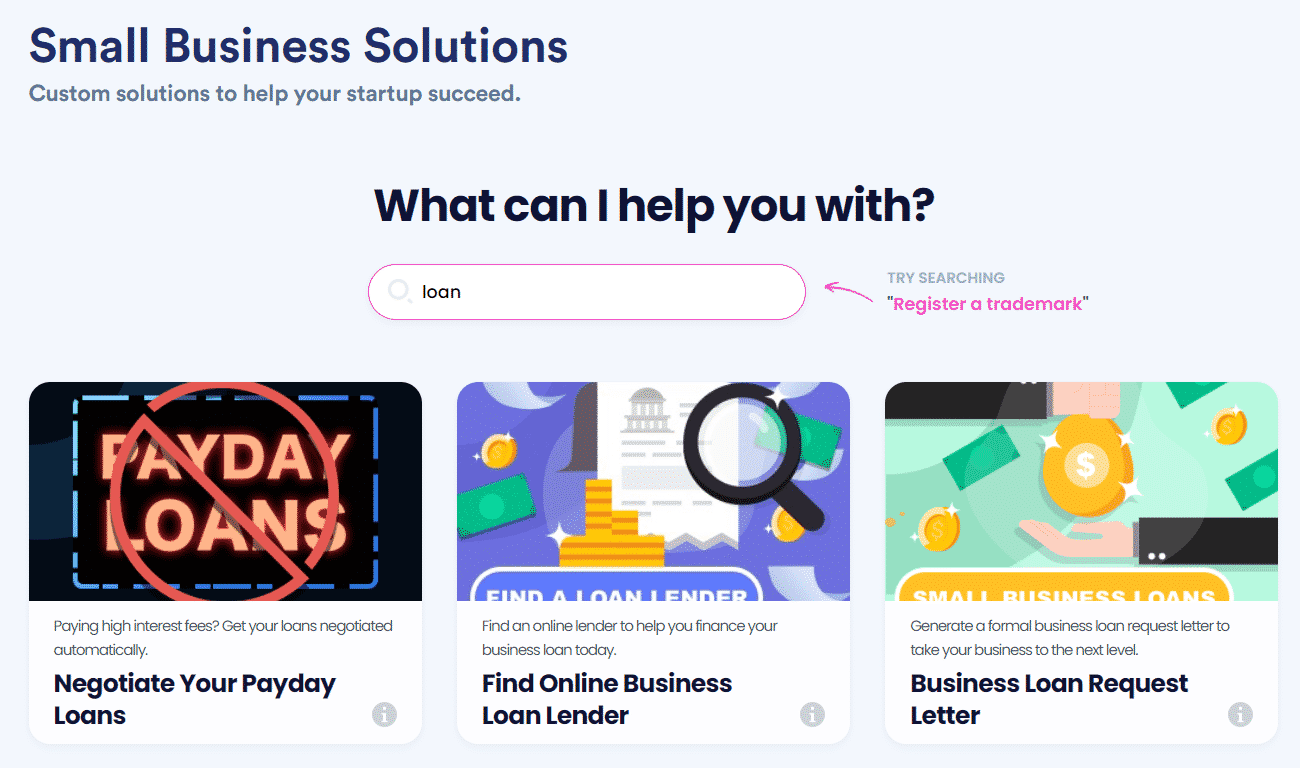 You can opt for our Find Online Business Loan Lender feature to get a list of three best lending institutions for the type of loan you need.
Alternatively, you can kill two birds with one stone—fire up our Business Loan Request Letter tool, tell us you don't have a specific lender in mind, and let us find you one and draft a letter you can send to them right away!
Let DoNotPay Help You With Boring Administrative Tasks While You Focus on Becoming a Business Mogul!
DoNotPay can assist you in dealing with a number of business-related tasks. We have developed a plethora of simple-to-use products that make running a business much easier and less stressful.
Do you need help registering your business name as a trademark? We have got you covered! Not sure how to write a convincing letter to request a small business loan? DoNotPay helps with that, too!
Use our app to get a perfectly generated chargeback rebuttal document, formally request payment from clients who breach the contract, and find out how your employees can file 83(b) election forms in a matter of clicks!
Check Out Our Other Nifty Products!
That is not all DoNotPay has to offer. Our awesome tools will make tedious administrative tasks easier to manage so you can concentrate on your business instead of wasting time waiting in lines and filling out forms. Rely on DoNotPay to:
Take care of DMCA agent registration and Privacy Shield program self-certification
Make sure no one else is using your trademark
Get rid of fake online reviews that harm your business reputation
Manage Employer Number Identification (EIN) registration
Enjoy the convenience of faxing and mailing from the comfort of your home or office