Fight Your Davidson County Traffic Tickets In 5 Minutes
You have received a traffic ticket. What's next? Do you pay the ticket as an admission of guilt, or do you fight the ticket in court? This can be one of the hardest decisions, especially if you do not get the right advice.
At times, you may be better off contesting traffic charges. But doing so by yourself can be a complicated process. If you want to contest a  but are wondering where to start, DoNotPay has got you covered. Read along to get a better understanding.
Should You Pay the Fine or Go to Court?
The following information will help you make an informed decision whether to pay your  or fight the charges in court, depending on the circumstances of your case:
Paying the ticket means an automatic admission of guilt. If you accept the charges, you may risk your car insurance going up. What is more, the ticket will add points to your driving record.
Depending on the nature of your case, explaining your side of the story to the judge may work in your favor. You may get reduced charges, reduced fines, or have your charges dismissed altogether.
You may consider going to a traffic school. Depending on your case, you may qualify for Traffic School. If you complete traffic school, no points will be added to your record, and you may have your ticket dismissed.
Should You Hire an Attorney?

In most cases, the citing officer may encourage you to pay the traffic ticket as soon as possible. While the officer may mean well, it is not wise to take the advice of the individual who has just written you the ticket. Most often than not, paying off your traffic ticket in Davidson County is a terrible idea. This is why you should seek the counsel of a traffic attorney before deciding to pay your ticket.
Unbeknownst to most motorists, North Carolina has some of the strictest traffic laws in the country. Even minor speeding violations may at times lead to the suspension of your driver's license. Before making any haste payments, therefore, you should seek the advice of a Davidson County traffic ticket lawyer to make sure you are not making payments for charges that may lead to the potential revocation of your license.
Paying Davidson County, NC Traffic Tickets
When deliberating about the next steps to take after receiving a traffic ticket, it is important to understand that the amount listed on your ticket is just the tip of the iceberg. In addition to your ticket charges, you may have to pay more money in court costs and fines.
With all this information in mind, if you have weighed your options and feel that paying off your ticket is the right decision for you, you have three options:
By Mail
Include the citation number and make payable to:

Davidson County Clerk of Superior Court

Mail payment to:

Clerk of Superior Court

Davidson County Courthouse

110 West Center Street

Lexington, NC 27293-1064

In Person
Go to the Cashier's Office in the Davidson County Courthouse. They accept payments via:

Cash
Credit / debit card (plus processing fees) – MasterCard, Visa, American Express, Discover. Some restrictions apply.
Money order
Certified check (No personal checks allowed)

Online
Visit North Carolina's Online Services page
It is worth noting that you will not be able to pay for your ticket if it is "non-waivable." In this case, you will be required to appear in court or hire an attorney to represent you. While it is always advisable to let a competent legal representative handle your case, this is especially important for "non-waivable" traffic tickets.
Challenges of Contesting Traffic Tickets
Whether you are contesting a major or minor traffic ticket, the following are the primary disadvantages of contesting a traffic ticket:
Doubt
Time
Expenses
You may think that your case is straightforward, but sometimes you may have to wait months and sometimes years to get a ruling. In this case, you will need to make multiple court appearances. This will cost you the money spent on legal fees and going to and from the court, and the valuable time you could have used to get productive. And while at it, you have to deal with the uncertainty of not having a clue about how the judge will rule.
The good news, however, is that you can trust DoNotPay to help you contest your case fast and easily.
Contest Davidson County, NC Traffic Ticket With DoNotPay
DoNotPay offers you a hassle-free way to fight your Davidson County traffic ticket without a lawyer. Not only will you save a lot of money on legal fees, but you will also save a lot of valuable and productive time.
Newsweek was in awe upon finding how robot lawyer DoNotPay successfully overturned more than 160,000 tickets, saving fines amounting to roughly $4m! Ready to win your appeal using DoNotPay?
Here's how to get started:
Log-in to DoNotPay and go to the Ticket Disputes category. Select the correct product based on your traffic ticket.

 

Upload a photo of your citation.

 

Provide us with some details on why you believe the citation issued is a mistake.

 

Select whether or not you want the letter mailed to the traffic ticket issuer on your behalf! 
That's it! You'll receive an appeal letter that contains state vehicle codes to boost your case.

 
It's that simple! Look out for your traffic ticket issuer's response to discover whether you won.
DoNotPay Can Help You Contest Traffic Tickets in Any City
DoNotPay can help you fight traffic tickets in any city or state, such as:
What Else Can DoNotPay Do for You?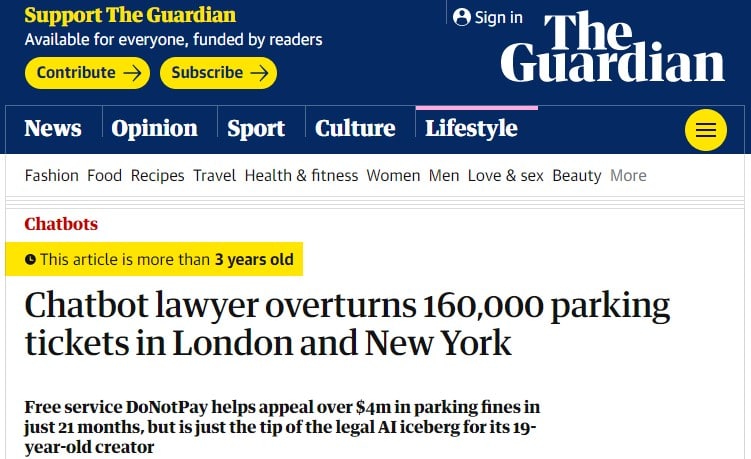 You can enjoy many other great services from DoNotPay, such as helping you:
 with DoNotPay today to get started.