Secure Your Info With a Data Processing Agreement
Most businesses depend on third parties to process data. Data can include information from website analytics, the cloud, or even your email. Do you want to create a data processing agreement to ensure your information is secure? Or learn how to draft any contract? DoNotPay can teach you everything you need to know about data processing agreements and how to protect your data properly.
What Is a Data Processing Agreement?
A data processing agreement (DPA)—also known as a data processing addendum—is a deal between a controller and the processor. It is a legally binding document establishing the rules and regulations of data processing according to privacy laws. Signing a DPA ensures personal data protection and guarantees it will be handled appropriately, even if outsourced. It can either be in written or electronic form.
The data controller is a business or individual establishing the rules and regulations for data processing. The data processor is the business or individual conforming to those rules to process data.
If you are a controller and wish to outsource your data processing to another party, you should enter into a DPA with that party. A data processing entity should also sign a DPA before accessing the data of another person or business entity.
Data processing relates to activities performed on personal data. They can include storing, collecting, analyzing, disclosing, or eliminating it. Personal data can be any information identifying a person, including their name, date of birth, address, contact information, ID card number, and place of residence.
Are There Any Prerequisites for Signing a Data Processing Agreement?
There are certain prerequisites for signing a DPA:
You must ensure the processor guarantees an appropriate level of data protection
Processors must take appropriate steps to minimize data breaches or inform the client on time if mishaps occur
The processor should not process data other than laid out in the contract
If the processor is subcontracting or outsourcing data processing to a third party, they must sign another DPA. The scope of the processor's DPA should not be broader than the original data processing contract
What Should You Include in a Data Processing Agreement?
If you want to create a DPA yourself, look for contract templates online to get an idea for structuring your document.
Here's a quick summary of the key elements you should include in your document:
Names, addresses, and contact information of the processor and controller
A confidentiality agreement to make sure the data is not compromised
All other measures to protect the data from unauthorized access
A statement that the data can only be processed according to the terms and conditions mentioned in the contract
The confirmation that the processor will not subcontract another party without the controller's consent. In this case, the third party must sign another agreement
The processor's assurance to follow all obligations under the rules and regulations of data security
The commitment to delete all personal data after the termination of the contract
The permission to the controller to carry out an audit whenever necessary
You should take proper measures to ensure the contract does not leave any room for interpretation. It must be clear and concise.
What Happens if a Party Breaches the Contract?
Data processing agreements are legally binding. Both parties must adhere to the contract. If any party, intentionally or unintentionally, breaches it, they will be penalized based on the conditions set in the agreement.
The legal consequences can range from fines to lawsuits, depending on the severity of the breach.
Breeze Through Contracts With DoNotPay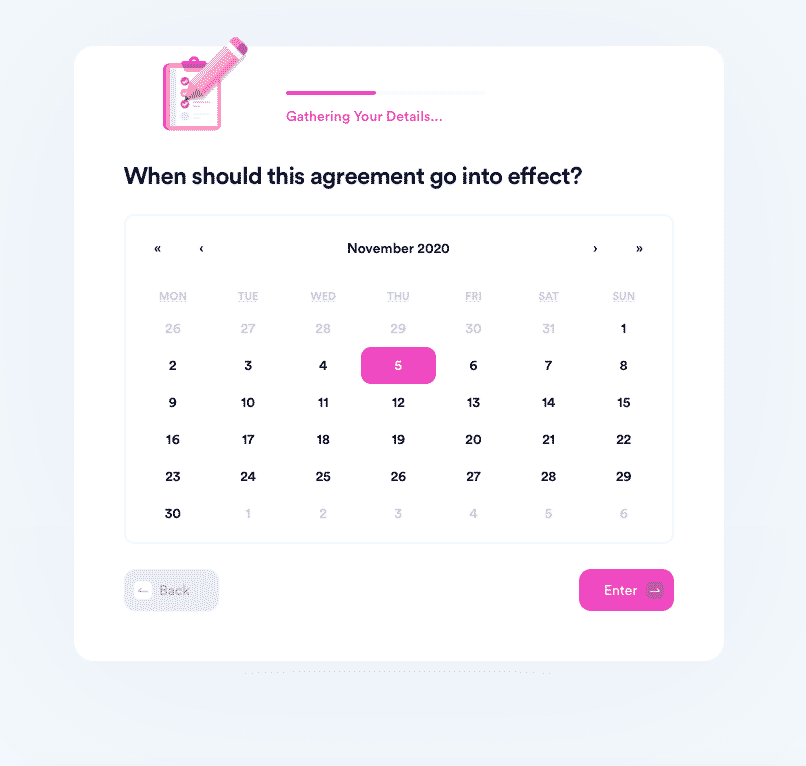 Do you need to make a contract, but lawyers are too expensive for you? Use DoNotPay! For a small monthly fee, we can create agreements for you in a jiffy! All you should do is follow the instructions below:
In the search box, type the name of the document you need
Answer a few quick questions from our chatbot
Once you've submitted your details, we will send a customized agreement your way!
If your state requires you to have the document notarized, we can help with that as well! Our Notarize Any Document feature is integrated with the Standardized Legal Document tool, so you can do both in the same app!
What Contracts Can DoNotPay Generate?
DoNotPay is continually working on adding popular contracts and agreements to our offer. Currently, we can draw up the following documents for you:
Real Estate
Business Contracts
Other

Intent to Purchase Real Estate
Quitclaim Deed

General Business Contract

Promissory Note
Child Care Authorization Form
General Affidavit
More Nifty Solutions to Annoying Problems
If you're dealing with problematic neighbors or coworkers, you're not alone—our app can help you handle these issues with our Neighbor Complaints and Fight Workplace Discrimination products.
No problem is too big or too small for DoNotPay! Check out the best time- and money-saving solutions to different nuisances:
An Array of Hacks To Help You Deal With Greedy Companies
Nobody likes to spend more money than they have to. DoNotPay is here to offer many penny-pinching hacks and also stop companies from taking advantage of you.
Almost every free trial nowadays isn't free. Companies request your credit card info and auto-renew subscriptions. Fight this sneaky practice by using DoNotPay's virtual credit card next time you want to snatch a free trial. We'll also uncover any unwanted memberships you have mooching off of you and help you cancel them in a few clicks.
If you need to contact a company's customer service, avoid wasting your time and money on hold and count on our app to wait in your stead.
Do you need to get your money back, but you don't know how? Use DoNotPay to: