You Don't Have to Pay Dartford Crossing PCN — Appeal Today

Dartford Crossing has issued a PCN and now you are faced with a decision. Do I pay or do I appeal? Only you know the circumstances that led to the contravention and you can appeal the Dartford PCN.
If you have ever filed an appeal for a PCN you know what is facing you. Let's look at that process and then let's increase your knowledge about PCN appeals in the UK and in particular the Dartford Crossing PCN Appeal by using the services of DoNotPay.
Will You Be Challenging the Dartford Crossing PCN?
Once you have decided to challenge the Dartford Crossing PCN, the first step to take in the appeal process is called making a representation.
To make a representation you will need the following:
The PCN Notice Letter
The PCN Number that begins with IA, IB, or IK
The registration number of the vehicle charged with the PCN
If you have more than one PCN, the representation needs to be followed for each contravention.
Include Your Supporting Evidence
Whether using the online representation form or the post method you are going to need some supporting documentation for validating your contravention. This would include any legible scans for supporting evidence in  PDF, JPEG, or PNG formats as attachments.
For instance:
A receipt or other transaction number proving the PCN has already been paid
You can prove the vehicle no longer belongs to you by posting sale documents for the vehicle
A crime reference number for a stolen vehicle
Your V5C Form for an exempt vehicle
Documentation if the vehicle owner is deceased
Proof that the vehicle was not at the location and time of the contravention
Any evidence eluding to the fact of innocence
Once the elements of the representation are compiled, you may proceed with your Dartford Crossing PCN appeal. Note that during the appeals process all penalty enforcement will pause while your appeal is reviewed.
My Appeal Was Denied. What Is Next?
Your Dartford Crossing PCN has been denied the representation you made for an appeal. Since your PCN was issued by Dart Charge you have the right to appeal the rejection to the Traffic Penalty Tribunal.
When you visit the Traffic Penalty Tribunal website choose the link to the situation that best describes your current state of affairs. In this case, you are filing an appeal since you have received a Notice of Rejection for your initial representation of the Dartford Crossing PCN.
When you are ready to start the appeal be prepared to enter all of your information yet again for the independent adjudicator that will be reviewing your evidence to make a ruling. If there are any aspects that you do not understand about this process call 0800 160 1999 or email the adjudicator at help@trafficpenaltytribunal.gov.uk.
If all of this sounds like a time-consuming and confusion-creating issue, you would be right. It is usually way before this point that most will give in and pay the PCN. But it doesn't have to be this way!
Let DoNotPay Introduce You to a Better PCN Appeal
Guardian: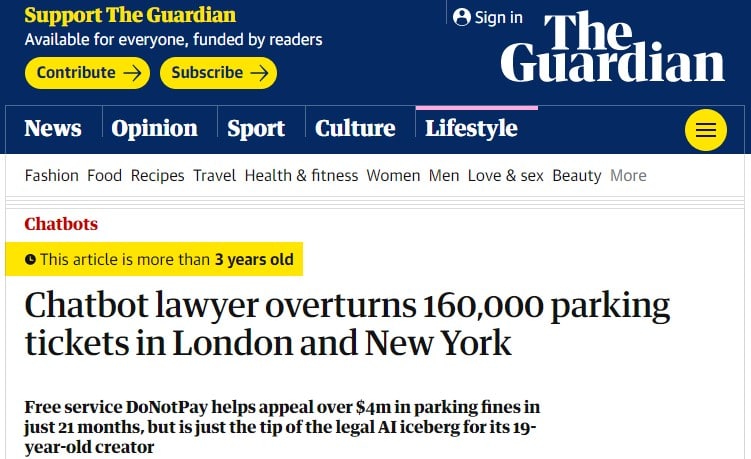 You don't know who DoNotPay is? Let's introduce this lawyer-bot to you in the form of some solid data regarding the success of using DoNotPay!
Like this one where over 160,000 parking tickets have been fought with DoNoyPay! Or this one where over 250,000 London and New York City parking tickets have ended in success! Or how about this article that simply states how beneficial the DoNotPay robot-lawyer is in our day-to-day affairs.
Now, let's get that appeal letter written by someone that can do the heavy lifting against your Dartford Crossing PCN Appeal.
Using DoNotPay to Appeal Your Dartford Crossing PCN
DoNotPay was designed to level out the playing field where any legal action is being taken that could pose a threat. If you need to file an appeal with Dartford Crossing concerning a recent PCN the process is fast and easy!
In just a few short steps the team at DoNotPay will be hard at work on your behalf with your PCN appeal letter worded to get you a successful outcome. Look at how easy it is to get started.
DoNotPay can help you fight your parking ticket ( for UK users, we cannot mail the letter).
Log-in to DoNotPay and go to the Ticket Disputes category. Select the Parking Ticket product.

 

Upload a photo of your citation.

 

Provide us with some details on why you believe the citation issued is a mistake.

 

That's it! You'll receive an appeal letter that contains the best argument to win your case.

 
It's really that simple! You can use the carefully crafted appeal letter to serve as your argument when you challenge your ticket.
That Is Impressive! What Else Could DoNotPay Do for Me?
Your Dartford Crossing PCN appeal is a small sample of the Parking Ticket UK product from DoNotPay.
Take a look at these additional services available from DoNotPay. Learn more about:
Let DoNotPay begin writing your Dartford Crossing PCN appeal letter today!