How To Claim Damages for Breach of Contract
You can suffer significant loss or harm if you have entered a contract with a party that does not perform their agreed-upon obligations.
While you can sue the other party for damages for breach of contract, you can also try to reach an out-of-court settlement.
This article presents information about different types of damages you can receive and shows you a way to resolve your dispute without lawyers and judges.
When Can You Sue for Breach of Contract Damages?
You can sue the breaching party for damages when that party has not fulfilled or does not intend to fulfill their contractual obligation to you.
For your claim to be successful, you need to prove the elements of breach of contract, i.e., the following:
Existence of a contract between you and the breaching party
Material performance of commitments under the contract
Breaching party's failure to perform their contractual obligations (e.g., a material breach of contract)
Damages you have suffered due to breach
Types of Damages for Breach of Contract
Here is a list of damages a court can award in case you initiate legal proceedings:
Compensatory
Nominal
Liquidated
Ordinary or general
Punitive
Equitable remedies
Compensatory Damages for Breach of Contract
The purpose of compensatory damages is to put you—the injured party—in the place where you would have been if the breach of contract had not happened.
The following table presents two sub-types of compensatory damages:
Expectation Damages
Consequential Damages
These damages for breach of contract:

Cover what you have expected to get from the original agreement
Are calculated based on either the:

Market values
Original contract terms

This type of damages reimburses you for indirect damages not covered in the contract (e.g., you have lost profits because of undelivered service or goods).

Keep in mind that you must prove damages were either:

A direct result of a breach of contract
Foreseen as a result of the breach when you signed the contract
Nominal Damages
If you have not suffered any real harm or monetary loss, a judge might award you nominal damages to show you are in the right.
Nominal damages are usually:
Symbolic in nature
Insignificant—The injured party can receive $1 in nominal damages
Liquidated Breach of Contract Damages
Liquidated damages are specified in the contract when:
It is difficult to foresee damages
An estimate is necessary for damages in case of a breach of contract
Both contractual parties agreed upon these damages when they entered the contract
Keep in mind that:
You should put a reasonable amount of liquidated damages
A judge can refuse to award liquidated damages if they find them excessive
Some state laws limit the liquidated damage amounts
Ordinary or General Damages
Ordinary or general damages originate from a natural, ordinary, or probable course of events from a contract breach.
Courts award these damages to compensate the injured party and not to punish the breaking party.
Punitive Damages Awarded for Breach of Contract
Punitive damages can be awarded to:
Punish the breaching party (unless they raise affirmative defenses)
Put off both contractual parties from committing breaches
Courts usually award these damages in tort or fraud cases and rarely in breach of contract ones.
Equitable Remedies
If a judge finds monetary damages to be insufficient compensation for you, they might award equitable remedies for breach of contract.
In this case, a court could order the breaching party to act or not act in a certain way. Here are some examples:
Specific performance—For instance, the breaching party has to perform their obligations
Contract rescission—The original agreement is terminated and a new one created
Contract reformation—The old agreement is amended to present the true intent of both contractual parties
What To Do Before Suing for Damages for Breach of Contract
Since litigation can be time-consuming and costly, you should send a demand letter to the breaching party first.
Keep in mind that:
Most cases are settled outside of court
Before suing the other contractual party, some U.S. states require you to:
Register for DoNotPay to generate an airtight demand letter and resolve your dispute successfully.
DoNotPay Helps You Deal With a Breach of Contract Efficiently
You do not have to spend a lot of:
Money on hiring a lawyer to draw up a demand letter and negotiate with the other contractual party
Time and energy trying to understand legal requirements and adjust various demand letter templates to your specific circumstances
Our AI-powered app is familiar with different state laws and can generate a demand letter on your behalf in a matter of minutes.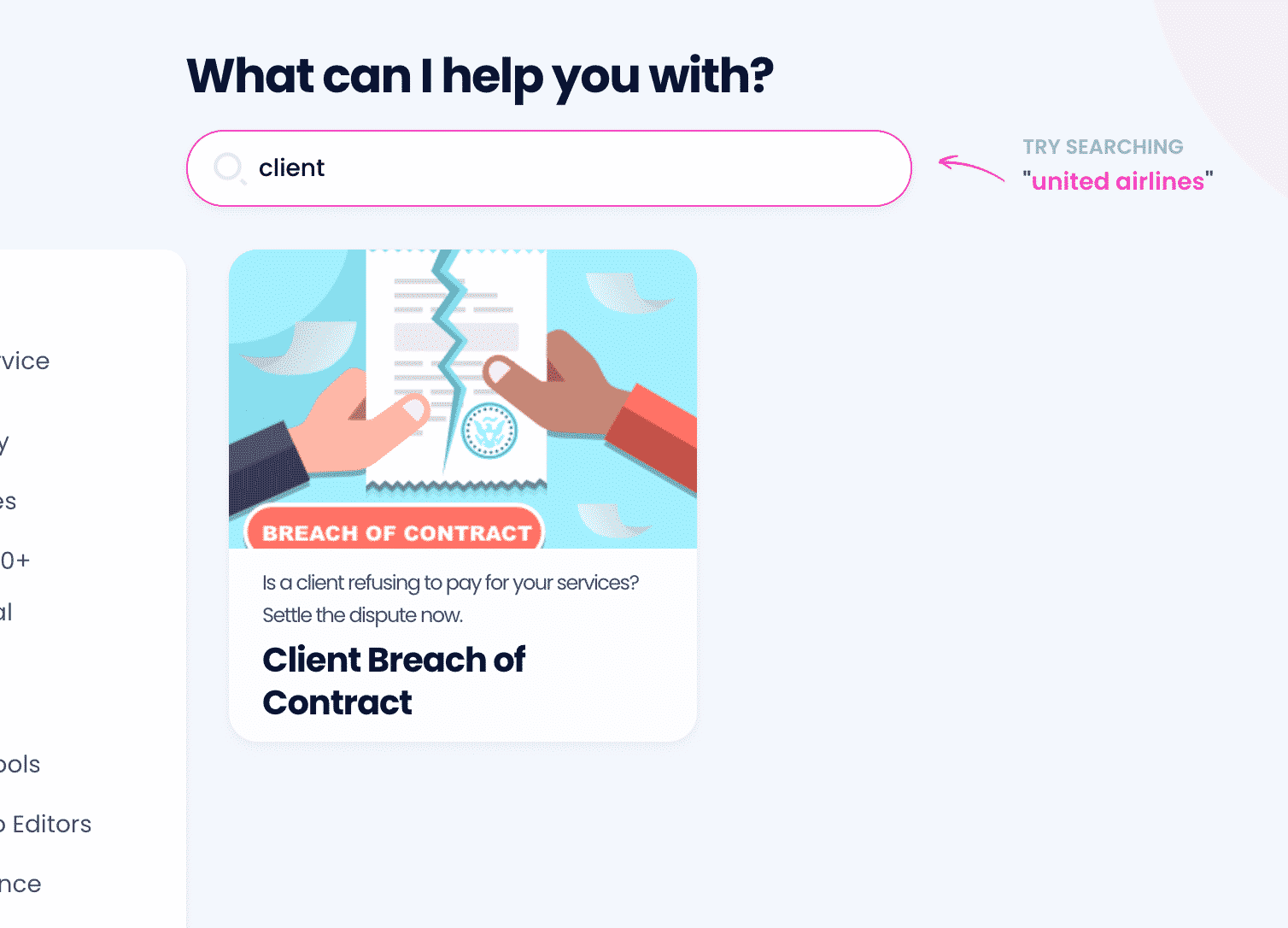 Subscribe to DoNotPay and take these steps:
Find the Breach of Contract product
Answer our chatbot's questions to provide information about your agreement
Indicate the payment deadline
Describe the performed services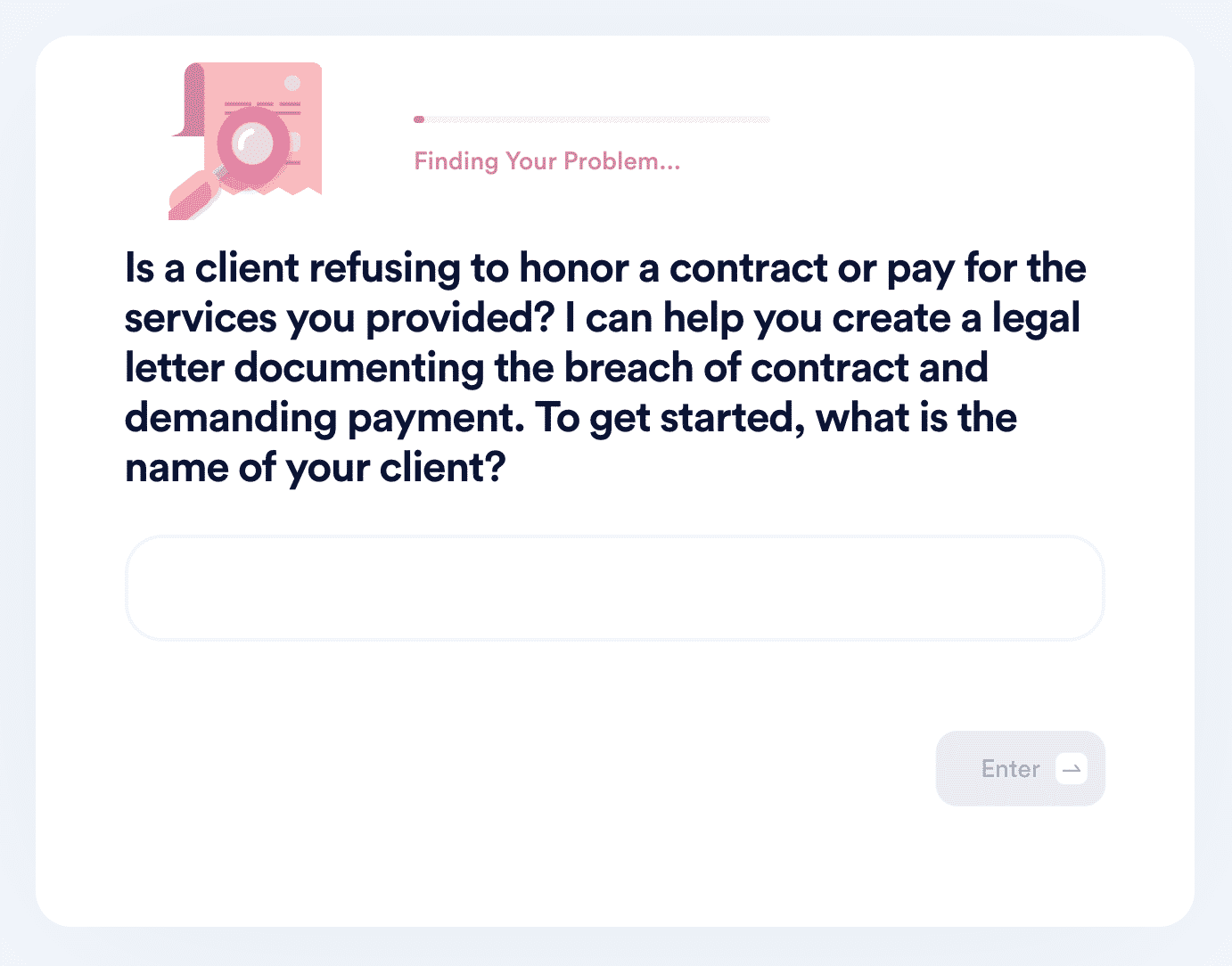 When you have completed these simple steps, DoNotPay creates a watertight demand letter you can send to the breaching party and solve the issue swimmingly.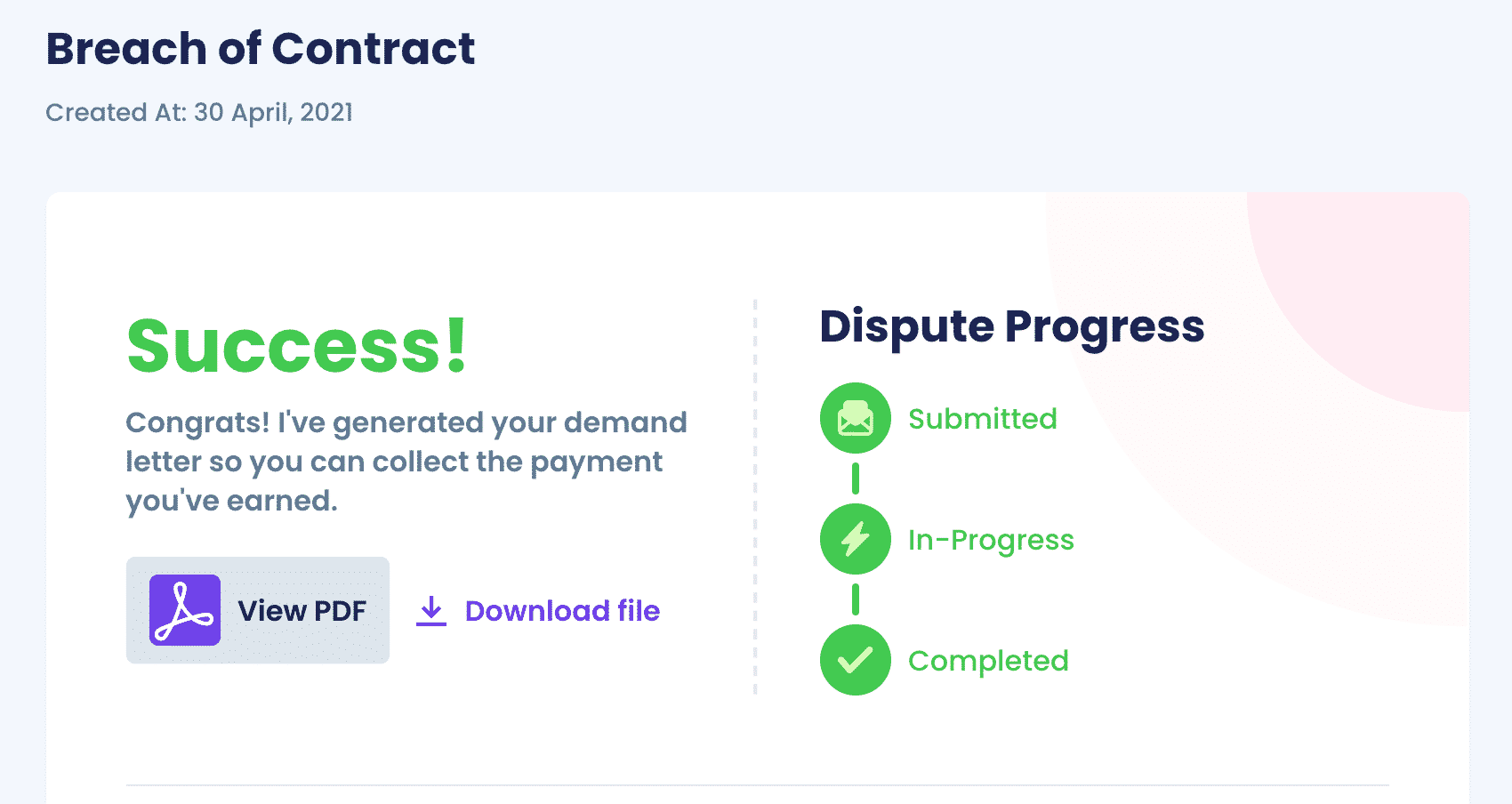 If the other party's response is not favorable, we can also help you sue them in small claims court.
Learn About State-Specific Breach of Contract Practices
DoNotPay publishes helpful guides to help you deal with administrative issues as easily and efficiently as possible.
To learn about your state laws on breach of contract, you should check out the articles listed in the following table:
Get the Upper Hand With DoNotPay
The business world is extremely competitive—that is why it is always good to have some extra capital set aside when you need to invest in your company. You can leave the bureaucratic task to us—DoNotPay will draw up business loan request letters in your stead.
If your finances are taking a hit, rely on our app. With our assistance, you will be able to:
Fight fraudulent chargebacks
Remove fake negative reviews online
Register and protect your trademark
Send mail and faxes at no additional cost
Handle clients breaching contracts and get what you are owed
Whatever the task at hand, our AI-powered app will see it through successfully.
DoNotPay—The Assistant Every Business Needs
You cannot escape bureaucracy in business. What you can do is let DoNotPay deal with it. Whether you need to register a DMCA agent or complete an Employer Identification Number (EIN) registration, our app will lead the way.
Using DoNotPay, you will also not have to worry about 83(b) election forms or Privacy Shield self-certification. From generating to filing important documents and from dealing with employees to handling clients on your behalf, our AI-driven app is your go-to solution.
Grow and protect your business with the world's first robot lawyer!