Understanding Dairyland Insurance Claims
Raising an insurance claim is a crucial step to take after suffering a car or any other motor vehicle accident. By submitting such a request, you notify your insurance provider about the incident and demand reimbursement for the damage caused. Unfortunately, not all firms are happy to cooperate with their clients when such situations happen.
Dairyland is one of the car insurance providers that tend to delay payouts, according to Consumer Affairs reviews. With DoNotPay, you can learn how to get the deserved compensation from them without any paperwork or direct contact. We can help you raise an insurance claim the easy way or appeal it if it gets denied!
What Types of Policies Does Dairyland Offer?
Dairyland specializes in finding the best insurance policies for high-risk drivers. Their standard offer includes two categories—auto and motorcycle insurance plans. You can check out the coverage details below:
Insurance Plan Type
Coverage

Auto

Lienholder

—custom touches you used to upgrade your car

Medical payments

—medical and funeral expenses

Towing and labor

—having your vehicle towed after an accident or breakdown

Rental reimbursement

—the costs of a rental car while yours is under repair

Liability

—the other party's medical or property damage costs if you caused the accident

Uninsured or underinsured motorists

—your bodily injury treatment after collisions caused by an uninsured or underinsured driver

Physical damage

—theft, natural disasters, extreme weather conditions, and damage due to collisions

Personal injury protection (PIP)—

your medical costs or medical costs of any other passenger in your vehicle regardless of whose fault the accident is

Special equipment

—damage due to improper installation of additional equipment

Motorcycle

Optional equipment

—non-factory gear

Roadside assistance

—flat tires, lost key, low oil or fluid level, etc.

Medical expenses

—your medical, funeral, or property damage costs

Replacement cost

—for "totaled" bikes that are three years old or more

Guest passenger

—medical coverage for the other passenger on your motorbike

Rental reimbursement

—the costs of a rental vehicle while your bike is under repair

Physical damage plus

—replacement parts for your motorbike when damaged due to collisions

Bodily injury and property damage

—the other party's medical, funeral, or property damage costs if the accident was your fault

Personal injury protection (PIP)

—your medical costs or medical costs of the other passenger on your bike regardless of whose fault the accident is

Uninsured or underinsured motorists

—your bodily injury treatment and property damage after collisions caused by an uninsured or underinsured driver
When Should You Raise a Claim?
The company doesn't have any specific rules regarding the reporting time frame. According to general rules, you should do it right after the incident. The sooner the company finds out about the situation, the sooner they will resolve it.
File Dairyland Auto Insurance Claims Fast With DoNotPay
Instead of turning to more complicated claiming options, explore the marvelous features DoNotPay brings!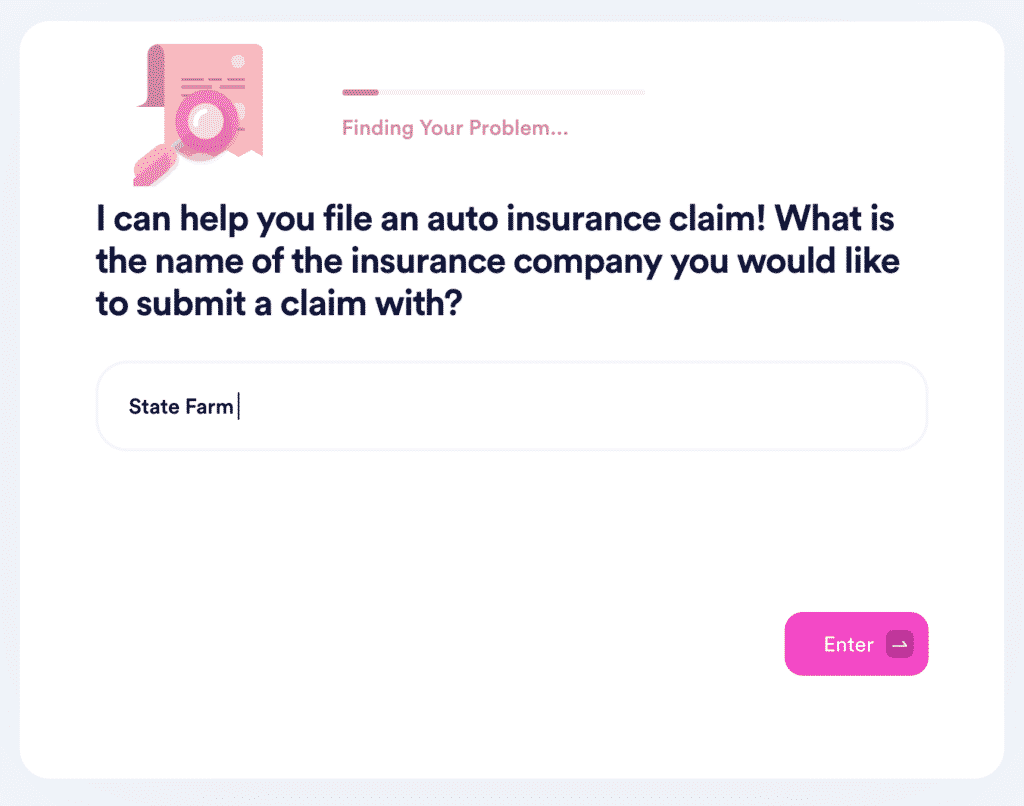 Our platform gives you a chance to avoid stressful conversations with customer support and loads of paperwork. All you need to do is answer a few questions our chatbot provides, and we will start the claiming procedure in your stead in a snap!
Follow these steps to use our service for raising your insurance claim:
Access DoNotPay from your preferred

Search for the desired insurance type and company

Type in the required information

Tell us more about the situation you experienced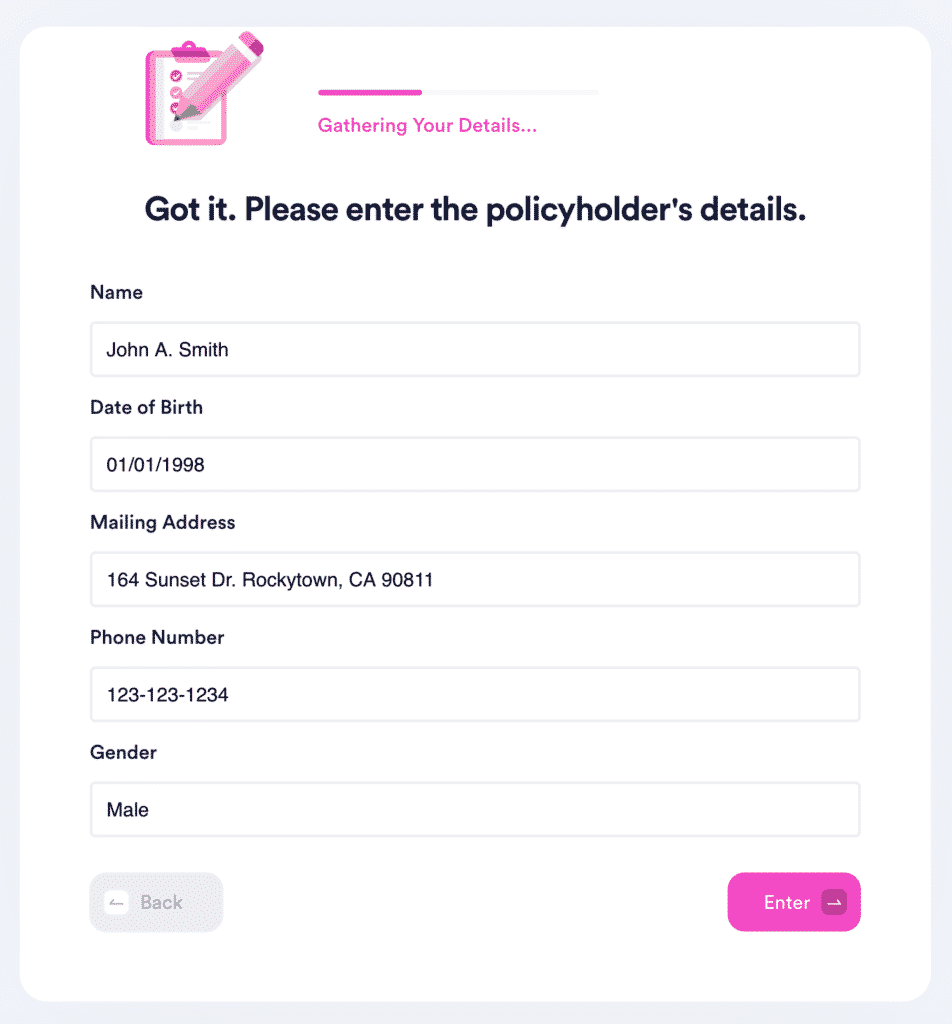 DoNotPay composes a claim letter in your name and submits it to Dairyland right away. You can repeat this procedure an unlimited number of times for any insurance, including:
What Methods Can You Use To Claim Dairyland Insurance?
If do-it-yourself methods work better for you, you can file a claim with Dairyland over the phone.
Here's how you can do it:
Dial

(800) 334-0090

Tell the representative that you want to file an insurance claim and describe what happened to your vehicle

Disclose your policy details so they can check your coverage

Wait for the agent to connect you with an appraiser that will assess the losses or damage and give you some advice
Depending on your policy type, the claim associate will suggest possible solutions and help you prepare everything you need for the procedure. You should also fax the required documents to (888) 729-2225.
| | |
| --- | --- |
| Can You Claim Your Insurance Via | Yes/No |
| DoNotPay | Yes |
| Email | No |
| Phone | Yes |
| Letter | No |
| In Person | No |
| Online | No |
Appeal Any Rejected Insurance Claim With Our App
Insurance companies tend to come up with many unjustified reasons for denying customers' claims. If you are unhappy with their decision, you can protest by appealing the rejected claim.
Filing an appeal means submitting a formal letter to the insurer and asking them to review your case. Such a procedure usually requires additional bureaucratic chores, but DoNotPay can help you turn them into a five-minute task!
To use our service, follow the instructions below:
Access DoNotPay from your

Search for the insurance you failed to claim

Click on

Appeal a Denied Insurance Claim

Answer a few more questions

Click on

Submit
The appeal letter we create will reach the insurance company shortly. All you need to do is wait until they review your claim and let you know whether they can proceed with it.
Why Get a Lawyer When You Have DoNotPay?
Our agenda has one major goal—provide easy legal access to anyone who needs it. Every new feature we come up with relies on AI technology that simplifies bureaucratic procedures and saves you time and money.
If you're wondering how to navigate tasks like contacting imprisoned friends and family members or reducing your property taxes, DoNotPay has the answers. Our service cuts through the red tape even if you need to deal with stalking and harassment, claim forgotten assets the proper way, or secure compensation for crime victims.
Discovering DoNotPay Will Make Your Day
If you feel overwhelmed by tons of paperwork flooding every area of your life, you can finally breathe out and let go of that stress. DoNotPay is the world's first robot lawyer that handles your bureaucratic chores for you.
Some of the benefits that come with our service include: