Learn How To Make a Solid Custody Agreement in a Snap

Once the parents terminate their relationship by filing for divorce, their primary concern is to protect their children. If both parties are willing to cooperate and agree on specific regulations, custody sharing doesn't have to be stressful. 
The best way to legalize the accordance between two parties is to form a child custody agreement. If you are going through this unpleasant legal procedure, we will teach you how to create a valid contract and include all the necessary sections without missing important info. Use our mini-manual to learn how DoNotPay, your first robot lawyer, can help you get the best templates for legal documents in no time!
What Is a Custody Agreement?
A custody agreement is a legal document stipulating both parents' custody-related rights after divorce or separation. If you and your partner decide to make a mutual decision on child custody, creating such a contract is the first step towards an amicable solution. 
There are two types of custody agreements:
Joint custody agreement

—a contract in which the parents agree that the children should spend time with both of them. By signing this document, they agree to share the physical and legal custody

Sole custody agreement

—an agreement in which both parents agree that one of them should have a full physical and legal custody 
Making such an agreement is not possible if your partner doesn't want to cooperate. In such cases, the only way to solve the matter is in court.
Is a Custody Agreement Legally Binding?
Like all other documents approved by the court, custody agreements are legally binding, meaning both parents need to comply with the prescribed terms and conditions. Violations or self-initiated modifications may have legal consequences.
What Do You Need To Include in a Child Custodial Agreement?
While composing a custody agreement, you need to consider all potential situations and clearly define the conditions to avoid misinterpretations. The following table shows you all relevant clauses you should include in the document:
Clause
Details

Parent and children information

Names of parents and children

Birth dates of parents and children

Custody and visitation information

Weekly schedule for weekdays and weekends

Holiday schedule

Vacation schedule

One-time events and exceptions

Terms and conditions proposed by parents

Medical care

Transportation

Potential disputes

Potential modifications

Legal custody details

Extracurricular activities

Religion-related decisions

Education-related decisions

Child-related communication

Child support information

The amount according to your state's child support law—this information needs to be stated out of the contract, as a separate document. The best way to check whether you should include it is to revise the local law
Why Is the Child Custody Agreement Important?
Making a custody agreement is a great way to avoid quarrels between parents and stressful and burdensome court proceedings. Ex-spouses can save a substantial amount by solving the matter amicably. 
A well-composed document with clearly stated rules can greatly contribute to the protection of children and keep them from traumatic incidents. It also protects each of the parents, as by signing it, they agree not to break the rules and comply with the mutually agreed conditions. 
Let DoNotPay Create Your Child Custody Agreement in No Time
Being familiar with legal documents makes the creation of the custody agreement easier, but what should you do if you don't know much about the law? Lawyers may help, but the price is usually too high. You would have to set aside hundreds or even thousands of dollars for a single contract.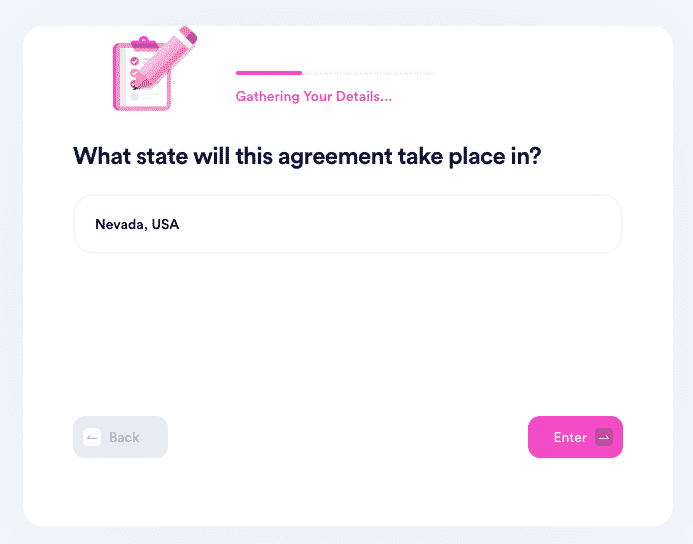 If you need advice, DoNotPay has got you covered.  We can generate a custody agreement for you in less than five minutes! Not only do we provide the most affordable solution, but we also let you create an unlimited number of documents.
Here's how you can get your contract in a snap using DoNotPay:
Log in to DoNotPay using your preferred

web browser

Search for the agreement type you want to create

Answer our chatbot's questions
We will personalize our legal document template for you and create a rock-solid custody agreement ready for signing!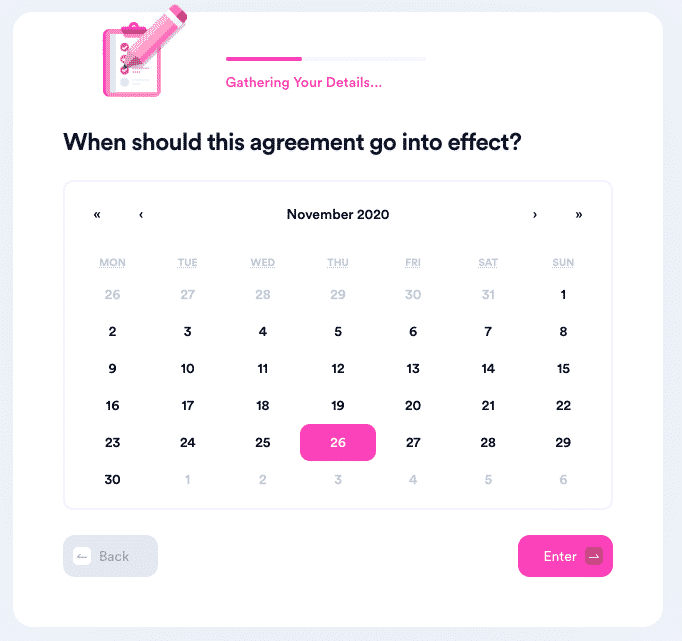 If you want to find out more about other types of agreements and legal documents, check out our learning center and the articles about:
Create More Legal Documents With DoNotPay
Besides custody agreements, you can use our app to generate other contracts and legal documents, including the ones in the table below:
Business
Real Estate
Miscellaneous 

Residential Lease Agreement

Quitclaim Deed

Intent to Purchase Real Estate

Estoppel Certificate

Promissory Note

General Affidavit
Need Help Fighting Bureaucracy? Use DoNotPay!
As the world's first robot lawyer, DoNotPay can help you resolve a plethora of tedious administrative issues. Our app will assist you in getting justice in small claims court, getting refunds from merchants, reporting annoying spam emails and text messages, reporting copyright infringement, bypassing phone number verification, and so much more!
You can also rely on DoNotPay's help when it comes to subscriptions. If you want to sign up for a free trial, cancel a service you no longer use, and skip the phone queue when doing so, our app will provide its assistance.
Our App Saves You Time and Money
Are you unable to pay your bills? Use the world's first robot lawyer app to cover them! Do you want to appeal your traffic or parking tickets? DoNotPay will help you appeal them in the blink of an eye.
Our app can do so much more than that, though—with DoNotPay by your side, you can sign up for clinical trials, ace government tests, claim any type of warranty, schedule an appointment with the DMV, and handle any other bureaucratic task.