Custody Agreement Templates
Explained
After divorce or separation, people tend to split everything they earned and accumulated together, including cars, real estate properties, or financial assets. Besides dealing with material goods, they need to make a much more important decision—the one about parenting arrangements for their children.
Such situations are usually regulated with a special legal document—a child custody agreement—but writing this contract isn't simple. That's why people decide to use ready-made templates, but it's hard to find the ones you can trust. 
If you are struggling with finding the best custody agreement templates and creating your contract, we got you covered!
What Is a Custody Agreement?
A custody agreement is a legal contract that allows parents to stipulate the co-parenting rules they both agree on once they divorce or separate. 
This document proposes the terms and expectations of both entities, enabling them to reach an agreement and raise their child without disputes. If you manage to regulate your mutual custody-related interests this way, you can skip court procedures and save loads of money.
A custody agreement is a legally binding document you can use in your favor if something goes wrong. If your relationship with your ex-partner worsens and they break the predetermined rules, you can use the contract to sue them.
What Should
Custody Agreement Forms
Cover?
A child custody agreement should cover various parenting arrangements, and it's essential not to miss the most significant clauses and sections. The form of the contract depends on the type of custody the parents choose, as there are two options:
Sole custody

—the parents decide that one of them will be the official custodian of the children

Joint custody

—the parents agree that both of them should have equal responsibilities for the children and share legal and physical custody
Here are some clauses most custody agreements contain:
Section
Details

Personal information of the concerned parties and their children

Physical custody details

The place where children live

Visitation schedule on holidays or special occasions

Other terms and regulations

Transportation details

Extracurricular activities

Communication between parents

Dispute resolution

Contract modification terms

Child support details
Benefits and Drawbacks of Online Custody Agreement Templates
You can find loads of custody agreement templates online. The bad news is that not all of them are suitable or applicable to your situation.
Below is the table showing the major pros and cons of online custody agreement templates:
Pros
Cons

You can avoid paying too much to a lawyer for a single draft

They are easy to find

You can download them to multiple devices

They are usually unverified

You may not know how to complete them if you don't understand the construction of the clauses

They may be incomplete or lack the essential sections

You may need to register on various websites and pay for downloading the desired template

They can be outdated if posted several years ago, as the laws change regularly

They may be bland or too generic, making it difficult to personalize them
If you aren't sure whether the template works for your particular case, turn to DoNotPay and avoid headaches! The articles in our knowledge base can show you the ropes of:
Make a Custody Agreement With DoNotPay
As your legal assistant, DoNotPay doesn't generate templates—we create the best standardized legal documents! Bearing in mind the problems you may encounter while composing a contract from scratch, we have developed a feature that does it for you.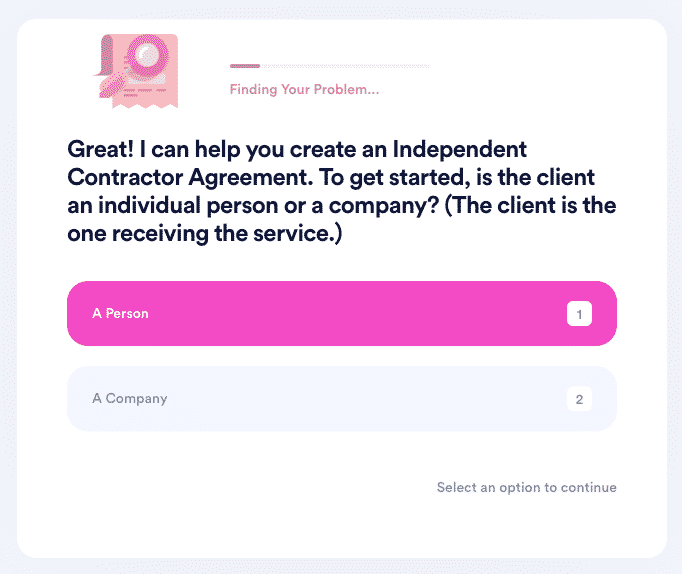 The procedure is simple. You provide us with a few essential information you want to include in your document, and we make it in a flash! Here's how you can do it:
Visit DoNotPay in your

web browser

Track down the legal document template you want to customize

Respond to a few questions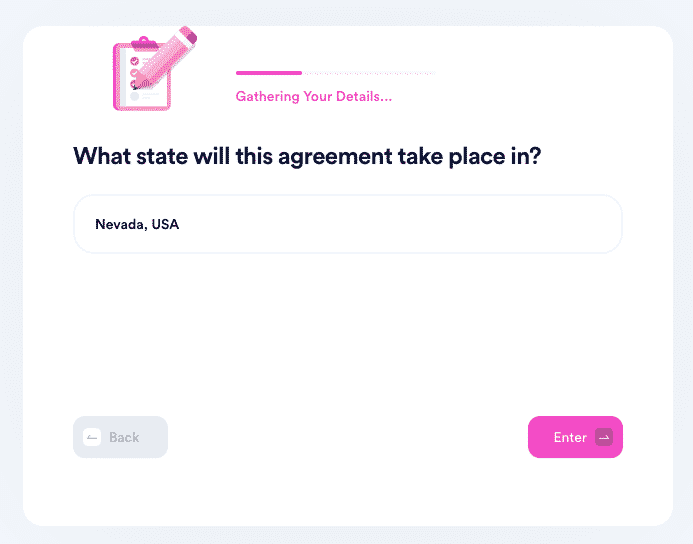 As soon as you submit the necessary details, we will let you access the personalized version of the document. You don't need to worry about the validity of the generated contract. It's enough to have it notarized and signed, and it will become legally binding.
Getting Standardized Legal Documents With DoNotPay Is Easy
Custody agreement forms and templates are only a part of our vast offer. DoNotPay has compiled a collection of other commonly used contracts and documents to make your life easier. All you need to do is choose the desired template and make a perfect:
General Business Contract

Intent to Purchase Real Estate

Estoppel Certificate

Quitclaim Deed

General Affidavit

Promissory Note
DoNotPay Offers a Variety of Services
DoNotPay is the ultimate virtual assistant that takes over all those annoying tasks you don't want to deal with!
Need to schedule your DMV appointment? Want to get your college fees waived? Have to draft a legal doc quickly?
We can do all that and much more!
Our app waits on the phone line with customer service of any company for you, reports robocalls, and helps you file lawsuits in small claims court. 
We can also help you deal with your parking tickets, get rid of spam emails and texts, or find and sign up for reputable clinical trials!
Keep Your Money in Check With DoNotPay
How often do you sign up for a free trial and then forget to cancel it before it expires? Unexpected charges are the worst, but you can prevent them if you use our free trial card. DoNotPay's virtual credit card is not connected to your bank account, which means that no money can be taken from it. 
We can also help you get refunds for unsatisfactory purchases or compensation from airlines for delayed or canceled flights.
In case you are struggling with warranty claims, bill payments, insurance, or tax reduction, DoNotPay can solve these issues as well. 
Our app also has the largest database of unclaimed assets in the United States, so you can find and claim your lost funds quickly.