How Do Cuba Tourist Visas Work—All Your Questions Answered
Have you been considering traveling to Cuba—the land of the best cigars, amazing beaches, and irresistible salsa tunes? Preparing for your trip also includes getting proper authorization for entering the country and staying there for a specific period.
Embassy and consulate websites usually offer unclear or outdated information related to visas, which can make your travel preparation more difficult. This is why we created an amazing guide with the ultimate tips on how to obtain Cuba tourist visas and cards and enter this country effortlessly!
Do You Need a Tourist Visa for Cuba if You Are From the USA?
There are several specific categories of travelers that are required to obtain a tourist visa before entering Cuba. They include:
Journalists
Travelers visiting their family
Students and all types of educators
People traveling for religious purposes
Professional researchers traveling for business meetings
Authorized export transaction performers
Private foundation or research institution members
Travelers who visit the state because of workshops, exhibitions, public performances, and athletic competitions
People who dedicate themselves to humanitarian activities or visit Cuba to provide support to its people
People who work on exportation, importation, or transmission of informative materials
Other U.S. passengers can't apply for tourist visas and are required to obtain another type of authorization—a Tourist Card.
Note that due to the COVID-19 pandemic, traveling to Cuba remains prohibited at the moment. This is a temporary circumstance, and the rules and regulations keep changing depending on the current situation. To remain well-informed, you must check the official website of the U.S. Embassy in Cuba regularly and look for the latest COVID-19 updates.
What Is a Tourist Card?
A Tourist Card is a permission that allows tourists to stay in Cuba for 30 days and can be extended for additional 30 days upon request.
The type of Tourist Card you get depends on the country you are departing from. Travelers flying to Cuba from the U.S. must obtain a pink Tourist Card, while all other passengers should have a green Tourist Card to enter the country.
What Do You Need To Get a Tourist Card or a Tourist Visa for Cuba?
To file an application for a Cuba tourist visa, you should:
Have a U.S. passport that:

Has been valid for at least six months before the trip
Has at least two blank pages for entry and exit stamps

Complete a Cuba Visa Application Form
Prepare:

Passport-size photo
Valid travel ticket
Proof of travel health insurance
Other documents that can confirm your purpose of travel
Obtaining a Tourist Card doesn't require any additional documents or forms.
How To Obtain a Tourist Visa for Cuba or a Cuba Tourist Card
The following table shows the available ways of applying for a Cuban tourist visa or a Tourist Card:
Cuba Tourist Visa
Cuba Tourist Card

Submitting a completed application and the supporting documents at the Cuban consulate in your state—If you don't have any consulates in your vicinity, you must travel to the nearest one
Mailing a completed application and the supporting documentation to the Cuban consulate—Before you do it, check whether the consulate needs originals or copies of your documents. You must also send a pre-paid envelope with stamps and state an address to which the institution can return the documentation
Hiring a representative that can apply on your behalf—This can be an authorized agency performing visa application procedures

Obtaining the card at the Cuban consulate or embassy—The prices may vary depending on the institution you choose
Buying the card from an airline company, travel agency, or the tour group organizing your trip—The price may be included in your flight ticket cost
Purchasing the card online—This is the simplest way to get it. You can buy the cheapest pink Tourist Cards through Cuba Visa Services
Find All the Visa Application Info You Are Looking For on DoNotPay
Signing up for DoNotPay is the simplest way to get perfect guidance through the tourist visa application process! Forget about unclear instructions and unreliable information you can come across while searching the internet. Once you provide us with the necessary details, we will run some checks and see whether the country you want to visit requires a tourist visa.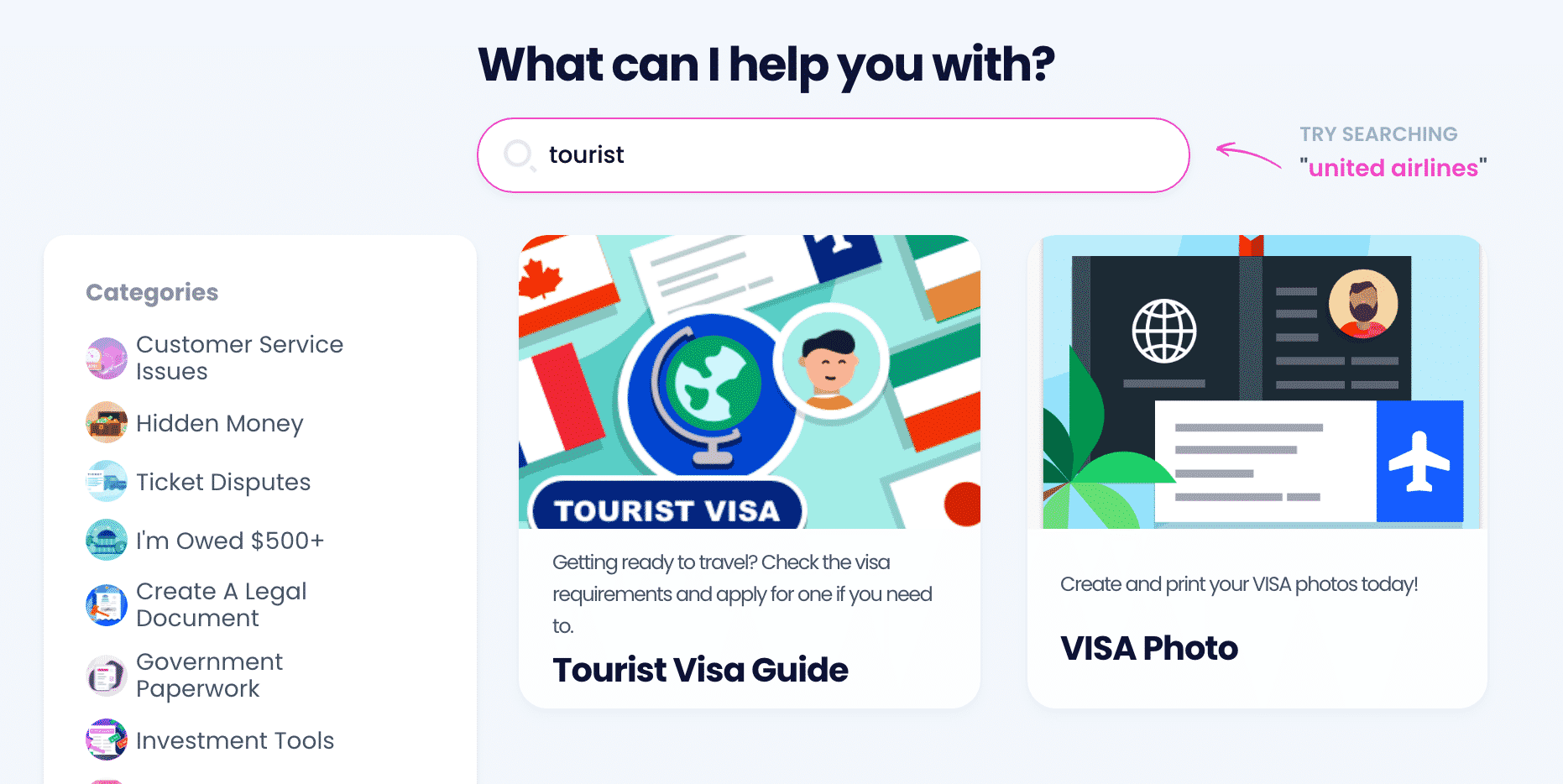 If it does, our app will list all the paperwork you should collect and help you file an online or in-person application the easy way. We can also contact the embassy on your behalf and check if it accepts emailed application forms!
Here's what you need to do:
Click on Tourist Visa Guide
Select I Am a U.S. Citizen or Own a U.S. Passport
Provide the name of the country you are planning to visit

DoNotPay Helps You Get More Visas
If you are interested in discovering more exciting places in the same area, use DoNotPay to walk you through the visa application procedures in:
DoNotPay Is the Best Solution for Your Bureaucratic Problems!
A wide range of handy features DoNotPay offers can assist you in resolving administrative issues without breaking a sweat! Our app provides the easiest way to:
Get What You're Owed in a Few Taps!
Shopping is fun, but retailing companies can sometimes be difficult to negotiate with, especially when things go wrong. With DoNotPay, you can reach their customer service without spending hours on hold and get a refund fuss-free! Should the merchant refuse to collaborate, we can help you get justice by suing them in small claims court.
Our app can also file an insurance or warranty claim in your name, request gift card cash back, or initiate returns for dissatisfying products.
If you want to check whether you have any unclaimed money in old bank accounts, using DoNotPay is the easiest way to do it!