Remove C.Tech Collections From Your Credit Report Easily
Do you want to obtain a loan or open a new line of credit? If you borrow money or use a credit card but fail to service the debt on time, you may be ineligible for any future financial assistance.
Late repayments are reported to credit agencies, and the accounts are sold to debt collection agencies.
An account listed with debt collections almost always appears on the credit report and hampers your chances of getting credit from other creditors.
This DoNotPay article explains how to get rid of collections and negative items on your credit report. We'll explain all there is to know about , and highlight the steps to take if a company won't budge on its stance. 
What Is C.Tech Collections? 
 is a debt collection agency that focuses on debt recovery for healthcare providers nationwide.
Once you default on a payment, medical authorities sell the account to C.Tech to follow up on the debt and ensure it is repaid in full.
The involvement of C.Tech or any other debt collection agency is bound to appear on your credit score and limit your ability to get a loan.
Here's how to get in touch with .
Company
C. Tech Collections
Website
https://www.ctech-collects.com
Phone number

(888) 331-0541
(631) 828-3100

Snail mail
5505 Nesconset Highway Suite 200

Mount Sinai, New York 11766
Why is C. Tech Collections on my Credit Report? 
If you receive weekly or monthly credit reports from Equifax, Experian, and TransUnion, you should analyze them keenly. These companies tend to produce credit reports in bulk, so they can make mistakes that affect your credit score.
Besides production errors, you also want to check for consistency in your reports in case of fraudulent activity. These are the main areas of a credit report to look at closely:
Personal information – Incomplete contact info, wrong social security numbers
Accounts – Incorrect payment history, inaccurate account status
Inquiries – Pulling credit reports without authorization
Public records – Judgment that doesn't involve you
What Is a Debt Validation Letter? 
If you receive a call from C.Tech about a defaulted payment, don't give them any details but rather insist on getting all the information concerning the loan first. Debt collection agencies are required by law to provide written evidence of the debt within five days after initial contact.
How to Write a Debt Verification Letter
Once you get the debt details but don't owe such debt, or the loan becomes obsolete due to the statute of limitations, you have 30 days to write back and request for verification that the loan is indeed yours.
Your debt verification letter should look like this:
Date:
Individual name
Address
City
Debt collectors name
Address
City
RE: Account # (Fill in Account Number)
To Whom It May Concern:
I received a letter to pay a loan from one of your representatives on 4/10/2021. However, I do not owe that debt. My information was stolen, and I disputed that account with C.Tech and the major credit bureaus.
According to the FDCPA, I reserve the right to request a validation of the debt you claim I owe. This is in no way a request for verification but instead for validation in line with 15USC 1692 sec. 809 (b) of FDCPA.
Kindly send me documentation that proves I owe you the debt. Until then, kindly avoid trying to contact me through any means and note that I dispute the responsibility for this loan.
I've already notified the reference credit bureaus of my dispute. If your company provides the information requested, I will need 30 days to investigate it on my own.
Best regards
Signature
CC: Federal Trade Commission
Strategies for Successfully Disputing Your Credit Report 
If a collections account is on your credit score, there are specific actions you can take to remove it. Some of those steps include:
1. Request a Goodwill Deletion 
One of the most effective ways to dispute collections in your credit report is through goodwill. After you pay the debt, you can simply request the debt collection agency to delete the collection from your report.
2. Dispute the Collections Account 
This involves submitting a formal validation letter to the collections agency if the information on your credit report is incorrect or inaccurate. Once investigated and found debt-free, the collections will be expunged from your credit report.
3. Remove the Collections Yourself 
Debt collections usually remain on your report for seven years, after which they become obsolete. However, if the information on your report is wrong, or you pay the existing debt, but C.Tech refuses to delete the collections from your report, you can remove the debt before the seven years are over.
Sue for an Unresolved Credit Report Dispute 
Once you notice a debt collection in your credit report, you have a right to dispute the debt. Suppose the information on your report is inaccurate or a debt collection agency refuses to investigate the dispute, and it causes harm. In that case, you can sue them in a court of law for liability.
Under the FDCPA 15USC 1692 sec. 809 (b), you can sue a debt collection agency for noncompliance within two to five years of the ordeal. DoNotPay can help you file small claims in court against a debt collection agency. If you win, you'll receive compensation for damages that include but are not limited to statutory damages, actual damages, court costs, and punitive damages.
How to Dispute C.Tech Collections Credit Report on Your Own 
If you receive a call or letter from a debt collection agency about a loan you're unaware of or doesn't exist, you can launch a formal dispute. Here's how the process goes.
Gather all the evidence related to the debt
Don't talk to anyone who contacts you via call or text
Obtain company information name, address, phone number
Ask for a letter of validation five days after they initiate contact
Request your credit report from Equifax, TransUnion, and Experian
Try to identify errors in each report
Download the credit bureau form online and fill it
You may choose to send the dispute form online via the C.Tech website or send it via mail to their address in Mt Sinai, New York. 
Dispute C.Tech Collections Report With the Help of DoNotPay 
Disputes against debt collectors often go unnoticed by the state or federal government. The government has specific provisions for debt collectors that limit their liability in such cases. Plus, doing it alone is a lengthy and complicated process.
DoNotPay can help you clean your credit report in a matter of minutes. This move by DoNotPay can help improve your credit score significantly.
Here's how to clean your credit history using DoNotPay:
1. Search Clean Credit Report on DoNotPay.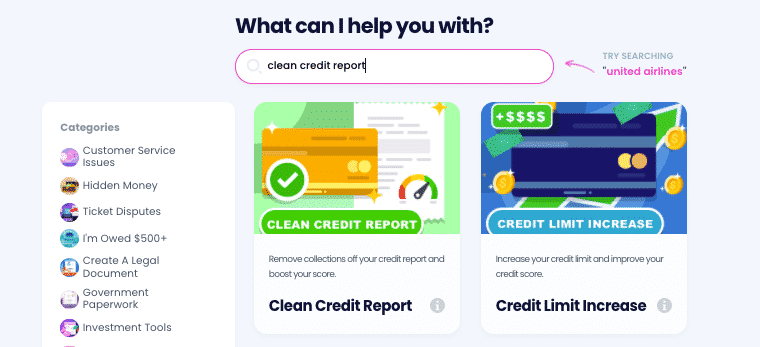 2. Prepare a recent copy of your credit report that you can use as reference.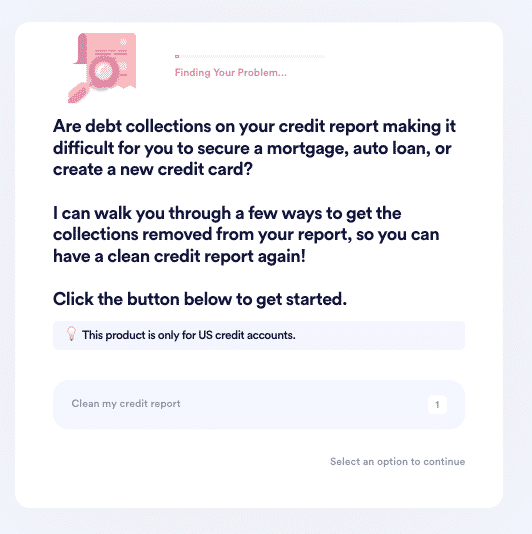 3. Let us assess the 4 potential options:
If you've cleared your existing debt, we'll assist you file a formal Goodwill Removal Request to get it expunged.

 

If you find errors in your final report (we'll provide a list of common errors to help!), we'll assist you launch a credit dispute with the major credit bureaus or creditor.

 

If you find no errors, we'll confirm if you're still eligible to file a debt validation request. If they can't verify your debt, they're required to remove it from your report and they can't collect it!

 

Lastly, if the above options don't work, we'll help you file a pay-to-delete negotiation letter. You can customize the amount you are willing to pay in exchange for getting the item removed.

 
You can also check out our other credit products, including Credit Limit Increase, Get My Credit Report, Keep Unused Cards Active, and more on DoNotPay. 
Why Use DoNotPay to Dispute C.Tech Collections Credit Report 
This DoNotPay product is the best platform to send your dispute to C.Tech because it's:
Fast—You don't need to waste hours trying to dispute your claim to debt collectors
Easy—You don't need to fill out complex C Tech forms or be involved in all the disputing steps.
Successful—You can rest easy knowing we'll make the best case to remove collections from your credit report.
What Else Can DoNotPay Do? 
DoNotPay can help you solve additional problems such as:
Do you need help cleaning your credit report? DoNotPay can help you clean any negative items or debt collections in your credit report. DoNotPay can also send a letter to a small claims court in case you decide to sue C.Tech.