Learn Everything There Is To Know About the CT FOIA 
If you want to access the Connecticut government agencies' public records, the FOIA makes it possible. The Freedom of Information Act ensures all citizens are in the loop about government decisions and activities.
If you want to learn how to file a CT FOIA request, you should familiarize yourself with Connecticut's version of the law. DoNotPay can help you understand what it takes to access a public record in Connecticut in no time!
The Connecticut Freedom of Information Act Explained
Under the Connecticut FOIA, enacted in 1975, you can file a request to obtain a public document from any government agency. The information you need can be:
Typed

Printed

Handwritten

Photocopied

Photostatted

Photographed

Tape-recorded

Recorded by any other method
Any Connecticut citizen has the right to file a CT FOIA request. You don't have to justify your reasons for requesting a document and can use it for any purpose once you obtain it. After filing a request, you can expect a response in four days.
If your request gets denied, you have 30 days to file an appeal with the Freedom of Information Commission. 
Government agencies in Connecticut generally charge for duplication and the time employees spend to find the requested documents. You can apply for a fee waiver under the following circumstances:
If you can't afford to cover the

fee

When the disclosure of the records you seek is in the public interest

If you are a public official requesting the document for your office
What Are the Connecticut FOIA Exemptions?
While most public records are available to Connecticut citizens, FOIA law specifies certain exemptions to protect personal privacy, national security, and law enforcement proceedings. The list of exemptions includes:
Preliminary drafts or notes that will benefit the public more if they remained withheld 

Personnel or medical files that protect personal privacy

Law enforcement records of proceedings that are still in the pre-trial or trial phase

Negotiation about pending litigation

Trade secrets

Financial information

Licensing tests of personal worth

Collective bargaining records

Students' personal information

Petitions

Adoption records

Complaints records

Any information that would endanger personal, infrastructure, telecommunications, or correctional institution security

Home addresses of individuals at the

Address Confidentiality Program
The Connecticut Open Meetings Law is included in the CT FOIA and refers to any meeting of public agencies' members to discuss or decide on a public policy. Exemptions also refer to closed-in meetings that involve:
Personnel matters

Negotiation and bargaining items

Administrative staff issues

Real-estate operations

Security strategies

Unsettled law negotiations
What Should a Connecticut Freedom of Information Act Request Look Like?
Before you file a CT FOIA request, you need to:
Specify which public body has the records you are seeking

Verify if the document you want is not already in the public domain—check out the specific agency's official website

Find out if the agency offers an

online FOIA request form

or a

request letter template

File your request via fax, mail, email, or any other method the agency offers
The most reliable way to get a speedy response is to write your request letter. Take a look at the table below for more detailed information on what the letter should contain:
CT FOIA Request Letter Structure
Details

Personal information

Write your name, address, city, state, and ZIP code at the top of the page

Agency details

Provide the agency name, city, state, and ZIP code

Start the letter by referring to the record's custodian 

Letter structure

State that you are making the request under the FOIA law

Be as specific about the document or the information you need as possible

Indicate the fee you are willing to pay for the service

State your identity and purpose of the request for determining fee cost

Indicate that you would like to be notified in the case of the request denial or deadline extension

Additional information

Finish the letter with your signature and telephone number
Use DoNotPay To Write a CT Freedom of Information Act Request Letter
Filing a FOIA request requires some serious research and concentration. A vague description of the document you seek can result in the agency denying your request. You can skip the stress by using DoNotPay!
We ensure a swift response by writing and submitting the letter on your behalf. You can file your FOIA request to any federal, local, or state agency with a few clicks of the mouse.
Here's how it works:
Open DoNotPay in a

web browser

Access our

FOIA

feature

Provide the name of the agency that holds the records you seek

Opt for a fee waiver or

expedited processing

if you wish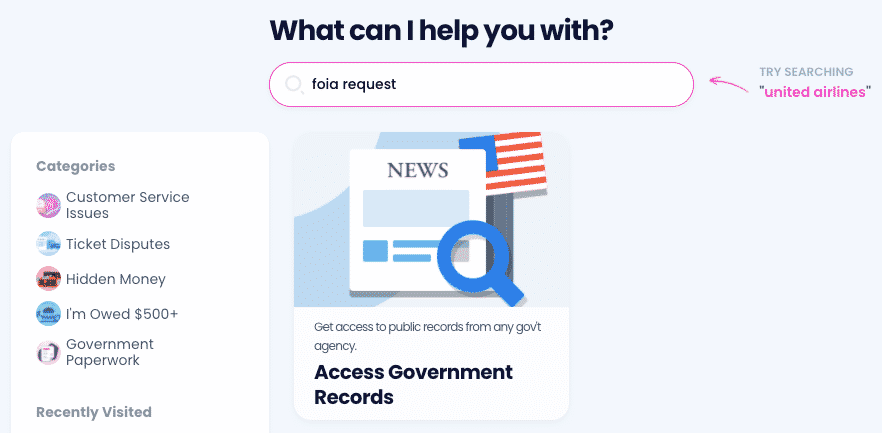 Our learning center can provide much more FOIA-related info for you. Use DoNotPay to discover the meaning of FOIA, check the status of your request, or even file a request on yourself. Check out how the Freedom of Information Act of 1966 applies to other states—such as Ohio, Michigan, or Virginia—and find out if you can file a FOIA request online.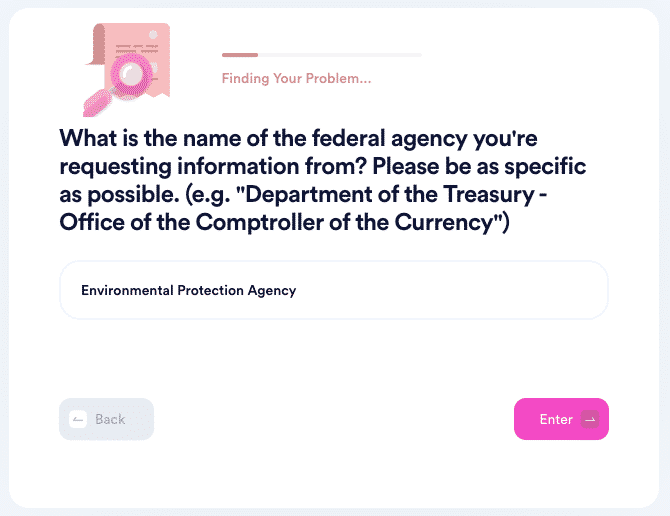 Forget About Bureaucracy With DoNotPay
There's no end to what our app can help you do. From drafting legal documents and asking for bill extensions and reducing property taxes to connecting with an inmate in a federal prison and contesting parking citations, DoNotPay can handle it all and cut through the red tape.
Need to pass a government test? Use our practice tests database to nail it. Looking to file an insurance claim? You've come to the right place. College applications drained your accounts? Request college fee waivers with our assistance.
The DoNotPay app is so versatile that it can easily locate any unclaimed funds under your name or any clinical trials that you're eligible to participate in. We can also schedule DMV appointments and take care of your small claims court documents.
Check Out What Else DoNotPay Has in Store
DoNotPay never stops upping the game. You can explore some of our latest features and see how you can access public records, receive free online fax, submit a warranty claim, or get compensation if you were a victim of a crime.
Alternatively, check out some of our most popular products that aim to reclaim your funds—from getting airline flight compensation and submitting refund and chargeback claims to canceling your unused subscriptions and getting class action cash from email, text, and robocall scammers.