Take the Easy Way Out With a CT DIY Divorce and DoNotPay's Help
Filing for divorce comes fraught with worry that the process is going to kill you when all you want is for it to be over as quickly and cheaply as possible.
Divorce in Connecticut does not need to be complicated, though, and you can get your marriage dissolved without having to attend lengthy court hearings and without needing a lawyer.
DoNotPay is your friend in your hour of need—we can show you how to get a CT DIY divorce and avoid the pain and pitfalls of a long process!
The Basics of Connecticut Divorce Law
Divorce in Connecticut is possible if you or your spouse have lived in the state for the last year.
As a no-fault state, the only reason you need for seeking a divorce is that your marriage has irretrievably broken down. No-fault divorces are the most common cases, and many county courts will offer assistance to ensure that your case can be resolved without too much conflict.
At-fault divorces are also permitted and can be pursued if your spouse has committed any of the following:
Adultery
Fraud in entering into the marriage
Abandonment for a year or more
Regular drunkenness or drug abuse
Cruelty or abuse of any kind
Felonies resulting in a custodial sentence of a year or more
At-fault divorces are considerably more complicated, though, and usually end up in court—you have to prove that your spouse did what you claim, and the process can easily last over a year before it can be resolved. You will also struggle to fight your case without legal representation.
What Are the Steps in a CT Divorce?
The steps in launching your divorce are as follows:
Filing divorce papers
Deciding on next steps
Filing Divorce Papers
The first move in your divorce case is for you to file divorce papers at your nearest county superior court.
The forms you need to fill out are available from the State of Connecticut Judicial Branch and can be downloaded as fillable PDFs.
Once you file your forms, you will need to pay the filing fee of $360.
Having the Papers Served
You have to arrange for the papers to be delivered to your spouse by a state marshal, and the signed confirmation of receipt—known as a return of service—has to be filed with the court.
Your spouse then has 90 days to respond to the summons, and the response signals how your divorce case will play out.
Deciding on Next Steps
Depending on your spouse's response, your case will be deemed either contested or uncontested.
If the response challenges your divorce filing, your case will have to be decided in court and you can use the 90 days to prepare.
If your spouse agrees on a friendly divorce, the two of you can start working on an out-of-court settlement agreement, which can either be filed before your first court appearance or presented at your initial case management conference at the end of the 90-day waiting period.
What Can You Do Yourself?
Much of what you have to do to start your divorce can be managed on your own, as follows:
| Divorce Filing Step | DIY Yes or No | Required Action |
| --- | --- | --- |
| Obtaining divorce papers | Yes | Download the forms or collect them from the local superior court |
| Filling the forms out | Yes | The CT divorce forms are simple and easy to fill out without help. The CT Judicial Branch also provides a divorce navigator to help you understand what to do |
| File the divorce papers | Yes | You can file in person or electronically by signing up for the CT e-filing system |
| Serving the papers | No | You need to have your divorce papers served by a marshal or a private process server. This will cost around $50 |
| Preparing a settlement agreement | Yes | If you and your spouse agree on the basics of your settlement, you may be able to negotiate and prepare your settlement agreement without any external help |
| Appearing in court | Yes | If you need to appear before a judge, you are entitled to represent yourself in court. You will be expected to adhere to the same standards as a lawyer, so you may want to seek guidance if your case is contested |
Do You Need a Lawyer To Get a Settlement Agreement?
The crucial document in your uncontested divorce is your settlement agreement.
This is a legal contract between you and your spouse that sets out how your marriage will be split up after your divorce, including:
Lawyers are the traditional choice for negotiating and drawing up settlement agreements, but you should consider the downsides of hiring attorneys, namely:
You and your spouse will need separate lawyers—using the same lawyer would represent a conflict of interest
CT lawyers charge an average of $340 per hour
Most attorneys require an upfront retainer of up to $10,000 to represent you
Using lawyers can easily result in costs of over $5,000 per spouse to draw up your settlement agreement. If you are committed to a DIY divorce, this is an unnecessary expense.
Mediation offers a lower-cost alternative, and a trained mediator could help you and your spouse iron out the details of your settlement.
You can also look at the various online divorce services that offer downloadable settlement agreement templates for you to fill out yourself.
A word of warning, though—many of these templates are generic, and you may find they do not cover the exact terms you need to be included in your agreement. The risk is that a judge could reject your agreement as inadequate.
DoNotPay has the solution! We can create a comprehensive, tailor-made settlement agreement with no hassle and zero lawyers' fees!
DoNotPay Is Your CT DIY Divorce Expert!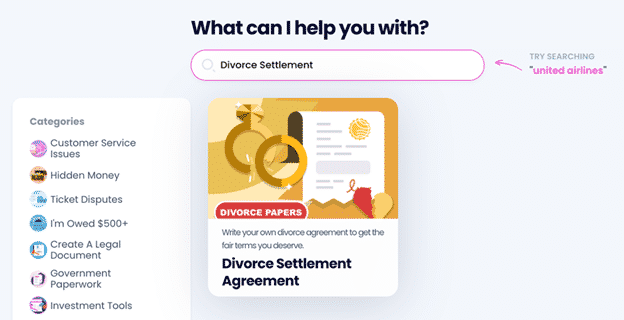 As always, DoNotPay is here to make your life easier and cheaper!
Our Divorce Settlement Agreement product is designed to generate a customized document that:
Avoids lawyers' fees
Is legally acceptable
Covers all your settlement details
In a few clicks, your document will be ready to print, sign, and be notarized. Here's what you have to do to set your agreement up:
Subscribe to DoNotPay in your web browser
Click on our Divorce Settlement Agreement feature
Answer a short questionnaire to capture the terms you have agreed on
Job done! Once it is signed and notarized, your uncontested DIY divorce can move ahead with no impediments.
Not sure how to find a notary in Connecticut? No worries—DoNotPay's online notarization service has you covered!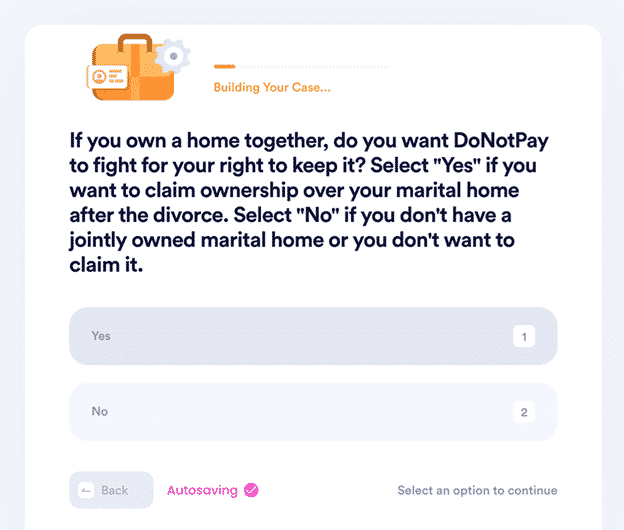 Don't Let Admin or Legal Issues Wear You Down—Hand Them Over to DoNotPay
Do you believe you may have some missing assets? Use DoNotPay's nifty product before the government claims them! Have you ever wanted to enter sweepstakes without purchasing anything? Our app will sign you up for them instantly! Trying to figure out how to reduce your property taxes or utility bills? DoNotPay can show you the way. Want to avoid getting charged for free trials that never fail to auto-renew into paid subscriptions? We'll help you cancel them before they expire.
Anything else you may need? Check out how our app can:
Check Out Our Other Robust Products
It doesn't stop there—DoNotPay can help you send a defamation demand letter, create passport photos, get gift card cash back, get any document notarized, request access to public records, claim insurance and warranty, request a college application fee waiver, appeal parking tickets, and much more.
Sign up now to get access to any of our products for one low monthly fee!