Do I Need a Croatia Tourist Visa if I Am From the U.S.?
Croatia is an excellent choice if you want to enjoy lovely beaches, national parks, and ancient Roman sights. Having fun there is quite easy, but gathering all the paperwork you need and getting accurate info about COVID-19 restrictions can be tricky.
Do you need a Croatia tourist visa to visit this country? We will clear up all your doubts about your trip requirements and show you how to use DoNotPay as your all-in-one guide for an effortless visa application!
Do U.S. Citizens Need Tourist Visas for Croatia?
Luckily, Croatian authorities allow U.S. citizens to enter the country for tourist or business purposes without a visa and stay for up to three months.
Even though you don't need to obtain a visa, you still have to possess a valid U.S. passport to visit Croatia. Active-duty U.S. military service members are the only exception, as they can use their Department of Defense (DOD) identifications or travel orders instead.
I Want To Stay in Croatia for More Than 90 Days—What Should I Do?
If you decide to stay in Croatia longer than three months, you can't be considered a tourist anymore.
In such a case, you must submit a temporary residence permit application. This process requires a mandatory criminal background check with an Apostille seal placed on the application by the U.S. Office of Authentications. To find the most accurate information about this process, contact the Ministry of Interior Affairs of Croatia.
General Croatia Entry Requirements for U.S. Citizens
The table below breaks down the most important entry criteria for travelers coming to Croatia from the U.S.:
| Requirement | Details |
| --- | --- |
| Minimum passport validity after arrival | Three months |
| Recommended passport validity beyond the planned arrival to the destination | Six months |
| Required number of empty passport pages | One page (for an entry stamp) |
| Additional checks | Each U.S. traveler must register with local police or at the local Ministry of Interior Affairs as soon as possible—no later than 24 hours upon arrival |
| Required vaccines (not related to COVID-19) | None |
| Entry currency restriction | Less than or equal to $10,000 |
| Exit currency restriction | Less than or equal to $10,000 |
What Are the Ongoing COVID-19 Measures for Travelers Coming to Croatia?
Despite complying with all the essential requirements for visiting Croatia, you won't qualify for entry if you don't adhere to the following COVID-19 measures:
Providing a negative COVID-19 test result—The authorities will accept:

PCR tests
Acceptable types of rapid antigen tests

Submitting any valid vaccination certificate—if you received your final dose more than two weeks before the trip
Showing proof of recovery from COVID-19—if you have already been infected. The authorities will accept:

Medical certificate
Positive COVID-19 test results dating from the past 12 to 180 days
If you didn't get a negative test result before the trip, you must undergo PCR or rapid antigen testing at your own cost upon arrival.
There are several categories of travelers that are exempt from these restrictive measures, including:
Healthcare workers and researchers
Frontier workers
Caregivers for the elderly
Diplomats
International organization employees
Military personnel
Police officers
Humanitarian personnel
Civil protection officials
Transport sector workers
Passengers in transit
Persons who come for urgent personal reasons and stay less than 12 hours
Travelers visiting Croatia for educational purposes
Children under the age of 12 whose parent has a negative COVID-19 test, a vaccination certificate, or proof of recovery
Digital nomad visa holders
I Have Some Questions—Whom Can I Contact for More Information?
For any questions related to your entry to Croatia, you can reach out to a local Croatian embassy or consulate. Check out the contact details for all existing institutions of this type in the U.S.:
DoNotPay Offers the Best Tourist Visa Guide You Will Ever Find!
Croatian authorities may not require you to apply for a visa, but you may need proper guidance if you plan to travel to other countries. This is where DoNotPay enters the scene and saves the day!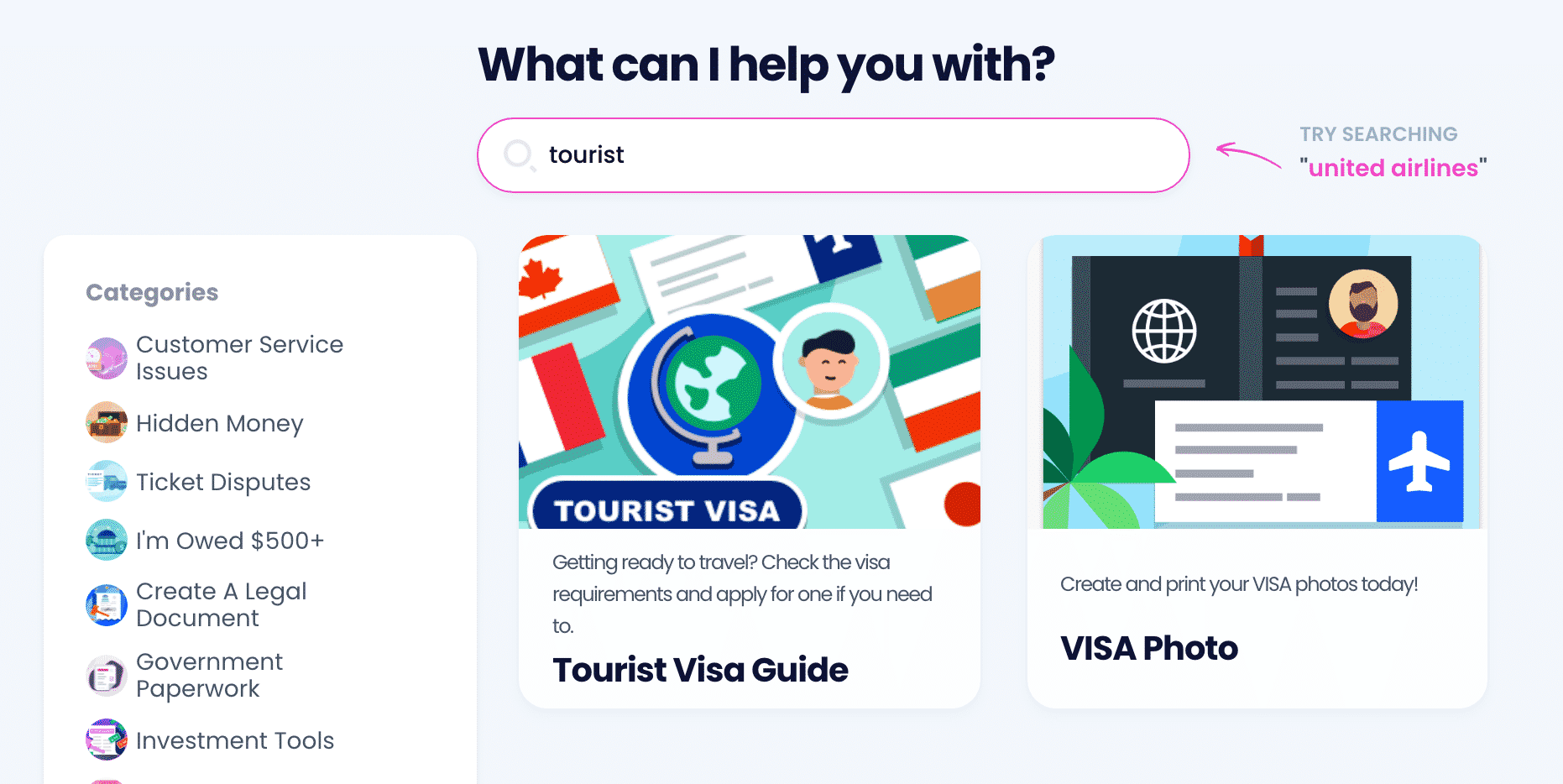 All we need from you are a few clicks, and we can:
Inform you if you need a tourist visa for traveling to a specific country
Tell you what documents you should prepare and submit
Reach out to an embassy and ask whether they permit emailed applications
Send you a link to an appropriate online visa application or a PDF version
This way, you will skip the burdensome search for relevant information and get the best results!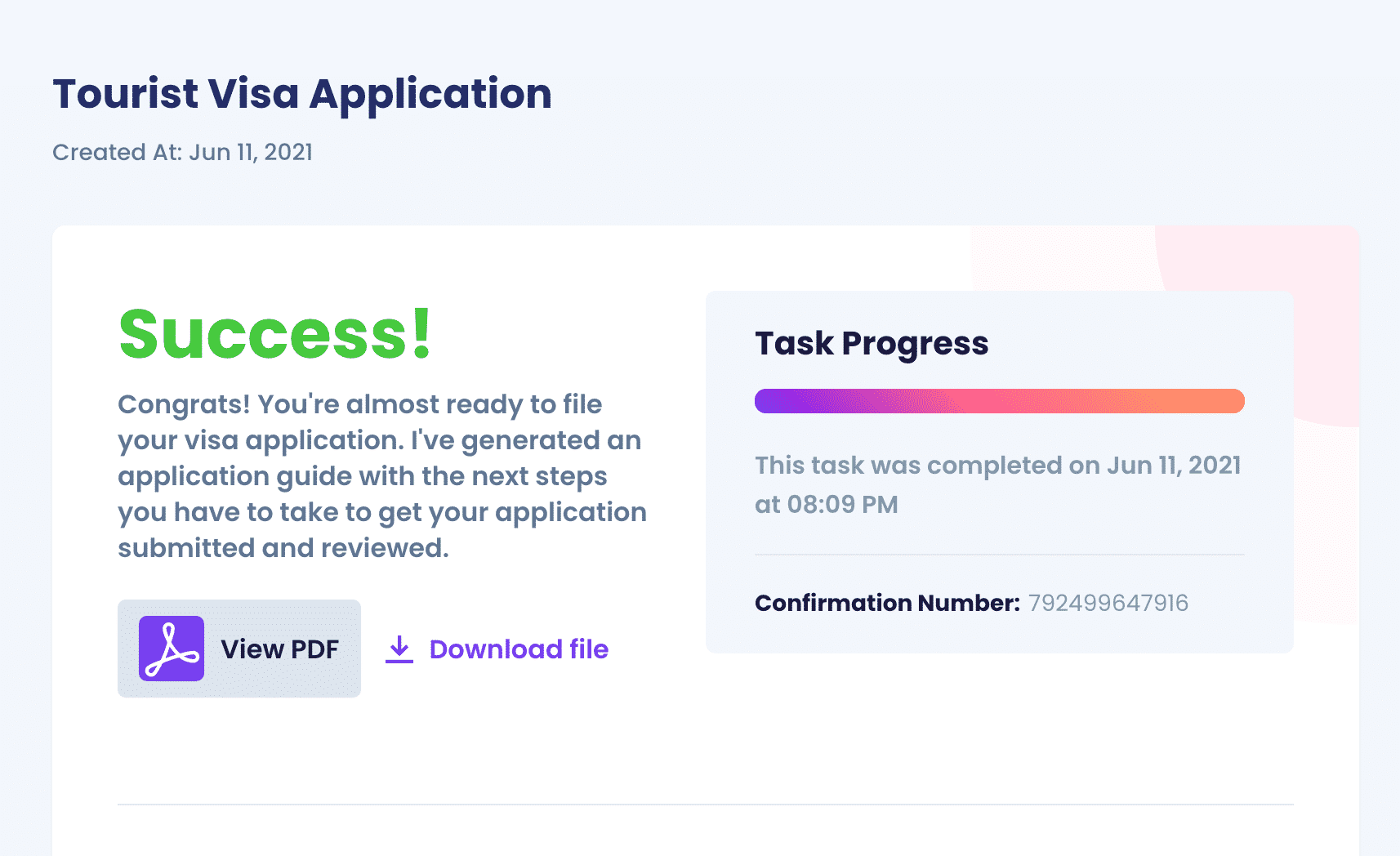 Get our help by following the prompts below:
Navigate to the Tourist Visa Guide product
Select I Am a U.S. Citizen or Own a U.S. Passport
Input the name of the desired country
In our learning base, you can find dozens of practical guides that can turn your tourist visa application into a breeze. Check them out if one of your next stops is among the countries below:
DoNotPay Is the Best Solution for Your Bureaucratic Problems!
A wide range of handy features DoNotPay offers can assist you in resolving administrative issues without breaking a sweat! Our app provides the easiest way to:
Get What You're Owed in a Few Taps!
Shopping is fun, but retailing companies can sometimes be difficult to negotiate with, especially when things go wrong. With DoNotPay, you can reach their customer service without spending hours on hold and get a refund fuss-free! Should the merchant refuse to collaborate, we can help you get justice by suing them in small claims court.
Our app can also file an insurance or warranty claim in your name, request gift card cash back, or initiate returns for dissatisfying products.
If you want to check whether you have any unclaimed money in old bank accounts, using DoNotPay is the easiest way to do it!