How To File for
Crime Victims Compensation
With Zero Hassle
There is nothing easy about being a victim of a violent crime or having your loved ones experience it. Unexpected expenses like medical bills, lost wages, and mental health counseling can make the situation so much worse.
DoNotPay can help you get crime victims compensation regardless of where you live, and this article will explain how.
What Is a
Crime Victims Compensation Program
?
Every state has a crime victims compensation program that serves to reimburse victims of a crime or victims' family members for costs that may occur as a follow-up to a violent crime.
Victims compensation programs are established in all U.S. states, Guam, Puerto Rico, the U.S. Virgin Islands, and the District of Columbia.
State compensation programs are independent. Some rules and regulations may vary from one state to another, but the benefits and eligibility qualifications are more or less the same everywhere.
Where Does the
Victim Compensation
Money Come From?
Victims of crime compensation amounts depend on the state—each program has a limit on the total amount that they can pay per case. Sometimes there are limits per expense category. Most states choose the fees that convicted offenders have to pay as revenue for crime compensation programs instead of using taxpayers' money.
Besides perpetrators' fees, state and federal victim funds for violent crimes provide money for victim compensation. One of the main sources is the federal Victims of Crime Act (VOCA), but there are more specialized funds, like the 9/11 Victim Compensation Fund.
Crime Victims Fund Eligibility
and Requirements
Every state has specific rules and regulations regarding the crime victims' compensation, and it is always best to check with your state's crime victim compensation board.
You can check the most common eligibility criteria in the following table:
Who Can Get Financial Help?

Who Is Eligible?

Crime Victims

Victims of rape, assault, drunk driving,

domestic violence

, and other violent crimes

Child Victims

Victims of child abuse and other violent crimes who apply through their parents or legal guardians

Deceased Victims' Family Members

Family members or, in some states, anyone in charge of paying for burial and funeral expenses
Victims or other claimants are usually required to:
Report the crime to law enforcement according to the state's deadline—The reporting requirement is 72 hours in most states, but some have longer deadlines

Cooperate in the ongoing investigation

Prove innocent of any criminal activity causing the crime

Be innocent of any criminal misconduct causing the injury or death of the victim, in case they are the claimants

Provide the supporting documentation, like medical bills and police reports

Apply for the victim compensation program in the state where the crime occurred—Usually, the states require the victims or family members to apply for compensation within a year from the date of the crime, but the application deadline can vary
The easiest way to apply for any state's victim compensation program is with DoNotPay.
What Costs Can
Victim Compensation Program
Cover?
Crime victims compensation programs pay for various crime-related expenses due to injuries and homicide. Depending on the state's program, you may have more or fewer benefits. The most common compensable costs include:
Medical, hospital, and nursing care

Physical therapy

Psychiatric care and mental health counseling

Burial and funeral expenses

Loss of wages due to ongoing investigation or medical treatment
Many states cover some additional expenses that may occur as a result of a violent crime, such as:
Crime scene clean-up

Travel costs to receive treatment

Care of a child or dependent

Replacement of clothing, property, or other items seized as evidence

Relocation expenses for domestic violence victims

, human trafficking victims, stalking victims, and sexual assault victims attacked in their residence
According to the National Association of Crime Victim Compensation Boards (NACVCB), the maximum average benefit from the state is $25,000, with some states being able to offer more.
How Long Does It Take To Get Crime Victims Compensation
?
When you get the crime victims compensation depends on the state where you've submitted your application. In most cases, you can expect the reimbursement within 90 days of applying.
Apply for
Crime Victim Compensation
With DoNotPay's Assistance
Being a victim of a violent crime or losing a loved one to it is devastating enough without having to think about financial repercussions.
States offer to cover expenses resulting from violent crimes, but not everyone is aware of this opportunity. Even the victims that are familiar with victim compensation programs sometimes decide not to apply because the process seems too complicated.
DoNotPay created the Compensation for Crime Victims product—a service that offers a completely automatic application process for victims compensation programs in any state.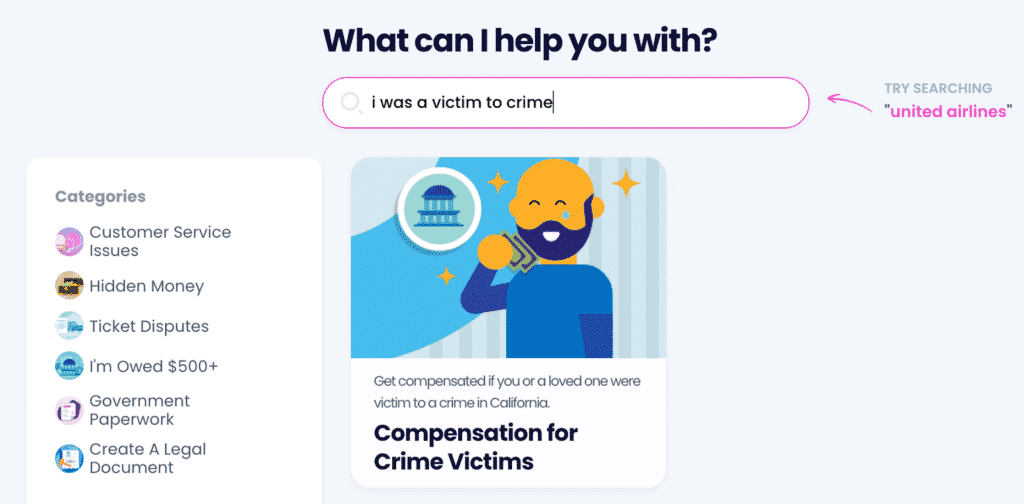 You don't have to go through any more trouble—apply for crime victims compensation by following these steps:
Access DoNotPay from a preferred

web browser

Open the

Compensation for Crime Victims

product

Specify whether you are the victim of a crime or your loved ones

Answer a series of questions about the crime and expenses that you need to cover

Verify your signature
We will generate and submit the application on your behalf to the appropriate office in your state.
Keep Your Money Safe With DoNotPay
Don't let greedy companies threaten your consumer rights by holding back refunds, refusing to cancel your subscriptions, or charging you after your free trial ends.
DoNotPay helps you try out different services without providing your credit card info or phone number—you will never again have to deal with unexpected post free trial charges!
Our app also helps you avoid paying unnecessary parking tickets, delay challenging bills, or waive your college application fees. 
If any company refuses to issue you a refund or an airline won't compensate for canceled flights, we can help you sue them in small claims court.
DoNotPay Is a Time-Saving App
How many customer service reps do you have to deal with only to file an insurance claim or book your DMV appointment?
DoNotPay helps you sort out these tasks and much more in only a few clicks. 
Get your revenge on robocallers, report text scammers, find validated clinical trials, claim your warranties, get in touch with your loved ones in prison, and protect your creative content—all in less than five minutes. 
No more hours-long phone calls, emails, or in-person visits. 
We cover everything from freeing your inbox from spam to providing excellent prep tests for government exams! Save time with your all-in-one app!