A Guide to Applying for Crime Victims Compensation in WA
Have you or your loved one been a victim of a crime in Washington? Going through the trauma is bad enough—unexpected expenses can only make the situation worse. Learn how to apply for crime victims compensation in WA with DoNotPay. We will help you file a victims compensation claim in a few clicks and take the financial burden off your shoulders.
Washington State Crime Victims Compensation Program Explained
Washington State created the Crime Victims Compensation Program to help victims and their families deal with crime-related costs, such as medical or funeral expenses. The program covers the costs only if your other compensation and reimbursement options—insurance and restitution—don't cover them. 
If you are a victim of a felony or gross misdemeanor, you can receive up to $190,000 from the WA compensation program, which is a substantial amount. In most states, victims usually get around $25,000 for their expenses. 
The following list shows the maximum compensation amounts depending on the type of costs covered:
Lost wages

—60% of the victim's wage

Benefits for victims:

Permanent 100% disability wage loss

—up to $40,000

Temporary wage loss

—up to $15,000

Benefits for families of homicide victims

—up to $40,000 including burial expenses

Medical treatments

—up to $150,000

Burial expenses

—up to $6,620
The crime victims compensation money comes from perpetrators' court fees and victim funds for violent crimes, such as:
Costs Covered by the Crime Victims Compensation Program in Washington State
The Crime Victims Compensation Program in Washington covers numerous crime-related expenses. The following table shows which costs are and aren't covered by the program:
Washington State Crime Victims Compensation Covers
Washington State Crime Victims Compensation Doesn't Cover

Mental health treatment

Medical/dental benefits

Medication coverage

Funeral expenses

Grief counseling

Lost wages

Expenses not covered by insurance

Personal property crimes

Identity theft

Crime scene cleanup

Expenses covered by insurance
You can receive compensation for travel costs if:
You need to travel more than 15 miles from your home

There's no other provider of the same service closer to you

Your claim manager preapproved the travel for:

Treatment for the crime-caused injury

An independent medical exam
Who's Eligible To Receive Crime Victims Compensation in Washington?
Washington State Department of Labour & Industries grants nontaxable benefits to:
Victims of assault, rape,

domestic violence

, drunk driving, or any other violent crime who suffered a crime-related physical injury or mental trauma in Washington State

Child victims who apply through one of their parents or legal guardians 

Family members of the deceased victims 
To get the benefits, you need to:
Report the crime to the police within one year of the crime 

Cooperate with the investigation

File a timely claim for the Crime Victims Compensation Program in Washington. You should apply for compensation within:

Two years of filing the police report

Five years of reporting the crime (in certain circumstance)

Two years of the 18th birthday if the victim was a minor at the time of the crime
Your claim will be denied if your injury happened:
Because of your own actions (e.g., participating in the injury-causing event)

While you were committing a felony

While you were in prison
You can file your Crime Victims Compensation Program claim in under five minutes with DoNotPay.
Learn How To Apply for Crime Victims Compensation in Washington With DoNotPay
Victims of violent crimes and their relatives suffer enormous physical and emotional distress. Since you already have a lot on your plate, dealing with unexpected costs should be the least of your worries. Crime victims compensation programs are there to make the situation easier for everyone. 
Applying for benefits on the Washington State Department of Labour & Industries website can be complicated. With DoNotPay, you won't have to waste hours completing the forms. Our product can help you file a claim in a matter of minutes. 
To file your compensation claim in Washington, Alabama, Ohio, or any other state in a few clicks, follow these steps:
Pick the

Compensation for Crime Victims

feature

Tell us whether you're the direct victim or a claimant 

Answer our questions regarding the crime and expenses

Verify your signature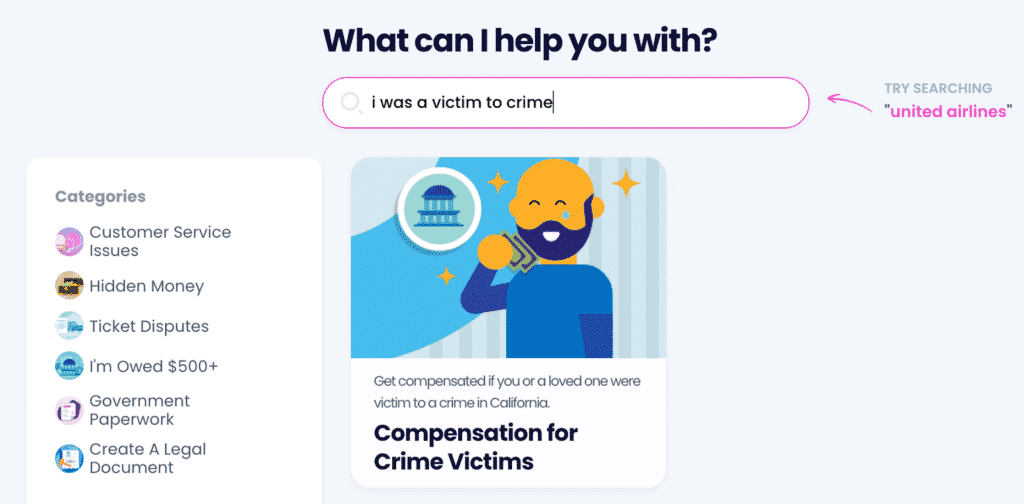 DoNotPay will complete and send the application automatically. We can assist you in filing a claim effortlessly in any state, including:
When Will Your Claim Be Processed?
You should be informed about the Crime Victims Compensation Board's decision within a month of filing your claim. If you'd like to check the status of your application, you should call 800-762-3716. 
Has Washington State Denied Your Claim? Learn How To Appeal Its Decision
If you think that your application was wrongfully rejected, you can send a protest within 90 days of being informed about the outcome of your claim. Washington State Department of Labour & Industries will review the protest and inform you about the follow-up decision as soon as possible.
Should you disagree with them again, you can file an appeal to the Board of Industrial Insurance Appeals.
DoNotPay Can Do Your Paperwork for You! 
Feeling like you're in bureaucratic hell? Our app will draft the paperwork you need and get you out of any hurdle before you know it! 
We can compose most of the documents that you require for any administrative purpose in your jurisdiction, most notably:
More of What We Can Do for You 
Our multifaceted app can call and record the conversation with the customer service of the company that just won't let you go! If you are having trouble canceling an unwanted service via the traditional channels, use DoNotPay to get it over and done with!
We can help you stop the persistent robocalls and robo texts from the nagging company and request a refund for unused services in a matter of minutes.
We'll also lend a helping hand in stopping spam mail—whether it's electronic or paper. Our Spam Collector product unsubscribes you from unwanted emails and cleans up your physical mailbox too!