Do You Qualify for the Crime Victims Compensation Program in DC?
While no amount of money can help violent crime victims and their relatives feel better, having the crime-related expenses taken care of is more than welcome. If you or your loved one is a victim of a crime, you should learn how to get your rightful compensation. for the Crime Victims Compensation Program in DC in no time!
Learn About the DC Crime Victims Compensation Program
The Crime Victims Compensation Program in the District of Columbia provides reimbursement of the crime-related costs to violent crime victims and their families. The program is funded by fees and fines that perpetrators pay to the DC Courts. You can apply for the program only if your insurance and restitution can't cover all expenses.
These are some of the violent crimes eligible for the Crime Victims Compensation Program in DC:
Act of terrorism

Burglary

Child cruelty

Homicide

Assault

Kidnapping

Manslaughter

Reckless driving

Robbery

Sexual abuse and assault

Carjacking
Who Qualifies for Crime Victims Compensation in DC?
Victims and their loved ones are eligible to get the reimbursement if the victim:
Suffered emotional trauma, sustained a physical injury, or died as a result of the crime in the District of Columbia

Is a DC resident and has suffered an injury or trauma due to a terrorist act outside of the U.S.

Wasn't an accomplice in the criminal activity that caused the injury
The victim or another claimant need to report the crime within seven days of the day it occurred—with some exceptions:
Sexual assault victims can satisfy the police report requirement if they undergo a sexual assault medical examination

Domestic violence victims

can meet the police report requirement by asking the Superior Court for a civil protection order

Child cruelty victims can file a neglect petition instead of a police report
If you would like to file a compensation claim, you need to do so within one year of the crime.
Which Costs Does DC Crime Victims Compensation Cover?
You can get a DC victims reimbursement for various crime-related costs:
Compensable Costs

Description

Medical exams

A victim who was physically injured during the crime can get reimbursement for medical costs

$25,000

Physical or occupational therapy

Mental health counseling

Compensation is granted to a violent crime victim or family members who suffered emotional distress because of the crime

$3,000 for adults

$6,000 for children

Funeral

Family members of a violent crime victim will get reimbursement for funeral expenses if the victim passed away from crime-related injuries

$6,000

Temporary emergency food and housing

A victim who could be in danger in his or her current home can get benefits for emergency housing and food

$400 for food

$3,000 for housing

Loss of support

Dependents of a victim can get benefits if the victim passed away as a result of a crime

$2,500 per dependent without exceeding $7,500 per claim

Loss of earnings

The program grants benefits to victims who lost a job due to crime-related injuries

$10,000 or 52 weeks, whichever comes first

Loss of service

A victim who can't take care of kids and other dependents because of crime-related injuries is eligible to get compensation

$2,500 per case without exceeding $200 per week

Car rental

Law enforcement can keep a violent crime victim's car as evidence. In that case, the victim can get compensation for car rental fees

$2,000

Crime scene cleanup

If the crime happened in a victim's home, the program will cover the costs of cleanup

$1,000

Replacement of clothing held as evidence

Law enforcement can sometimes request to keep the clothes of a victim as evidence—usually after a sexual assault. When that happens, the victim can get compensation for new clothes

$100

Security items for the home

The program grants reimbursement to a victim who has had to replace or secure doors, windows, and locks because his or her home:

Has been broken into

Was the crime scene

$1,000

Relocation

If a victim has had to move for health and safety, the program will reimburse the costs

$1,500

Travel

A victim can request compensation of travel costs if he or she has had to travel:

To get medical services

For investigation and prosecution purposes

$100 for local travel

$500 for out of state travel
DoNotPay Helps Your Apply for
Crime Victim Compensation in DC
in a Few Clicks
You may not have known that all states have victim funds for violent crimes (e.g., the 9/11 Victim Compensation Fund). If you're experiencing financial hardship after a crime, you should file a compensation claim.
Applying for victim compensation on the District of Columbia Courts website can be complicated for most residents. That's why DoNotPay has developed a super convenient product called Compensation for Crime Victims. We will help you get financial assistance in a few clicks. These are the steps you should follow:
Click on our

Compensation for Crime Victims

product

Indicate whether you are the victim or want to file a claim for a loved one

Respond to our questions and verify your signature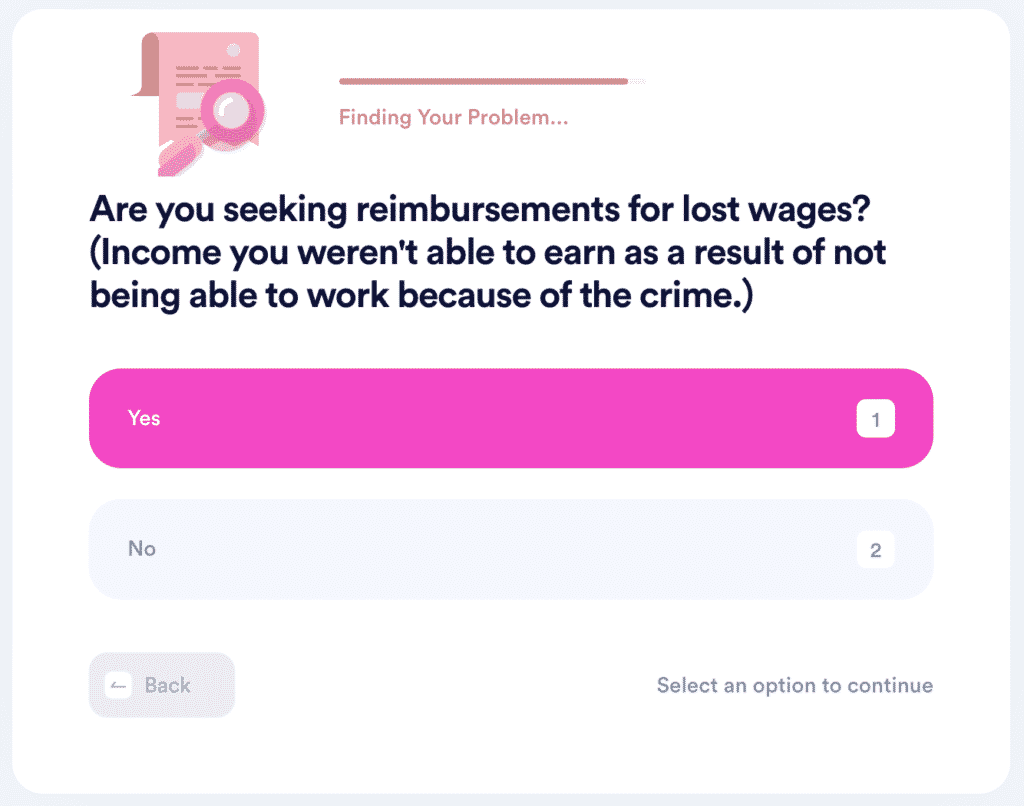 We will fill out the necessary forms and file your claim right away. You can use DoNotPay to get crime victims compensation in any state, including:
Can You File an Appeal if the State Rejects Your Claim?
If the claims examiners reject your application, you can file an appeal within 30 days of being informed about their decision. The Appeals Board will review the application and the supporting documents and, potentially, schedule a hearing for additional info. If the Board denies the application, the next step is to file an appeal with the chief judge of the Superior Court.
More Benefits of DoNotPay
DoNotPay is a useful tool for handling many otherwise annoying life's trifles, including:
What Else Can Our Award-Winning App Do for You?
If you think that's impressive, wait until you've heard about other features we boast!
Our powerful app can draft paperwork for you, locate unclaimed funds under your name, cancel subscriptions, sue robocallers, and protect you from stalkers and harassers—all in one nifty browser app!
Our services have been recognized by the esteemed ABA Brown award, serving as a testament to our abilities to assist you with your small claims issues, free trial auto-renewals, college fee waivers, public records, copyright protection, and much more!