Apply for Crime Victims Compensation in Louisiana in Four Simple Steps
Physical and mental trauma and numerous crime-related costs are inevitable repercussions of violent crimes. Most victims struggle to bear all of the expenses, which can cause even more stress and make the already traumatizing circumstances worse. All states in the U.S. established funds for violent crime victims to help resolve this issue—Louisiana is no exception.
If you'd like to apply for crime victims compensation in Louisiana as quickly as possible, you should . We will help you fill out your victims compensation application in under two minutes!
Key Points of the Louisiana Crime Victims Reparations Program
The State of Louisiana founded the Crime Victims Reparations Fund in 1982 to assist violent crime victims in bearing their crime-related costs. The Crime Victims Reparation Board administers the Fund and provides financial assistance through the Crime Victims Reparation Program (CVRP).
The Board grants up to $10,000 per claim, while the highest compensable amount for permanently disabled victims is $25,000. The program gets funding from three main sources:
Federal awards, including the

Victims of Crime Act (VOCA)

grant

Offender

restitutions

:

$50 per felony

$7.50 per misdemeanor

Donations
The CVRP covers the costs of any crime that involves the use of force and results in death, physical and emotional trauma, or catastrophic property loss. Some of those crimes are:
Homicide

Kidnapping

Child abuse

Car accidents

, but only if the incident was:

A hit and run

Caused by driving under the influence

Intentional
You are eligible to apply for the program only if you've exhausted all your other sources, including:
If you receive restitution from the offender for expenses that the CVRP already covered, you need to reimburse the Crime Victims Reparations Fund.
Which Expenses Are Covered by Victims Compensation in Louisiana?
The Crime Victims Reparations Program in Louisiana covers most expenses that are a direct result of the crime. To find out which costs are covered and which ones aren't, consult the following table:
Covered Expenses
Not Covered Expenses

Medical and dental exams, prescriptions, and treatments

Mental health counseling

Funeral costs

Loss of wages if a victim had to miss work because of the injuries

Loss of support for dependents of the violent crime victims

Child care

Replacement costs for items:

Kept as evidence

Made unusable due to the investigation

Lost, stolen, and damaged property, except in cases of catastrophic property loss (if the victim owns the property)

Pain and suffering

Attorney fees
Are You Eligible To Apply for Crime Victims Compensation in Louisiana?
You need to meet certain requirements to qualify for the CVRP, whether you're the victim or another claimant. To be eligible for Louisiana crime victims compensation, you must:
Be a victim of a crime that took place in Louisiana

Report the crime to proper law enforcement authorities in the first 72 hours from the incident

Cooperate with law enforcement during the investigation

File your CVRP application within one year of the crime
The Board won't grant you crime victims compensation if you:
Engaged in behavior that contributed to the crime

Participated in criminal activity at the time of the crime

Were an accomplice of the offender

Were incarcerated at the time of the crime

Got injured in a car accident (except in the above-listed cases)
File Your CVRP Application Quickly With DoNotPay
Finding the correct application form on the Louisiana Commission on Law Enforcement and Administration of Criminal Justice website can be challenging. Since the website isn't easy to navigate, you will probably waste too much time trying to file your CVRP application.
Crime victims compensation programs in many other states have equally confusing application procedures. DoNotPay has created a product that enables victims of any violent crime—including sexual abuse and the 9/11 terrorist attack—to apply for victims compensation in a snap.
If you'd like to file your Louisiana Crime Victims Reparations Program application as quickly as possible, follow these steps:
Open our

Compensation for Crime Victims

feature

Let us know if you're the victim or a family member of the victim

Respond to our questions and verify your signature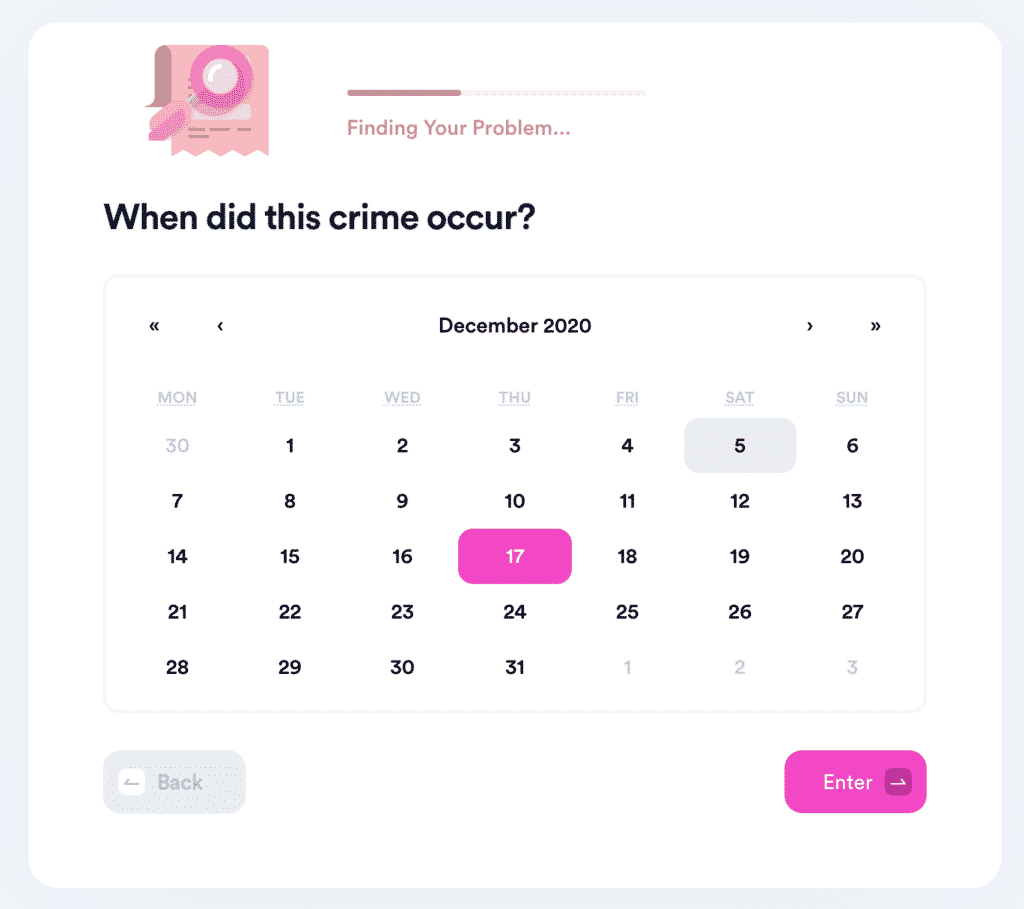 As soon as you complete these steps, we will fill out the proper application form and send it to the Crime Victims Reparations Board in Louisiana.
With us, you can apply for crime victims compensation programs in all states, including:
Can You Appeal the Crime Victims Reparations Board's Decision?
Once the Crime Victims Reparations Board receives your application, they will review it and determine if you're eligible for compensation. If you don't agree with the Board's decision, you have the right to request reconsideration. In case the Board rejects your application again, you can file an appeal with the district court.
Clear Your Schedule With the Help of DoNotPay
DoNotPay is renowned for making our users' lives infinitely easier. Not only can we root out unwanted subscriptions for you—you don't need to do it manually one by one any longer—but we can unsubscribe you from unwanted email and snail mail lists.
Fire up our app and let it navigate the phone tree instead of you or use it to make a DMV appointment at your earliest convenience. Forget about googling clinical trials near you—DoNotPay can sort them out according to your needs and their individual eligibility criteria.
We can fill out the paperwork that you need to file at your local small claims court to initiate a dispute. You can work around the U.S. penal system and have DoNotPay locate an imprisoned loved one instead of you trying to reach individual prisons attempting to do it yourself.
You don't need to go to great lengths to get in touch with a counselor to sign your college fee waiver either—DoNotPay does it for you and then forwards the necessary documents on your behalf.
DoNotPay Never Ceases To Amaze
Where there's one useful feature, there are nifty features galore!
Use our Virtual Credit Card to sign up for free trials and stop robocalls and spam text messages from reaching your phone. If you feel a free trial unrightfully turned into an expensive paid membership, we can help you request a refund or chargeback for the inconvenience.
We can further assist you in exercising your consumer rights by making a warranty claim in your place and verifying your online accounts with temporary phone numbers.
We can also break down the Freedom of Information Act for you and introduce you to online fax options and property tax reductions.