A Complete Guide to Applying for Crime Victims Compensation in Kansas
Are you a victim of a violent crime in Kansas? The state has a victims compensation board that helps survivors and families of the deceased victims deal with financial difficulties that were caused by the crime.
Find out if you are eligible for reimbursement and to get crime victims compensation in Kansas in a few clicks!
What Is the
Kansas Crime Victims Compensation Board
?
Kansas Crime Victims Compensation Board regulates the victims compensation program in the Sunflower State. The Board was established to provide financial aid to victims and their family members for loss of support and other out-of-pocket expenses that occurred because of the crime.
The state's government passed the Kansas Crime Victims Compensation Law—a statute that regulates this specific issue.
The Kansas Crime Victims Compensation Board awards eligible claims with reimbursement for medical bills, funeral costs, and other unexpected expenses that resulted from the incident.
Where Does the Money for Crime Victims Compensation Come From in Kansas
?
The National Association of Crime Victims Compensation Boards (NACVCB) is in charge of administering funds to state boards like the one in Kansas. The Board receives 10.94% of all the following sources from the district courts:
Fines

Penalties

Forfeitures
The Kansas CVC Board also collects a $1 fee per payroll period from inmates.
Aside from the offenders' fees, the Crime Victims Compensation Board in Kansas receives an annual grant from the Victims of Crime Act (VOCA) Fund—a federal victims fund for violent crimes that administers every local fund in the U.S.
Who Is Eligible for
Kansas Crime Victims Compensation
?
The following categories can qualify for compensation under Kansas' crime victims compensation statute:
Victims of compensable crimes in Kansas

Dependents and legal representatives of victims who died from a violent crime

Parents and legal guardians of victims who are minors

Personal representatives of incapable adults
The Board offers a separate application for grief therapy compensation for family members of victims of violent crimes.
Even if you fall under one of these categories, you are not automatically eligible to apply for crime victims compensation in Kansas—you have to meet certain requirements set by the Board. The eligibility requirements include:
Reporting the crime within 72 hours to law enforcement agency where the crime happened

Cooperating with the law enforcement agency and prosecutors on the investigation

Proving you were not engaging in illegal activities during the crime or any other misconduct that might have led to the crime

Filing a claim within two years from when the crime occurred

Experiencing a financial loss that exceeds $100
Some of the requirements may not apply to certain crimes, including child abuse, sexual assault, or human trafficking.
Use DoNotPay To File a Claim With the
Crime Victims Compensation Board in Kansas
Suffering from emotional trauma and physical injuries is more than difficult, and we believe you shouldn't suffer more. That is why DoNotPay created the Compensation for Crime Victims product.
This service assists victims and their loved ones with filing claims with statewide victims compensation programs—such as the one in Kansas.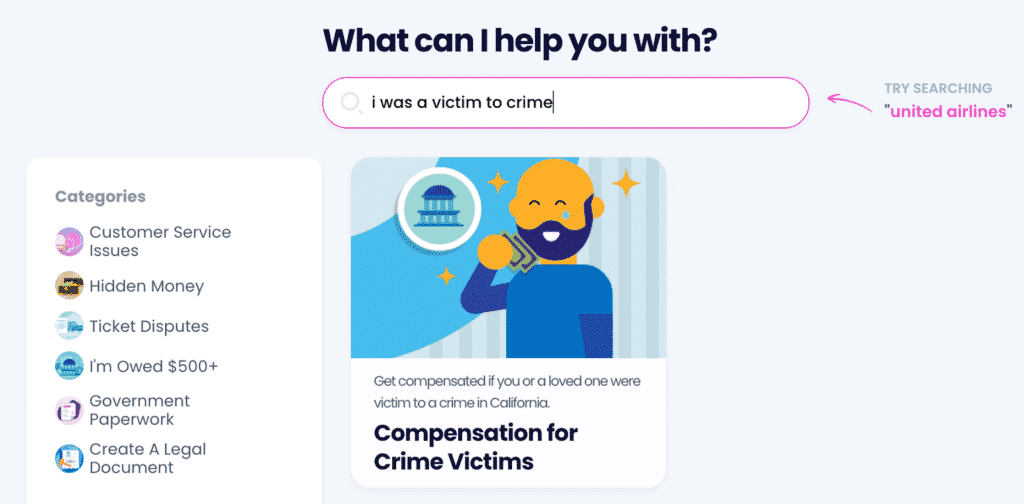 Here is how our product works:
Locate the

Compensation for Crime Victims

section

Specify whether you're the victim or another claimant

Answer a set of questions regarding the crime and expenses you have trouble with

Verify your signature
After finishing this simple process, our AI bots will submit your application to the Kansas General Attorney's Office.
You can use our service for any state's victims compensation program, including the ones in:
Our product has also proven successful in filing claims with the 9/11 Victim Compensation Fund.
For What Crimes Does the
Kansas Crime Victims Compensation Board
Offer Reimbursement?
The following table shows all compensable crimes and the victims compensation amounts for each of them, according to the annual report from 2019:
| | | |
| --- | --- | --- |
| Compensable Crimes | Number of Approved Claims | Total Compensation Amount |
| Arson | 6 | $2,827 |
| Assault | 1,251 | $1,584,227 |
| Burglary | 5 | $6,888 |
| Child Abuse Murder | 20 | $18,377 |
| Child Sexual Assault | 558 | $157,814 |
| Domestic Abuse | 872 | $637,427 |
| Domestic Abuse—Homicide | 27 | $36,339 |
| Driving Under the Influence (DUI) | 64 | $51,314 |
| DUI—Homicide | 4 | $7,115 |
| Homicide/Murder | 211 | $353,168 |
| Human Trafficking | 2 | $161 |
| Kidnapping | 92 | $32,524 |
| Other | 33 | $11,868 |
| Other Vehicular Crimes | 67 | $127,196 |
| Robbery | 63 | $13,456 |
| Sexual Assault | 392 | $199,282 |
| Stalking | 44 | $7,447 |
What Happens After I Submit My Application?
Once DoNotPay submits your application, it will be assigned to an investigator. When the investigator processes your claim, they will present it to the Kansas Crime Victims Compensation Board for a decision.
The Board usually processes claims within three months. Once the Board makes the decision, you will receive a letter within ten days, including a detailed explanation and reasons why they approved or denied your claim.
DoNotPay Helps You Fight for Your Consumer Rights
Did you know that companies often reject first-time warranty claims?
You're probably familiar with how complicated the process of appealing parking tickets is. Trying to get a refund for an unsatisfactory purchase or a delayed flight has likely made you mad at least once.
Not anymore! DoNotPay makes all these issues go away in less than five minutes, and that is not all we can do for you!
You don't have to deal with customer service reps of any company on your own anymore—we do it all for you!
DoNotPay bypasses any bureaucratic obstacle for you—scheduling DMV appointments, delaying bill payments, getting in touch with your incarcerated loved ones, filing lawsuits in small claims courts, and claiming insurance policies.
Keep Your Data Safe With DoNotPay
Do you love free trials but are reluctant to disclose your credit card details, phone number, or email address?
Our app lets you try out different subscriptions in a risk-free way!
Use DoNotPay's Burner Phone feature to sign up for services without providing your phone number! We'll make sure robocall scammers and text spammers cannot harass you!
With our virtual credit card, you can sign up for any free trial and not worry about canceling it! Since the card is not linked to your bank account, no one will be able to charge you once the trial expires. An additional perk is that the card comes with a free email address, which means no spam emails from the company.