How To Apply for Crime Victims Compensation in Idaho in a Few Clicks
Are you a victim of a violent crime that happened in Idaho, and you don't have the means to pay crime-related costs? You should apply for crime victims compensation in Idaho and handle your expenses stress-free.
DoNotPay has created a convenient and easy-to-use product to help you in any state. Find out if you're eligible for the Crime Victims Compensation Program in Idaho, and file your application in no time!
Learn All About the Idaho Crime Victims Compensation Program
The Idaho Industrial Commission created the Crime Victims Compensation Program in 1986. The purpose of the program is to help victims of violent crimes—including assaults, sexual abuse, and similar—handle crime-related expenses. The program also provides financial assistance to the victims' immediate family or dependents.
You can get financial assistance from the program only if your other collateral sources fail to cover all the expenses. The sources can be:
Life and health insurance

Veterans benefits

Social Security

Workers' compensation

Paid sick leave

Disability insurance

Car insurance

Employee assistance programs

Restitution from the offender
Other than receiving an annual Victims of Crime Act (VOCA) grant, the program also gets funding for victims of violent crimes from:
Offender fines and fees:

Misdemeanors—$37

Felonies—$75

Sex-offense covictions—$300

Court-ordered restitution

Contributions
Do You Qualify for the Crime Victims Compensation Program in Idaho?
The Idaho Industrial Commission's case manager will determine your eligibility once you file your application:
You Qualify for the Idaho CVC Program if You
You Don't Qualify for the Idaho CVC Program if You

Were injured in a violent crime in Idaho

Reported the crime to the police within 72 hours of the incident

Cooperated with law enforcement

Apply for the CVC Program in Idaho within one year of the crime

Didn't report the case to the police

Refused to cooperate with law enforcement

Participated in an illegal activity that caused the injury

Suffered injuries while incarcerated
Does the CVC Program in Idaho Cover All Crime-Related Costs?
The Idaho Crime Victims Compensation Program covers most medical, counseling, funeral, and other crime-related expenses with the maximum compensable amount of $25,000. The following table shows which costs are covered by the program and what the benefit cap for each expense is:
Compensable Expenses
Benefit Cap

Medical costs, such as:

Exams

Prescriptions

Treatments

Not specified

Mental health counseling

$2,500 for victims

$500 for every family member of victims of homicide or sexual assault as long as the total amount doesn't exceed $1,500

Note: If a victim has difficulties performing everyday activities due to his or her mental health, the program might grant additional counseling benefits (up to $25,000)

Travel to get medical treatments

Not specified

Lost wages for victims who lose at least one week of salary due to crime-related injuries

$175 per week

Lost support for dependents of a victim who can't work or has passed away because of the crime-related injuries

Funeral costs

$5,000

Replacement services

Not specified

Attorney fees

5% of the benefits
The program doesn't cover property loss or pain and suffering. You also won't get compensation for costs of an injury caused by a traffic accident, with some exceptions:
The driver used the vehicle with the intention to cause the injury

The individual that caused the accident was driving under the influence

The other participant fled the scene of the accident
Register for DoNotPay and Handle Your Idaho CVC Program Application in No Time!
Handling financial difficulties while dealing with physical and emotional distress is challenging. Since filling out all the necessary forms while navigating confusing websites can be time-consuming, not many people apply for crime victims compensation programs.
DoNotPay wants to make the application process for all violent crime victims as fast and effortless as possible in any state, including:
That's why we have created a product that helps victims of a terrorist attack, domestic violence, or any other crime apply for compensation in two minutes. To file your application for the Crime Victims Compensation Program in Idaho in a few clicks, and do the following:
Select our

Compensation for Crime Victims

product

Tell us whether you're the victim or a family member of the victim

Answer our questions to help us understand the circumstances of the crime and your expenses

Verify your signature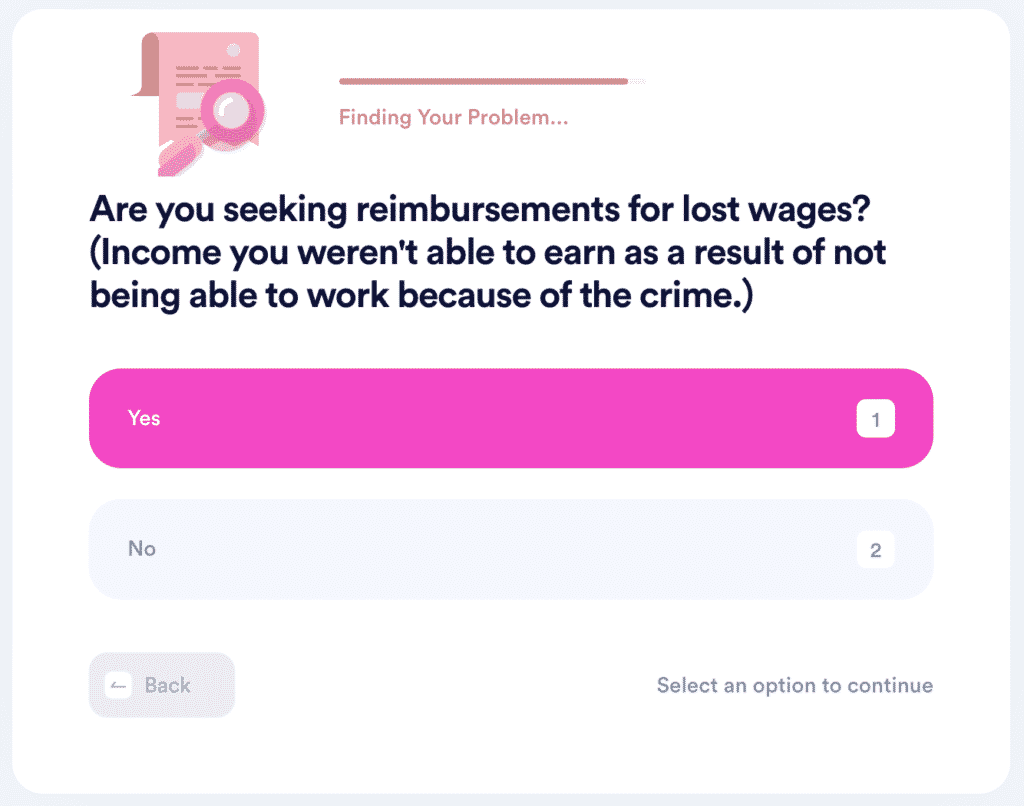 Once you complete these steps, DoNotPay will fill out your application and send it to the Idaho Industrial Commission. The case manager will review your application, potentially request additional documents, determine if you qualify for the benefits, and notify you about his or her decision.
Can You File an Appeal With the Program Director?
If you think that the case manager made a mistake, you can request reconsideration within 20 days of being notified about the original decision. You can also ask commissioners of the Industrial Commission for a hearing no later than 45 days from receiving a letter with the case manager's decision.
More Benefits of DoNotPay
DoNotPay is a useful tool for handling many otherwise annoying life's trifles, including:
What Else Can Our Award-Winning App Do for You?
If you think that's impressive, wait until you've heard about other features we boast!
Our powerful app can draft paperwork for you, locate unclaimed funds under your name, cancel subscriptions, sue robocallers, and protect you from stalkers and harassers—all in one nifty browser app!
Our services have been recognized by the esteemed ABA Brown award, serving as a testament to our abilities to assist you with your small claims issues, free trial auto-renewals, college fee waivers, public records, copyright protection, and much more!